Betting NBA Props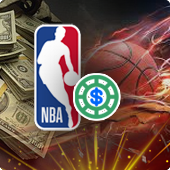 A lot of people ignore NBA prop bets when gambling on pro basketball. On the surface, they can appear hard to properly handicap and make money from.
However, the reality is that you can often find good value when betting NBA props. You just need to know what to look for with these wagers.
This guide to NBA prop bets can help you. We cover the various types of props you can bet on, explaining how they work. We also provide our top tips for NBA prop betting, to help you build successful strategies and win some money.
What Are NBA Prop Bets?
NBA prop bets, short for proposition bets, are wagers that are not directly related to the outcome of a single game. There are several different betting markets that fall into the category of NBA props, and they can be short-term or long-term wagers.
For example, a wager on how many points a player will score in a game is a type of NBA prop. Longer-term NBA props can be based across the entire regular season, the playoffs, or a specific group of games.
Prop bets for the NBA, or any other sport, are often considered to be "novelty wagers" that are primarily placed for a bit of fun.
Although many types of prop are targeted at the casual bettor, that doesn't mean they can't be taken seriously. In fact, they definitely SHOULD be taken seriously.
NBA prop betting can be extremely profitable with the right approach and strategies.
Types of NBA Props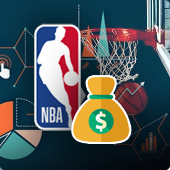 Once you understand the general concept behind NBA props, it's time to learn about the different types.
Sportsbooks and online betting sites release all kinds of weird and wonderful NBA prop bets these days, so the range of available wagers is huge.
Broadly speaking, NBA props can be categorized as follows.
Game-related props
Long-term props
Special props
Let's take a look at each category.
Game-Related NBA Props
These are NBA prop bets related to events that are part of every game in the league. They're typically based on how specific players perform in a game.
The most common NBA player props are based on the major statistical categories such as points, rebounds, and assists.
Markets for these prop bets are usually based around a line set by the bookmaker or sportsbook, and you have to choose whether the relevant number will go over or under the line.
These are a very popular way to bet on NBA games. Here's an example.
James Harden Over 29.5 Points
-110
James Harden Under 29.5 points
-110
Not all game-related NBA props are based on player performance. There are also ones based on overall team performances, and ones based on what the coaches may or may not do.
Other options include wagers such as which team will take the first timeout, and how many technical fouls there will be.
Long-Term NBA Prop Bets
Long-term NBA prop bets are also widely available. These allow you to bet on the statistical performance of players over the course of a season. Options include average points per game and total number of assists.
Here's an example of how such a wager looks.
James Harden Over 31 PPG
-110
James Harden Under 31 PPG
-110
Some bookmakers even allow you to bet on the number of triple-doubles and double-doubles that a player will record during the regular season.
Again, not all of these props are based on specific players. There are team-related ones, too, and ones related to the league as a whole.
Most of these NBA props are based on performances across the regular season, but they're also available for the post-season. You get prop bets based on the entire playoffs, and for individual series.
Special NBA Props
It truly would be impossible to go through every single NBA prop betting market, and the main reason is that the oddsmakers are constantly coming up with new options. This is especially true of online sportsbooks, who can get really creative.
You'll find all kinds of awesome NBA props online, especially when it comes to big games and events like the NBA All-Star Game or the NBA Finals.
You can bet on the commercials, social media presence, and even on what the sportscasters are going to say nowadays. The opportunities are almost endless.
Although some of these NBA prop bets are basically random and pure gambling, others can bring you nice profits if you pay attention to the right things.
Tips for Betting NBA Props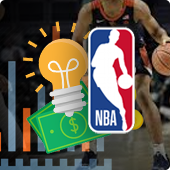 Knowing how to bet on NBA props is one thing. Knowing how to bet on NBA props and make money is another.
With that in mind, it's time to dive into the strategy section of our guide to NBA prop bets and offer you some tips.
Please be aware that we're not offering you a surefire route to basketball gambling success here. We can get you on the right path and teach you some key points to consider, but you're going to have to put in some time and effort if you want to make serious cash.
As with all types of sports betting, and indeed all forms of gambling, there is never a guaranteed system for unlimited profits. Risk is always involved. The goal is to minimize that risk and maximize your chances of winning.
Let's look at how you can do that.
Learn How Each Market Works
The first and most important step is to learn how a specific NBA prop works before betting on it.
This might seem extremely obvious, but many people underestimate just how much it matters. It's vital that you fully understand a wager before putting real money down.
Most NBA prop bets have specific conditions that must be met to earn a payout. Not being aware of them can cost you some cash, so it really pays to take a moment sure you're up to speed.
Avoid Props That Are Pure Luck
Many people don't like NBA props because they find them too dependent on luck. While that's not true for all the, it's a valid concern for some markets for sure.
For example, the length of the national anthem at the All-Star game is hardly something you could predict.
If you're serious about betting on NBA props for profit, you should avoid such wagers altogether. There's simply no way to be consistently profitable on them.
Risk a few dollars on these for fun by all means, but just be aware that you're truly gambling and not gaining any kind of edge.
You will be entering pure gambling territory, and you can't consistently beat the betting sites there.
Do Proper Statistical Analysis
Statistical analysis is important for almost forms of sports betting. NBA prop bets are no exception. Many of them are directly based on statistical performances, after all.
Crunching the numbers is not the most enjoyable aspect of NBA betting, but you need it. You need to learn which stats to look at, and also how to analyze them properly.
For example, let's say you are betting on how many free throws a player will score. There are several stats that can help in your preparation for this wager.
The average number of FTs that the player gets and scores per game is the obvious start. However, there are some other numbers that could be useful. Try to determine who's going to guard him for most of the game and how many fouls that player commits on average.
Also, if the player often drives to the basket, you should check how the main rim protector of the opponent does. If he doesn't give too many fouls away, it might be a good idea to go for the under.
The general rule of thumb here is to use your common sense and your knowledge about basketball. Think about all the factors that might affect your wager and check out any trends and stats related to it.
Consider Using Bet Builders
Bet builders can be a very powerful tool when betting NBA props. They're widely available at online sportsbooks these days, and they open up opportunities for higher returns when your predictions are correct.
The basic concept of bet builders is that you combine multiple prop bets into a single selection, which multiples the odds of each one. They're not that different from parlays, really, but there are strategies involved that you should try to master.
Follow the Sports Betting Basics
Many of the general principles of successful sports betting apply to wagering on NBA props. These are mostly pretty simple, but that doesn't make them any less important.
If you're relatively new to betting, or just need a reminder of the basics, you should check out our introduction to sports betting. It covers everything you need to know to build a solid foundation for a successful betting career.
For a quick fix, here are some key betting tips you definitely need to follow.
Bet for value

Don't simply try to guess what's going to happen. Evaluate the probabilities of the different outcomes and study the odds so you can place wagers with a positive value.

Pick a staking plan

Even the most successful NBA prop betting strategy will lose sometimes. You must be prepared to take the hits and keep going, which means employing proper bankroll management.

Don't place too many wagers

There are some profitable opportunities for betting NBA props, but you have to hunt them out. Make sure you are careful in your selections and only go after wagers that you like for good reasons.
More NBA Betting Advice
If you liked our NBA props betting guide, you will likely find the following pages useful.
NBA Totals Betting – Take a look at our tips on one of the most popular NBA betting markets.
NBA Futures Betting – Our team offer expert tips on how to tackle NBA futures and outrights.
Betting on the NBA Playoffs – The NBA playoffs are different from the regular season when it comes to betting.
Betting on the NBA Finals – Learn how to bet on the season finale successfully.