Online Sports Betting Sites for Arizona
It's called the Grand Canyon State, but Arizonans can't always be soaking up the beauty of Mother Nature. That's why more than 20 AZ casinos are in full swing year-round.
But what if you don't want to make the trip, or want to gamble on sports instead? Then you should consider making your bets online at the best Arizona sports betting sites.
Rank
Betting Site
Exclusive Bonus
Get Started

#1

Bovada Sports

50% Up To

$250

Visit Site

Visit Site

#2

BetUS

125% Up To

$2,500

Visit Site

Visit Site

#3

MyBookie

100% Up To

$1,000

Visit Site

Visit Site

#4

Everygame

100% Up To

$500

Visit Site

Visit Site

#5

BetOnline Sports

60% Up To

$1,000

Visit Site

Visit Site
Are there online betting sites for Arizona that allow you to place straight bets or parlays on your favorite home teams, such as the Cardinals, Suns, Diamondbacks, or Coyotes?
Good question. We're going to do our best to answer it as we take a deep dive into Arizona sportsbooks and betting sites below. We'll fill you in on the current gambling laws and how you can submit a virtual bet slip from home or on the go in your home state.
Whether you're wondering about Arizona betting sites with odds on professional or collegiate sports, horse racing, e-sports, politics, or entertainment, you may be surprised at what's available with just a few clicks of a button.
Legal AZ Sports Gambling
Some US states, like Hawaii and Utah, take everything off the table when it comes to betting. Then you've got more progressive states like New Jersey that have gone all-in with casinos, online casinos, and sports betting.
But where does Arizona stand?
Arizona has 25 Native American casinos located all over the state. There are bingo halls, pull tabs, casino nights, and a state lottery. Additionally, Arizona horse betting is big business.
The Grand Canyon State has three racetracks providing year-round action, backed by more than 60 OTB outlets.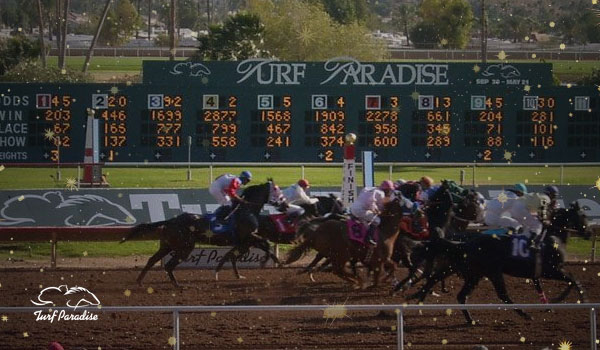 Even with all of the state-approved and regulated betting opportunities, there are limits. Arizona is one of the few states that has explicitly declared DFS (daily fantasy sports) illegal.
Despite the popularity of horse racing, sportsbooks are nowhere to be found in the state. While legal sports betting isn't out of the question, proposed bills haven't gained traction, as least not yet.
What's interesting about both the House and Senate proposals for Arizona sports betting is that they exclude online access. Most states have integrated a virtual service with their state-regulated sportsbook programs using geo-fencing to keep activities within state lines. But AZ has yet to embrace any form of online gambling.
Where the state leaves off, out of area providers pick up the slack. Residents can use Arizona online sports betting sites provided by operators from other jurisdictions.
Even though some US-facing websites omit a few states, Arizona isn't one of them.
For more of an in-depth look at Arizona's gambling history and evolution of its legal stance on betting, we have a page dedicated to local gambling laws and legislation in Arizona.
Can You Bet Online in Arizona?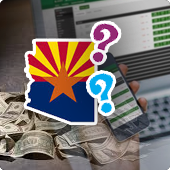 As we just mentioned, it's possible to participate in real money online sports betting in Arizona. However, we're not only here to recommend some online sportsbooks. We want to educate you on what to look for in a legitimate AZ betting site so that you have a positive experience with safe and fair gaming.
Where there's a will, there's a way, and you could come up with an online source that would take your bet and probably for as much as you're willing to stake. But what happens if you win? Will you actually get paid?
As long as you turn to any of the well-known and safest Arizona online betting sites, you shouldn't have to worry about any payout issues.
There used to be a time when even the more prominent names had some reputation problems. But these days, players and reviewers hold online betting providers accountable.
When we prepare our AZ sports betting sites' recommendations, we take reputation, player feedback, ownership, and more into consideration.
So, yes, you can bet online through Arizona betting sites, so long as you to stick to the ones proven to be trustworthy.
What Online Betting Sites in Arizona Offer
Even though your home state doesn't have any brick and mortar sportsbooks, you could be familiar with how they work in other places. After all, Nevada is a neighbor, and sportsbooks are practically as prevalent as gas stations in Sin City and throughout the Silver State.
So, if you're accustomed to in-person wagering, or you're entirely new to gambling, then you're probably curious about Arizona online betting sites. Therefore, here's a little primer on what they offer and how to use them.
Greeted by Betting Markets
Any of the top-rated online AZ sportsbooks aren't going to keep their services hidden. When you pull up a website, the betting markets and lines are typically front and center on the homepage. So, if you're looking for a particular game, match, or prop bet, you won't have to click around for it.
The top menu will showcase things like banking and promotions, as well as other gambling opportunities. You'll see designations for a racebook, e-sports, and casino games. You'll find that virtual sportsbooks include slots and table games as well, but it doesn't always work in reverse.
Bettor Perks at AZ Online Sportsbooks
As a new player, you should be eligible for a welcome bonus, regardless of the Arizona betting site you select. The value of the offers may vary, but you should have access to some incentive, such as a 50% deposit bonus or a free bet.
If you're interested in live betting, most real money AZ sportsbooks have a dedicated menu item for it, but you won't be able to enjoy live streaming because, unfortunately, most US betting sites don't offer it.
Other Features at Betting Sites
Customer service (live chat, phone, email)
Bonuses and promotions – with rollovers noted in the terms and conditions
Help section with betting markets, types of allowable wagers, and limits
Featured bets, contests, and other sportsbook activities
Cash is King in Casinos, But Not at Betting Sites
Once you figure out the best website for real money sports betting in Arizona, you'll need to tackle the banking situation.
Unlike land-based casinos and sportsbooks, you won't be using cash online.
Card Quandary
Moving money into an Arizona sports betting site isn't the same as buying something on Amazon. Yes, you can use Mastercard or Visa, and sometimes American Express and Discover are also on the list, but it's up to your bank to approve the transaction.
It's possible that you'll get lucky right off the bat and won't run into any issues. However, you could be declined even if you have plenty of credit available.
Cryptocurrency is Great for Online Betting
Aside from debit and credit cards, AZ betting sites accept Bitcoin other cryptocurrencies. They're an excellent way to move cash onto an online sportsbook. But this should be your plan b if you run into any issues with traditional banking.
If you steer clear of cryptocurrency, you still have another backup plan, as betting sites in Arizona also accept money orders or cashier's checks. The problem with these methods is that you have to wait for shipping and processing, so it could take a week or so before you can place a bet.
While we're on the topic of banking, let's talk payouts for a minute as well.
Different Payout Menus
As with deposits, the withdrawal situation varies depending on the sportsbook. A few will credit your debit or credit card with your winnings, but most stick to check payments when you've made a card deposit.
Bitcoin deposits receive Bitcoin payouts, and the same holds for other cryptocurrencies. You'll also find that Bitcoin transfers are free, whereas you may be paying for payouts, and, in some cases, you could even be faced with a deposit fee.
You can see how it's helpful to know the ins and outs of how Arizona sportsbooks work. If you're aware of your options, you can save some time and money.
Mobile Sports Betting in Arizona
In addition to Arizonans wondering if they can bet online, other inquiries involve sports betting apps in Arizona.
At this time, there aren't any apps for sports betting in Arizona or throughout most of the US. If you find some listed in the Apple or Google Play store, they're more than likely for social betting.
Very few states have dedicated betting apps for residents, but that's because online casinos and sports betting are state regulated. The apps are geo-fenced, so players can't cross state lines and place a bet or play casino games.
The absence of betting apps doesn't mean that you're tied to your desktop or laptop if you want to place a bet, though. Top real money Arizona sports betting sites all convert to mobile-friendly platforms.
Instead of downloading an app, you'll type the website URL into your mobile browser, and you're good to go with betting, bonuses, and banking. You can even register a new player's account right from your smartphone.
Popular Online Betting Markets
Are you looking for a line on the Diamondbacks or Arizona MMA betting? Real money Arizona sportsbooks feature wide varieties of betting markets, as well as the ways to bet them.
Menus in AZ sports betting sites are dominated by the big four US sports, followed by soccer (aka football) from around the world. You probably expect that, though, don't you? But other opportunities may catch you by surprise.
Did you know that you could bet on the weather? How about politics, award shows, or religion?
Real money sports betting in Arizona covers a wide range of prop bets and futures. As far as more traditional sports, you've got your pick of straight bets, parlays, futures, moneylines, if-bets, reverses, and more. Just keep in mind that if you opt into a sportsbook bonus, you could be limited in your selections.
Whether you bet online in Arizona or do some mobile betting while you're on the go, you'll have quite a bit to review.
Betting markets go well beyond the sporting events that immediately come to mind. You can make some table tennis predictions, motorsports, badminton, darts, surfing, and the list continues to expand all of the time.
E-sports is a phenomenon that continues to pick up speed. You can back CS:GO, DOTA, or any other well-known teams.
Horse Racing in Arizona
In some other US locations, online betting is focused on NFL, MLB, NHL, and NBA action. But Arizonans love their horse racing, so racebooks are a must in AZ sports betting sites.
There are only three in-state tracks on the ground, but they keep racing enthusiasts busy all year long.
Rillito Park Race Track
4502 North 1st Avenue
Tucson, AZ 85718
520-745-5486
Racing here takes place from February through March each year.
Arizona Downs
10501 E Route 89A
Prescott Valley, AZ 86315
928-227-1996
Arizona Downs offers throughout the summer, from May until September.
Turf Paradise
1501 West Bell Road
Phoenix, AZ 85023
602-942-1101
There's racing at Turf Paradise from October through May.
Betting on AZ Horse Racing
Off track betting is provided in bars and restaurants throughout the state, and more than 60 locations are busy month after month.
But wouldn't it be convenient to pick up your phone, click a few buttons and save yourself a trip?
Good news! There are top-rated, safe Arizona betting sites with racebooks offering thoroughbred and harness racing. The majority of tracks are in the US. However, some books also cover racecourses in Canada, the UK, and beyond.

Top Tip
Look for the track rebates when you do some online betting in Arizona on your favorite races. Most sportsbooks will offer something like an 8% refund on your net losses.
Ranking Arizona Sports Betting Sites
Hopefully, you now have a better feel for what to look for with online sports betting in Arizona. We touched upon the betting markets, bonuses, banking, and mobile access.
These are all of the things that you'll want to keep in mind when you're considering an AZ sportsbook.
As reputation, safety, and reliability are key factors, though, you may wonder where to start. We have an easy answer for you, as we've already put together some recommendations.
Our suggested real money betting sites for Arizona aren't based on anyone's personal preference or guesswork. Instead, they result from a lengthy process that continues even after our ratings are published.
We use a three-part process to determine which AZ sportsbooks are the cream of the crop.
Background information – ownership, licensing, reputation, player feedback
Comprehensive review – everything from the design of the website to the betting markets and banking
Re-evaluations – monitoring news items for any changes; new reviews, mini-reviews
The background information and re-evaluations could prompt changes in our ratings and recommendations from time to time. We ensure that our data is always accurate and up to date.
Comprehensive reviews get to the heart of the matter, though. Our team of experts document everything from first impressions to specifics on turnaround times, betting limits, and banking fees. Each review produces an average rating, which is used to compare one AZ betting site from another.
That's how we arrive at our betting site rankings and recommendations.
Using Our List of AZ Sportsbooks
You may find our list of top-rated AZ sports betting sites helpful for a few reasons. First, it can save you quite a bit of time when you're trying to locate a reputable online bookie. Without a starting place, you'd have to wing it and see what happens.
But the recommendations are also accompanied by full reviews. So, if banking selections are your top priority, you can zoom right to the banking section and see what each provider allows. The same applies to any of the services. You can get an at a glance view of betting markets, limits, bonuses, etc.
You'll ultimately decide where you want to bet on sports in Arizona, but our suggestions can help you narrow the field.
Summary of Arizona Betting
We've been doing some online research to determine what's top of mind regarding Arizona's sports betting. There are quite a few questions, but we've got the corresponding answers.
So, did you know all this?
Proposed AZ sports betting legislation doesn't include an online component.
Arizona online horse betting is offered by bookmakers.
Bovada is open to Arizona players, but so are a few other top sports betting websites.
You don't need a sports betting app in Arizona to use a mobile sportsbook.
Arizona MMA betting is a standard betting market in most online books.
Most AZ betting sites incentivize new players with welcome bonuses, including free play.
Bitcoin isn't just the best banking method for fast and free transactions, but many AZ real money sports betting sites crank up the value of their bonuses for Bitcoin users.
Futures and prop bets include politics, entertainment, religion, and the weather.
We've worked our way through the current state of sports betting in Arizona, from the services to the best websites to use.
Arizona players are similar to those in other parts of the country. While the state is slow to approve brick and mortar sportsbooks, online betting sites step in to pick up the slack.
You'll find similar betting markets, but limits, bonuses, and banking methods change from provider to provider.
If you want to do some online sports betting in Arizona, check out our recommendations, narrow your choices, and then join one of the best Arizona betting sites online.
May
Sportsbook of the Month

Sign up Bonus
60% Up To $1,000
READ REVIEW
Visit Site
X