Welterweight Division in the UFC
When you think of the UFC's welterweight division, guys like Georges St-Pierre, B.J. Penn, and Matt Hughes most likely come to mind.
The 170-pound division is one of the jewels in the crown of the promotion. Not only has the welterweight roster provided fans with some of the greatest fighters of all time, but it continues to churn out elite strikers, wrestlers, and game-changers.
Whether you are betting on welterweight fights in the UFC or just have a burning desire to learn more about the 170-pound warriors of today and yesteryear, this page will be of significant help.
First, let's take a look at the fights coming up at welterweight before we move on to the current champion of the division, previous champions, the greatest fights at 170, and much more.
Upcoming UFC Welterweight Fights
Sean Brady vs. Jake Matthews – UFC 259
These are currently expected fights in the UFC's welterweight division.
The roster can change at the drop of a hat, so make sure to come back soon to see what welterweight bouts are on the horizon.
For more UFC fights from all weight classes, please check out the following page.
Current UFC Welterweight Champion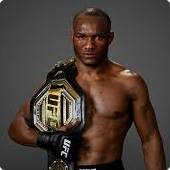 Current Champion: Kamaru Usman
Champion Since: March 2, 2019
Successful Defenses: 3
Last Opponent: Gilbert Burns
Known to fans as "The Nigerian Nightmare," Kamaru Usman is regarded as one of the best fighters on the roster.
A powerful 170-pounder, Usman is known for his dominating wrestling style. He has really come into himself as a striker over the past few years, too, and is now up there with the best fighters currently competing in the UFC.
Usman's background is quite interesting. He left Nigeria for the U.S. when he was still in grade school but quickly settled into the American way of life. His father is a soldier, and one of his brothers is an MMA fighter.
In high school, Usman discovered wrestling and put together an impressive 53-3 win-loss record. Trying his hand at pro fighting after college, Usman bounced around the local fight scene before earning a spot on The Ultimate Fighter.
From there, you could say things have turned out pretty well for Usman.
Leading UFC Welterweight Contenders
So, how about this weight class? The sheer depth of talent at welterweight is so great that several high-grade fighters can't even make it into the top fifteen.
But towards the top of the tree, we have some extraordinary mixed martial artists doing their thing today. Let's take a look at the top five contenders to the champion's crown.
Colby Covington
Love or hate his heel act, Covington is one hell of a fighter.
There is no one better equipped to challenge the status quo of the division than "Chaos," and we are likely to see him pushing for the title over the next couple of years.
Covington is regarded as one of the best welterweights of the modern era. His incredible cardio, fantastic wrestling, and pressure game are all credited with being major workings of his very effective style inside the cage.
Covington's controversial approach to self-promotion has seen him involved in plenty of trouble, such as 2017's clash with Fabricio Werdum and a boomerang.
Gilbert Burns
An excellent grappler and highly improved striker, Brazil's Burns is another fighter that is tipped to go far at 170.
Burns got his title shot against Kamaru Usman in 2020, only for the fight to fall apart on two separate occasions.
"Durinho" will undoubtedly be in the mix for the foreseeable future.
Leon Edwards
Britain's Leon Edwards has made big inroads to the upper reaches of the division since making his UFC debut in 2014.
Edwards is regarded as a solid fighter with very few weaknesses. Although he is not seen as one of the most fashionable opponents, it's highly likely that the Birmingham-based fighter will be part of the furniture for some time.
Jorge Masvidal
Masvidal beat Nate Diaz to win the "BMF" title in November 2019.
The Cuban-American also fought Kamaru Usman for a shot at the welterweight title, only for Usman to outclass him towards a unanimous decision victory.
Masvidal is one of the most popular fighters in the world. He started out in the world of street fighting before making his way into mixed martial arts as a professional fighter.
Stephen Thompson
One of the premier strikers on the planet, "Wonderboy" is also a very popular fighter at 170.
Thompson has fought for the welterweight title on two occasions, losing one and drawing one against former champ Tyron Woodley.
A polite and upbeat character, Thompson is quite often referred to as the "nicest" fighter in mixed martial arts. But don't let that fool you into thinking that this guy doesn't have a brutal killer instinct inside the cage.
Top UFC Prospects at Welterweight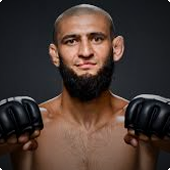 Khamzat Chimaev
Shavkat Rakhmonov
Geoff Neal
Sean Brady
The welterweight prospects of today may very well be the dominant champions of tomorrow.
Isn't that how most champions kickstart their careers? The likes of welterweight all-time great Georges St-Pierre was once considered fresh-faced and wet behind the ears.
These days, you can look at the guys above in a similar fashion. But if any of these fighters realize the full extent of their talents, we could see them with gold around their waists in the future.
As things are, Khamzat Chimaev is regarded as the most promising welterweight prospect in MMA. But any of Shavkat Rakhmonov, Geoff Neal, or Sean Brady could very well usurp him at some point.
Let's now change our focus to the past champions of this great division.
Previous UFC Welterweight Champions
Some of the UFC's greatest fighters have made their names in the promotion's welterweight division.
For a long time, 170-pounds has been the scene of a lot of action and drama. Several of the greatest knockouts, submissions, and fights have gone down in this weight class, giving it the aura of one of the most fashionable on the roster.
Let's take a look at the UFC's welterweight champions of the past.
Tyron Woodley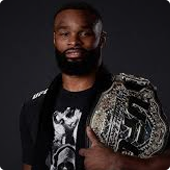 Won Title: Against Robbie Lawler (Jul 30, 2016)
Lost Title: Against Kamaru Usman (Mar 2, 2019)
Successful Defenses: 4
One of thirteen kids raised by a single mother, Woodley grew up in Ferguson, Missouri.
He excelled in high school wrestling before making an even bigger mark at the University of Missouri, becoming a two-time All-American. But when the wrestling days were over, Woodley had an idea of using his skills inside the cage.
He debuted as a pro fighter with Headhunter before moving on to Strikeforce and then to the UFC. Working his way through the division, he got his opportunity to strike for glory against Robbie Lawler in 2016 and took it with both hands.
Woodley was UFC welterweight champion for almost three years, defending his title on four occasions. The hard-hitting wrestler was handed multiple accolades, including "Fight of the Night," "Knockout of the Night," and "Performance of the Night" during his best days with the promotion.
Robbie Lawler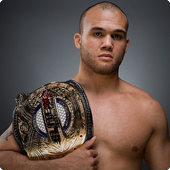 Won Title: Against Johny Hendricks (Dec 6, 2014)
Lost Title: Against Tyron Woodley (Jul 30, 2016)
Successful Defenses: 2
Nicknamed "Ruthless," Robbie Lawler was regarded as one of the true warriors of the 170-pound division.
He was also one of the most admired fighters in the promotion, known for his positive attitude and a genuine willingness to help out up and coming fighters. A black belt in Karate, his martial arts background is apparent in his stance, his balance, and his constant intellectual re-assessment of combative situations.
A heavy hitter, Lawler was involved in some of the most memorable scraps in the weight class. His 2015 rematch with Rory MacDonald was voted the greatest MMA fight of all time.
On his day, there was no one quite like Robbie Lawler.
Johny Hendricks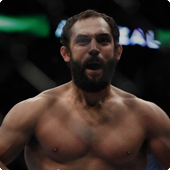 Won Title: Against Robbie Lawler (Mar 15, 2014)
Lost Title: Against Robbie Lawler (Dec 6, 2014)
Successful Defenses: 0
A purple belt in BJJ, Hendricks fought 26 MMA bouts, winning 18 of them.
In high school, "Big Rigg" was the national wrestling champion and was expected to use his supreme talent to his advantage when he was done with his studies. After college, he joined World Extreme Cage Fighting (WEC) but was left in the lurch when the WEC abandoned his weight class.
Like so many WEC fighters, Hendricks moved over to the UFC, where he made a name for himself beating fighters such as Mike Pierce, TJ Waldburger, and Jon Fitch. Eventually, he would work himself into contention for a shot at the title against Georges St-Pierre. Although he lost that fight, many believed he had done enough to get the win.
Nevertheless, his day finally came when he beat Lawler on March 15, 2014.
Georges St-Pierre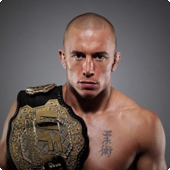 Won Title: Against Matt Hughes (Dec 29, 2007)
Lost Title: Vacated title (Dec 13, 2013)
Successful Defenses: 9
St-Pierre makes this list twice, as he held the UFC welterweight title on two separate occasions.
The all-time great failed to make a successful defense of the title in his first tenure. However, in his second time as welterweight champ, he put together more defenses of his strap than any welterweight in history.
Regarded as one of the very greatest of all time, the Canadian was the ambassador of 170 while in his prime. He is still considered the best 170-pound fighter to ever do it and is certainly the most famous welterweight champion of all time.
St-Pierre had 28 total career MMA fights. He won 26 and lost a mere two. Of his wins, eight came via knockout, 12 by decision, and six by way of submission.
Widely considered the G.O.A.T, St-Pierre also won the UFC's middleweight championship in November 2017.
Matt Serra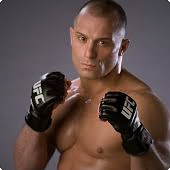 Won Title: Against Georges St-Pierre (Apr 7, 2007)
Lost Title: Against Georges St-Pierre (Apr 19, 2008)
Successful Defenses: 0
Serra, the son of a police officer, was all set to join the Marine Corps when he bit off a piece of man's ear in a pizza parlor during a heated argument.
That experience led Serra down another path, and fans can be thankful for that.
Having read about BJJ in a martial arts magazine, a few years later, he was competing in the Pan American Games and the World Championships.
Serra is sandwiched on this list by St-Pierre's two tenures as welterweight champ. No one expected Serra to even have a shot at the title, and when Serra faced St-Pierre in the ring, everyone just assumed it was a foregone conclusion that St-Pierre would destroy the other boxer.
However, we watch sport precisely because of the shocks and surprises that await us, and this match did not disappoint. In a first-round TKO, Serra defeated St-Pierre and took the title. Later, Serra was plagued with injury to the point that his career suffered. But in April of 2007, at least, he was at the top of his game.
Serra is responsible for arguably the biggest upset in UFC history.
Georges St-Pierre
Won Title: Against Matt Hughes (Nov 18, 2006)
Lost Title: Against Matt Serra (Apr 7, 2007)
Successful Defenses: 0
With a flurry of strikes in round two that resulted in a TKO of Matt Hughes, St-Pierre did the unthinkable and won the UFC welterweight championship.
Born in Quebec, this 5'10" dynamo trained in Albuquerque with Jackson Wink as well as at the Renzo Gracie Academy in New York. But it was his work with Firas Zirhabi at the Tri-Star Gym that set him on the path to greatness.
His first title run would be wildly disappointing. But it certainly helped to make him the great fighter he would later become.
Matt Hughes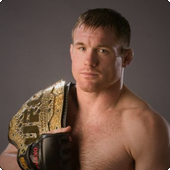 Won Title: Against B.J. Penn (Oct 22, 2004)
Lost Title: Against Georges St-Pierre (Nov 18, 2006)
Successful Defenses: 2
Hughes was an undefeated high school wrestling champ that would go on to become one of the greatest fighters in the history of the sport.
The country boy first stepped into the cage in 1998 and won his first bout in 15 seconds by knockout. His career path suddenly became as clear as crystal, with MMA essentially becoming his life.
Hughes was regarded by many as the best welterweight in the world in his prime. He enjoyed fierce rivalries with Georges St-Pierre and B.J. Penn, who were both challenging Hughes for supremacy at 170.
B.J. Penn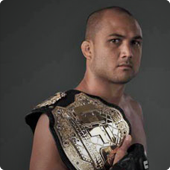 Won Title: Against Matt Hughes (Jan 31, 2004)
Lost Title: Against Matt Hughes (Sep 23, 2006)
Successful Defenses: 0
Penn fought in the open weight, middleweight, welterweight, lightweight, and featherweight classes throughout a lengthy career in MMA.
A legend of the sport, Penn has also held the title in the lightweight division of the UFC and owns other accolades, including the record as the first American gold medalist of the World Jiu-Jitsu Championships.
Given his desire to compete at different weights, Penn's body had to shift dramatically to float between classes. Whether this had an effect on his performance in later years is up for debate, but it's clear that his great talent fell off around the early 2010s.
Nevertheless, Penn has been called the best lightweight in the history of the UFC by a fellow fighter, Frankie Edgar, and was, in his pomp, unreal to watch. He wasn't bad at 170 either, where he won the UFC welterweight title in 2004 before vacating it to join K-1.
"The Prodigy" was introduced to BJJ in his home state of Hawaii but moved to California to gain more experience at the Ralph Gracie Academy in San Jose. It was from here that he would put together a legendary career.
Matt Hughes
Won Title: Against Carlos Newton (Nov 2, 2001)
Lost Title: Against B.J. Penn (Jan 31, 2004)
Successful Defenses: 5
Hughes is a UFC Hall of Fame inductee that makes this list twice.
His first tenure as a welterweight champion lasted 820 days, which was a record at the time. His second was slightly shorter at 757 days, with a loss to B.J. Penn breaking up his reigns.
Penn was stripped of his title, and his tenure as UFC welterweight champ only lasted 107 days. As such, fans like to think Hughes had one long period as champ, with just an irritating blip in the middle, rather than two separate title runs.
A legend of the sport, Hughes will always be remembered as one of the very best at 170.
Carlos Newton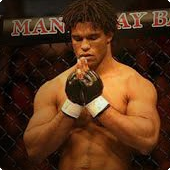 Won Title: Against Pat Miletich (May 2001)
Lost Title: Against Matt Hughes (Jul 13, 2002)
Successful Defenses: 0
A third-degree black belt in BJJ under Renzo Gracie, Newton held the welterweight title for 183 days, with no successful defenses.
Training at Warrior MMA in Ontario, Canada, Newton's submission skills were considered high level. In addition to the UFC, he competed with Pride FC, Shooto Martial Arts, and the International Fight League (IFL). He has also had the honor of competing at the Abu Dhabi Combat Club.
In addition to welterweight, Newton has competed at middleweight and light heavyweight throughout his career.
Pat Miletich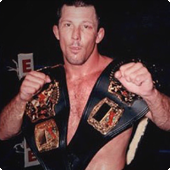 Won Title: Against Mikey Burnett (Oct 16, 1998)
Lost Title: Against Carlos Newton (May 4, 2001)
Successful Defenses: 4
The inaugural UFC welterweight champion, Miletich won the title at UFC 17.5 in Brazil. He went on to hold onto the belt for 931 days, making four successful defenses.
A Croatian-American, Miletich went on to create a camp to train future MMA competitors. Robbie Lawler and Matt Hugues, also on this list, are two of the graduates of Miletich's program.
Miletich is retired from competing in MMA but still trains fighters. A student of the game, the UFC's first welterweight champion is highly respected for his knowledge of the sport that made him a legend.
Other Notable UFC Welterweights
Not every great has had the opportunity to hoist the UFC title above their heads while shouting some kind of obscenity or incomprehensive battle cry into the overwhelming screams of their fans.
In fact, you can find some of the real greats of MMA that have fallen on the final hurdle. Some have never even made it past the starting shot. Others are… "notorious" members of the 170-pound fraternity despite having just a few fights in the weight class.
Anyway, here are four guys that will forever be remembered as notable welterweights.
Nick Diaz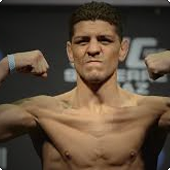 The legend of Nick Diaz still lives in the minds of MMA fans across the globe.
Although Diaz never won a title in the welterweight division, he was responsible for converting many curious observers into die-hard "Just Bleed" guys.
Diaz is one of the promotion's greatest fan favorites. He fought for the UFC welterweight strap just once, losing to Georges St-Pierre in March 2013.
His younger brother, Nate, will also be remembered as a huge fan favorite for his two mega fights against Conor McGregor in 2016.
Rory MacDonald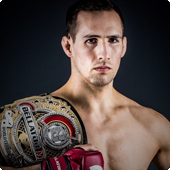 Behind Georges St-Pierre, MacDonald is Canada's greatest mixed martial artist of all time.
MacDonald is also regarded as one of the best fighters never to win a title in the UFC. An excellent all-rounder, MacDonald took the sport by storm when he made his debut as a teenager.
He was nailed on to win the 170-pound title, but unfortunately, it just never happened for him.
Fans will always remember the "Red King" for living up to his name in an epic war with then-champion Robbie Lawler at UFC 189 in 2015.
Demian Maia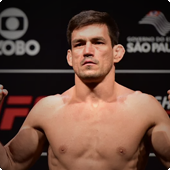 The Brazilian grappling wizard was a tremendous warrior, despite having limited striking capabilities.
When it came to the floor, however, Maia was known as an anaconda that would show little mercy to those who managed to fall into his vice-like grip.
Legitimately considered one of the truly great BJJ converts in MMA, Maia is also one of the best welterweights never to win the title in the division.
Best UFC Welterweight Fights of All Time
We have had some incredible wars inside the Octagon over the years, but the welterweight division, in particular, has seen a high number of them.
If wars are judged by how much the warriors involved have to give, then it should come as no surprise to learn that 170's pack of animals have left it all inside those cage walls.
From a baptism of blood to the ultimate revenge, here are five of the greatest fights ever witnessed in the UFC's welterweight division. Four of them were rematches.
Lawler vs. MacDonald 2
Event: UFC 189
Result: Lawler by TKO
The greatest fight of all time? Many fans will refer to this legendary battle as just that.
Both men tore into their flesh to reach the absolute dregs of their soul in order to find the strength, courage, heart and will to go almost five full rounds of battle.
Lawler, with a horrendous split lip, connected with MacDonald's nose, breaking it in two at the one minute mark of Round 5. The fight ended there, but neither man would ever be the same again.
Unreal.
St-Pierre vs. Hughes 2
Event: UFC 65
Result: St-Pierre by TKO
Georges St-Pierre was submitted by the champ, Matt Hughes, at UFC 50 in October 2004.
The Canadian then put together a run of five straight wins before finding himself face to face with Hughes once more. This time, revenge was well and truly on the cards.
St-Pierre pushed Hughes in every way possible before landing a huge head kick that dropped the champ. GSP then pounced on top of his downed opponent before finishing him with elbows to win the first UFC strap of his career.
Diaz vs. McGregor 2
Event: UFC 202
Result: McGregor by Majority Decision
The world of MMA had not witnessed a build-up to a rematch quite like this one before.
McGregor, who had been submitted by Diaz earlier that year, was out to make amends for that loss. It was the first defeat of the streaking Irishman's UFC career, and it hurt. Bad.
An awesome back and forth scrap; both men gave everything they had to give for five full rounds. McGregor chopped at Diaz's legs, while the Stockton-native threw combination after combination in order to take his man out.
Both survived to the final bell with "The Notorious" picking up a razor-thin decision victory.
Lawler vs. Condit
Event: UFC 195
Result: Lawler by Split Decision
Two of the division's all-action men went at it with the collective force of an atomic bomb for five rounds.
Just how Condit managed to remain upright throughout the fight was a mystery. Lawler threw the kind of shots that would knock the color of grass, while Condit bounced back with an assortment of his own that peppered the champion backward.
The decision went Lawler's way, but some felt that "The Natural Born Killer" had done enough to win the strap.
Hughes vs. Trigg 2
Event: UFC 52
Result: Hughes by Submission
A classic back and forth between two men who had no time for one another.
But the hatred only fueled a rivalry that would go down as one of the most memorable fights in UFC history. Even Dana White calls this bout his favorite of all time, and that's saying something.
Hughes had berated Trigg with trash talk in the lead up to this one, while Trigg had dished out his own. So, by the time both men were going at it, it was no surprise to see the challenger knee the champ in the balls.
Trigg, who had been mocked for losing to Hughes by way of a rear-naked choke in the first fight, had Hughes in that exact same position. Only for the champ to pick him up over his head, run from one side of the Octagon to the other, slam him, bludgeon him, and eventually… choke him.
How many of the fights above make it onto our list of all-time UFC classics? Find out by clicking on the button below.
Biggest UFC Welterweight Rivalries in History
What are the greatest rivalries in UFC history? Well, you will find that many of the biggest rivalries in welterweight history will be counted among those that make the ultimate list.
Some of the fights above have contributed to the rivalries below. But what was behind these rivalries? Was it more of a case of competition or a genuine hatred for the other guy?
Sometimes it's a combination of both, while others… well, keep reading and we will explain all.
Georges St-Pierre and Matt Hughes
It's rare to find two all-time greats that overlap in the same sport, never mind in the same division.
But that's exactly what happened when Georges St-Pierre arrived on the scene, a scene that was dominated by one of the UFC's greatest, Matt Hughes.
The American was considered the very best at 170 pounds but soon find himself pondering serious questions that were being posed by the Canadian upstart. But at their first meeting at UFC 50, Hughes showed the world who was boss.
But St-Pierre was going nowhere. He got his revenge when he had developed into a much more formidable fighter. Then, he clashed with Hughes for the 3rd and final time, winning convincingly once more.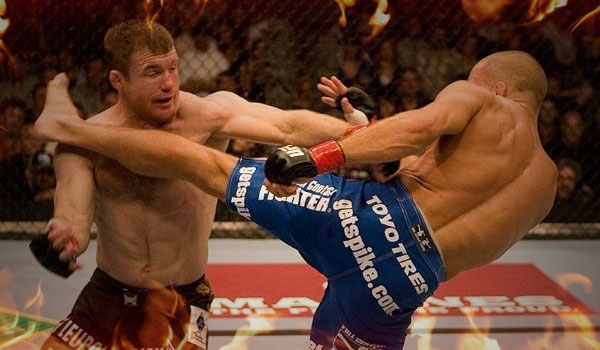 Matt Hughes and B.J. Penn
Two incredible fighters with so much to prove, the undersized Penn would have been forgiven for skipping any fight with Hughes.
But he didn't. He welcomed the challenge and fully backed himself against a guy that was considered far too big and strong for the Hawaiian. Having moved up from lightweight, Penn shocked many by choking Hughes out. He furthered that surprise by immediately vacating the strap and heading off to compete in K-1.
Fortune aided fans for a rematch between the pair, with Hughes getting his revenge at UFC 63 by way of a third-round stoppage.
However, Penn would have the last laugh when he knocked out Hughes in 21-seconds at UFC 123.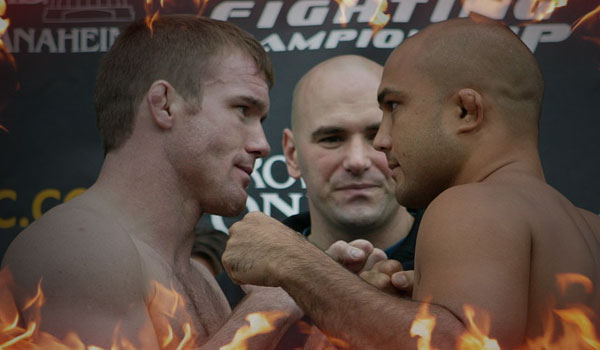 Conor McGregor and Nate Diaz
Regardless of how anyone feels about Conor McGregor or Nate Diaz, their rivalry is timeless.
McGregor stumbled upon the welterweight division having initially been slated to face Rafael dos Anjos for the Brazilian's lightweight title. When dos Anjos pulled out with injury, Diaz stepped up on short notice. The only catch was that he wanted the fight at 170.
The Irishman agreed and entered their fight at UFC 196 swole and ready to rock. He had destroyed Diaz in the build-up to the fight with some acerbic trash talk and looked to be backing it all up inside the cage.
The only problem was that Diaz wasn't ready to acquiesce to the featherweight champion's power. McGregor ran out of steam and Diaz choked him out.
The rematch was the biggest fight in the history of the sport. Although McGregor won, the rivalry carried on for years after.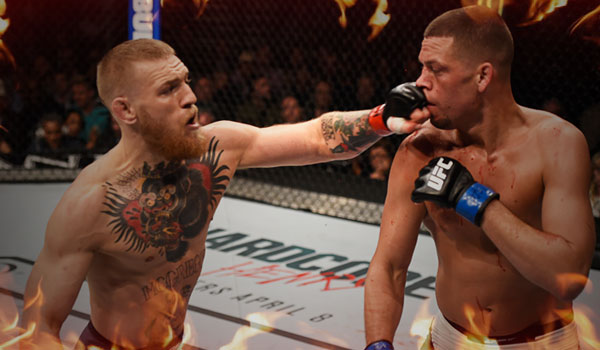 Robbie Lawler and Rory MacDonald
It could never be said that these guys had a burning hatred of each other or that their trash talk went too far.
Sure, there were accusations thrown around involving steroids and some bitter words exchanged here and there. For the most part, you probably wouldn't refer to Lawler and MacDonald's professional or personal lives as worthy of the classification as a rivalry, but we disagree.
Their legendary bout at UFC 194 will always be one of the very best fights to have ever happened inside the Octagon. Even if the rivalry was played out in just under 25 minutes of action, it is one of the most shining examples of warlike competitiveness that has ever been witnessed in sports.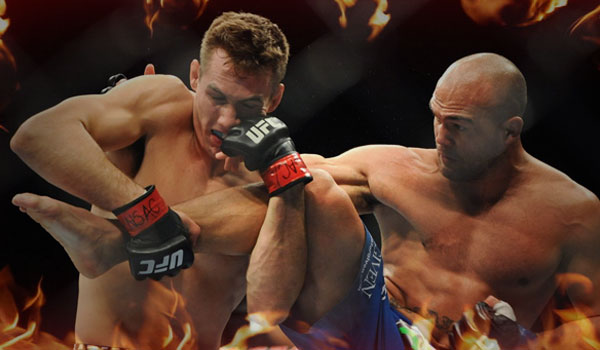 Welterweight Greats and the Heroes of Tomorrow
There is no doubt how important the UFC welterweight division has been, and will continue to be, to fans of combat sports across the globe.
Men like Georges St-Pierre, Matt Hughes, B.J. Penn, and Robbie Lawler carved out legendary reputations at 170. Those champions set a standard that will be adhered to by the ones who follow the paths they laid in time.
We look forward to the future of this division with optimism for what is next to come and for the next champions that will carry the UFC welterweight division forward.
Long live 170.