UFC Fights and Fighters in the Bantamweight Division
When the UFC added a 135-pound title to the promotion, little did fans know just how important the division would become.
These days, some of the best fights to bet on in the UFC happen at bantamweight. It's a hotbed of talent and class. It is ultra-competitive, with very few fighters capable of hanging on to the title before a challenger works them out and steals their gold.
This page is dedicated to the UFC bantamweight division. Use it as we intend it to be used. For example, you can utilize the knowledge here to help you bet on UFC bantamweight fights by learning more about the fighters currently bossing the weight class.
Then again, you can also use the information below to learn about the previous champions, or the contenders most likely to be hoisting the title over the head in years to come.
There is so much here to help you take your knowledge of 135-pounds through the roof while increasing your chances of wins when betting on Bantamweight fights.
Here's what we have in store for you.
Upcoming UFC Bantamweight Fights
Cory Sandhagen vs. T.J. Dillashaw – UFC on ESPN: Sandhagen vs. Dillashaw
Aljamain Sterling vs. Petr Yan 2 – TBC
You'll find details of upcoming UFC bantamweight fights right here.
The most exciting fighters in the division will go head to head for a shot at the 135-pound title. In a weight class as stacked as the bantamweight realm, you really do not want to miss these upcoming wars.
For details of fights in other weight classes, hit the button below. Doing so will take you to our UFC schedule page which details the fights in other divisions.
Current UFC Bantamweight Champion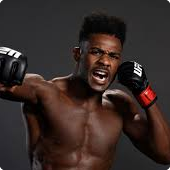 Current Champion: Aljamain Sterling
Champion Since: March 6, 2021
Successful Defenses: 0
Last Opponent: Petr Yan
Born in New York to Jamaican parents, Sterling initially showed an interest in wrestling while in high school.
Over the years, Sterling earned his "Funk Master" moniker for an unorthodox wrestling style. He would compete in numerous tournaments and develop a name for himself as a solid competitor.
Sterling attended Morrisville State College in New York and decided to take up MMA upon a serendipitous encounter with fellow-student, and future legend, Jon Jones. From this point on, Sterling developed the skills that would make him one of the most talented fighters in the lower weight classes.
A difficult puzzle for any fighter to solve, Sterling is regarded as one of the very best in the bantamweight division. Sterling's DQ win over Petr Yan at UFC 259 in March 2021 won him his first title in the promotion. But holding on to it will make for a very tough task indeed.
Top Contenders at UFC Bantamweight
There is no shortage of contenders for the UFC bantamweight title.
In recent years, the division has gone from being one with a few elite fighters and an abundance of fillers to one of the most stacked in the promotion. As things are, the following men are the sharks waiting in the water.
Petr Yan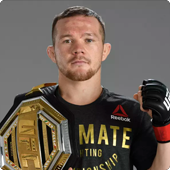 Former UFC bantamweight king Petr Yan… has been described as a light heavyweight in a bantamweight's body.
Weighing in at just 135 pounds, you wouldn't expect Yan to pack as much heat into his punches as he does. But more than power, this solid all-around fighter does the sweet things exceptionally well. There are very few boxing or Muay Thai-heavy strikers as good in MMA.
Born in Siberia, "No Mercy" was soon immersed in the world of combat sports through an initial interest in boxing. Eventually, Yan developed a taste for other martial arts before moving into MMA. It was this sport that would appeal most to the youngster.
Yan's passage to the UFC came via the Absolute Championship Berkut (ACB) banner, where he won the promotion's bantamweight title. His success in the ACB promotion led him to the promised land of the UFC, where Yan would go on to defeat the legendary Jose Aldo for the promotion's 135-pound crown.
Yan lost his title to Aljamain Sterling at UFC 259 by landing an illegal knee when his opponent was downed.
Can he reclaim UFC gold?
Cory Sandhagen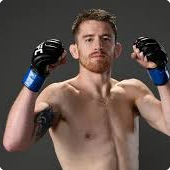 Cory Sandhagen is aiming to join the likes of Dominick Cruz, T.J. Dillashaw, and Urijah Faber as the best fighters to ever compete in this weight class.
The "Sandman" is a long and rangy bantamweight with excellent timing, a great shot selection, and a lot of power.
Technically, his striking is up there with the best to have ever done it at this weight class. So, it's no wonder that Sandhagen had been tipped for the very top from early in his career.
Sandhagen joined the UFC in 2018 and has not looked back.
Marlon Moraes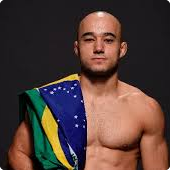 An incredibly exciting fighter, Brazil's Marlon Moraes was lighting people up as the World Series of Fighting's bantamweight king before he hooked up with the UFC in 2017.
Moraes fought for the UFC bantamweight title, losing to Henry Cejudo in June 2019. But that is not the last shot at the title that the Brazilian striking whiz plans on having before he retires.
And to be completely fair, it seems unlikely that it will be the last time we see him in a championship fight.
An excellent Muay Thai-based striker with a genuine BJJ black belt, Moraes is dangerous in all areas.
Cody Garbrandt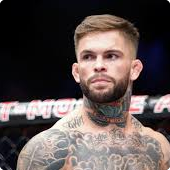 Cody Garbrandt is a former champion of the UFC bantamweight division.
Garbrandt did nothing the easy way to get there, as you will find out a little later in our previous champions section.
These days, "No Love" is looking to claw his way back to championship status.
In order to do so, he's going to need a few big victories over the division's best and brightest.
Will Garbrandt dedicate himself to reclaiming the 135-pound title? Or does a career at flyweight beckon?
Jose Aldo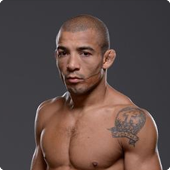 The greatest UFC featherweight of all time?
We believe Aldo will be remembered as the greatest featherweight in MMA history.
After all, his iconic career shaped the 145-pound weight class. It's just that, well, the division he once ruled passed him by.
Now Aldo is in search of the 135-pound title. Can he join the illustrious band of two-weight champions in the promotion? It would be best not to write him off, put it that way.
Best UFC Prospects at Bantamweight
Is there a fighter set to emerge from this weight class that can win titles?
We believe both Song Yadong and Jack Shore could be future champions of this division. Both men have exhibited excellent maturity as well as the type of skillset that can take them to the very top.
It's not inconceivable that these two will meet at some point as they make their way up the UFC ladder. And what a prospect that would be for fans.
Who knows, one day we could be talking about Jack Shore winning the UFC bantamweight championship against Song Yadong, or vice versa. One day we could be covering them as a previous champion at 135.
Of course, there is also Sean O'Malley, who will undoubtedly be one of the contenders for the title pretty soon. And perhaps another fighter who we will refer to as a previous champion in years to come.
While on that subject…
Previous UFC Bantamweight Champions
This is where you will find the men who once at the very top of the 135-pound hill.
These are men that will be forever immortalized in MMA folklore. The men that went as far as a fighter can go, laying down the paths for later champions to navigate.
Henry Cejudo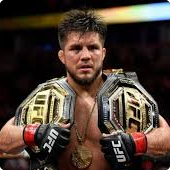 Won Title: Against Marlon Moraes (June 8, 2019)
Lost Title: Vacated upon retirement
Successful Defenses: 1
Cejudo is a living legend of the freestyle wrestling circuit.
The diminutive Los Angeles native brought home gold for the USA at the Beijing Olympics, and also medaled at the Pan American Games as well as other international championships.
Eventually, "Triple C" would make the move into MMA, where he would attain championship status has fought in two UFC weight divisions: flyweight and bantamweight.
Cejudo's retirement from mixed martial arts in 2020 came as something of a surprise, given his success in the sport. A born winner from a rough background, the Mexican-American has never done walking away. But it appeared that the two-weight champ had achieved everything he had set out to do.
Could Cejudo one day return to the promotion that made him a legend?
T.J. Dillashaw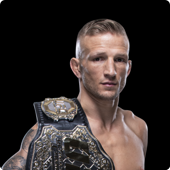 Won Title: Against Cody Garbrandt
Lost Title: Stripped of title for a failed drug test
Successful Defenses: 1
Dillashaw is one of the best bantamweights of all time.
Born in California, "Killashaw" developed a love of grappling that took him as far as Ukraine. The youngster was set on becoming a wrestling master, but would instead make the move into MMA after college.
Dillashaw hooked up with the world-famous Team Alpha Male in Sacramento, where his wrestling nous helped him stand out from the rest of the pack. It became clear pretty soon after that Dillashaw had more than just wrestling chops, as his striking and submission skills proved.
This was enough to see the UFC bring Dillashaw on board to take part in The Ultimate Fighter, where he wowed spectators with a first-round TKO.
More on this guy, including his rivalry with the next man, a little later.
Cody Garbrandt
Won Title: Against Dominick Cruz (December 30, 2016)
Lost Title: Against T.J. Dillashaw
Successful Defenses: 0
Garbrandt emphatically won his title, beating the G.O.A.T of the division, Dominick Cruz, by unanimous decision.
Although he held onto the strap for 309 days, Garbrandt never had the chance to successfully defend it before losing it to T.J. Dillashaw in 2017. In his defense, No Love argued that he lost the title to Dillashaw after sustaining serious back injuries.
Garbrandt has spoken frankly about his tough past in the Appalachians, where he battled drugs and almost committed suicide.
He is known as a fighter that has got himself into some sticky situations when he never really had to, but his character and skillset are strong enough to suggest that he can, one day, rule this division again.
Dominick Cruz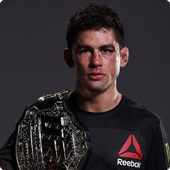 Won Title: Against T.J. Dillashaw (January 17, 2016)
Lost Title: Against Cody Garbrandt
Successful Defenses: 1
The Alliance MMA idol spent his youth in San Diego and Tucson trailer parks.
Falling in love with wrestling in middle school, a high school injury killed his chances of a university wrestling scholarship. Cruz was broken-hearted, but not prepared to give up on his dream of competing in combat sports.
Cruz went to work at Lowe's, eventually swapping that life by finding his way to the Rage in the Cage promotion. He became an MMA pro in 2005 and was undefeated by the time he moved over to fight with the now-defunct WEC (World Extreme Cagefighting).
When the WEC merged into the UFC, Cruz joined the new organization along with a band of other fighters. He became the UFC's very first bantamweight champ, before suffering multiple injuries that threatened to end his career before it had even taken off.
T.J. Dillashaw
Won Title: vs. Joe Soto (May 24, 2014)
Lost Title: vs. Dominick Cruz
Successful Defenses: 2
Yes, T.J. is on this list twice.
He held the bantamweight title for 501 days starting in 2017, but his initial championship reign lasted even longer at 603 days.
It isn't rare to see a fighter bounce back, even come back stronger and more determined. But it is rare to see him regain his place as the division's champion. And that's why Dillashaw has referred to himself as the "Bantamweight G.O.A.T." on more than one occasion. and perhaps he is. However, every champion on here has some feature that makes him a standout contender.
Some return after illness or injury, others dramatically change their body weight to fight in their desired division. Others sacrifice much to travel the world and find the best master fighters to train them.
It's a challenging life, and an expensive one. The level of commitment must be unquestioned, and the ability to withstand pain must be superhuman. Does Dillashaw have such recognizable traits? Yes.
Still, there will always be a shadow over Dillashaw's accomplishments due to his positive drug tests. His subsequent suspension from MMA saw him disgraced at the end of the 2010s and heavily criticized.
Renan Barao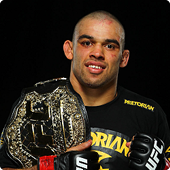 Won Title: Against Urijah Faber (July 21, 2012)
Lost Title: Against Douglas Silva de Andrade
Successful Defenses: 3
Another champion hailing from Brazil, Barao — which translates to "boss" or "lord" from Portuguese — found his rhythm under esteemed trainer Andre Pederneiras.
Barao was included in the list of "Top Ten Brazilians to Watch" back in 2010 and was considered one of the new batch of exciting, modern MMA fighters.
Like many UFC champs, Barao began his MMA career with the short-lived WEC.
He had racked up an incredible 32-fight win streak, only to see it snapped by T.J. Dillashaw in 2014.
An incredible fighter up until that point, Barao's career sunk faster than a concrete block after his first loss.
Dominick Cruz
Won Title: Against Scott Jorgensen (December 16, 2010)
Lost Title: Vacated in 2014 due to injury
Successful Defenses: 2
Another name that you'll see on the list of bantamweight champs more than once is Dominick Cruz.
The first-ever champion of the UFC bantamweight division had the skills in the world, but the physical toils became too much to sustain life at the top.
As a result, Cruz was forced to vacate his strap and enter MMA wilderness for some time.
During his first period as a bantamweight titleholder, Cruz held the belt for 1,117 days, only defending the title twice in that rather lengthy time.
Still, he was able to come back and reclaim the strap in later years and will be remembered as one of the great UFC fighters, of any division, and of all time.
Other Notable UFC Bantamweights
We have covered quite a few names that have graced the UFC's 135-pound roster over the years.
With that said, there are still a few fighters that are yet to get a mention. One of them, a UFC Hall of Fame inductee, is first up in our list of other notable fighters in this weight class. We're guessing you'll recognize the name.
Urijah Faber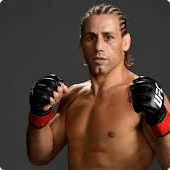 The patriarch of Team Alpha Male, Urijah Faber is nothing short of an MMA legend.
Faber fought for the UFC bantamweight title a total of four times if you include the interim strap.
Unfortunately, "The California Kid" was unsuccessful in challenging Dominick Cruz and Renan Barao in two fights apiece.
Faber is a former WEC featherweight champion and one of the most recognizable names in UFC history.
Miguel Torres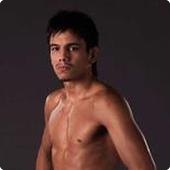 Torres is a former WEC bantamweight king who had a career spanning 53 fights.
Sure, his best days were behind him by the time he hooked up with the UFC, but he still engaged in some excellent fights.
He never challenged for the UFC strap but was hugely respected in the promotion.
If Torres was a little younger and fresher by the time he arrived in the UFC, things could have been so much different.
Brian Bowles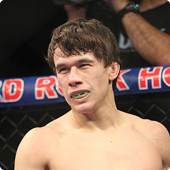 What a crazy career trajectory Bowles enjoyed.
A former WEC bantamweight titleholder, Bowles made the transition to the UFC with all the promise in the world.
A couple of losses tripped him up, but it seemed that he had enough about him to get back on track.
Well, that was until he was arrested on felony drugs and weapons charges in 2015.
What a waste of talent.
Greatest UFC Bantamweight Fights
It's just not possible to put every single bantamweight fight of all time in the following list.
In fact, there are so many fights that could have made it here. But when talking about the absolute best of the best UFC bantamweight fights of all time, the ones below rise to the top.
Cruz vs. Faber 2
Event: UFC 132
Result: Cruz via Unanimous Decision
A rematch five years in the making, 26-year-old bantamweight champion Dominick Cruz had revenge on his mind.
Five years earlier, Cruz had challenged Faber for the WEC featherweight championship, only to be submitted in the first round of the fight.
There was no way things were going to go the same way, now that Cruz had developed into one of the best fighters on the planet.
Cruz vs. Garbrandt
Event: UFC 207
Result: Garbrandt via Unanimous Decision
How dare Cody Garbrandt disrespect a fighter of such royal stock as Dominick Cruz?
The young Team Alpha Male upstart was the latest in a long line of competitors desperate to get at the champion. But there was no way that Garbrandt had what it took to do what Faber had failed to on two occasions in the UFC. He couldn't beat Cruz, surely?
What we saw in this fight was simply unbelievable.
Barao vs. Dillashaw
Event: UFC 173
Result: Dillashaw via TKO
Unbeaten in 32 fights, Renan Barao was expected to get past his latest challenger in T.J. Dillashaw.
Dillashaw had other ideas. Ones that mostly involved two things — beating Renan Barao and winning the bantamweight title in the process. Simple goals for a simple man, right?
Well, Dillashaw did the seemingly impossible. He beat Barao by stoppage.
That punch in Round 1 though. Iconic stuff, right?
Speaking of iconic, for more great UFC fights, hit the button below!
Major UFC Bantamweight Rivalries
There has always been a lot of competition between elite fighters in the UFC bantamweight division.
It hasn't always been healthy competition, of course. But a little sprinkle of acrimony just adds a little spice to the dish, huh?
We were tempted to put T.J. Dillashaw and Renan Barao in this list but opted against it. Why? Well, because Dillashaw kicked Barao's ass twice, and it's not like they hated each other, is it?
It wasn't a rivalry like the ones below.
Urijah Faber and Dominick Cruz
This was no ordinary rivalry. This was a conflict that had a huge hand in pushing the UFC into the mainstream.
It all started before that WEC featherweight title bout in March 2007. The young Cruz felt belittled by his opponent and was enraged when he was forced to sign posters for the fight that didn't even feature his face.
Years of professional rivalry spilled into the UFC, spawning two rematches and countless hours of trash talk and pure hatred. In every way imaginable, these two just detested each other. Nothing was for show.
The Cruz-Faber rivalry is one of, if not the, biggest rivalry in UFC history. But it has long been consigned to the books, as Cruz's comments about Faber in 2016 proved.
Hatchet. Buried.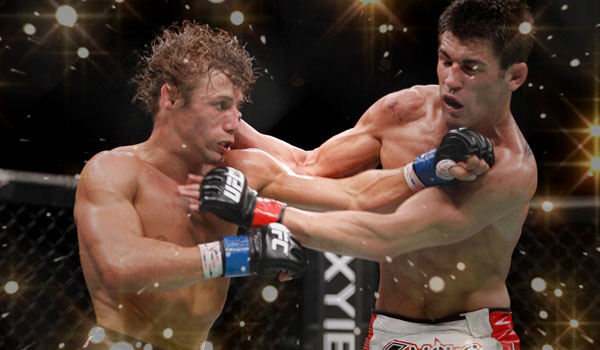 Dominick Cruz and Team Alpha Male
If Cruz was against Faber, he was against Team Alpha Male.
Considering the Los Angeles-based gym contained some of the biggest killers to have ever graced the sport of MMA, that could have been considered a problem. But to Cruz, it was nothing short of a challenge.
Cruz's record against Faber and chums was heavily in his favor. He had multiple wins over Faber, Joseph Benavidez, and T.J. Dillashaw. He had laughed in the faces of other fighters from the gym until he was matched up with Cody Granbrandt in 2016.
Who would have thought the youngster had what it took to bring respect back to "TAM."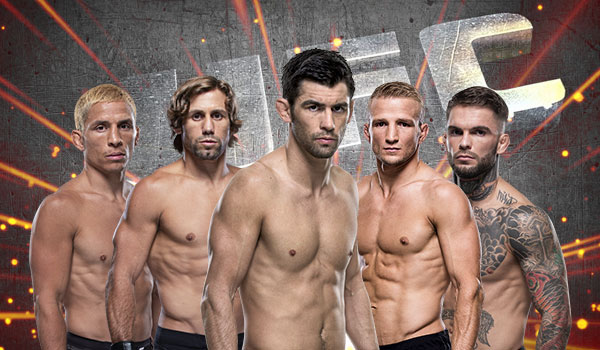 T.J. Dillashaw and Cody Garbrandt
Another heated rivalry that will never be forgotten.
These two despised each other with a venom rarely even seen in the UFC. Both men had to be pulled off each other on The Ultimate Fighter 25 in 2017 and spent most of the year blasting each other in the media.
At UFC 217, Garbrandt lost his championship to Dillashaw by a second-round KO. In the rematch, Dillashaw made even lighter work of his nemesis, taking him out in the fourth minute of the very first round.
This is a rivalry that will probably never be solved. You see, Garbrandt hated Dillashaw for leaving Team Alpha Male, and lying about his intentions. When Conor McGregor got involved at TUF 22, labeling Dillashaw a "snake in the grass," No Love jumped to his defense.
Garbrandt would never forgive him.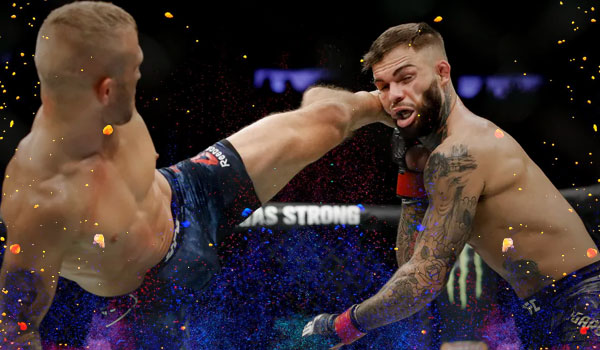 A Division Made for Warriors
The UFC bantamweight division is arguably the healthiest that it ever has been.
Give the incredible mix of talent over the years, that is one of the most encouraging things to be able to say about the sport.
This is a division made of warriors. One that has multiple former champions operating within its walls, as well as a legion of up and coming fighters edging to get their hands on one of the most esteemed titles in the game.
We cannot wait to see where this takes the division in the years to come.