Golf Betting Strategy
Golf used to be a niche sport that many online sportsbooks didn't cover. It's now blossomed into one of the most popular sports to bet on across the globe.
As golf betting continues to become increasingly more widespread, the PGA Tour has upped its position with contributions that make it easier for bettors to stay engaged. With so much information out there, it is important to attack the different markets with a sensible approach.
We're here to help, with a guide that's dedicated to making money betting on golf. We cover all sorts of tips and strategies designed to set you up for success.
Contents of Our Guide to Golf Betting Strategies

Essential Tips for Betting on Golf
Whether it's the John Deere Classic or the PGA Championship, there's a baseline approach you can utilize to bet on golf and win money.
We will get into some of the specific golf betting tips later on, but we need to lay the groundwork first.
Recognize the Golf Course
You don't have to dissect the golf course and familiarize yourself with every hole, but be aware of the layout and the region that it's in.
For example, a lot of the courses on the West Coast Swing have poa annua putting surfaces. These are traditionally bumpy, especially late in the afternoon, and a lot of the guys from the Southeast struggle making the transition. There are others who thrive on this surface. Conversely, a lot of the golf courses in Florida are played on Bermuda greens.
Look at if the venue is tree-lined with lots of doglegs or open off the tee with really long par-4s. Is the rough going to be up, or can you get away with spraying it off the tee? These are the types of things worth assessing before you place your bets.
One rule of thumb is to target golfers playing in an area/on a putting surface they are comfortable in. Phil Mickelson grew up in San Diego and went to college at Arizona State – it's not just a coincidence that each of his first seven victories occurred on the west coast.
Follow Weather Reports
Once you garner some knowledge about the golf course, it's time to take a look at the weather forecast for the week. Just like a baseball bettor can look at a team's splits versus righties and lefties, golf bettors can estimate what the weather will be like during the morning and afternoon waves.
If you know that it'll be benign on Thursday morning but is supposed to blow 20+ mph in the afternoon, use that knowledge to your advantage. Perhaps pile on some FRL (first-round lead) bets on some guys teeing off early.
Another way to exploit a potential discrepancy of weather between each wave is in the head-to-head matchup selection. We'll touch on this market more in a bit, but the idea here is pretty straightforward.
Weather discrepancies won't be baked into the pricing when the best golf betting sites initially release their H2H odds. While the matchups are unveiled on Tuesday morning (EST), first- and second-round tee times typically don't get released until Tuesday afternoon.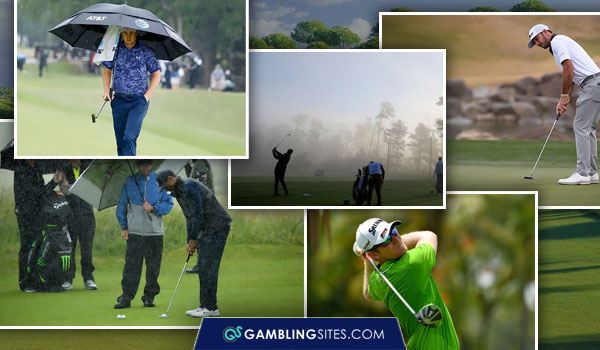 Explore All Betting Options
Do not be in a hurry to fire your wagers in. Take the time to evaluate your options and get a look at the full scope.
The overall winner is the first market that hits the scene for each golf tournament. Ironically, it's probably the hardest one to sustain a long-term profit in.

Top Tip
By waiting until the other opportunities arise for betting on golf tournaments, you can latch onto some much more plus-EV situations.
Once you see how many other ways there are to make money betting on golf, you will probably push pinpointing winners straight to the back burner.
Beware of Too Much Hype
Don't fall victim to recency bias. This is different than following recent form, which we will tackle in the section below. Here's an easy way to apply this theory.
If a +20,000 longshot wins a golf tournament, you'll probably want to stay away the following week when he/she gets listed around +6,000.
The bookies are accounting for expected bets to come pouring in on the last week's winner; that's the reason for the price tag getting slashed in half. For the most part, that golfer should probably be priced closer to the "original" +20,000 number.
On top of these relatively basic tips, there are several other golf betting strategies to employ on a consistent basis. We'll now provide some more advice on different aspects of golf betting strategy and tips for specific betting markets.
Using Stats in Your Golf Betting Strategy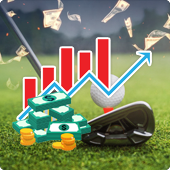 Digging into the numbers is what's going to set you apart from the individual who's not doing enough homework. Shopping the lines and getting the best prices available is essential to stay ahead, that goes without saying. However, it's not enough to carry you to long-term profitability.
We alluded to being clued in on recent form, so let's start there.
Golf is a fickle game. We have seen guys make multiple cuts in a row then drop off significantly. We've seen golfers come out of the woodwork when nothing about their recent game log suggested they would perform well.
But, for the most part, golf is a predictive sport.
Ride the Hot Golfer
Riding a golfer in a groove is a great way to bolster your ROI. In fact, it's one of the best ways to bet on golf. Let's look at an example to illustrate why.
Abraham Ancer was hanging out at +200 to finish inside the top 20 at the 2021 PGA Championship. There was good reason to think this was a value bet.
Abraham Ancer's Results Leading into the 2021 PGA Championship
Date
Event
Result
2/28/21
WGC at The Concession
T18
3/14/21
THE PLAYERS Championship
T22
3/28/21
WGC Match Play
T18
4/4/21
Valero Texas Open
23
4/11/21
Masters
26
4/25/21
RBC Heritage
T18
5/2/21
Valspar Championship
5
5/9/21
Wells Fargo Championship
2
Given he had an active streak of four consecutive top-20s and had finished 26th or better in eight straight, +200 was too juicy to ignore. As it panned out, Abraham tallied a T8 at the PGA. His top-20 bet cashed with plenty of room to spare.
When Viktor Hovland won the 2020 Mayakoba Golf Classic, it wasn't a surprise. Hovland had connected on 16 cuts in a row and had landed inside the top 15 in four of his previous five starts.
On the flip side, Dustin Johnson unexpectedly missed the cut in his hometown state at the 2021 PGA Championship. But was DJ's MC really that unexpected?
Johnson arrived in Kiawah Island with no top-10s in his prior six starts and was coming off a T48 and a WD. We could go on and on providing these types of two-way examples.
The takeaway is that measuring how a golfer has been recently gives you a reasonable idea of what you can expect.
Using Stokes Gained Golf Stats
In terms of other data worth exploring, combing through a player's stats gives you a leg up on the bettors who bet blindly. Statistics portray strengths and weaknesses, and they help determine how good of a course fit a golfer may or may not be. Best of all, they do so in a simplistic manner.
The Strokes Gained data introduced by Mark Broadie in 2011 was a breakthrough for bettors who prefer an analytical approach. Instead of theorizing how good someone is in a certain area of their game, the SG numbers give us real-life feedback.
The Strokes Gained data analyzes how many shots it takes a golfer (on average) to hole out from a specific place, relative to the other golfers in the field. It's become the most accurate way of depicting how good or bad a player is at a certain facet of their game.
In all, there are six SG categories accounted for.
SG: Off-the-Tee
SG: Approach-the-Green
SG: Around-the-Green
SG: Putting
SG: Tee-to-Green
SG: Total
Once you study the course at hand, pick out three or four stats you deem key for the week.
If a tournament is being played at a par-72 venue with four par-5s, par-5 scoring is a stat that should be weighted more heavily than if it was a par-70 track with only two par-5s. And you can dive deeper than that.
If the golf course has small greens and yields a low GIR %, golfers who are good at scrambling tend to be better picks. If the course is long and the rough is down, driving distance should receive a bump on any betting models.
Strategies for Betting on Tournament Winners
Betting on who wins a tournament is the most popular way to bet on golf. There is no confusion; the player you bet on to win either hoists the trophy at week's end or he doesn't.
One of the advantages to this market is that you don't have to wait until the week of the tournament to get your money down for the biggest events in the sport. And in many cases, you shouldn't.
Odds for the majors and team events (Ryder Cup, Presidents Cup, Solheim Cup) are offered year-round. Almost as soon as the current edition is finished, odds for the next year are released. They're then updated frequently.
Getting your bets in early is one of the best tips for golf betting.
Markets trend toward efficiency as we get nearer to the event. What this means is that the closer we get to the start of a tournament, the less of an edge we are going to find throughout the tournament's odds.
If you bet on Jordan Spieth winning the Masters at +3300 in January, you've already "won" if Spieth closes at +1400 in April.
Let's expand on this point.
Picking Winners at the Majors
Justin Rose seemingly always plays well at Augusta. If you know you want to bet on Rose to win the Masters, betting on him six months out when he's in a bit of a slump has a lot of merit.
Catching Justin coming off a couple of missed cuts in a row in October means you might be able to snatch him at +5,000 to win the Masters. If you wait until he rounds into form in March, his price tag might be reduced to +2,500.
Another strategy for betting on golf majors as it pertains to winning is don't be drawn in by the appetizing upside attached to the dark horses.
Can a sleeper win a major? Absolutely. It just doesn't happen THAT often.
Shaun Micheel's name is forever engrained on the Wanamaker Trophy. Nobody can ever take the Claret Jug away from Ben Curtis or Todd Hamilton. However, players ranked outside of the top 50 in the world rarely win the biggest tournaments in golf.
Here is a good piece of trivia to help illustrate that point.
Phil Mickelson won the 2021 PGA Championship despite entering the week ranked 116th in the world. Who was the last golfer before that to win a major after entering the week outside of the top 50?
Darren Clarke at the 2011 Open Championship at Royal St George's Golf Club. Clarke arrived in England that week ranked 111th.
Betting on a Golfer's Finishing Position
As you can gather, it's pretty hard to accurately predict who's going to win a golf tournament. One way to hedge your action is to attack the top-5, top-10, and top-20 markets.
Here is what your options could look like.
| | | | | |
| --- | --- | --- | --- | --- |
| Golfer | To Win | Top 5 | Top 10 | Top 20 |
| Collin Morikawa | +1400 | +320 | +150 | -140 |
| Patrick Reed | +2000 | +450 | +200 | +100 |
| Sungjae Im | +3300 | +550 | +275 | +120 |
| Sergio Garcia | +6600 | +1000 | +500 | +225 |
| Joel Dahmen | +10000 | +1600 | +700 | +300 |
| Adam Hadwin | +17500 | +2500 | +1100 | +450 |
Most UK-based sportsbooks offer each-way bets, which is an extension of what you see above combined with the "to win" market. You can bet on a golfer each-way and be paid out accordingly depending on his finishing position.
This allows you to reduce the variance while still presenting enough upside to make the bets worthwhile.
While a golfer's odds to be the last man standing will be the most alluring, certain golfers are better targeted in the top-10 markets. Tony Finau is the perfect example. As of the end of May 2021, Finau had registered 38 top-10s since his last victory. Next up on that list is Kevin Streelman at 18.
Golf Matchups Betting Strategy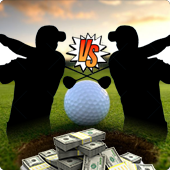 A good chunk of serious golf bettors will tell you that attacking the head-to-head matchups is their bread and butter for betting golf online.
We referenced the difficulty of trying to pick a winner, and even the top-20 markets are from a guarantee. Capturing a top-20 finishing on the PGA Tour still involves defeating 136 others (in most cases).
Betting golf matchups is a great way to improve your chances of winning money.
Here's how they work, and some useful advice.
How Golf Matchups Work
In the H2H market, you are zeroing in on mano-a-mano matchups where you're only concerned about a golfer beating one opponent.
We will toss out some examples from various tours.
Abraham Ancer (-110) vs. Daniel Berger (-110)
Nelly Korda (-120) vs. Danielle Kang (+100)
Jerry Kelly (-130) vs. Ernie Els (-101)
Robert MacIntyre (-169) vs. Matthias Schwab (+132)
You can bet on 72-hole matchups if you want to let the tournament play out, but you can also bet on round-by-round matchups if that's something that piques your interest.
Say you missed the start of the European Tour event because you weren't keeping track of the time difference. Don't fret.
Instead of being closed out of the action for the rest of the week, you can start targeting second-round matchups as soon as the first-round ends.
Lean Toward Plus-Money Picks
While far from a bullet-proof plan, we've noticed that meticulously pursuing the plus-money golfers in matchups can pay huge dividends. Betting at -120 or -130 all the time is probably going to negatively affect the bottom line.
Rather than bank on favorites beating up on the lesser names, remember that the difference between the 50th-ranked golfer and the 75th-ranked golfer is negligible.
Find a player at +100 who you would be willing to back at -110. Or better yet, if you like Abraham Ancer over Daniel Berger at -110, diligently shop that line across all of the best bookmakers. The matchup will likely be listed at several of the sportsbooks; one of them might have Ancer lurking at +100.
Betting Tips for Golf Props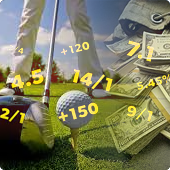 Some sites have more golf props than others, but there are plenty to sift through any day of the week.
Come tournament time, you will encounter group betting. That could mean picking the low man among a threesome that's teeing off together, or that could be betting on the low man from a specific region.
Low American
Low European
Low South African
Low Australian
Like the matchup's arena, you're generally better off betting on one of the underdogs in these groups.
If Rory McIlroy is pitted up against Paul Casey and Tyrell Hatton in a group, the perception of McIlroy beating Casey AND Hatton is a lot greater than the probability of that coming to fruition. Especially in an 18-hole scenario.
As if there weren't enough strategies for golf betting to consider, another wrinkle gets thrown in during the four majors and established team events. The top sites will create a tab for golf props and tons of new options arise.
Golf props for the majors range from betting on the lowest 18-hole score to what color shirt the tournament winner will be wearing.
Don't get too carried away with the "off-the-course" bets as those were created to draw the customer in. Focus your attention, efforts, and funds on the wagers that you can find an edge in.
In other words, locate the props where you can apply the golf betting tips we've addressed. That's where your profit will come from.
More Advice for Successful Golf Betting
From the basic tips and foundational principles to the advanced methods that will help you win money from golf betting, we hope you found this guide useful.
As betting on golf continues to evolve and starts gaining more traction, lines will become tighter, and beating the bookies will become harder. That is where deploying a reliable set of golf betting strategies comes in handy.
Aside from getting acquainted with these philosophies, we also provide a wealth of golf betting content elsewhere on our site. Our golf picks section delivers previews for every PGA Tour event on the schedule.
They include sleepers, betting predictions, matchup picks – basically all our best bets for the week. We frequently cover tournaments from European Tour, LPGA Tour, PGA Tour Champions, and Korn Ferry Tour as well.
Following our golf blog keeps you in the loop of the DFS scene and any breaking stories, so you can track DFS picks for every PGA Tour event. You will come across power rankings for the majors and various other posts dedicated to golf in general and golf betting strategy.
Between this page and all our regular content, you have everything you need to be a successful golf bettor.
July
Sportsbook of the Month

Sign up Bonus
60% Up To $1,000
READ REVIEW
Visit Site
X