How and Where to Bet on the Solheim Cup
It was only a matter of time until the drama and excitement surrounding the Ryder Cup spilled over to the women's side. Established in 1990, the Solheim Cup adopted a similar format and has evolved into the biggest team golf competition in all of women's professional golf.
We're here to encapsulate everything you need to know to make money betting on the Solheim Cup.
From where and how to get money down to some historical perspective of the event, this is as complete of a betting guide for the Solheim Cup as you're going to find.
Our Guide to Solheim Cup Betting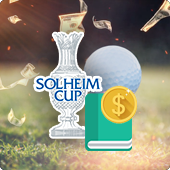 Best Sites to Bet on the Solheim Cup
Rank
Betting Site
Exclusive Bonus
Get Started

#1

Bovada Sports

50% Up To

$250

Visit Site

Visit Site

#2

BetUS

125% Up To

$2,500

Visit Site

Visit Site

#3

MyBookie

100% Up To

$1,000

Visit Site

Visit Site

#4

Everygame

100% Up To

$500

Visit Site

Visit Site

#5

BetOnline Sports

60% Up To

$1,000

Visit Site

Visit Site
The first order of business to get you set up for Solheim Cup betting online is to direct you to the best sportsbooks.
While some bookies keep the Solheim Cup on the back burner, these sites offer a wide range of betting opportunities for the every-other-year competition.
On top of releasing tons of Solheim Cup bets, these bookmakers make it easy for you to get money on and off the site. Using a variety of trusted banking options, depositing, and withdrawing funds is a smooth and straightforward process.
Effortless access to juicy promotions – check.
Easy-to-navigate lobbies – check.
Solheim Cup odds available all year – check.
Between being safe and reputable to tailoring their menu to those gambling on the Solheim Cup, there is no reason to stray outside of our recommended online sportsbooks.
Solheim Cup Betting Apps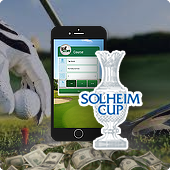 Before you ask about mobile Solheim Cup betting, the answer is, yes.
You can visit the best Solheim Cup betting sites on any mobile device and enjoy the same satisfying experience.
There's no need to go to the app store; don't worry about deleting other apps to clear out enough space for storage. Just open your browser and type in a site's URL and you're moments away from getting started.
We've got you covered if you'd like to learn more about mobile golf betting.
Now let's bring you up to speed on what to do when your accounts are set up.
Solheim Cup Bets You Can Make
Due to the way this tournament is structured, the online bets for the Solheim Cup are unique compared to when you traditionally bet on women's golf.
Here are some of the most common Solheim Cup wagers you'll find online.
Solheim Cup Winner
A couple of things to note here. You can bet on Europe or USA winning, but there are also Solheim Cup odds for the tie. Typically, in the +1200 range. Also, this is a market that's available throughout the year.
Rather than wait until the week of the event to pick a side, you can get out in front of the curve and place this wager way out in advance.
Most Points Scored at the Solheim Cup
Once the rosters are set in stone, the best Solheim Cup sportsbooks will post prices for this wager.
When you're betting on who will score the most points at the Solheim Cup, make sure you consider who's likely to play in the most matches. In this particular bet, volume matters greatly and can even outweigh performance.
Branching off from this wager, you'll also have the option to bet on who will score the most points on each team.

Top Tip
It's important to shop the odds when betting on the Solheim Cup top point scorer. There will likely be significant discrepancies among the 24 golfers.
Solheim Cup Props
Aside from the player props mentioned above, be on the lookout for a variety of Solheim Cup prop bets. Here are a couple of examples of the other wagers you might encounter.
Who Will Sink the Winning Putt?
Betting the Exact Final Score
Betting on Each Solheim Cup Match
Perhaps the most exciting part about making Solheim Cup picks is when the schedule comes out for who's playing who in each session. There are a total of 28 matches played across three days. That means 28 individual betting opportunities.
If head-to-head matchups are an area of interest, betting the Solheim Cup matches will be right in your wheelhouse.
Live Betting the Solheim Cup
While certain Solheim Cup betting markets will close once the action gets underway, expect to see live Solheim Cup odds (for which team wins) fluctuating throughout the weekend.
By the time the 2023 Solheim Cup is on the docket, it's believed that the options to live bet the event will become much more plentiful.
Format of the Solheim Cup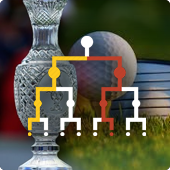 Since 2002, the Solheim Cup format has remained unchanged. The only difference (up to the hosting captain) is the order of fourball and foursomes during the first two days.
In any case, four foursomes matches and four fourball matches are played on Day 1. Day 2 mimics Day 1 while the final day is reserved for 12 singles matches.
With a total of 28 points on the line, the first team to capture 14.5 points is awarded the Cup. However, the defending champions are deemed to have retained the Cup should the competition result in a 14-14 tie.
Keep in mind, there are no extra holes in any of the matches. Should any match be tied after the conclusion of the 18th hole, each team is awarded a ½ point.
Solheim Cup Schedule of Events
Day 1
Day 2
Day 3
Morning – 4 foursomes; Afternoon – 4 fourballs
Morning – 4 foursomes; Afternoon – 4 fourballs
Singles all day
What Are Foursomes?
Foursomes are the same thing as an alternate shot.
At the beginning of the round, each two-woman team designates one woman to tee off on the odd-numbered holes and the other to tee off on the even-numbered holes. The pair then alternates hitting shots for the duration of each hole.
What Are Fourballs?
Fourballs are the same thing as best-ball, aka, better ball.
Say the Korda sisters are paired up in a fourball match. Jessica plays her ball and Nelly plays hers. At the end of the hole, the lower score is counted as the team score.
In this format, only one of the two teammates is required to finish the hole.
2 Key Considerations When Making Bets
For fundamental betting tips for the Solheim Cup, refer to our page that delivers sound golf betting strategies. There you can further explore the importance of studying the course and being aware of trends/recent form.
There are two especially important considerations when selecting your Solheim Cup bets.
Key Stats for the Solheim Cup
While the specific stats we reference cater towards betting on the men, there are a separate set of numbers to key in on when evaluating the Solheim Cup participants.
Given the Strokes-Gained data (SG) hasn't been integrated into the women's side, here's an idea of what statistics ARE measured that lend insight into a Solheim Cup player's strengths and weaknesses.
Driving Distance
Greens in Regulation/GIR
Putting Average
Par-3 Scoring Average
Par-4 Scoring Average
Par-5 Scoring Average
How many birdies a golfer makes per round is also a worthy data point to examine, especially given the aggressive nature of the better-ball format.
Europe Are Strong on Home Soil
While it may not be a bulletproof plan, it's hard to argue with the numbers. Five of Europe's six victories at the Solheim Cup occurred when the event was hosted on European soil.
Europe's overall record on their side of the pond is 5-3, and they're even stronger when playing at venues in the UK.
In the five Solheim Cups played in the United Kingdom, Europe is 4-1.
2021 Solheim Cup Predictions and Picks
This early 2021 Solheim Cup guide previews what's in store at Inverness Club on Labor Day weekend. You'll find details about the festivities and get a peek at how each roster is shaping up.
As the calendar turns from August to September and the bevy of 2021 Solheim Cup bets emerge, we'll assign one of our golf betting experts to write a thorough preview unveiling a series of best bets.
At the appropriate time, our post dedicated to 2021 Solheim Cups betting picks will be available here. Any additional content we generate related to the action in Toledo will be filed into our golf blog.
Information About Future Solheim Cups
The 2023 Solheim Cup will be played at Finca Cortesin in Andalucia, Spain. It's scheduled the week before the 2023 Ryder Cup, which will be played just outside of Rome, Italy.
After that, get ready for a change in this prestigious event.
Per pga.com, an agreement between the LPGA and LET was reached moving the Solheim Cup to even-numbered years beginning in 2024. This means back-to-back Solheim Cups will be played in '23 and '24.
This decision was made in conjunction with the verdict that the Ryder Cup will be moving to odd-numbered years.
List of Solheim Cup Winners
The Americans hosted the inaugural Solheim Cup in 1990 at Lake Nona Golf & CC. The United States and Europe alternate hosting the event; never has the same venue been utilized twice.
USA leads Europe 10-6 all-time at the Solheim Cup.
Solheim Cup Results
Year
Score
Winning Team
Golf Course
Location
1990
11.5-4.5
United States
Lake Nona Golf & CC
Florida
1992
11.5-6.5
Europe
Dalmahoy CC
Scotland
1994
13-7
United States
The Greenbrier
West Virginia
1996
17-11
United States
St. Pierre Golf & CC
Wales
1998
16-12
United States
Muirfield Village
Ohio
2000
14.5-11.5
Europe
Loch Lomond
Scotland
2002
15.5-12.5
United States
Interlachen CC
Minnesota
2003
17.5-10.5
Europe
Barsebäck Golf & CC
Sweden
2005
15.5-12.5
United States
Crooked Stick GC
Indiana
2007
16-12
United States
Halmstad GK
Sweden
2009
16-12
United States
Rich Harvest Farms
Illinois
2011
15-13
Europe
Killen Castle Golf Resort
Ireland
2013
18-10
Europe
Colorado GC
Colorado
2015
14.5-13.5
United States
Golf Club St. Leon-Rot
Germany
2017
16.5-11.5
United States
Des Moines Golf and CC
Iowa
2019
14.5-13.5
Europe
Gleneagles
Scotland
Tallying up all 16 Cups, USA has outscored Europe 216.5-199.5. Of the 416 matches that have been contested in all, USA leads 185-168-63.
Solheim Cup Records
Presented in organized tables and lists, here's a glimpse at some of the most significant records at the Solheim Cup.
Most Points Scored at the Solheim Cup – All Time
Name
Points
Laura Davies
25
Annika Sorenstam
24
Catriona Mathew
22
Suzann Pettersen
21
Cristie Kerr
21
Paula Creamer
19.5
Juli Inkster
18.5
Most Solheim Cup Appearances
Player
Solheim Cup
Matches Played
Laura Davies
12
46
Cristie Kerr
9
38
Catriona Matthew
9
37
Suzann Pettersen
9
36
Juli Inkster
9
34
Annika Sorenstam
8
37
Sophie Gustafson
8
31
Meg Mallon
8
29
Helen Alfredsson
8
28
Beth Daniel
8
26
Trish Johnson
8
25
Most Frequent Pairings at the Solheim Cup
Duo
Number
Points Won as a Pair
Laura Davies & Alison Nicholas
9
5
Sophie Gustafson & Suzann Pettersen
7
3.5
Cristie Kerr & Lexi Thompson
6
5
Brandie Burton & Dottie Pepper
6
4.5
Pat Hurst & Kelly Robbins
6
4
Paula Creamer & Juli Inkster
6
3.5
Catrin Nilsmark & Annika Sorenstam
6
3.5
Catriona Matthew & Annika Sorenstam
6
3
Helen Alfredsson & Liselotte Neumann
6
2.5
Beth Daniel & Meg Mallon
6
2
Youngest Solheim Cup Players
Player
Solheim Cup
Age on the First Day of the Cup
Charley Hull
2013
17 years, 149 days
Lexi Thompson
2013
18 years, 187 days
Angel Yin
2017
18 years, 319 days
Paula Creamer
2005
19 years, 35 days
Morgan Pressel
2007
19 years, 114 days
Oldest Solheim Cup Players
Player
Solheim Cup
Age on the First Day of the Cup
Juli Inkster
2011
51 years, 91 days
Juli Inkster
2009
49 years, 58 days
Beth Daniel
2005
48 years, 330 days
Catriona Matthew
2017
47 years, 358 days
Laura Davies
2011
47 years, 353 days
Most Points Won in a Single Solheim Cup
5, Caroline Hedwall (2013)
Most Singles Points Won – Total
Most Foursomes Points Won – Total
5, Annika Sorenstam (11-3-1)
Most Fourballs Points Won – Total
Betting on Other Team Events in Golf
Are you ready to win money on the Solheim Cup?
Everything you need is available on this page, and it all starts with a list of the top Solheim Cup betting sites. We previewed the bets you'll find and extended advice that'll help you gain an edge.
Links to our golf blog and golf picks sections will come in handy when the Solheim Cup is on the horizon. A quick glance at the records helps lend perspective.
If you want to apply a similar approach when the time comes to profit during the men's team competitions, be sure to check out these all-inclusive guides.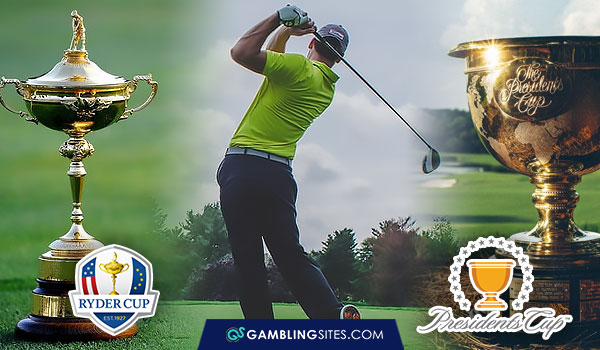 May
Sportsbook of the Month

Sign up Bonus
60% Up To $1,000
READ REVIEW
Visit Site
X