Guide to Betting on the Open Championship
It doesn't matter which side of the pond you're on. You will be hard-pressed to find a golf tournament engulfed in as much excitement and anticipation as the Open.
Scheduled annually in mid-July, it's the final golf major of the year. But you don't have to wait until the summer months arrive to begin your preparation to make money betting the Open Championship.
We've created a guide that will walk you through all the necessary steps for success.
Our Open Championship Betting Guide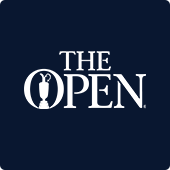 We provide Open Championship betting tips and hash through all the types of bets you'll come across online. From picks and predictions to insight into the British Open course rotation, we also unveil a selection of highlights and records from the "oldest golf tournament in the world."
Being that the ultimate goal is to win money, it's only fitting to begin by showing you the top Open Championship bookies.
Best Sites to Bet on the Open Championship
Rank
Betting Site
Exclusive Bonus
Get Started

#1

BetOnline Sports

60% Up To

$1,000

Visit Site

Visit Site

#2

Bovada Sports

50% Up To

$250

Visit Site

Visit Site

#3

BetUS

125% Up To

$2,500

Visit Site

Visit Site

#4

Everygame

100% Up To

$500

Visit Site

Visit Site

#5

MyBookie

100% Up To

$1,000

Visit Site

Visit Site
It's important to stay use the best Open Championship betting sites for multiples reasons.
Avoid the temptation to stray as fiddling with unreliable bookmakers could lead to headaches and unsatisfying experiences. Our meticulous process of ranking sportsbooks ensures that all your information and funds are protected during any financial transactions at these sites.
Multiple banking options are welcomed, and the deposits/withdrawals are rapid. As far as what makes these the best places to bet on the British Open in particular, a few things stand out.
Largest selection of Open Championship bets
Juicy promotions when you sign up and bet on the Open
Price discrepancies that lead to value
Not only do these sportsbooks deliver a dependable source of banking, but everything you could ask for and more related to Open Championship wagers is offered.
Those of you who plan on betting on the Open on your iPhone, iPad, Android, or any other mobile device are in luck.
Top-Rated Open Championship Betting Apps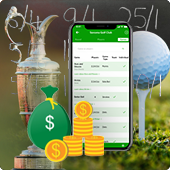 Don't fear having to learn about a bunch of new sites or having to download any more apps on your phone. Going from betting on the Open Championship online to placing golf wagers on a mobile device is about as seamless as can be.
The user experience is identical, and the way you transfer money on and off the platform is indistinguishable. Instead of promoting a different skin that leaves you guessing where to go, you'll be happy to know that these apps are not limited versions of the sites.
From having to be present at a land-based bookmaker to being able to place bets on your computer at home, the progression continues. These gambling apps afford you the luxury of betting on the British Open anytime from anywhere.
Types of Open Championship Bets
The same bets you'd come across for a standard professional golf tournament will be scattered across the internet. We'll touch on those wagers and start opening doors to the unique opportunities before and during the Open.
In a nutshell, there's a much larger assortment of bets for this special occasion.
To Win Outright
Most of the British Open betting possibilities won't start popping up until the week of the event. However, the market that stays open 12 months per year is betting on the outright winner.
While some wagers are exclusive to certain sites, every online sportsbook that offers golf betting will provide Open Championship odds for the winner. Attacking this market early could lead to capturing much more favorable pricing.
Finishing Position
Only one man gets to call himself the "Champion Golfer of the Year." If you don't want to depend on having to correctly predict the winner, skim through the top-5, top-10, and top-20 odds. A few of the bookmakers might even propose pricing for top-30 and top-40 finishes.
Here's an example of a player who always seems to play well at the Open.
Tony Finau at The Open Championship
Year
Result
2016
T18
2017
T27
2018
T9
2019
3
Rather than reach for Finau at +4000 to win, you can latch on at around +175 that he lands inside the top-20. That's where you scoop up the value and let the chips fall where they may.
First-Round Lead
Looking to beef up your bankroll early in the tournament in hopes of creating more betting opportunities over the weekend? FRL bets are wagers aimed at who will be leading after 18 holes are completed.
This eliminates having to wait until Sunday to reap any potential rewards, and it allows you to back a golfer at a more appealing price tag, especially those near the top of the British Open odds sheet.
FRL Odds Compared to the Odds to Win
Golfer
Odds to Win
FRL Odds
Rory McIlroy
+1200
+2200
Justin Thomas
+1500
+2800
Patrick Reed
+3300
+5000
Abraham Ancer
+5500
+7500
Make or Miss the Cut
Often times there's not a lot of value betting on players to make or miss the cut. Having said that, it's one of the Open Championship betting markets you should absolutely look to exploit.
As we cover later, which side of the draw a player is on can make or break their chances. No tournament in the world is subjected to more severe changes of climate from morning to afternoon.
A quick look at the '16 Open at Royal Troon is the perfect example as 35-mph gusts rolled in Friday around lunchtime.
First Two Rounds of the 2016 Open Championship
Combined Score of Late/Early Draw
Combined Score of Early/Late Draw
+175
+362
Each of the top 14 names on the leaderboard heading into Saturday played late on Thursday and early on Friday.
Betting on Open Championship Groups
The oddsmakers do an impressive job offering a multitude of group betting options for the Open Championship. You can bet on the low man from a specific region, like Europe or Australia, or you can bet on the low man in a threesome teeing off together.
On top of that, random groups are created to draw attention. One of those groups could look something like this.
Jon Rahm (+170)
Scottie Scheffler (+275)
Cameron Smith (+300)
Joaquin Niemann (+380)
Ian Poulter (+700)
Correctly pick the low man of the group and wait for the payout to hit your account.
Matchups
From trying to beat the entire field to trying to defeat a selected group of golfers, it's an uphill battle attempting to cash in on these aforementioned markets. It's much easier to realize a profit if you target the matchup selection.
You're only interest here is which of the two golfers score the lowest.
Lines for a plethora of 72-hole matchups are set about 48-72 hours before the first round begins; same with the odds for the first-round matchups. Once 18 holes are finished, the bookies scurry to unleash a horde of second-round matchups.
If you know your plan is to wake up early on Sunday of the Open and be glued to your sofa for the entirety of the coverage, splashing around with the final round head-to-head bets is a great way to spice up the action.
Props for the Open Championship
For the most part, the bets that have been discussed thus far are commonplace for golf betting online. However, that'll be the extent of your options for regular tournaments.
For the Open Championship, lots more avenues to make money start coming to light. To help portray this concept, here's a glance at some of the Open Championship prop bets that have populated in the past.
Where Is the Winner From?
Lowest Round by a Golfer
Number of Drives Over 400.5 Yards
Shane Lowry's Finishing Position
Have fun with the off-the-course props that inevitably come up, but don't get carried away.
Certain British Open props are generated to lure in bettors – not to provide value to the sharps who are looking for an edge.
In-Tournament Betting
Placing bets on the Open Championship has always been fun. Live betting the Open takes the entertainment to a whole new level.
All the top British Open betting apps and sites we've endorsed produce up-to-the-minute odds for the Open Championship. Once that first ball goes in the air on Thursday morning, oddsmakers at each site are continually crunching numbers that reflect the current odds to win.
That means if Dustin Johnson is +1400 at the start of the week, a birdie on his opening hole could drop his price to +1100 in an instant. On the opposite end of the spectrum, a bogey on the first hole could mean DJ's odds soar to +1700.
Betting on the outright winner during the Open is just one way to capitalize on the mid-tournament pricing. To stay in the loop with what's out there, stay active on the sites via your mobile app throughout the festivities. New bets and adjusted pricing are now part of the norm.
Expert Tips for Open Championship Betting
Scan the various markets and search for price discrepancies. Those are two key elements that'll help you find edges. This will always be the case when betting on golf tournaments, but there's a lot more to dig up when the final major of the year arrives.
On top of the fundamental golf betting strategies, here are a few Open Championship tips to help push that edge even further.
Be Aware of the Thursday/Friday Draw
Bad weather and tough conditions are expected each year at the Open Championship. While bettors can't control mother nature, we can pay close attention to the first- and second-round pairings.
Whether your jam is DFS golf, or you like to attack the top-10 and top-20 markets, advantages can be had by targeting players on the same side of the draw. Specifically, when the circumstances are significantly worse for one-half of the draw.
Remember, half the field plays in the morning on Thursday while the other half plays in the afternoon. The two waves are then flipped on Friday so that each golfer has one morning tee time and one afternoon tee time during the first two days.
Of all the golf tournaments where "which side of the draw" you are on impacts your chances at success, the British Open is at the top of the list.
Think of the difference between playing the first 15 holes in benign conditions compared to playing all 18 in 30-mph gales. You get the point.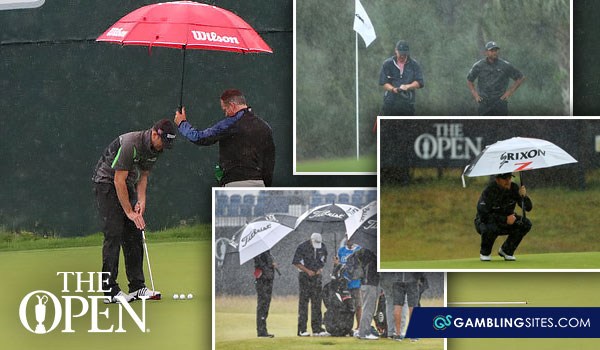 Where Were Golfers the Week Before?
Some guys like to rest the week before the Open Championship. Certain golfers want to experience links golf at the Scottish Open and use it as a tune-up, while others take part in the birdie fest at the John Deere Classic.
There are touts out there who recommend avoiding anyone in the latter category. We're here to tell you that it doesn't really matter.
Scroll back through the past six Champion Golfers of the Year and you'll see what we mean. It's a mixed bag between playing in the UK, playing in the States, and not playing at all.
2019 – Shane Lowry won the Open Championship at Royal Portrush. He played the Irish Open two weeks before about 250 miles away at Lahinch Golf Club.
2018 – Francesco Molinari won the Open Championship at Carnoustie. He played the week before across the pond at the John Deere Classic and finished T2.
2017 – Jordan Spieth won the Open Championship at Royal Birkdale. This came after a full-month break from competition, although Spieth did win in his prior start at the Travelers Championship.
2016 – Henrik Stenson won the Open Championship at Royal Troon. Stenson finished T13 at the Scottish Open the week before.
2015 – Zach Johnson won the Open Championship at St. Andrews. The week before, ZJ fired a final-round 65 at the John Deere Classic, ultimately finishing T3. Johnson hopped right on a charter to Scotland and wound-up outlasting Marc Leishman and Louis Oosthuizen in a playoff.
2014 – Rory McIlroy won the Open Championship at Royal Liverpool. "Rors" finished T14 at the Scottish Open the week prior.
Of the four who played the week before, two played at the John Deere Classic and two played at the Scottish Open. The other two didn't play at all.
The takeaway here is don't read too much into what a golfer was doing the week before the British Open. It doesn't seem to correlate with who ends up hoisting the Claret Jug.
Bombers Don't Always Thrive at the Open
Now that the winners of the Open Championship from 2014-2019 are fresh in your mind, let's see how each man stacked up in driving distance on the PGA Tour in the year that they won the Open.
| | | |
| --- | --- | --- |
| Player | Driving Distance | PGA Tour Rank |
| Shane Lowry (2019) | 297.9 | 63rd |
| Francesco Molinari (2018) | 301.0 | 52nd |
| Jordan Spieth (2017) | 295.6 | 75th |
| Henrik Stenson (2016) | 291.7 | 82nd |
| Zach Johnson (2015) | 282.6 | 148th |
| Rory McIlroy (2014) | 310.5 | 3rd |
McIlroy in 2014 was the last time the Open champ was someone the golf world would consider "long."
This doesn't mean hitting the ball far isn't beneficial at the British Open. It simply means it's not the be-all and end-all. When it comes to prospering on links golf, there's more than one way to skin a cat.
Open Championship Golf Courses
Fourteen different courses throughout the UK have hosted an Open Championship.
Open Championship Course Rotation
Course
Location
# of Times Hosted
St Andrews (Old Course)
St Andrews, Scotland
29
Prestwick Golf Club
Prestwick, Scotland
24
Muirfield
Gullane, Scotland
16
Royal St Georges
Sandwich, England
14
Royal Liverpool
Hoylake, England
12
Royal Lytham & St Annes
Lytham St Annes, England
11
Royal Birkdale
Southport, England
10
Royal Troon
Troon, Scotland
9
Carnoustie
Carnoustie, Scotland
8
Musselburgh Links
Musselburgh, Scotland
6
Turnberry
South Ayrshire, Scotland
4
Royal Cinque Ports Golf Club
Deal, England
2
Royal Portrush
Portrush, County Antrim, Northern Ireland
2
Prince's Golf Club
Sandwich. England
1
Four of the courses listed in are no longer part of the 10-course rotation that's in effect today.
Prestwick Golf Club
Musselburgh Links
Royal Cinque Ports Golf Club
Prince's Golf Club
The Open Championship returned to Northern Ireland in 2019 for the first time since 1951. Other than the 1951 and 2019 editions, every other Open has taken place in Scotland or England.
Typically, the R&A will utilize three courses in Scotland and two in England every five years to keep things balanced. This includes rotating between the two countries from year to year.
Future Venues of the British Open
We highlighted the pristine tracks that are utilized in the Open Championship rotation. Here's what's in store through 2024.
Upcoming Venues for The Open Championship
Year
Dates
Course
Country
Town
County
2021
July 15-18
Royal St. Georges
England
Sandwich
Kent
2022
July 14-17
Old Course at St. Andrews
Scotland
St. Andrews
Fife
2023
July 20-23
Royal Liverpool
England
Hoylake
Wirral
2024
July 18-21
Royal Troon
Scotland
Troon
Ayrshire
When the R&A comes to St. Andrews in 2022, it'll be the 150th edition of the Open Championship. It'll also be the 30th time it has been contested at the Home of Golf.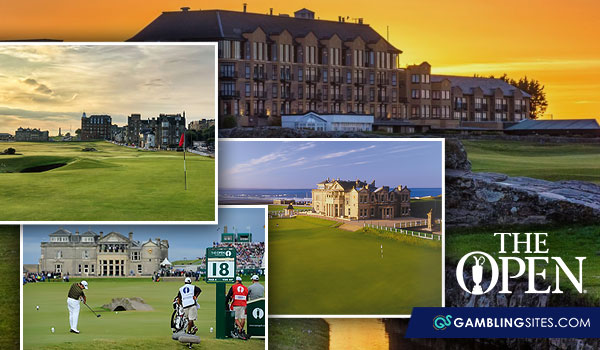 Open Championship Records
Harry Vardon won six Claret Jugs at three different venues between 1896-1914. Vardon's six victories at The Open are the most of all time, but 19 others have hoisted the Jug on at least three occasions.
Remarkably, nine of those individuals won the British Open at least four times.
Players With At Least Four Open Championships
Player
Open Championships Won
Harry Vardon
6
Tom Watson
5
Peter Thomson
5
John Henry Taylor
5
James Braid
5
Bobby Locke
4
Walter Hagen
4
Willie Parks Sr.
4
Old Tom Morris
4
Young Tom Morris
4
For some added perspective, Tom Watson is the only player on this list who won the Open after 1970.
Branden Grace's 62 during the third round of the 2017 Open at Royal Birkdale is the lowest round in Open Championship history. It's also the lowest round that's ever been shot at a major championship.
Hao Tong Li shot 63 the day after Grace fired 62 to become the 11th player to register a 63 at an Open. Shane Lowry has since added his name to the list of "63s at an Open" after shooting 8-under-par during the third round at Royal Portrush in 2019.
The record for the lowest round at The Open Championship in relation to par is -9, shared by two men.
Paul Broadhurst — third round in 1990 at St. Andrews
Rory McIlroy – first round in 2010 at St. Andrews
Nick Faldo (1992) and Brandt Snedeker (2012) share the record for the lowest 36-hole score at 130. Shane Lowry's 197 total at Royal Portrush in 2019 is the lowest 54-hole total, while Henrik Stenson owns the record for the lowest 72-hole score at the Open thanks to shooting 20-under-par (264) at Royal Troon in 2016.
Here's a collection of our other favorite British Open records.
Largest Margin of Victory
13, Old Tom Morris (1862)
12 Young Tom Morris (1870)
11, Young Tom Morris (1869)
8, Tiger Woods (2000)
8, J.H. Taylor (1913)
8, James Braid (1908)
8, J.H. Taylor (1900)
7, Louis Oosthuizen (2010)
Most Cuts Made at the Open Championship
32, Jack Nicklaus
31, Alex Herd
30, J.H. Taylor
27, Harry Vardon
27, James Braid
27, Nick Faldo
26, Peter Thomson
26, Gary Player
Most Rounds in the 60s at the Open Championship
39, Ernie Els
37, Nick Faldo
33, Jack Nicklaus
Lowest 9-hole Score
28, Dennis Durnian on the front nine at Royal Birkdale in 1983
Largest Final-Round Comeback
10, Paul Lawrie in 1999 at Carnoustie
Jack Nicklaus and the Open
This is not a record, per se, but here's a look at the most impressive 18-year run at any major championship that you're ever going to see.
Jack Nicklaus's Record at the British Open – 1963-1980
Year
Jack's Finish at The Open Championship
1963
3
1964
2
1965
12
1966
1
1967
2
1968
2
1969
6
1970
1
1971
5
1972
2
1973
4
1974
3
1975
3
1976
2
1977
2
1978
1
1979
2
1980
4
16 top-5s in an 18-year span, including a top-5 every single year between 1970-1980.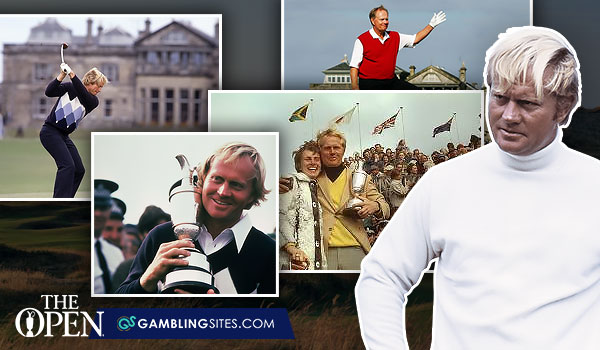 Highlights from the Open Championship
It's impossible to cover every great memory from Open Championship lore, but we can sift through the years and handpick some highlights that stick out like.
Here's a six-pack that come to mind.
Spieth's Late-Round Heroics in 2017
Playing alongside Jordan Spieth in the final round at Royal Birkdale, Matt Kuchar stood on the 14th tee box leading by a stroke. Kuchar manned up and played the next four holes in two-under-par only to arrive on the 18th tee box trailing by two.
What? How? Huh?
Spieth went birdie-eagle-birdie-birdie on holes 14-17 to seize control of the tournament. This short clip below encapsulates his epic finish.
Phil Flourishes at Muirfield in 2013
Three years before his memorable battle with Henrik Stenson at Royal Troon, Phil Mickelson was busy making history at Muirfield. Following a victory, the week prior at the Scottish Open, Lefty woke up on Sunday at the Open five shots out of the lead.
Still trailing with just six holes to play, Mickelson turned on the jets and illustrated an unforgettable finish.
Four-under par over his final six holes resulted in a final-round 66. Phil's caddie Bones Mackey called it one of the greatest rounds he's been a part of.
Cink Steals the Shine from Watson at Turnberry in 2009
Stewart Cink is among the golfers over 40 who can win a major championship. Nobody has to tell Stewart that "old guys" can thrive at the Open – he had a front-row view of it back in 2009 at Turnberry. At age 59, Tom Watson used rounds of 65-70-71 to take the 54-hole lead into Sunday.
The five-time Claret Jug winner stood in the 18th fairway a par away from sealing his sixth British Open, but his 8-iron approach took a firm bounce and trundled through the green.
Watson putted past the pin and set up an eight-foot putt for the win. Unfortunately for so many around the globe, Tom whiffed on the eight-footer and fell apart in the four-hole playoff.
Tiger Completes the Slam at St. Andrews in 2010
Tiger in 2000 is the pinnacle of professional golf. Woods put a stamp on his unbelievable season with an eight-shot romping at the 2000 Open Championship at St. Andrews, making him the fifth male golfer to complete the professional Grand Slam. Tiger was just 24 years old.
Among the litany of records Woods inked that week, his final tally of 19-under par set a record for the lowest score in relation to par in major championship history.
Jean van de Velde Collapses at Carnoustie in 1999
We don't want to pick on the Frenchman, and Paul Lawrie needs to be commended for coming back from a 10-shot deficit with 18 holes to play. Nevertheless, Lawrie's win at the 1999 British Open would have never come to fruition had Jean van de Velde just made a double-bogey or better on the final hole.
Van de Velde's untimely meltdown on the 72nd hole at Carnoustie will go down as one of the biggest collapses in PGA Tour history, let alone the biggest choke jobs at a major championship. The craziest part that nobody remembers is that Jean hit a fantastic bunker shot and holed a seven-footer for triple bogey – just to get into the playoff.
The Duel in the Sun – Nicklaus vs Watson in 1977
Matching 65s on Saturday at the Alisa Course at Turnberry set the stage for what would come to be known as "The Duel in the Sun."
Jack Nicklaus and Tom Watson traded jabs throughout Sunday afternoon, with the Golden Bear ultimately shooting a bogey-free 66 that included a bomb for birdie on 18. The problem for Jack was that Watson carded seven birdies of his own, including on 17 and 18, to card a 65.
Talk about the epitome of a mano-e-mano battle, Watson and Nicklaus finished at -12 and -11, respectively. Hubert Green finished solo-3rd at -1.
Open Championship Picks and Predictions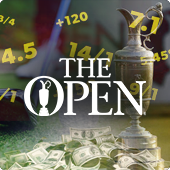 If there's ever a time to go out on a limb when betting on the Open Championship, 2021 at Royal St George's might just be that time. Darren Clarke emerged out of nowhere as the 111th-ranked player in the world the last time The Open was played at this golf course (2011).
Go back to 2003 at Royal St George's and Ben Curtis was the 396th-ranked player in the world when he surfaced out of the oblivion.
To get a handle on the Open Championship sleeper picks we'll be targeting in 2021, check our page of golf picks a few days before the event for a tournament betting preview. All our best bets and predictions for the week will be included in the preview.
Additionally, our golf blog will feature a post devoted to the fantasy golf and DFS picks for the British Open. Other Open Championship content such as tournament power rankings will also be unveiled.
More Major Championship Betting Guides
Are you ready to start gambling on the British Open? This Open Championship betting guide was intended to lay everything out in an organized manner.
From where to bet on the Open to a look back at some of the most inspiring records and moments of all time, use this page as a one-stop-shop for this golf tournament.
When the time comes to start getting prepped for the other three golf majors, keep the guides below handy.
July
Sportsbook of the Month

Sign up Bonus
60% Up To $1,000
READ REVIEW
Visit Site
X