Golf Equipment – Past and Present
Boy, have times changed. Baby boomers can remember the days of hitting drivers that were made of wood with just a scrap of metal bolted in by a few screws. Nowadays, drivers come with a mini screwdriver and adjustable weights. The heads and shafts are interchangeable.
As time progresses, technology becomes better. Golf equipment is no different. This guide will illustrate the growth and improvement of golf clubs and golf balls over the years. This should help you understand how these guys are carrying the ball 330 yards and hitting wedges into holes that Jack and Arnie hit 4-irons into.
If you are new to the game of golf, chances are you had never heard of a niblick or a persimmon wood. The truth is, golf clubs and equipment weren't always so advanced. The abundance of choices and options we have is somewhat of a newer phenomenon. Clubheads now come in different shapes, sizes and even colors.
You can choose from different textured grips. You can decide how thin or thick you want the grips. Shafts are made of graphite fibers that come in different flexes. Depending on your strength and how fast you swing the club, anything from lite and whippy shafts to heavy and stable ones are at your disposal.
Our golf experts have covered the transformation from the beginniing of golf equipment to what we see in the bags of the best players in the world today.
Let's get started!
Golf Equipment – The Early Days

Just look at this picture. No wonder golfers couldn't hit the ball back then as far as they hit it today.
Those balls resemble an old and faded globe that used to sit on your great grandfather's desk more than they look like a piece of sporting equipment. Believe or not, these are the balls golfers played with 100 years ago.
The clubs weren't much better. There was no such thing as drivers and wedges, let alone a hybrid. Back then it was simple. The following names are going to sound like words made up in a children's' book. Bear with us- these are the clubs that were used during this era.
Longnoses– "the driver", the club used off the tee
Bulgers – the smaller version of the longsnose, similar to "fairway woods"
Spoons – the medium irons
Niblicks – the shorter irons
Cleeks – the straight-faced club used for putting
No wonder courses had to be lengthened and made tougher. Back then, the ball could only travel so far. There is really no use for these ancient clubs anymore unless, of course, you are a collector.
Clubs from this era kept in good condition can be very valuable. They may not work very well, but the craftsmanship behind them can most certainly be appreciated.
Back in 1856, a man named Robert Forgan started exporting hickory trees from America to Scotland to serve as the shafts. A firmer type of persimmon wood was used for the head of the club. This was the process for making golf clubs back then.
Fortunately, by about 1930, steel shafts were introduced.

Steel-Shafted Clubs
By the late-1920s, hickory was starting to be replaced by steel as the common material used for golf club shafts. By the mid-1930s, steel-shafted clubs were the industry standard.
This was the first real sign of technological improvement in the club-making procedure.

Newer Golf Ball
Advancements in the golf ball were also being made. We finally had balls that were white with dimples rather than wound up dirty feathers.
British golf equipment company "Penfold Golf" is credited with introducing the white gutta-percha golf ball. Gutta-percha is a type of tree and sap that was used for the insides of the ball.
The process was getting better, but still a far cry from what we see today. Clearly, the materials we have today we not readily available some 90 years ago.
By 1939, the "golf authorities" implemented the 14-club rule, limiting the number of clubs permitted in one's golf bag.
We weren't quite there yet, but the revolution of golf club making was certainly underway.
Golf Equipment – The Next Phase
Even though steel shafts were being used, we were still nowhere near where we are today in terms of golf equipment. The best and easiest way to demonstrate this is by going through some of the highlights and milestones over the past 50+ years.
It took a lot of trial and error over these years to get to way we are today. Quite a few changes and enhancements have been made. Golfers playing today sure have it better than the generations before them.
Let's take a look.
1960s – The Golf Ball Was Changing
No longer looking like a rotten egg, golf balls now actually started resembling golf balls as we know them today!
It was in the 1960s when the synthetic resin-core was introduced. Golf balls could now be consistently produced uniformly.
In 1966, Ping founder, Karsten Solheim, was hard at work in his garage making putters. Little did he know, it was his original Ping Anser model that would become the staple for other companies to copy.
Even to this day, this "hosel design" is the most popular and common type of putter made.
1979 – Taylor Made Steel Driver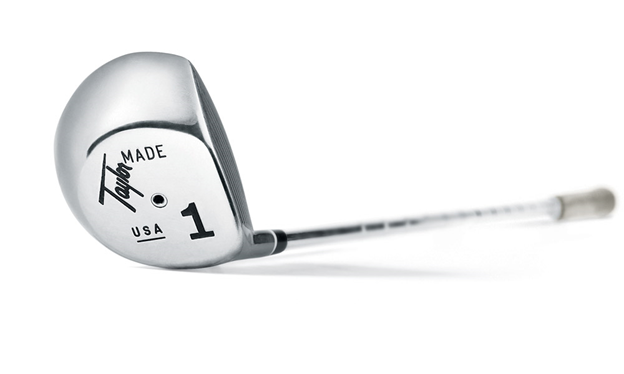 Golf Club innovator Gary Adams was the man responsible for introducing the stainless-steel driver head as the norm. He was able to convince a few tour pros to give it a try.
When Ron Streck won the Michelob-Houston Open in 1981 using the club, persimmon woods would become a thing of the past.
This is the point where steel drivers officially had phased out the older, wooden versions.
1991 – Callaway Big Bertha
Even though steel-headed drivers were a common thing in 1991, nothing like Callaway's Big Bertha Driver had ever hit the market. The 190cc (cubic centimeters) head was much bigger than anything else available.
The reason this club is so iconic is that this was the beginning of the increase in sizes of drivers and fairway woods.
Callaway's Big Bertha Driver paved the way for what we see in today's game.
The mid-1990s – The Graphite Shaft
Many people forget the graphite shaft was first introduced at the 1970 PGA Merchandise Show. Just a novelty at first, people didn't "buy-in" right away. It wasn't until the mid-1990s when golf companies finally made the switch and started mass-producing them for not only professionals on tour, but the everyday golfer at home.
First used primarily in drivers and fairway woods, we then started to see graphite-shafted irons all over the place. From Matt Kuchar's golf bag to the walls at any major golf retail store, graphite shafts are becoming very popular. Don't be surprised if in another 10-20 years we see steel-shafted clubs phased out entirely.
2000 – Titleist Pro V1 Golf Ball
Before 2000, golfers played golf balls that were made with wound cores. Titleist's original iteration of the Pro V1 golf ball came about in 2000, and it was an instant hit with golf professionals and amateurs around the world.
This ball offered a solid core with a multi-layering covering. This design was meant to improve the consistency of the flight of the ball, as well as protect the ball, allowing it to perform under harsh conditions.
When Billy Andrade won the Invensys Classic at Las Vegas over Phil Mickelson in 2000 during the first week the ball was introduced, you figured it would become popular. Nowadays, Titleist is manufacturing over 180 million golf balls a year.
The Pro V1 has been the most popular choice of golf ball by PGA Tour players each and every year since 2000.

The Transformation Is Real
By the turn of the century in 2000, the only persimmon woods around were in closets and garages at home. The club simply did not perform well or consistent enough compared to the new technology.
The golf equipment world is just like other businesses in life. Once online streaming services became the norm for watching movies, Blockbusters and Holywood Videos became obsolete.
Once the steel-headed drivers became available, there was no use or need for older versions and types.
Just like the Big Bertha Driver from Callaway transformed the landscape of golf club-making in 1991, we have seen other major trends more recently.
Let's examine some of these changes. What do the clubs inside golf bags look like nowadays?
Golf Equipment in Today's Game
Golf clubs are so advanced today that you have the ability to change the loft of your driver mid-round if you so desire. You can even adjust the settings to induce a hook or a slice. All that's really left is for you to swing the club and make contact with the ball. The clubs do the rest.

Hybrids
Forget about the 2-irons and the "oh so rare 1-irons". Some irons sets don't even include a 3 or 4-iron anymore. They have been replaced by "hybrids"— clubs that assist us in getting the ball launched into the air.
Hybrids are essentially a combination of a long iron and fairway wood. For example, rather than using a 2-iron or a 5-wood, many players rely on a driving-iron or a hybrid with around 18-20 degrees of loft.
A club with this design will give players a much better chance of catching the ball solidly from a thick lie in the rough. Compared to just 20 years ago, very seldom do you see a golfer today with an old-fashioned 2-iron in their bag.
The adjustable drivers and hybrids are probably the two biggest progressions in golf clubs over the years. Another trend that has developed and grown is the number of companies dipping their hands in the golf club making process.
The days of only having a few brands of clubs that everyone played are well, well behind us. Let's inspect the industry and check out some of the leading equipment companies in the sport.

Leading Golf Equipment Companies
The most popular golf brands for irons sets, drivers and everything in between is as follows:
Titleist
Mizuno
Taylor Made
Srixon
Callaway
Cobra
Ping
PXG
These are the top brands of clubs that are in the bags of the best players in the world. They also happen to be the leading brands that are available at golf stores and online retailers. This is clearly not just a coincidence.
Some of these large father companies own sub-divisions that specialize in designing specific clubs. For example, Callaway owns Odyssey golf, one of the leading companies that designs and sells putters.
Scotty Cameron Putters by Titleist have become extremely popular ever since Tiger Woods won 14 majors using a Scotty Cameron. It is his signature chrome-finished Newport 2 GSS that caught the eye of so many golf connoisseurs and made Scotty Cameron putters so demanded.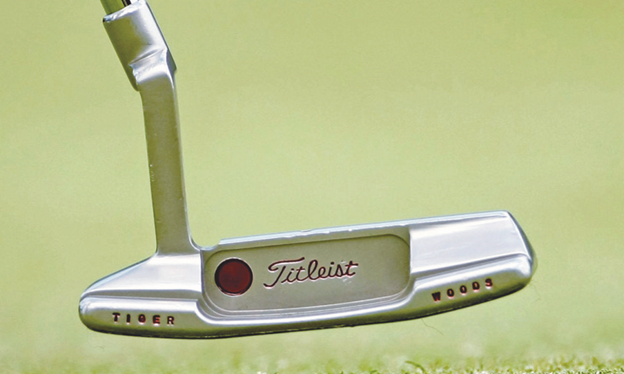 The endorsements from the top players in the world give these companies everything they need to go out and sell product to the mass public. Nike just recently got out of the club making business after designing and building golf clubs since 1998.
Nike's involvement and decision to produce golf clubs was a direct reflection of the "Tiger Woods effect". The fact that Tiger is no longer the central figure on television winning golf tournaments is exactly why Nike had to make the decision to abort.
Whatever brand of clubs Tiger was playing, golf fans at home were going to want to get their hands on the same equipment as well.
Let's use another example, the Taylor Made driver. Taylor Made comes out with new versions and iterations of their driver throughout the year. When you have so many of the top players in the world playing your driver, the trickle effect is real.
Golfers at home go to the golf store and want to buy an M1 driver after they see Dustin Johnson or Jason Day smashing it 320 yards into the wind. Golf is a "monkey see, monkey do" type of game.
Trying to copy and imitate the best players is the natural way a golfer thinks.
Golf equipment companies have capitalized on this ideology.
Taylor Made churns out annual sales reports of over $1 billion year after year. Same thing with Titleist. As long as the guys on TV are using their clubs, the fans at home will be buying and using them as well.
The main takeaway and difference between golf clubs today and the ancient ones of the past is this:
Today, golf clubs are made to fit you. Not the other way around!
Instead of walking into a golf shop and grabbing a set of irons off the shelf, you can now experience a customized fitting session to ensure you are purchasing clubs that fit your swing speed and type. The importance of finding a set of clubs that match your swing cannot be understated.
There is a reason a professional bowler might use a 15 or 16 lb. ball while a young teenager may use a 10 or 11 lb. ball. You use whichever ball will make bowling easier and more effective.
Golf clubs nowadays are no different. Next time you go out to buy a new club, take a second to step back. Don't just go for the stiffest shaft just because that's what Rory McIlroy uses. Get fitted, get comfortable and find some clubs that help your game.
July
Sportsbook of the Month

Sign up Bonus
60% Up To $1,000
READ REVIEW
Visit Site
X