Strategy Advice for Betting on Boxing
Betting on boxing matches is one of the most exciting ways to make money as a gambler.
With major fights scheduled throughout the year, there are plenty of opportunities to bet. But you need to think smart when wagering on fights, which is why it's crucial to have a solid betting strategy for boxing.
We detail some of the best boxing betting strategies here, to help enhance your prospect of making consistent profits on the "sweet science." Furthermore, you will find it much easier to build a steady and reliable strategy of your own with the advice you'll find below.
Here's what you can expect to find in this guide.
Boxing Betting Strategy – Table of Contents
Tips for Profiling Fighters Before Betting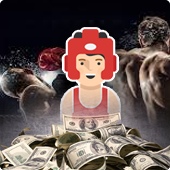 The best strategies for betting on boxing advocate the use of statistics, information, and other data.
In the modern game, it's more important than ever to consider these factors before you bet on boxing. You really need to form a complete profile of both boxers to make logical predictions about a fight.
One of the best boxing betting tips for beginners is to ALWAYS carry out research on fighters. There are many resources you can use to do this, and it will prove invaluable.
Here are a few important pointers to consider.
Accomplishments – What do they bring to the ring? Is this fighter a world champion, or an emerging prospect? Are they ranked highly by the WBC, IBF, WBO, or WBA?
Record – The record of a fighter tells their own personal story. But more than anything, it reveals if they have beaten anyone of note, or simply crushed tomato cans to get where they are. Use sites like BoxRec and The Ring to help you.
Career Length – Are they a once-great fighter still hanging on, or a hungry young lion looking to pounce? A fighter with extended wear and tear often buckles against younger, fresher opponents.
Damage Taken – How many times has the fighter been stopped? Have they recently suffered a knockout or a string of stoppages? This could be a sign that a fighter's chin has gone.
Lifestyle – It's almost always best to avoid fighters that bloat up between bouts or have a propensity for the party lifestyle. Target the cleaner, more disciplined boxer.
Decline – Most boxers decline with age. Sometimes it's sudden, but for the most part, it is gradual. Learn how to spot the wane of a fighter by studying their output and damage in previous performances.
The best boxing betting strategies start with getting to know both fighters in the squared circle. Once you have established this, you can then move on to predicting who will win and how.
Betting on the Outcome of Boxing Matches
If you're looking to bet real money on boxing matches, chances are you'll start with betting on the outcome of the bout.
As part of your system for gambling on the fights, you will often find yourself focusing on the popular bets and markets in the sport. These bets are relatively straightforward, but that doesn't make them easy to win money from.
The most common of these wagers involve backing the winner outright, or the method of victory (KO/TKO/Decision).
Let's move on to our expert boxing betting strategy advice and tips for these types of wagers.
Betting on the Winner in Boxing
In many cases, the likely winner of a boxing match will be fairly clear. But that's not always the case.
Therefore, in fights where there are opponents of similar experience and skill levels, the smallest details matter.
Trust in Reach Advantage – The fighter with the longer reach will, more often than not, hit more and get hit less. Picking up on this early in the match could be conducive to your success when gambling on boxing bouts.
Hungry Fighters are Dangerous – Backing the hungrier fighter can prove to be an auspicious move. When considering your strategy for betting on boxing, consider the fighter that wants it more.
Bet Against Weaknesses – All fighters have their weaknesses. For example, speed might be their kryptonite. You could enhance your chances of profit if you know the Achilles heals of each competitor.
Back the Southpaw – In a fight between two boxers of similar styles, you might want to bet on the southpaw with the best gambling sites. Studies show that southpaws win more fights than orthodox boxers.
Here is an example of a tale of the tape you will see before a fight. This will help you understand the vital statistics in a bout, such as height, reach, and stoppages.
| | | |
| --- | --- | --- |
| Fighter A | Tale of the Tape | Fighter B |
| 35 | Fights | 46 |
| 33 | Wins | 43 |
| 1 | Losses | 2 |
| 1 | Draws | 1 |
| 24 | KOs | 39 |
| 6'4" | Height | 6'6" |
| 80″ | Reach | 84″ |
| Southpaw | Stance | Orthodox |
| 34 | Age | 36 |
Wagering on Decisions in Boxing
Looking for a solid strategy for wagering on a fight to end in a decision? You should first look to establish the probability of a knockout.
It's not as easy as it sounds, of course. But the general idea is to weigh a few key factors that will help you determine the chances of one fighter being stopped inside the distance.
You can start by reviewing both fighters' knockout ratios. If you're looking to bet on the fight ending in a decision, or even for one of the fighters to get the nod on the scorecards, it doesn't make sense to do so in a scrap featuring two knockout artists.
Over the years, bettors made a lot of money backing decision fighters in this sport. One of the greatest points fighters of all time was Floyd Mayweather.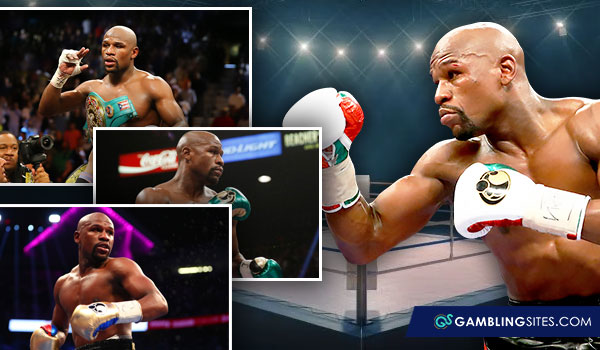 What made Mayweather so special was his defensive prowess. Almost all the fights in the later stages of his career went the distance due to his superior ability to control a bout with his low-risk strategy.
Mayweather arguably had a couple of favorable decisions in his career. He probably deserved to lose the first fight against Luis Castillo. But most of this favoritism was attributed to the fact that he always fought on home/friendly soil, in front of judges that would ultimately give him the nod in a close bout.
As a champion, you had to beat Mayweather very convincingly to get the win.
With this in mind, three things to establish in your strategy for boxing decision bets are as follows.
The style of the fighter and their opponent.
The possibility of potential hometown decisions.
Is the fighter a popular champion?
Consider the above strategies for boxing before you wager on decisions.

Top Tip
The higher the weight class, the higher the chance of a knockout. However, decisions do happen even at heavyweight, for example, and knowing how to predict one could help you make money betting on boxing matches.
Boxing Knockout Bets
Once again, study the two fighters. As with most strategies for wagering on knockouts, this is the key.
Just like when gambling on decisions, you want to predict the likelihood of a KO/TKO. So, look for things such as the weight of both guys, high knockout ratios, and earlier incurrences of stoppages.
Also, consider where the fight will take place. For example, Lennox Lewis suffered a shock defeat to Hasim Rahman in April 2001 in Brakpan, South Africa. The world champion was knocked out by the gambling underdog, Rahman, having shrugged off the effects of fighting at high altitude.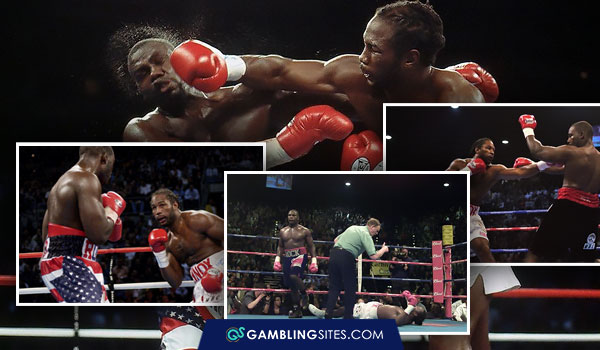 Lewis later regretted not preparing for the altitude like Rahman had, attributing this to the upset. But any shrewd bettor should have taken this into account when thinking about boxing gambling systems for the bout.
In summary, here are things that can contribute to a knockout in a fight.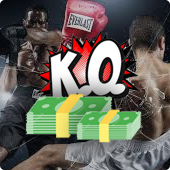 Weight Class
KO Percentage of Both Fighters
Previous KOs Suffered
Obvious Defensive Frailties
Age of Both Boxers
Altitude and Other Environmental Factors
Strategies for Wagering on Boxing Rounds
Another popular way to gamble on fights is to choose when the fight will end. This can be done in a few different ways.
The one that most sportsbooks and boxing betting apps offer are as follows.
Over/Under or Total Rounds
Group Rounds
The Specific Round
Let's take a look at all three.
Strategy for Betting Over/Unders in Boxing
One of the best boxing wagering tips for wagering on the over/under is to learn how to find value in odds.
The threshold can change from fight to fight, but let's say, for argument's sake, that the total is set at 7.5 rounds. What you're looking to do is to accurately predict whether the fight will end before or after that point.
This is one of the top wagers you can place on the fights, so let's run over some tips and pointers to keep in mind.
Fighters Returning from Injury – Any top-tier fighter returning from injury will usually want rounds in the bank for cardio purposes. You could make a profit by betting over 5.5 rounds, for example, especially if they are proven stoppage artists.
KOs in Previous Fights – If a fighter has been knocked out in a previous bout, it could affect their performance in this fight. A great tip for boxing bets in this category is to take their apprehension into account, as this could lead to a longer fight.
Long KO Streaks – A fighter with a lengthy KO streak can really affect the value when wagering on over/unders. If the caliber of their next opponent is higher than usual, consider the over bet for a sweeter profit.
Top Fighters Coming off Losses – It can often be a good idea to bet under the threshold with an elite fighter coming off a loss. To convince the public that they are not done, a strong, early KO against a weak opponent usually does the trick.
As part of your best strategy for boxing bets, factor in comebacks, tune-ups, a fighter's ego, and other factors that could lead to value in the totals markets.
Strategy for Betting on Group Rounds
Group rounds are hugely popular as they often come with bigger odds than wagering on totals.
For the most part, championship fights have rounds that are grouped into quarters, with the odds depending on the fighters and the matchup.
Here's an example of what to expect.
| | | |
| --- | --- | --- |
| Group | Fighter A | Fighter B |
| Rounds 1 to 3 | +1200 | +3000 |
| Rounds 4 to 6 | +850 | +2800 |
| Rounds 7 to 9 | +800 | +1600 |
| Rounds 10 to 12 | +1100 | +2500 |
Many of the same principles for wagering on totals apply to group rounds, but there are a couple of additional tips that can come in handy.
Out of the Traps – Slow starters tend to pick up the pace around the midway point of the fight. But if there is even a little drop in the competition, these same fighters might look for early finishes to improve their resumes. If you can spot a reduction in quality, your bet on later rounds could pay off nicely.
Jumping Up in Weight – Fighters that jump in weight too quickly often don't carry their power with them. If they are perceived as knockout artists in the smaller weight class, there could be value to be had in backing them for a finish in Rounds 10-12, rather than 4-6.
A sound group round betting strategy for boxing matches can really help you make clever money.
Specific Round Betting Strategy
You want to hear our best tip for betting on specific rounds? Leave them alone.
Specific rounds are often incredibly difficult to predict. In any championship fight, you have 12 rounds that the fight can end in, discounting a decision.
Still, the odds are often very rewarding if you can nail the round. And if your heart is set on gambling this way, well, who are we to judge? Just make sure to remember the following tips.
The Consistency of a Fighter
You could stick with the group bets, but perhaps it might work out in your favor to first check out how consistent this fighter is. If he is scoring KO/TKOs at different points in every fight, that inconsistency might be repaid if you bet on, say, the second, seventh, and 11th rounds.
But the key to this is understanding his opponent and taking all the pointers above into the equation.
Level Changes Can Spring Surprises
A fighter with a lengthy run of knockouts in the first few rounds might find it difficult to replicate this in a title fight. They might even change their style completely, which could see them adopting a more patient approach as the fight goes on.
The best strategy here is to disregard the early finishes over the cab drivers and tomato cans and consider wagering on a finish in the later rounds.
Live Boxing Betting Strategy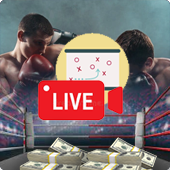 Our boxing betting experts are advocates of gambling on fights live. There are so many markets available, which means more chances to win money on your wagers. The thrill of instant market changes based on a flurry of punches can really do the trick.
But more than anything, gambling on the sport in-play can make money for bettors who are able to read a fight.
Needless to say, a solid strategy for live boxing bets is necessary. As part of yours, always remember to look for the following.
Does a fighter look physically different?
Can you sense fear?
Is a fighter showing signs of poor cardio?
Are they too aggressive?
Has an early cut/scar tissue opened?
Does the underdog look good early on?
These are just six tips for betting on boxing fights in-play. As you gain more experience with this type of boxing betting, you can dig into more details and create your own strategies.
Obscure Boxing Strategies and Tips
We believe the best strategies for betting on boxing should address some of the more out-of-the-ordinary stuff.
So, here are some of the more obscure hints and tips for gambling on boxing. These should help you cast your net a little wider when placing your wagers on the bouts.
Strategy for Betting on Boxing Upsets
Upsets can catch us by surprise. Well, most of us, at least.
One of the biggest sports betting upsets of them all went down on February 11, 1990, when 42-1 underdog Buster Douglas knocked out the unbeatable Mike Tyson in Japan. This stunning victory marked the end of "Iron Mike" as the world knew him, sending shockwaves across the planet.
But was this predictable? Well, there were certainly signs of a potential upset. Tyson was partying too hard, not training, and pretty much treating Douglas as a bum. But this was 37-0 Mike Tyson, and he was expected to win by knockout.
Would we recommend, as part of our top betting strategies for boxing, to bet on upsets? Not always. But some signs can help you win big if you can spot them before a fight.
Fighter Leaves Trainer – Leaving a trainer can have a detrimental effect on a fighter. Not only does it mess with their structure and familiarity but can also hint at an over-bloated ego.
Boxer Misses Weight in Last Fight – They are either too big for the weight, or not taking things seriously. Either way, it's going to show come fight night. The underdog could make you some money here.
They Enjoy the Nightlife – Remember, boxers tend to live highly regimented and structured lives from an early age. So, a sign of a top fighter looking to enjoy alcohol and late nights could be a sign of them slipping.
Complacency Worries – Like Tyson with Douglas, are they taking their opponent seriously? If they are not, you could profit from their self-satisfaction.
Celebrity and Exhibition Fights Betting Strategy
The dawn of the celebrity fight has brought us some interesting fights, as well as some downright awful ones.
But there is profit to be made from these bouts if you know what to look for. The same applies to gambling on exhibition bouts between older boxers looking for their final payday.
Most Exhibitions are Highly Structured – This is due to the reservations of the sanctioning bodies approving them. You can use this to your advantage by not wagering on knockouts, and instead gambling on the higher end of totals bets and for the fight to go the distance
Look for Value in Celebrity Boxing Props – These fights tend to have some wild and wonderful props. These are also typically where the value is, given how difficult bookies find handicapping two guys who aren't fighters. In most cases, they'll make the bigger man the favorite.
Check out the following post for more help with betting on these fights.
Betting on Women's Boxing Matches
Not only has the women's game become very entertaining in the 21st century, it is also a great sport to bet on.
Some of the world's top female fighters are outshining their male counterparts. There are sharp boxing bettors who believe that the bouts between women are a little better to gamble on, for various reasons.
We're not entirely convinced that women's boxing is BETTER to bet on, but it can certainly be profitable. You do need to make a few adjustments to your approach, though.
Here are a couple of things to bear in mind when formulating a good strategy for betting on boxing matches featuring female fighters.
Fewer KOs in Female Fights – Women don't land the same percentage of KOs compared with their male counterparts. Whether this is down to women not having as much power, or the two-minute rounds is a matter of opinion. But, either way, it's something to consider.
Better Competition – Not too long ago, women's divisions were very top-heavy, with only a few great fighters looking down on many average ones. But these days, the overall quality is improving and that's led to more surprising results. Upsets make for big odds, so do your research and you could win big.
More Boxing Betting Strategy and Advice
That's almost a wrap on this guide to boxing gambling strategies.
But before we say goodbye, it's worth pointing out that there is plenty more information for you to use when wagering on the fights.
The best boxing betting strategies focus on a holistic approach when placing your bets on a scrap, so make sure to check the following pages before you go.
You can find our latest boxing betting picks below.
July
Sportsbook of the Month

Sign up Bonus
60% Up To $1,000
READ REVIEW
Visit Site
X