How to Win Money from Live Betting on Boxing
For pure thrill and atmosphere, nothing beats betting on live boxing matches.
Considered the perfect combination of edge-of-your-seat entertainment and state-of-the-art modern betting, in-play boxing betting can also be very profitable. Once you know what you are doing, of course.
In our guide to live betting on boxing fights, we're going to teach you how it works, highlight the pros and cons, and expand on what truly matters when betting on boxing in-play.
We also have some valuable live boxing betting tips to help you win money on the fights, as well as a strategy advice that can seriously raise your game.
Our Guide to Live Boxing Betting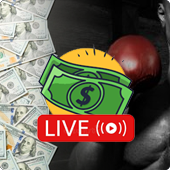 How Betting on Live Boxing Works
The idea behind live boxing betting is simple. Instead of making your pre-fight wagers and hoping for the best, you have the opportunity to continue betting on the fight live and until it ends.
The top online boxing betting sites provide odds and markets for a wide range of events that can happen in the fight. We'll get to those types of markets a little later. For now, let's just say that there are few live boxing bets you can place that are significantly different to the traditional ones.
It's not the markets that make the in-play function so popular with those who champion live betting on boxing fights. Rather, it's the opportunities that live boxing gambling presents for those who know what to look out for.
If your eagle eye spots something in a fight, there is a market that could potentially earn you a nice profit.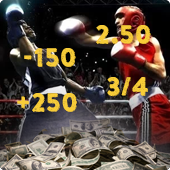 Now, the oddsmakers know what to look out for, too. They are going to be watching the ebb and flow of each contest and adjusting the odds accordingly.
They ensure the odds are as accurate as possible by using both human brains and automated systems. Therefore, you typically need to move fast with your live bets on boxing fights to maximize your chances of winning your bets.
Markets will be paused if there is a significant event happening, such as a boxer being floored. If a flood of money on a particular event happens as something major is going down, the bookies' software will adjust prices or restrict bets until things simmer down.
You will notice that the odds for in-play betting on boxing change constantly. It doesn't take much for prices to change, either. For a start, the moneyline will adjust depending on how long is left in the fight. Punch stats will also have a great effect on the odds available.
The bottom line is that there are opportunities for you to capitalize on events before they happen or as they happen. Once you are up to speed, you should know how to find the top live betting odds for boxing. But it does take practice.
While there is so much to love about live betting on boxing matches, to be successful, you need to understand that it's not this huge, untapped goldmine. There are also pitfalls to be aware of.
The smart way to bet on live boxing is to first get to grips with both sides of the coin.
Pros and Cons of Betting on Boxing Live
Before you place your first live bet on boxing, make sure you understand the pros and cons of the feature.
Although there is the option to make money on numerous different outcomes, there is also the danger that the frantic pace of changing odds and markets can lead you to lose a lot of cash very quickly.
In essence, live boxing betting can be a handy tool. But if you are not careful, it can quickly backfire.
Let's start with some of the obvious pros of in-play betting on boxing bouts.
Pros of Live Boxing Betting
Easier to Read the Fight – Does a fighter look jaded, uninterested, or simply unfit? Capitalizing on stuff like this could make you money when betting on boxing in-play.
More Opportunities to Win – More markets equal more chances to win. Use your boxing knowledge to your advantage and you could improve your profit margin.
Wagers Settled Fast – Many live boxing bets are settled quickly, meaning you don't have to wait for the fight to end to receive your winnings.
The Potential for More Value – Some experts prefer to wait for live bets on boxing fights over pre-fight wagers. The reason is the rapid nature of odds increases and decreases presents more opportunities to reap betting value.
Bonuses and Promotions – Making good use of live betting bonuses and promotions for boxing matches is another way to potentially top-up your winnings. There are often some really attractive free bets and incentives, so get on them!
All of the above sounds good, right?
This is the gambling industry, however, and there is no such thing as a sure thing. There are also downsides to in-play betting on boxing fights.
Cons of Live Boxing Betting
Only Effective with the Right Tools – Live betting on boxing requires the right tools. If you have a poor internet connection, a dodgy stream, or a laptop that is about as responsive as a coffee table on valium, you're not going to reap the benefits.
Wager Confirmation – There is a delay when placing your wagers that typically takes a few seconds. You could find that your bet is rejected at the current odds, or worse, the market could close. Not only is this infuriating at times, but it can lead to you missing out on other boxing in-play betting opportunities, too.
Less Time for Judgment – High-pressure often leads to errors, and this is certainly the case when gambling on live boxing. From choosing the wrong bet to erroneously adding an extra zero to your wager, you have to be hyper-alert at all times.
More Room for Losses – Live boxing betting can be a dangerous game to play, as the multitude of markets combined with the frantic pace of things can see you lose money. Fast. The temptation to chase losses and back unrealistic outcomes are common dangers.
Usually Favors Betting Experts – The in-play boxing feature is widely used by experts who understand the sport as well as cover other pertinent bases. For example, they will practice using the interface with smaller bets on smaller fights to get used to being able to react as quickly as possible. It takes time and effort to get to this level.
All in all, we believe that the upsides outweigh the downsides to live betting on boxing.
Still, we recommend you start gently and slowly to build things up. Improve your knowledge of both the sport and the boxing betting site you use before placing bets, and use expert tips to limit your chances of losing money by making irresponsible choices.
With the pros and cons of wagering on boxing in-play laid out, you should consider whether you are interested in this feature or not. Our complete guide to live/in-play betting contains some really valuable information to help get you started.
If you want to learn more about what matters when gambling live on boxing, let's move on.
Betting Markets for Live Boxing
The sheer number of live bets on boxing fights can be overwhelming. Especially when you're new to the game.
But any of the best boxing sportsbooks online categorize their bets to ensure that they are easy to find when the pressure is on. You can usually identify the bet you are looking for under any main category, such as "Method of Victory" if you are going for the knockout or decision.
Different Types of Boxing Betting Markets
Standard Markets
Specific In-Play Markets
Obscure Markets
Winner
Fighter A to Win Round 6
Next Fighter to Bleed
Method of Victory (M.O.V)
Fighter to Win Next Round
Next Fighter to be Cut
Round to Win
Total Punches in Next Round
Next Knockdown to be Ruled Slip
Group Round Betting
To Score Next Knockdown
Trainer to Enter Ring Before Bell
Total Knockdowns
No Knockdown in Next Round
Towel Thrown In (Round 10)
Over/Under
Ref to Deduct Under 3.5 Points
Referee to be Hit
Winner and M.O.V
KO/TKO in Next Round
Fighter A to Spit Out Gumshield
Points Win No Action
Fight to be Stopped Next Round
Fighter B to Sing After Fight
Ultimately, the live boxing betting odds and markets available will be a mix of the traditional bets with some tailored for live betting. There will also be more obscure markets to wager on. These can range from the very interesting to the totally unexpected.
As you can see from the table above, the traditional markets that you can bet on will, for the most part, be still available when live betting on boxing. There are obvious exceptions, of course, with the specific round and group round options diminishing as the fight goes on.
The longer the fight goes on, the shorter the odds get when round betting. So, sometimes it's a better idea to place these types of bets before the fight rather than in-play. The odds will typically be much better.
On the flip side, some odds for live boxing betting are almost always better than the ones before the fight. In fact, some are not even available until the first bell has sounded.
We certainly recommend considering some of the specific in-play wagers. For example, if a fighter is showing signs of gassing out in the first few rounds, betting on them to be dropped in the next round of the bout could be a winner.
The great thing about live betting on boxing matches is that it is usually complementary to a bettor's ability to read the fight.
Now, in order to effectively read how a fight goes, you must have experience gambling on boxing. If you are clued up in that department you will know that anything can happen, so honing in on the right live betting odds for boxing at the right time is a skill.
We all have to start somewhere, of course. So, with that in mind, here are some live betting tips for boxing that will help you shape up.
Live Boxing Betting Tips
The live-betting game, in general, usually suits smart gamblers with knowledge of the sport they are wagering on.
But you don't have to be a guru of the "sweet science" to make a profit here, of course.
Below, you'll find a mix of the essentials as well our experts' top tips for betting live on boxing fights.
Improve Your Kit for Better in Play Betting
Do you own a good laptop/smartphone/device?
This and a strong internet connection are vital when betting in-play.
If you want to increase your chances of winning money betting on live boxing, you should be doing everything you can to make that happen. That's whether you are betting on Olympic boxing or the big heavyweight title fight.
Our experts would never recommend anyone to place live boxing bets unless they have a solid internet connection and access to a live stream of the fight. That sounds incredibly simple for a live boxing betting tip. But it's absolutely crucial to ensure that you are not at a disadvantage before you wager.
If your tools aren't up to scratch, you're going to lose out. It's that simple.
Not everyone is blessed to have top hardware, software, and high-speed internet. If you don't, it's probably best to forget about profiting off live boxing betting odds and focus on pre-fight bets instead.
Even if the odds for live boxing betting are the greatest you have ever seen, you're at a super disadvantage without the right tools.
Use Top Boxing Betting Apps for Live Boxing Bets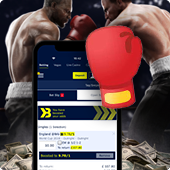 Top boxing gambling apps are also essential.
These apps and sites usually have the best live boxing features.
That's not exactly strange, is it?
After all, the best cars in the world are usually the fastest and the best to look at. It's kind of like how the top hotels in the world have the top service, beds, or swimming pools for patrons to enjoy.
With sarcasm aside, you should really have the best product to use when betting live on boxing odds. A trustworthy and safe betting site or app is essential, but also make sure that their live betting feature is responsive, easy to use, and top-notch.
Most of the leading apps that offer live bets on boxing fights have stats and data for you to use when making your wagers. But don't wait until the fight has started to make good use of this material.
Not when you can get your research done before the fight.
Do Your Reconnaissance
Stats. Form. Previous fights.
They all matter to in-play boxing betting; trust us on that.
Data from sites like BoxRec is frequently used by experts building their cases on why fighters should win. Even if there is a lot more to how two fighters shape up than how many wins or KOs they have, it does help to know what's what.
This is one of the best tips for betting on boxing live. Why? Because styles make fights.
Sometimes, even the best boxers in the world struggle with a particular style of fighter, such as a southpaw technician or an inside brawler. It's up to you to figure these things out on a fight-by-fight basis if you are serious about live betting on boxing fights.
Here are a few basic examples.
Brawler vs. Brawler – There's going to be a KO, right? Not necessarily. However, if one brawler has more heart and a better chin, they are usually the one to back.
Technician vs. Pressure Fighter – The live betting strategy boxing here also involves knowing the tangibles and intangibles. Sometimes, it's the pressure fighter that gives up because they cannot enforce their style on the other man.
Technician vs. Technician – You might think this one is going down to the wire. But sometimes you will find that one of these technicians can turn up the heat, and the power, if needs be.
If you can identify the strategic approach of both fighters, you can profit off the resulting outcome of their clash of styles.
The same applies to how a boxer will respond when their heart is tested, or if their advanced age might see them pulled from a fight when it's clear they are out of their depth.
You can improve your live betting strategy for boxing by checking out our main boxing betting strategy guide.
Match the Markets to the Fight
Why bother with the method of victory markets? Well, when it's certain to be a decision, there is no point. Is there?
Why are you studying the late rounds odds when it'll be an early KO?
There are so many markets to choose from. But a little research can eliminate the ones to avoid.
Many fights aren't going to be easy to call. Some could end in numerous different ways, but you'll usually be able to limit the number of bets to consider when you understand what each fighter brings to the table.
An older, defensive-minded fighter is going to struggle to knock out a young, excitable KO artist. So, scratch anything to do with that fighter winning inside the distance and instead look at more viable markets.
Do the same with the young buck, who has no chance in hell of winning by decision.
Eliminate All Distractions
You need to concentrate.
To focus exclusively on the task at hand is massively important.
You cannot successfully bet live on boxing fights with distractions around you. It's you, the fight, and all of the action going on in the betting markets in front of you.
Doing this in the middle of a party or a wake isn't exactly going to help your chances.
Top Tip
The best way to bet on boxing in-play is to do so alone. At the very least, you need minimal distractions.
You don't want loud noises, loud people, or other distractions present. They will throw you off your game and almost certainly limit your chances of winning money.
Another crucial thing to remember is to stay sober. Drinking alcohol or taking other stimulants will affect your ability to react quickly. If you are not ready to pounce on the opportunities as they present themselves, you could seriously miss out on major wins.
Look for Clues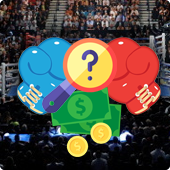 This is in-play boxing betting.
This means, of course, that you're betting on the fight live.
You should be looking for every little clue you can to back up your bets. If a fighter looks a little shaky at the stare-down, that's not often a good sign. If they look a little doughy around the midsection — and are known for their wild partying ways — have they even trained for this fight?
There are clues in body language that you can pick up on, too. How did they respond to being hit in the last round? Trying too hard to pretend they weren't hurt?
Always keep an ear on what the trainers are saying between rounds, too. This could help with almost any live bet on boxing.
Strategies for Betting on Live Boxing Matches
There are multiple strategies for betting on boxing in-play.
Live betting strategy boxing tips aren't always going to be useful by themselves. You have to consider the bigger picture and treat each fight on its own merits.
Here are a few strategies for live boxing that will help.
Holding Off on Knockdown Bets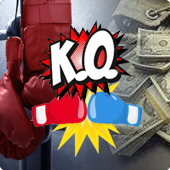 The first of our live betting tips for boxing is simple but effective.
If the odds for multiple knockdowns are poor before the fight starts, it might be worth waiting to feel things out.
Let's say you believe that both fighters will be knocked down, with the Over/Under of +3.5 drops in the fight with the wager of your choice. If you wait until the first few rounds are out of the way, you could see the odds for both of these bets dramatically increase.
If you have done your research, and believe that these two will start to engage heavily from the fourth round onward, your live boxing betting strategy could pay off here.
The "Wait and See" Technique
Of the various strategies and tips for betting on boxing live, this is one that often gets overlooked.
Put simply, this expert boxing strategy technique involves watching the fight live and waiting to pounce on a bad start or even an accident suffered by the favorite that leads to a significant odds adjustment.
For example, the favorite could come in with prohibitive odds but could suffer an early knockdown or bad cut that makes them suddenly backable. But are they worth a shot? It's a risky move.

Top Tip
If there is value with the favorite, and you trust them to come through adversity, you could make some good money when betting live on boxing fights.
Hedging Your Bets in Boxing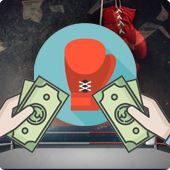 Gamblers hedging their bets is one of the main reasons why live betting on boxing is so popular these days. Especially when you have two fighters of equal skill who could viably win a fight.
Live betting on boxing fights can allow you to change your mind once the bell has gone. There might be factors you couldn't have considered before the bout began that has now completely changed your opinion on how the fight will go.
In order to break even, or to simply minimize your exposure, hedging your bets is an important live boxing betting strategy to have under your belt.
Whe the circumstances are right, you can even lock in a guaranteed profit when hedging bets using the in-play betting on boxing feature.
More Advice for Betting on Live Boxing
Betting on boxing online is definitely the way forward.
With so many betting opportunities, and top value available in live boxing betting odds, it makes sense to wager on the fights online.
Using a solid strategy for live boxing bets will help you get the most bang for your buck. If you really want to improve your chances of sustaining long-term profits on boxing, the following information can further bolster your prospects.
May
Sportsbook of the Month

Sign up Bonus
60% Up To $1,000
READ REVIEW
Visit Site
X