Star Trek Red Alert Slots
Despite a short TV run that only lasted from 1966 69, Star Trek now boasts six spin off TV series along with 13 movies. Thanks to these spin offs and the franchise's popularity, WMS has developed multiple slots games based on the series.
Star Trek Red Alert, which is found in land based and online casinos, is arguably the most popular of these games.
Based on the original series, Star Trek Red Alert includes real life characters and achievements that let you unlock other games.
But is this enough to live up to the TV series, which has developed a cult like following over the decades?
Find out as we cover this 5 reel, 25 pay line game's symbols, bonus features, betting options, and compare it to other Star Trek slots.
Overview
Star Trek was far from a hit when it first aired in the mid-1960s, eventually being cancelled by NBC in 1969 due to low ratings. It was only when Paramount Pictures syndicated the show in the1970s did it gain a significant following.
These days, you're hard pressed to find anybody who doesn't recognize Captain Kirk William Shatner and Spock Leonard Nimoy.
These are the two most iconic characters that you'll see, while real life depictions of Dr. McCoy and Klingon Commander Kang also appear on the reels.
The background consists of stars moving through outer space, which makes you feel as if you're traveling in the Starship Enterprise. This effect combined with the real life character depictionshelp Star Trek Red Alert honor the original TV shows.
Star Trek Red Alert Pay Table and Graphics
Star Trek Red Alert offers the following symbols and payouts in the main game:
Star Trek Icon Wild

The Star Trek icon substitutes for all symbols except the Feature icon, discussed in bonus section, and offer no payouts on its own.

Starfleet Insignia

This is meant to signify a member of the Starfleet, which services the United Federation of Planets by exploring space and keeping the peace. The insignia pays 1,500 credits for 5 symbols,750 for 4, and 250 for 3.

Captain Kirk

Commander of the Starship Enterprise, Captain Kirk pays 1,000 credits for 5 symbols, 250 for 4, and 50 for 3.

Spock

Second in command and part of the Vulcan race, Spock pays 500 credits for 5 symbols, 150 for 4, and 40 for 3.

Dr. McCoy

Good friends with Kirk, McCoy is another high ranking official on the ship. He pays 400 credits for 5 symbols, 100 for 4, and 30 for 3.

Commander Kang

The evil Klingon ruler is the biggest adversary to the Starship Enterprise throughout the original series. Kang pays 250 credits for 5 symbols, 75 for 4, and 25 for 3.

Klingon Birds

These small ships do Kang's evil bidding. Klingon Birds pay 200 credits for 5 symbols, 50 for 4, and 10 for 3.

Tricorder

Used by Starfleet members to analyze and record data, the Tricorder pays 125 credits for 5 symbols, 25 for 4, and 5 for 3.

Communicator, Phaser Gun

The Phaser Gun is a particle beam weapon used to stun or destroy enemies, while the Communicator can either be used for voice communication or as an emergency signaling device. Both symbolspay 100 credits for 5 symbols, 25 credits for 4, and 5 for 3.
Symbol Graphics
We give WMS credit for not resorting to any generic symbols like letters/numbers in this game. Instead, every symbol represents a character or an object from the show.
The graphics aren't crisp, but rather indicative of the video quality seen in 1960s TV. The background, on the other hand, looks modern and is a nice contrast to the older looking symbols.
All of this combines to create an atmosphere that's reminiscent of the original Star Trek series, yet still in touch with today's slots world.
Star Trek Red Alert Bonus Features
From the Red Alert bonus to random features during the main game, Star Trek Red Alert has a lot of extra frills. Below yon can read more about each feature:

Red Alert Features
The Red Alert bonus is the primary draw to this game because it has so much going on at once.
When you get 3 or more Feature symbols on the reels, you're taken to a second screen where you're warned to prepare for battle. You're then shown a clip of the Starship (USS) Enterprisecrew diving to the floor as their ship is hit with a particle beam.
In the top screen, you see the Enterprise on the left side, and a fleet of Klingon ships on the right side. Each Klingon ship has multipliers on it ranging from 2x to 15x.
Every time that you get a winning spin, the Enterprise fires at one of the ships and nets you a multiplier. Each time that you have a losing spin, you're hit with a Klingon beam and loseone of your 5 shields free spins.
When you lose all five of your shields, you select one of two fuzzy screens to reveal if you'll get re enforcements of one more spin or retreat with no chance to earn another prize. If youdon't get an extra spin, Commander Kang appears onscreen to taunt you while the battle ends.
You can keep the bonus going longer by getting 3 or more 100% Shields symbols to restore your spins.
The Red Alert feature has its own pay table, complete with new pictures of Kirk, Spock, and Dr. McCoy along with different weapons too. The main symbols to watch for include a new wild andthe 100% Shields icon.

Medals
Every time that you land three or more Feature icons on the reels, you'll earn a medal. The top bar lists how many medals you've earned as well as how many medals you need to unlock thenext game.
At the beginning of Red Alert, you'll see that you need 50 medals to unlock the Explore New Worlds game. This is exciting because Explore New Worlds is only available in land based casinosand not as its own online slot.
The fact that you can unlock more Star Trek games by earning medals gives you a reason to continue playing Red Alert beyond just a short session.

Win Warp
This feature happens randomly after a winning combination and will award you one of several bonuses:
Rock Wild

A giant rock flies across the screen and leaves behind a multiplier.

Scotty's Wild

The USS Enterprise's chief engineer, Scotty becomes an expanding wild on 1 to 2 reels.

Spock Multiplier

Spock awards you a multiplier worth between 3x and 10x.

Starship Enterprise Fly By

The USS Enterprise flies across the screen and changes one of the symbols to help you form a bigger win.
Betting Options
Star Trek Red Alert's pay lines are fixed at 25, and you must make at least a $0.10 Feature Bet. The latter is to ensure that you're eligible for the Red Alert bonus.
One thing that you can change is the coin denomination, which ranges from $0.01 to $3.00. When you change the coin denomination, the Feature Bet goes up too, ranging from $0.10 to $30.00.
This means we can conclude the following:
Minimum wager = $0.35 per spin
Max wager = $105.00 per spin
Classic and QuickBet Panels
Star Trek Red Alert gives you two different methods of selecting your betting options.
#1 One way is the Classic Panel, which lets you use a plus and minus size to increase or decrease your bet. This gives you greater control over your bet size, but it takes longer to selectyour options.
#2 The other method is the QuickBet Panel, which allows you to quickly choose your bets with a sliding bar. The sliding bar takes you through betting increments that have a wider range whenyou bet more.
Here are a couple of examples: bets from $0.35 to $3.50 increase in $0.35 increments. And bets from $35.00 to $105.00 increase in $8.75 increments.
You can also use Min and Max buttons to quickly go from the highest to lowest end of the betting spectrum.
Comparison to Other Star Trek Slots
As mentioned before, WMS has developed more than one slot based on Star Trek. Two of these games include Star Trek: Explore New Worlds and Star Trek: The Trouble with Tribbles, both of which canbe unlocked through Red Alert.
Here's a closer look at how both of these games compare to Star Trek Red Alert.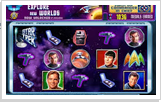 Explore New Worlds
This game looks almost the same as Red Alert, save for a few new characters/objects and a Beam Me Up bonus round. An Andorian blue alien and USS Enterprise make their debut in this game, andyou'll see familiar characters like Captain Kirk, Spock, and Dr. McCoy.
You unlock the Beam Me Up Bonus by getting three scatter symbols anywhere on the reels. You then select a crew member to travel to a new planet, where you shoot at and pick up differentobjects.
You can earn credits and sometimes beam more crew members down during this bonus round. Every time you get this Pick Crew Mate icon, you'll earn an achievement medal. The Beam Me Up bonus roundcontinues until you uncover the evil alien.
Other than this bonus and new characters, Explore New Worlds plays the same as Red Alert. We recommend that you only play this game after unlocking it through Red Alert, rather going out ofyour way to find it in land based casinos.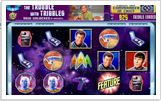 Trouble with Tribbles
This 5 reel, 25 pay line slot is based on Episode 15 in Season 2 called The Trouble with Tribbles, where furry pets begin multiplying inside the Starship Enterprise and eating all the ship'ssupplies.
Featuring different characters/objects such as Lieutenant Uhura, Tribbles and a space station, this game offers you a few new symbols.
You can also unlock a Tribble Pinball bonus by getting three or more scatter symbols on the reels. Here you shoot Tribbles into the pinball field in hopes of landing them in multiplier andprize holes. You can also win a Door Feature, which lets you choose doors to reveal credit prizes.
Like Explore New Worlds, Star Trek: The Trouble with Tribbles is more of a supplement to Red Alert, rather than a brand new game. Even still, it's worth unlocking The Trouble with Tribbles ifyou like the original slot.
Conclusion
Star Trek is one of the biggest science fiction TV series of all time, and it's not easy to make a slot machine that captures this success. But through its real life characters, movingbackground, and excellent bonus round, we think that Star Trek Red Alert lives up to the TV series.
The Red Alert feature is what really sells this game because it has so many dimensions. Not only do you watch a battle scene take place in the top reel, but the free spins are also themed asShields.
The Win Warp is also good because it brings you more features in the form of the Rock Wild, Scotty's Wild, Spock's Multiplier, and the Starship Fly by.
The medals you earn are another nice touch that gives this game long term playability. Star Trek Explore New Worlds and The Trouble with Tribbles may not offer enough to be separate online slots,but they're great rewards after you earn enough medals.
Another good point to Star Trek Red Alert is how you have two different methods of placing your bets. This may not make a huge difference to some players, but it's nice to make your own decisionhere.
Our Thoughts:
We can't find a weakness in this game, unless you don't like Star Trek and its numerous spin offs. That said, this is an excellent game to play for anybody who enjoys slots.

Sign up Bonus
250% Up To $5,000
READ REVIEW
Visit Site
X