Review of Mr. Macau from Betsoft
Macau is known as the Las Vegas of the East. It is a Special Administrative Region off the coast of mainland China known for its casino gambling.
There are 41 casinos in Macau, including some of the largest casinos in the world. Those casinos inspired the slot game from Betsoft, Mr. Macau.
The game's backdrop is a red and gold casino floor. Red and gold represent luck in Chinese culture. That is why they are featured in Chinese casinos and the Mr. Macau slot game.
Mr. Macau is an exciting game with several bonus features. Thanks to the game's high RTP, you have a good chance of winning like one of Macau's high-rollers.
Read on for our full review of Mr. Macau.
Where to Play Mr. Macau for Real Money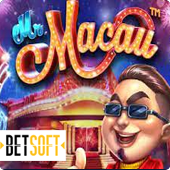 You can start playing Mr. Macau online for real money now. All you have to do is find some online casinos with Mr. Macau.
Fortunately, you have many options. Betsoft is the software provider that created the Mr. Macau slot machine. Because Betsoft is one of the top software providers globally, many sites use their software.
It is safe to assume that sites that use Betsoft's software will be online casino sites with Mr. Macau.
Our online casino reviews are an excellent resource for finding out which gambling sites use Betsoft software. You can also use the reviews to find out about a site's banking options, bonuses, and more.
We also have recommendations for the best slots casinos using Betsoft software if you'd like to find a casino to join now.
Guide to Playing Mr. Macau
It is a good idea to know a little about the Mr. Macau online slot game before you start playing. Fortunately, it is not difficult to learn how to play.
Mr. Macau is a reasonably standard slot game with five reels and twenty fixed pay lines. It has fixed betting options that range from $0.12-$20.
Basic Information
Manufacturer: Betsoft
Theme: Casinos, Macau
RTP: 97.07%
Type: Video Slot
Release Date: June 2021
Volatility: Medium
Features
Free Spins: Yes
Bonus Round: No
Progressive Jackpot: No
Multipliers: No
Layout
Reels: 5
Rows: 3
Pay Lines: 20, Fixed
Settings
Minimum Bet: $0.12
Maximum Bet: $20
Maximum Payout: 4,338x
Mobile Compatibility: Yes
You need three of any symbol to earn a payout. The symbols must fall on one of the specified pay lines starting from the left side of the screen.
All of the symbols on the Mr. Macau casino slot machine relate to classic casino symbols. Ace through Jack playing card symbols are the low-paying symbols.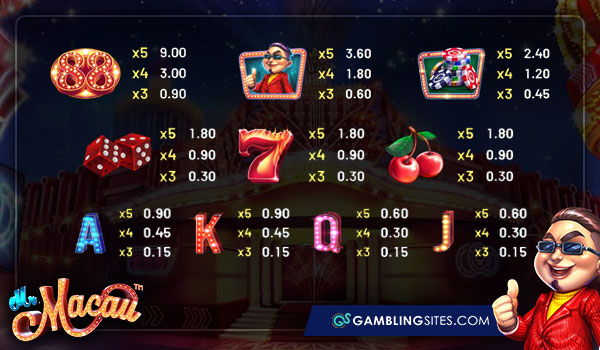 Cherries, flaming sevens, dice, and the stack of chips are the medium-pay symbols. Mr. Macau himself and the gold 88 sign are the highest-paying symbols.
Mr. Macau's Winning Features
Knowing how to play Mr. Macau is only the beginning. The more important question is, how do you win money on Mr. Macau?
It is a slot machine, so there are no skills or strategies that will help you get winning symbols on the reels. The best way to win Mr. Macau is to take advantage of the game's bonus features.
There are several bonus features on the Mr. Macau online slot machine. The best part is that most of them are available while you are playing the base game.
You can earn free spins, but you don't have to wait until the free spins feature starts to experience the other bonus features.
Free Spins and Sticky Wilds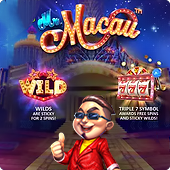 There are two special symbols on the Mr. Macau casino slot game. They are the wild symbol and the scatter symbol. Both of these symbols only appear on reels 2-5.
The wild symbol is a red and gold marquis with the word wild on it. You will notice that some of the wild symbols have stars or other symbols above the word. That is because Mr. Macau has sticky wilds.
If two stars appear on top of the wild symbol, it will remain in place for the next two spins. When there is only one star on top of the wild symbol, you only have one sticky wild spin left.
Only some of the wild symbols become sticky symbols. It happens more often than not, but they didn't always stick for us while writing this Mr. Macau slot review. They won't for you, either.
Wild symbols can replace any other symbol, except for the scatter. However, some wild symbols have the scatter symbol on top. Therefore, those wild symbols can replace the scatter symbol.
The scatter symbol is a classic slot machine showing three red sevens.
If you get three red seven machines, you can earn ten free spins. In addition, four scatter symbols offer ten free spins with multiplier wilds
up to 3x.
During the free spins round, all wild symbols will remain sticky for the duration of the free spins feature. Wild symbols are also more common on the free spins reels.
Randomized Bonus Features
On top of the two symbol-based bonus features, the Mr. Macau online casino slot also has two bonus features that are triggered randomly after any non-winning spin.
Wild Boost
Mr. Macau's Wild Boost feature offers extra wild symbols for your next spin. A gold frame will appear around the edge of the reels when this feature is active.
During the regular game, you can usually get two or three wild symbols on a single spin. When Mr. Macau's Wild Boost is active, you can get five to seven wild symbols at a time.
Those wild symbols can also have the sticky wild feature. That means it is possible to have multiple sticky wilds for up to two spins in a row.
Stick and Re-spin
Another feature is the Stick and Re-spin feature, which randomly chooses a special symbol. Those symbols will become sticky symbols until the end of the feature.
Then it re-spins the reels until a payout is earned using those special symbols. You can earn massive payouts because all of the sticky symbols line up on the pay lines.
All of these bonus features increase your odds of winning when you play the real money Mr. Macau slot.
Mr. Macau Slot RTP and Volatility
Mr. Macau is a medium volatility slot. That means it offers the best of both worlds. It has more frequent wins than high-volatility slots, but the payouts are more substantial than low-volatility games.
Your bankroll should last a few hours as long as your bet size is reasonable relative to the size of your bankroll. Here are a few tips to help you figure out how much to bet relative to your bankroll.
This game also has a 97.07% Return to Player percentage. That is a relatively high RTP, which means you have excellent odds of winning over time.
Remember that the RTP is not an exact calculation of your experience. Instead, it is a statistical probability based on thousands of spins over time. But it is a good indication of your overall odds.
How Does Mr. Macau Compare to Other Betsoft Games?
Mr. Macau joins the collection of some of Betsoft's most popular games. These games have excellent graphics, compelling themes, and RTP's that are more than 97%.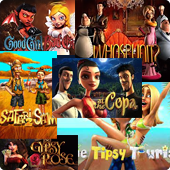 Good Girl Bad Girl: 97.79%
Who Spun It: 97.64%
Gypsy Rose: 97.63%
Sugar Pop: 97.60%
Safari Sam: 97.50%
At the Copa: 97.42%
Tipsy Tourist: 97.10%
Macau: 97.07%
Back in Time: 97%
When you consider the RTP, it is clear that the Mr. Macau real money slot fits in with the best. But the Mr. Macau jackpot prize leaves a little to be desired.
The maximum prize is only 4,338x your bet amount. That is okay, but it is nothing compared to the max win on some of their other games.
At the Copa offers a max payout of 430,000 coins. Tipsy Tourist offers 130,000 coins. A Night in Paris has a slightly lower RTP, but it offers a max payout of 954,000 coins!
Mr. Macua doesn't even compare to these games in terms of max payout. But will that impact our final verdict in our Mr. Macua slot review?
Keep reading to find out.
Playing the Mr. Macau Mobile Slot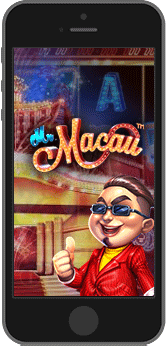 If you are ready to try your hand at this exciting high-RTP slot game, you can start playing now. You don't even have to wait until you get home to play it from your computer.
Mr. Macau is a mobile slot that is compatible with almost any device. As long as you can access an internet browser, you can play Mr. Macau on that mobile device.
Betsoft uses HTML5 software when creating games. That means the game is optimized to adjust to whichever screen you are using. You may notice some minor differences in the game's layout when you play on a mobile device, though.
For example, the spin button appears on the side of the reels instead of on the bottom of the screen. In addition, the image of Mr. Macau isn't present when you play the Mr. Macau slot on mobile.
Those differences simply make sure that you can enjoy your gaming experience without the screen being too cramped.
Besides these minor visual differences, the game will work exactly the same on Mr. Macau mobile casinos and your computer.
Mr. Macau is a highly graphic slot game. You may notice that your battery gets drained faster when you are playing because it is working so hard to display the animations.
Connecting to a private WiFi network while you play is a good idea because WiFi connections are typically more steady than mobile networks.
That being said, you should never use a public WiFi network while gambling online. Public networks are open, which means that hackers could access your device and track your information.
We have a guide that provides more tips for how to stay safe when casino gambling online.
Free Play vs. Real Money Mr. Macau Slot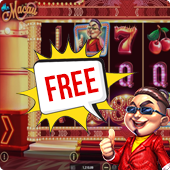 You can play demo versions of Mr. Macau for free at most real money online casinos. These free play versions give you $1,000 worth of play money to play with.
If you run out of the $1,000 play money, you can simply refresh the page to get another $1,000.
Playing the Mr. Macau slot for free is an excellent way to try out the game to see if you enjoy it. All of the features are the same in both the free and real money versions.
But you can't win real money when you play for free. The play money doesn't have any real-world value, so you can't cash it out.
We recommend playing the real money Mr. Macau slot because that is the only way to earn cash prizes. It is also far more exciting when you have some skin in the game, so to speak.
Mr. Macau Review Verdict
Now that you have read our Mr. Macau review, you are ready to start playing the game for yourself. We want to leave you with some final thoughts about the Mr. Macau slot online.
Overall, we think Mr. Macau is an exciting game. It has a classic casino theme with an Asian twist. The variety of bonus features and high RTP will keep you interested in the game no matter how long you want to play.
If you're ready to check it out, then we recommend you visit one or more of the following casinos.
These are the best online casinos with Mr. Macau and other Betsoft slot games.
Now for some more detailed thoughts on the different aspects of the Mr. Macau online slot from Betsoft.
Graphics
Betsoft is known for creating games with the best graphics in the industry. The Mr. Macau slot game is no exception.
All of the graphics are crisp and clear, no matter what device you are playing on. They are all 3D images that make the symbols appear to jump off the screen.
The red and gold background enhances the Asian theme and makes the reels pop.
Mr. Macau is full of exciting animations that enhance the visual aspects of the game. It looks like the flashing lights that casinos are known for. Winning symbols seem to jump off the reels in celebration.
You can hear classic casino sounds in the background and clinking coins whenever you win. Those casino sound effects sometimes feel out of place on other games, but they fit perfectly with the Macau theme.
Features
The thing we appreciate most about the bonus features on Mr. Macau is that they are almost all available during the base game.
Any spin can have sticky wilds. The re-spin feature and wilds boost are both available after any losing spins.
Of course, the free spins feature has more wild symbols and the possibility of multipliers.
If you can trigger the free spins, it will be worthwhile. But we like that you don't have to wait for free spins to experience some of the bonus features.
Jackpot and Payouts
If there is one category where the Mr. Macau slot game lets us down, it is this one. The highest prize for the main game is only 15x your bet amount.
You can earn multiplier wilds during the free spins feature that can increase your payout. But we think the game would be better with higher prizes for the base game.
Another reason that the Mr. Macau payouts are disappointing is that they do not offer payouts for scatter symbols. The scatter symbol activates the bonus feature but doesn't offer a cash prize.
Mr. Macau also doesn't have a progressive jackpot. It is a fun game with a high RTP overall, but you shouldn't expect to win life-changing amounts of money on this slot.
User Experience
The user experience on the Mr. Macau casino slot machine is excellent. Everything is straightforward and easy to manage.
Some players may prefer adjustable pay lines or bet levels. We actually think the fixed betting amounts make the whole experience a lot easier to figure out.
You have eleven bet levels to choose from. Mr. Macau doesn't make you mess around with coin values or other variables.
The setting menu is easy to access. You can adjust the volume, turn on turbo spins, and configure your autoplay settings in just a few clicks.
We tested the game on both a computer and mobile devices before we wrote our review of the Mr. Macau slot. The user experience was excellent on every device. There were no glitches or slow loading times.
Theme and Symbols
Many of the symbols in the Mr. Macau slot machine could be considered cliché or overdone. Cherries, sevens, and playing card symbols are the oldest symbols in slot machine history.
The fact that these symbols are so common is precisely why they fit in this game. It is a game based on casinos. All of the flashing lights and marquis signs are perfect for this theme.
If you have never been to Macau, the Asian part of the theme might be a little less obvious. However, details like the red and gold accents tie into Chinese culture.
When you start the free spins feature, it looks like you are going to the high-roller room of the casino. Macau is known for attracting high-rollers in particular.
The casino theme in Mr. Macau is spot on, and the Asian part of the theme is more subtle. Together they make for a fantastic game.

Sign up Bonus
250% Up To $5,000
READ REVIEW
Visit Site
X