Review of the Jungle Stripes Slot Game
The Jungle Stripes slot game is a thrilling game with exciting bonus features. Those features include stacked wilds, automatic re-spins, and both ways pay lines.
Some slot games get too complicated when they add a bunch of bonus features. However, Betsoft has managed to find the perfect balance with the Jungle Stripes casino slot game.
It has enough bonus features to keep players engaged without being too complex.
Players will love playing Jungle Stripes also because it has a high RTP of 97.03% and a maximum prize of 500x. If you choose to bet the max bet of $100, you could win up to $50,000!
Let's swing into our review of the Jungle Stripes slot to find out more about this exciting slot game.
Jungle Stripes Overview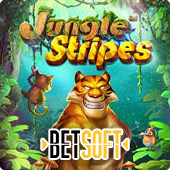 Theme: Jungle
Manufacturer: Betsoft
RTP: 97.03%
Reels/Rows: 5/3
Paylines: 10, fixed, both ways
Minimum bet: $0.10
Maximum bet: $100
Maximum Prize: $50,000 (500x Max bet)
Jackpot: No
Volatility: Medium
Mobile Compatible: Yes
Top Online Casinos With Jungle Stripes
If you already know that you will love playing Jungle Stripes, you can start playing now. All you need to do is to find some online casinos with Jungle Stripes.
Betsoft is the software provider that created the Jungle Stripes online casino slot. So, you can play Jungle Stripes online for real money at any Betsoft casino site.
Many casinos use Betsoft software, but some are better than others. We think the best casino sites are ones with a spectacular game variety, convenient banking options, and valuable bonuses.
Our casino reviews and rankings can also help you find trustworthy online casino sites with Jungle Stripes and other exciting games from Betsoft.
Jungle Stripes Slot Details and Betting Options
Jungle Stripes has a straightforward slot structure with five reels and three rows.
All of the betting options are pre-determined. You can bet between $0.10 and $100 per spin. Those betting limits represent one penny to ten dollars per pay line.
There are ten pre-set betting options between those limits, but most of them are low-stakes options.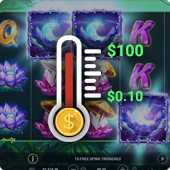 If you want to play for high-stakes, your only options are $30, $40, or $100 per spin. It would be beneficial if they had some betting options between $40 and $100 because that is such a large range.
To modify your bet amount, you just need to click the plus or minus buttons until you get to the bet you want. There is no need to modify coin values, pay lines, or bet levels.
Once your bet amount has been selected, you can start spinning manually or let the game spin for you with the autoplay feature.
Both Ways Pay Lines
You need at least three of the same symbol to line up on a pay line to win. Fortunately, the Jungle Stripes online slot game features both ways pay lines.
Both ways pay lines mean that the symbols can line up on a pay line from left to right or from right to left. Here are a few sample configurations of winning and non-winning combinations.
| | |
| --- | --- |
| Winning Combinations | Non-Winning Combinations |
| Matching symbols on reels 3, 4, and 5 | Matching symbols on reels 2, 3, and 4 |
| Matching symbols on reels 1, 2, and 3 | Matching symbols are on non-consecutive reels, such as 2, 3, and 5 |
| Matching symbols on four or five consecutive reels | |
As long as the matching symbols start at one end and appear on each consecutive reel, you can win.
Keep in mind that there are ten different pay lines. So, the matching symbols do not need to appear in a horizontal line. They just have to line up on a pay line.
It might sound confusing at first, but once you start playing, you will catch on quickly. Of course, you can always play a few rounds of Jungle Stripes for free to see how it works.
Jungle Stripes RTP and Volatility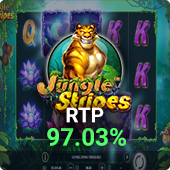 Jungle Stripes is a medium-volatility slot, which we think is the best kind. You will get winning combinations frequently, but the typical prizes are small unless a bonus feature gets activated.
The Jungle Stripes slot machine has base-game bonus features that make it easier to get significant wins before you activate the free spins feature. We'll cover those in a moment.
This game has a high average Return to Player percentage of 97.03%. That is a theoretical calculation, so it is not a guarantee of how much you will win if you play Jungle Stripes for real money.
It is still a good indication of your overall odds of winning. Compared to other slot games, the Jungle Stripes online slot has better odds than most.
If you want to compare Jungle Stripes to casino table games, it would have an overall house edge of around 2.97%.
The house edge for Jungle Stripes is only slightly higher than the overall house edge on European Roulette, which is 2.7%. That's pretty good for
a slot machine.
Theme and Design Features of the Jungle Stripes Slot
The theme of the Jungle Stripes online slot machine is readily apparent. It is a jungle-themed game with an emphasis on tigers as the Jungle King.
Betsoft is known for creating visually stunning casino games with 3D graphics and cinematic-quality animations. Jungle Stripes is no exception.
One of the first things we noticed during our Jungle Stripes slot review is the use of shading to highlight the artistic quality of the symbols.
The lotus flower symbol seems to glow, while the shadowy tiger claws have a more ominous look. All of the symbols are incredibly detailed and eye-catching.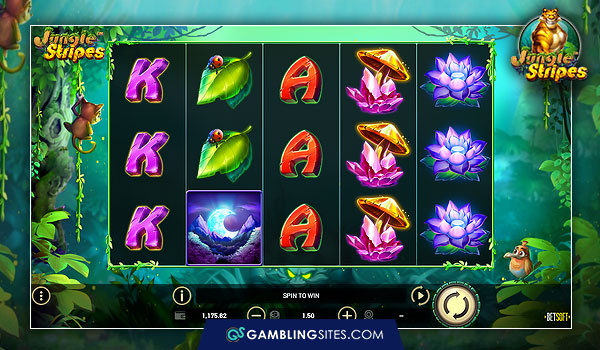 Of course, the game's background image is less detailed, but it is splendid anyway. The artists make some objects appear closers and further away to make you feel like you are staring right into the Jungle.
Another aspect of the Jungle Stripes design is the background music. We think the background music is appropriate for the theme without being obnoxious. It has a blend of melodic drums and jungle sounds.
However, the animation sound effects that occur when you win are another story. They are significantly louder than the background music, and the clinking sounds don't match the theme.
You have the option of muting the sound, but it has to be all or nothing. We wish that you could turn off the sounds effects while the music continues to play.
Jungle Stripes Symbols and Paytable
There are only seven payout symbols on the Jungle Stripes slot machine. That does not include the wild symbol and scatter symbol because they do not offer an additional payout.
The highest-paying symbols are the glowing lotus flowers and fluorescent mushrooms that are growing in crystals.
While mushrooms and flowers are certainly part of the Jungle, these symbols seem a little out of place. The fact that they are glowing seems to imply that they are some sort of magical flora.
It also doesn't make sense that they are the highest-paying symbols. You would expect tiger-related symbols to be the highest-paying because the game centers around the Jungle King.
The only tiger-related symbol on the paytable is the tiger claws. That is followed by a ladybug on a leaf and the low-paying card symbols.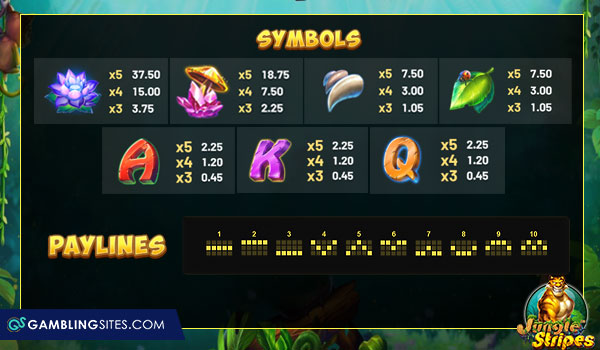 Jungle Stripes also has a tiger wild symbol and a moon scatter symbol. The tiger seems more related to the jungle theme because the moon symbol shows the moon in between mountains.
All of the symbols on the Jungle Stripes casino slot are loosely related to the jungle theme. But they don't really go together.
It seems like Betsoft gave the title to seven different animators and used whatever symbols they came up with.
We don't want our Jungle Stripes slot review to be too harsh, but these symbols are unimpressive because they don't represent the theme well.
Bonus Features on the Jungle Stripes Slot Machine
Fortunately, the bonus features on the Jungle Stripes slot game make up for the lack of a cohesive theme. There are two primary bonus features.
The wild symbol activates the bonus features on the base game, and the scatter symbol triggers the free spins round.
Stacked Wilds with Automatic Re-spins
Whenever the tiger symbol appears on the reels, it automatically becomes a stacked wild that takes over the entire reel.
Stacked wilds give you three times as many win opportunities than traditional wild symbols.
That wild symbol will remain in place while the rest of the reels automatically re-spin. You get a second chance to win without having to pay another stake.
The win potential is even higher because the Jungle Stripes real money slot has both ways pay lines. If the wild symbol is on reel 3, you can collect wins in either direction.
You might wonder what happens if you get multiple wild symbols. If you get a second wild symbol during your re-spin, both wild symbols will stay in place for another re-spin. It is not possible to get multiple wild symbols on the same spin.
While the stacked wild symbol is relatively simple, it packs a punch in terms of value. It gives you extra opportunities to win at any point. You don't have to wait until you get free spins to get a big win.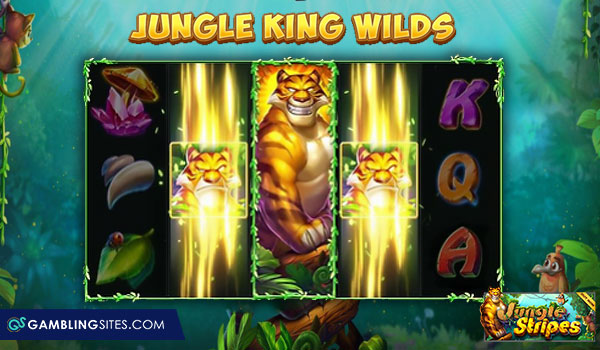 There is only one part of the wild symbol feature that is disappointing. When we played the game for our Jungle Stripes slot machine review, we noticed that the wild symbol only appears on reels 2, 3, and 4.
Limiting the symbol to the center reels is one way that software providers limit how many times you can get the bonus features.
It is disappointing that there aren't wild symbols on all five reels, but overall this bonus feature is a valuable and exciting addition to the game.
Free Spins Feature
The glowing moon symbol is the Jungle Stripes scatter symbol. Unfortunately, it is also limited to the center reels, so you cannot get more than three scatter symbols during a single spin.
If you get three scatter symbols, you will earn ten free spins. These free spins cannot be retriggered because there are no moon symbols on the free spins reels.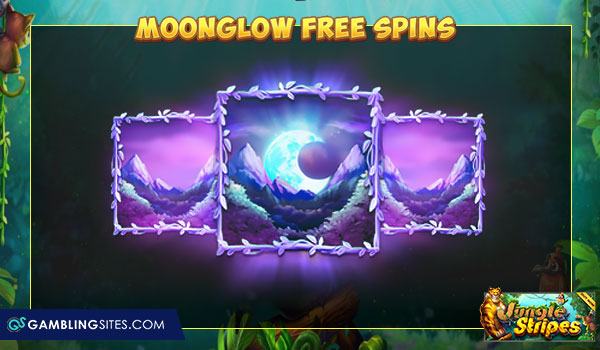 Free spins are basically expected in the modern slot machine industry. Games that do not offer any free spin opportunities are not well received by gamblers.
But it feels like Betsoft threw in the most basic free spins feature possible to check off that requirement. There are no special bonuses on the free spins reels.
The free spins reels have more Jungle King wild symbols, so you have better odds of getting re-spins. Other than that, there is nothing particularly exciting about this free spins feature.
There are similar slot games that have sticky wilds during the free spins feature. Or Betsoft could have added multiplier wilds.
Either Betsoft missed an opportunity to create an exciting free spins feature, or they just phoned this one in. The Jungle King wild symbol is by far a more valuable bonus feature.
Jungle Stripes Slot Review Summary and Verdict
Overall, the real money Jungle Stripes slot is entertaining. Because it has a high RTP, both ways pay lines, and medium volatility, you will win frequently enough to keep your interest.
The Jungle King stacked wild with automatic re-spins adds another level of excitement because you get extra win opportunities.
However, the free spins feature is halfhearted, and the game lacks a cohesive theme.
If you are a casual gambler, you can enjoy playing the Jungle Stripes slot online for some easy entertainment. Serious gamblers who play often might get disappointed with this game in the long run.
Here are the overall strengths and weaknesses we spotted while writing this Jungle Stripes slot review.
Pros
Stacked wilds with automatic re-spins
Both ways pay lines
Excellent graphics
High RTP
Cons
Limited free spins feature
Wild symbols and scatter symbols only appear on center reels
Symbols seem random and unrelated
Jungle Stripes FAQ
What Is the RTP of the Jungle Stripes Slot Machine?

A

The overall RTP of Jungle Stripes is 97.03%.

Can I Play the Jungle Stripes Slot on Mobile Devices?

A

Yes! Jungle Stripes is a mobile slot that you can play on any device with an internet connection. That means it is compatible with Android, iOS, Windows, and Blackberry devices.

You can access the slot by visiting your favorite Jungle Stripes casino on your device's internet browser.

How Much Can I Win on the Jungle Stripes Casino Slot Game?

A

The maximum prize is 500x your bet amount. If you play the max bet, you can win up to $50,000.

Can I Play the Jungle Stripes Slot for Free?

How Do You Win on the Jungle Stripes Casino Slot?

A

The best way to win when you play Jungle Stripes is to get five symbols in a row. It is even better if you get those high-paying symbols during a re-spin or the free spins feature.

Sign up Bonus
250% Up To $5,000
READ REVIEW
Visit Site
X