Elvis: the King Lives Slots
WMS is known for making strange slots formats, and Elvis the King Lives is no different.
This 11 reel, 80 pay line game is part of WMS' unparalleled Double Money Burst setup, which is based off the Money Burst series.
Money Burst slots are unique in that they have a 2 x 2 grid on the left side that acts as four separate reels, and a 3×4 grid on the right side that acts as three reels.
Elvis is different in that it offers two separate 2 x 2 grids that combine for eight reels, and a 3×6 grid on the right side.
Does this Double Money Burst setup enhance Elvis' gameplay? Or is this a case of going too far outside the box?
Find out as we cover Elvis the King Lives' music, pay table, graphics, bonuses, betting options, and compare it to other WMS slots.
Overview
Often referred to as the King of Rock, Elvis helped revolutionize Rock 'n' Roll while captivating audiences. Given this, music is a crucial part of any Elvis themed game.
Luckily, WMS comes through by including Big Hunk O' Love, Blue Suede Shoes, Hound Dog, Teddy Bear, and Viva Las Vegas. Every time that you spin the reels you're treated to one of the King's hitsongs along with screaming fans.
The background also sells the musical angle by featuring a stage surrounded by palm trees, and a jukebox on the left hand side. This jukebox isn't just for decoration, it allows you to adjustbetting options and spin the reels.
The background looks better than what you'll see in some other WMS' slots. And it helps make up for the Double Money Burst reel setup, which isn't aesthetically pleasing.
The idea behind the double 2 x 2 grids is to create more volatility and bigger wins. If you get the same symbols in either of the 2 x 2 grids, you can win big payouts.
Elvis the King Lives Pay Table and Graphics
Symbols and payouts for Elvis the King Lives are as follows:
Elvis Icon Wild

The Elvis icon is wild and substitutes for all other symbols except the Feature symbol. The icon pays 250 credits for 5 symbols, 75 credits for 4, and 20 credits for 3.

Elvis with Microphone

The Elvis microphone symbol pays the same as the Elvis icon. The only difference is that the microphone symbol isn't wild.

Elvis with Guitar

While Elvis was an excellent showman known for his flair and wild dance moves, he was just as good with the guitar. This symbol pays 150 credits for 5 symbols, 50 for 3, and 10 for 3.

Elvis Dancing, Guitar

Both Elvis dancing and the guitar pay you the same as the symbol above.

Hound Dog

The hound dog wears a top hat and is the first of three symbols meant to signify popular Elvis songs. The dog pays 75 credits for 5 symbols, 25 for 4, and 5 for 3.

Blue Suede Shoes, Teddy Bear

Both the shoes and teddy bear pay 50 credits for 5 symbols, 15 for 5, and 3 for 3.

A, K, Q, J

The letters are ubiquitous and pay 30 credits for 5 symbols, 10 for 4, and 2 for 3.
Symbol Graphics
Some of WMS' Money Burst slots have poorly designed symbols, but this isn't the case with Elvis the King Lives.
In addition to detailed pictures of the King, the hound dog, teddy bear, and blue suede shoes also look presentable. This isn't to say that the graphics are the big draw to this game, but they'rebetter than those seen in Bruce Lee, another WMS slot.
One improvement that could be made, though, is animations during winning combinations. Elvis the King Lives doesn't feature any animations, which would be nice since there are opportunities forElvis to sing or dance.
Elvis the King Lives Bonus Features
Although not technically a bonus, the main game is a feature in itself. WMS only offers a handful of games with this odd reel setup of two 2 x 2 grids coupled with a 3 x 6 grid.
If you're a beginning slots player, this setup isn't for you because it involves a number of complex pay lines. But if you're looking for new slots experiences, you'll appreciate the Double MoneyBurst feature.
As mentioned before, you can earn big payouts when you get two or more of the same symbols in the 2 x 2 grids. Considering that so many pay lines go through these grids, you always have a chanceto get multiple wins on any spin.
One drawback to Double Money Burst is that the reels aren't symmetrical. If you like the traditional 5 x 3 grids offered in most slots, you may not like the way this game's reels look.
Record Bonus
The Elvis record is the scatter symbol, and you trigger the bonus round by getting three or more of these symbols anywhere on the reels. You can also trigger the bonus round by filling one orboth of the 2×2 grids with the same symbol.
When the bonus round starts, a record rolls across the screen and you're taken to a second screen that's surrounded by different rectangles. Each rectangle is marked with credit wins, or creditwins plus free spins.
A light circles around the rectangles and comes to a stop on one of them. You win the credit amount listed plus any extra free spins in the rectangle.
Regardless of if free spins are listed in your prize, you still get 5 free spins and are transported to a purple screen with Elvis singing in the background. The free spins work just like themain game spins, but the different background is a nice touch.
Betting Options
You can use the plus and minus arrows on the jukebox to change both your pay lines and coin size.
The coin size can be changed from $0.01 to $5.00, and pay lines can be adjusted from 10 to 80. Also note that the coin size is listed by your bet per 2 pay lines, i.e. $0.01 per 2 lines.
The minimum bet is $0.10 per spin and the max wager is $200.00.
Return to player, also known as RTP, for Elvis the King Lives is 96.09%, which is average among online slots. But based on the high volatility, it feels like the game pays lower than 96.09%.
This is the main problem with big payouts created by the 2 x 2 grids. If you don't match any symbols in either of the 2 x 2 grids, you're looking at low or no payouts across the reels.
We prefer slots with low to medium volatility that keeps your bankroll intact, thus allowing you to play longer. Elvis the King Lives is about hitting big or not hitting at all.
We played 80 pay lines with a $0.01 coin denomination per 2 lines, $0.40 total, and experienced several dry spells. You'd think that having 80 pay lines in play would give you more frequentwins, but it doesn't.
Comparison to Other WMS Slots
Earlier we discussed how Elvis the King Lives is part of the WMS Money Burst series. That said, we've decided to compare this game to a couple other Money Burst slots, which you can see below.
Bruce Lee
Like Elvis, Bruce Lee became a legend whose legacy has lasted long after his untimely death. Another thing that Lee shares in common with Elvis is having a WMS slot themed after him.
Bruce Lee slots is a Money Burst game with one 2 x 2 grid on the left side, and a 3 x 4 grid on the right side. You can play 10 to 60 pay lines, and bet from $0.01 to $.200 per 2 lines.
The single Money Burst setup is also meant to create more volatility and bigger payouts. And just like Double Money Burst, it makes for an unattractive reel display.
The ugly Money Burst format is made worse by how poor Bruce Lee's graphics are. The symbols are low quality, and the background is a depressing dark red color.
This aspect alone makes Elvis the King Lives a more enjoyable slot. We also like how it includes music and higher quality graphics.
Fire Queen
Fire Queen offers the same Double Money Burst setup as Elvis, except that it features 100 pay lines instead of 80.
The themes between Elvis the King Lives and Fire Queen couldn't be more different. The latter is a fantasy slot about a fire wielding queen that protects her kingdom.
The theme is further sold by the background, which shows a castle balcony overlooking a nighttime landscape. You'll also hear the crackling of fire the entire time you play.
The one area where Fire Queen really stands out over Elvis is the graphics, which are extremely well designed. Even if the fantasy theme doesn't excite you, we recommend trying this game for thevisual experience alone.
We also like the features in this game, including how the Fire Queen shoots fire to turn other reels wild when she appears in the 2 x 2 grid.
The bonus feature is nice because the Fire Queen forms expanding wilds during your free spins.
The one advantage that Elvis has over this game is the music since you hear the King's greatest hits while spinning the reels. This isn't to say that Fire Queen's sound effects are bad, but theyjust don't compare to hearing one of the most influential singers of all time.
Dean Martin's Pool Party
As a television host, singer, and Rat Pack member, Dean Martin built a star that rivals Elvis. This is why WMS created another Double Money Burst slot around Martin.
The key difference between this game and Elvis is that the 2 x 2 grids on the left side have been replaced by two single reels with oversized symbols. The oversized symbols add a fun element tothis slot that lives up to Martin's humorous side.
This slot features cartoon graphics throughout most of the game. But when you unlock free spins, Martin's real face is on his cartoon body, and he actually moves while signing by the pool.
We personally like Dean Martin's Pool party better than Elvis the King Lives because of its quality graphics and lighthearted approach. But we can also understand liking Elvis more due to itstotal dedication to the King and his music.
Conclusion
Elvis the King Lives doesn't have exceptional graphics, multiple bonus features, or frequent animations. But what it does have is the King's music and the Double Money Burst setup.
If you like paying for big payouts, the Double Money Burst setup gives you a chance to do this through its double 2 x 2 grids.
We also like the bonus round because it involves two parts, with the first being when the rectangle is selected and the second being the free spins. You get to hear Elvis say a couple of hissignature phrases before and after free spins, and the background also changes.
The best reason to like Elvis the King Lives is the music, with five of his hits playing through the jukebox. Many musical slots might have 1 to 2 songs, which makes it all the more impressivethat Elvis offers several tunes.
One downside to this slot is the volatility created by the Double Money Burst setup. Even with 80 pay lines in play, there'll be times where you fail to win a single prize for 5 to 10 spins in arow.
Another problem is the total lack of animations, which is a missed opportunity when considering that Elvis was known for his brash dance moves.
Our Thoughts:
In the end, the positives outweigh the negatives, making Elvis the King Lives worth a try. This is especially the case if you're a fan of the King.
September
Casino of the Month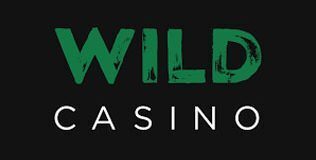 Welcome Bonus
250% up to $5,000