Betty Boop Slot Machines
Betty Boop Love Meter is a 5 reel, 40 pay line slot machine that was developed by Bally Technologies.
This game is based on the cartoon character Betty Boop, who became an iconic symbol during the Jazz Age and Depression Era.
Created in the early 1930s, Betty Boop was unique because, unlike other cartoon characters at the time, she was depicted as a sexualized woman. Wearing a short dress, high heels, and garter, shewas a controversial figure when America was more conservative.
Paramount was forced to change the character after the National Legion of Decency passed the Production Code of 1934, which called for stricter sanctions on sexual innuendos.
Betty's childlike voice remained after the Production Code, but her look and mannerisms changed from 1934 and beyond. Her short skirt was replaced with a fuller dress, and she behaved more like ahousewife than a Jazz Age flapper.
Bally's slot machine focuses on Betty Boop's earlier days, when she was a risqué character.
Let's discuss whether or not Betty Boop Love Meter lives up to the legend by covering its cabinet, graphics, animations, bonus features, and comparisons to two sequel games.
Overview
Cabinet Design
True to its name, this slot machine features a love meter at the top that lights up during bonus rounds. The meter has lit up hearts on the side and nine spaces, with each one representing abonus or jackpot.
Below the love meter is two screens, with the middle one used to show Betty and her dog, Pudgy, dancing around. The bottom screen is where the reels, betting options, and your balance informationare displayed.
Thanks to the two screens and love meter, Better Boop has a unique cabinet that sets it apart from most other slot machines.
Graphics and Symbols
Symbols in this game include a collection of hearts wild, box of chocolates, heart with an arrow through it, heart shaped ring, purse, roses, multiplier, and letters / numbers. Unlike other gamesthat use letters / numbers for low paying symbols, these ones aren't so generic because they feature little hearts above them.
The symbols graphics are in cartoon format, and the above average quality is reflective of Betty Boop and the cartoon's theme.
It would be nice if something else was available on the reels, other than just different variations of hearts. The only variety comes in the form of Betty's purse and the roses.
Animations
Many of the animations during winning payouts consist of flashing symbols. But there are a few unique animations, such as the wild symbol bouncing up and down, rose petals falling, a multiplierheart appearing on the screen, and the heart shaped ring spinning around.
None of these animations are outstanding, but keep in mind that you get to see Betty and Pudgy dancing in the upper screen the entire time. Betty steps from side to side while dancing, and Pudgysways his head back and forth.
Their dance moves become monotonous after playing for so long, but you can just focus on the reels when you get tired of watching them.
Betting Options
Betty Boop Love Meter requires that you play all 40 pay lines, plus an additional 10 credit wager. If you have $0.01 on each pay line, this makes the minimum bet worth $0.50 per spin.
You can turn the coin denomination up to $5.00, which makes the maximum bet worth $250.00 when including the extra 10 credit bet.
One of the best aspects of Betty Boop Love Meter is that it has a 45.4% hit frequency, allowing you to sustain your bankroll for a long time. A bonus round or jackpot comes up every 36 spins,which means that you should get a bonus about once every five minutes.
Music and Sound Effects
This game features a swanky rock beat that plays the entire time you're spinning the reels. Like Betty and Pudgy's dancing, the music can become tiresome, but it's entertaining for a while.
The most notable sound effects come from Betty, who comments whenever you get a multiplier or bonus. It's good that Betty's voice is used because, aside from her appearance, her child like voiceis the most memorable part of the animated films.
Betty Boop Love Meter Bonus Features
When you land 3 or more love meter symbols anywhere on the reels, you trigger a bonus. You're instructed to look up, where you'll see a flashing light going up and down the love meter thatdetermines your bonus.
You can win one of 9 bonus prizes, which are explained below.
Beautiful Betty Jackpot – The Beautiful Betty Jackpot guarantees at least $1,000 on a max bet and will offer more as it grows.

How Hot Are You?
This is the most involved bonus since you place your hands on the machine's iDECK to measure your attractiveness. The nine possible results include: Loveable, Romantic, Sexy, Wild, Smokin',Naughty, Burning, Passionate, and Irresistible. Irresistible pays the most at 4000x your triggering bet, while Loveable offers the smallest payout.

15 Naughty Free Games
You receive 15 free spins with a starting 1x multiplier. The multiplier grows every time you land a +1 Multiplier symbol on the reels.

1 Free Spin; 3 Wild Reels
You get one free spin with wild symbols on reels 1, 3, and 5.

1 Free Spin; 3 Wild Reels
You get one free spin with wild symbols on reels 1, 3, and 5.
Unlock Betty's Heart – Three lockets are shown on the reels, and you select one to reveal your prize or extra turn.

5 Free Spins at 5x
5 free games with a 5x multiplier

Light Up Betty's Life
24 lightbulbs are shown on the screen, and you select 6 of them to reveal prizes.

10 Friendly Free Games
10 free spins, and you collect more spins for each +1 Spin symbol.

Playful Pudgy Jackpot
This progressive jackpot starts at $50 on a max bet and increases from here.
Comparison to Betty Boop Slot Sequels
Fueled by the success of Betty Boop Love Meter, Bally created two sequels in Betty Boop Fortune Teller and Betty Boop Firehouse. Both slots are based on short animated films, and you can read howthey compare to Love Meter below.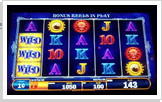 Betty Fortune Teller
Betty Boop Fortune Teller is a 5 reel, 100 pay line slot machine based on a 1933 short animated film called Is My Palm Read.
In the movie, Betty visits Bimbo the dog to have her fortune read. Disguised with a beard, Bimbo has no real skills as a fortune teller and only wants to spend time with Betty.
He proceeds to tell her that she'll be shipwrecked on a deserted island, shortly before ghosts show up and try to attack them. The two are chased to a deserted island, where they trick theghosts into falling off a cliff.
This slot machine takes a different approach from the movie, instead having Betty act as the fortune teller.
Betty Boop Fortune Teller looks like a normal slot machine because it doesn't have a meter at the top. It does have the same dual screen setup as Love Meter, though, with the bottom screendisplaying reels and the top screen showing Betty and Pudgy dancing.
The graphics look better in Fortune Teller, and you'll hear more sound bites from Betting while you're playing. Another change is that Bally added their U Spin technology to this game, whichallows you to spin the Fortune Wheel to see what bonuses you get.
Speaking of the bonuses, you can read about each one below:

Betty's Healing Crystals
You're taken to a second screen with 24 crystal balls, and you select three of them to reveal prizes.

Betty's Treasure Chest
You choose one of three treasure chests to get a prize.

Palm Reading
Put your hands on the iDECK to have Betty read your fortune. The better your fortune, the higher the credit prize or multiplier you receive.

U Choose Free Games
You pick between Pudgy's Magical Multiplier (less free spins, higher multiplier) and Signs of the Zodiac (more free spins, lower multiplier).

Tarot Card Reading
You choose tarot cards to collect multipliers and credit prizes. You can also move up in levels, with 5 total levels available.
When comparing Betty Boop Love Meter and Fortune Teller, both games have strong points. Love Meter has more bonuses, and the meter on top of the machine adds more depth to this slot.
Fortune Teller has better graphics, more sound bites, and the inclusion of U Spin technology. Based on how both slot machines have their good points, we think that they're equal to each other.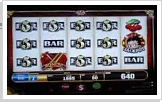 Betty Boop Firehouse
Released by Bally in 2015, Betty Boop Firehouse is the most recent game in this series.
This 5 reel, 300 pay line slot machine doesn't appear to be based on any one film in the franchise. But it relates to a 1937 film called Ding Dong Doggie, where, against Betty's advice, Pudgyjoins a dalmatian in fighting a fire.
Betty Boop Firehouse's cabinet is similar to the Love Meter game since it has a tower screen, which has credit prizes for the bonus round. The main difference, though, is that Firehouse doesn'thave a second screen to display Betty and Pudgy dancing.
This shouldn't bother most players, especially if you've played the first two games and gotten your fill of Betty's dance routines.
But what should bother you is the use of generic symbols like 7, BAR, and bells. Given that this is the latest game, Bally should have included more original symbols and not used ones like yousee in classic 3 reel machines.
Moving to the positives, jackpot hunters will appreciate the wide area progressive jackpot, which is seeded at $400,000 and has reached $1 million.
Other notable features include mystery stacked reels, Betty's 5 Alarm Scatter, and two bonus rounds.
One of the bonus rounds is Pudgy's Wild Rescue free games. You get 8 20 free spins, and you pick cats for Pudgy to rescue before the spins begin. Each cat that you rescue will either give youextra wild symbols, wild reels, or a multiplier.
The other bonus is Betty's Blazing Tower, which is where the aforementioned tower comes into play. You receive 5 free spins during this bonus along with special reels that only feature 7s.
Every time that you match a set of 7s on the reels, you unlock the corresponding ladder on the tower. You also receive 2 more free spins, and the goal is to move up the ladder towards theprogressive jackpot.
Betty Boop Firehouse is another fun game in this series, but it feels like Bally was just looking for an excuse to create another sequel.
We like the wide area progressive jackpot and tower, but the symbols are more generic than either of the first two games. That said, don't feel obligated to play Betty Boop Firehouse if you'vealready played Fortune Teller and Love Meter.
Conclusion
Betty Boop became a cultural icon over eight decades ago due to her provocative look and memorable voice.
Betty doesn't hold nearly the same cultural significance today, given that our society has become more open to sexuality. But Bally's slot machines are helping the 1930s cartoon character stayrelevant.
Betty Boop Love Meter is especially good because of its tower, double screens, and nine bonus rounds. Speaking of the nine bonuses, the How Hot Are You and Light Up Betty's Life games are funbecause they take you to second screens.
Another thing to appreciate about this slot is the 45.4% hit frequency, which gives you an excellent chance to win on any spin. And considering that you'll hit a bonus around once every fiveminutes, you'll see the Love Meter used often.
Downsides to this game include that Betty and Pudgy's dancing becomes stale after watching the same moves over and over. You might also get tired of the music, which is on a loop while you'replaying.
Our Thoughts:
But aside from these small inconveniences, this is a really fun slot machine that has enough bonuses and special features to keep you entertained for hours.

Sign up Bonus
250% Up To $5,000
READ REVIEW
Visit Site
X