Ultimate X Video Poker
Ultimate X video poker is a game where you get the chance to double your bet. If you get a paying hand, you win a multiplier which will go into effect on your next hand. Ultimate X video poker is available in both a single-line and multi-line version.
How to Play Ultimate X Video Poker
Ultimate X video poker plays in a similar manner to other variations. In fact, the "Ultimate X" is an option—it's not something that you take advantage of in every hand. If you skip that, you're just going to be playing a regular video poker game.
You'll find detailed instructions on the various kinds of video poker elsewhere on the site, but in case you missed one of those pages, here are the basics:
The game is similar to a slot machine, but instead of having spinning reels, you have 5 spots where playing cards are dealt. It's a video game, so those cards are just animated, but the odds of getting those cards are the same as they would be if you were playing any other card game.
Video poker uses a RNG (random number generator) which is programmed to duplicate the odds of a regular deck of cards. And that is, indeed, the major difference between video poker and slot machines. Both games have payouts based on combinations of symbols.
But in video poker, you know what the odds of each of those symbols coming up are.
Ultimate X Video Poker Pay Tables and Strategy Tips
All video poker games feature a pay table which details the payouts for the various combinations you might receive. These payouts are based (generally speaking) on the relative rarity of the poker hands they represent. In fact, the only difference between most games is the payout structure.
Example
For example, in Jacks or Better, you get paid even money for a pair, 2 to 1 for 2 pairs, 3 to 1 for 3 of a kind, and so on, up to a royal flush—which pays off at 800 to 1. In most games, the royal flush is the top hand, and it almost always offers that 800 to 1 payoff, but there's a catch:
You can bet between 1 and 5 coins per hand in most video poker games. If you want the 800 to 1 payout for the royal flush (and you should), you have to place the max bet—5 coins. If you bet less than that, the hand only pays out at 250 to 1.
The other major difference from one game to another is the lack or presence of wild cards. In Joker Poker (or Jokers Wild), the game is played with a virtual 53 card deck—the extra card is a joker. It can be used to "fill in" or "substitute" for any card you might need to complete a particular hand.
In Deuces Wild, all the 2s are wild. This means that the average strength of a hand goes up considerably, so the payoffs reflect this. In fact, in order to win the 800 to 1 payoff for the royal flush, you have to get a "natural" royal flush. There's a smaller payout for a "wild" royal flush.
Why does all this matter to this variation?
Because the variation is an option that's added on top of other variations. You might be playing Ultimate X Jacks or Better, Ultimate X Deuces Wild, or Ultimate X Bonus Poker, or one of another dozen or so variations.
To activate the Ultimate X feature, you have to place the max bet—in this game, it's 10 coins. If you play for fewer coins than that, the Ultimate X feature isn't activated, and the game plays just like its base game.
When you do activate the feature, if you get a paying hand, you also get a multiplier which increases the winnings on your next hand.
Here's an example of how that works:
You're playing Ultimate X Jacks or Better, and you place the maximum bet. The multipliers vary based on which hand you wind up with—this can vary from machine to machine, but here's a common example, by hand: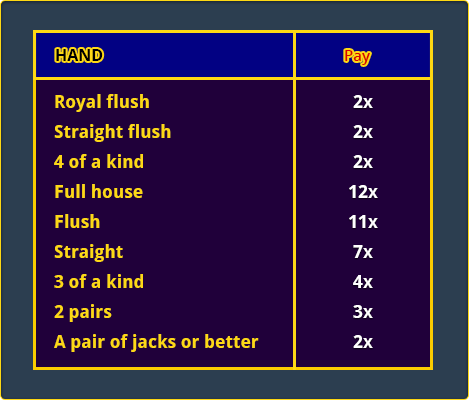 Note that those AREN'T the payouts for those hands—the standard payouts for each hand apply. A royal flush still pays off at 800 to 1, a straight flush at 50 to 1, and a 4 of a kind at 25 to 1.
Those are the MULTIPLIERS that apply to your winnings on the next hand. Depending on the machine and how many hands you're playing at once, these multipliers might vary. For example, if you're playing a 10 hand version of the game, the multiplier for a royal flush might be 7X instead of 2X.
When you play the next hand in the sequence, you get to apply the multiplier even if you don't place the max bet. You only have to place the max bet in order to activate the multiplier.
Once you've done so, the multiplier applies to the next hand.
Let's say on the first hand you get a 3 of a kind. You get the standard payout for 3 of a kind (3 to 1). But you also get a multiplier on your next hand of 4X.
On your next hand, you're dealt a pair of jacks. That normally pays off at even odds, but since you have the multiplier from before, you get paid off at 4 to 1.
One thing to keep in mind is that in the multi-line version of the game, the multipliers are line-specific. So if you earn a multiplier on line 3, it ONLY applies to your next hand on that line.
In some video poker variations that have multipliers, it's hard to calculate the odds because you don't know what the odds are of getting certain multipliers. But in Ultimate X, you know which hands create which multipliers.
This is one of the fundamental differences between video poker and slots, by the way. One is a game of incomplete information (slots) and one is a game of complete information (video poker). In both games, you know what the payoffs are for the various combinations. But you need more information than that to come up with a payback percentage and/or a playing strategy. You also need to know the odds of getting each hand.
You can find Ultimate X versions of the following games:
Bonus Deuces
Bonus Poker
Bonus Poker Deluxe
Deuces Wild
Double Bonus
Double Double Bonus
Jacks or Better
Joker Poker
Triple Double Bonus
The payback percentages for all these games vary based on the pay table and the size of the multipliers. For example, an 8/6 Jacks or Better game with the multiplier schedule we included above has a payback percentage of 99.42% if played with the correct strategy. (An 8/6 Jacks or Better game pays off at 8 to 1 for a full house and at 6 to 1 for a flush.)
Can You Play Online?
Most online casinos do not offer this variation, but you can find a free version of this game at VideoPoker.com. It's not a play-for-money site, though—you play for credits which have no actual monetary value. On the other hand, the games are realistic—with the exception of the Ultimate X game. The multipliers on that game are especially generous.
Conclusion
Ultimate X video poker is one of the better variations of the game. Many games, especially those which require you to play for additional credits, offer worse odds or a payback percentage that can't be calculated. But in this case, with a minimal amount of research, you can determine which pay table you're facing.
Strategy varies only slightly from the original versions of the game. One strategy that works for Ultimate X that isn't available on other games is the "vulturing" strategy. You search the casino for games which have unclaimed multipliers available. Since someone else won the multiplier, you're often playing with a big edge against the casino—you didn't risk anything in order to get such a multiplier.
This is a legitimate way to get an edge against the casino, but it's not something you could do consistently enough to make a living. But as an occasional means of getting a little extra edge against the casino, it's worthwhile.

Sign up Bonus
250% Up To $5,000
READ REVIEW
Visit Site
X