Our Complete Guide to Punchestown Racecourse
Say you are in Dublin, Ireland, one of the greatest cities in the world. You travel about 40 km southwest, and you know where you wind up? You'll run straight into one of the most historical horse racing venues in all of Ireland. It's called Punchestown Racecourse, and we hope you are interested in learning all about it.
Our team of horse racing gurus took the time to organize a page covering everything you would want to know about Punchestown. We will begin by talking about when and how the course was opened and follow by enlightening you on some details about the property.
If Punchestown isn't throwing a big hurdling or steeplechase event, you can bet there's some sort of concert or musical gathering on tap.
We'll of course hit on the Punchestown Festival, as it's one of the most highly-anticipated series of events in all of Ireland. You are going to love everything about Punchestown Racecourse so much that you may be wondering what else is around the area, so you can start booking a trip!
We'll answer any questions you may have about traveling to Punchestown and what you may encounter along the way.
A quick peek at this table of key points allows you to have a basic idea of some facts about the racecourse in Punchestown.
Overview of Punchestown Racecourse
Year Opened

1850

Location

Ratoath, County Meath, Ireland

Owners

Kildare Hunt Club

Course Type

National Hunt

Notable Races

Punchestown Champion Chase, Ryanair Novice Chase, Punchestown Gold Cup, World Series Hurdle, Champion Hurdle, John Durkan Memorial Punchestown Chase

Official Website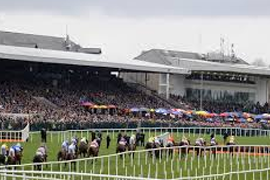 Punchestown Racecourse – A Bit of History
It is hard to pinpoint exactly when Punchestown Racecourse "officially" opened. While you may read from some sources that 1875 was the year, we know for sure that the first two-day meeting in April at Punchestown actually took place in 1854. April Fool's Day in 1850 was the time and date of the very first race meeting.
When British noblemen like viscounts, lords, earls, and barons started showing up at the races like they did 1864, the newspapers started covering the event, and the popularity grew. It hasn't been all smooth sailing, as Punchestown Racecourse has endured its fair share of bumps and bruises along the way. Racing was suspended from 1919-1920 when the Irish Republican party Sinn Féin got in the way.
Fortunately, racing resumed in 1921 and started to thrive again. We must point out there was quite the "hiccup" before the race in 1922. Two armed men held up the lord lieutenant and robbed him of his Crossley saloon; however, thankfully no one was hurt in the process.
This scare didn't ward off many as the annual race meeting in April began to grow.
Other than being postponed in 1941 and 1943 during World War II and again in 1950 when the course was blanketed in snow, the Punchestown Festival has occurred uninterrupted. Okay, the 2008 Festival was canceled due to technical difficulties with the surface of the racetrack, but it's flourished every other year.
Speaking of the track, let's transition into how the racecourse is set up and what the layout is like.
Information About the Property
If you are looking to see Thoroughbreds sprint around a flat course, you better go elsewhere. Punchestown Racecourse is designed specifically for the horses that specialize in jumping over obstacles. We'll get into some details about the enclosures and what the seating arrangements are like at Punchestown, but first let's tackle the course itself!
The Design and Particulars of the Racecourse
Punchestown Racecourse is known as one of the premier National Hunt venues in all of Ireland, and quite frankly, all of the UK. The versatile shape of the course allows multiple jumping events to be hosted.
Think of a cross between a circle and a square – that's the profile of how the course is designed. The outside turf track represents the chase course and is 2 miles long (about 3.2 km). This encloses the hurdle course, which at 1 mile 6 furlongs is just a ¼-mile shorter than the chase course.
The chase course has 11 fences that the chasers must clear, but that might not even be the most difficult part of the course. The severe undulations wear on the horses, especially those who lack stamina.
The final 5 furlongs to the winning post climbs uphill and includes 2 fences positioned extremely close to one another. A tired horse galloping uphill towards the finish that must jump back-to-back fences in a short time? You can imagine why some horses just aren't cut out for the steeplechase oval at Punchestown.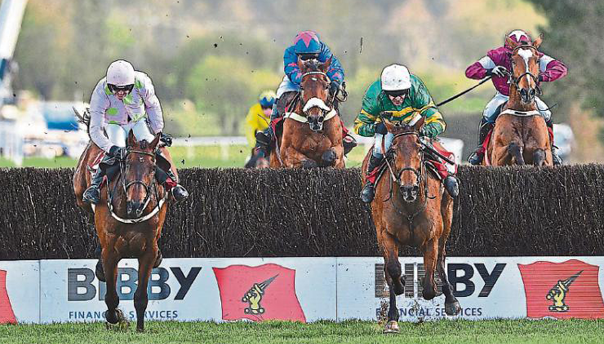 The hurdling horses experience the same sort of undulations during their races and must deal with 8 obstacles. We don't want to forget the cross-country banks course, the only one of its kind anywhere in Ireland. The twisting course features forces jockeys to turn both left and right, not to mention negotiate some fairly interesting obstacles, including the final fence covered in brush.
There is absolutely no question when it comes to the National Hunt racing in Ireland that no course is more flexible and can be adapted the way Punchestown can.
So now that you are more than aware of what the racecourse looks like, how about the grandstands? What are the dining options like? Relax; we are getting there. Just continue reading below.
Enclosures
Assuming you are not an annual member or an owner or trainer of one of the competing Thoroughbreds, you will want to pay attention to this segment. Once you purchase a ticket to an event at Punchestown, you will have access to multiple public viewing areas. The Panoramic Grandstand offers especially scenic views, not to mention has a top-notch dining establishment.
The Panoramic Restaurant, located on the ground floor, is just like it sounds. It gives diners a 360-degree view of what's going on the racecourse. The quality of the food and service is as pristine as it gets. Make sure you book a reservation well in advance, as this isn't the type of restaurant you just show up and walk into unannounced.
The De Robeck Restaurant and Bar is another dining facility that spectators can check out while visiting Punchestown Racecourse. If you are the type of person who wants to watch the horse race from a comfortable setting, uninterrupted, this is tailor-made for you. They even have a tote counter and a large screen present. If you're looking to just relax, eat food, and root for the horses you wagered on all in one setting, head to the De Robeck Restaurant and Bar.
More casual racegoers can opt for the self-service restaurant right next to the parade ring. If you aren't trying to spend top-dollar or spend loads of time, this is a great option. While the grandstands are a great place to hang out and enjoy the races from, the Punchestown Pavilion is a terrific choice to take in a bit of everything. It's located right in the middle of the last obstacle on the course and the winning post, so it's impossible to miss any of the action.
There is so much great food to eat and fun to be had at Punchestown. Stay glued to your seat or walk around and take in the sights. You won't experience any dull moments at the racecourse near the town of Naas.
The Punchestown Festival
There are several National Hunt events per year on the racing calendar at Punchestown. Many of these are not just notable in Ireland, but they are revered jump races no matter what region of the world you live in. None are bigger than the ones held during the Punchestown Festival.
The Punchestown Festival is undoubtedly the most popular time of year at the racecourse. To be frank, it's one of the most exciting times of the year for National Hunt enthusiasts no matter where you are. It's the reason why Irish jockey Ruby Walsh told bbc.com the following after sustaining a broken right leg.
"I am determined to get back in the saddle for Punchestown and hopefully finish the season on a high."
Nobody wants to miss the Punchestown Festival, especially one of the country's most prolific jockeys.
If you are familiar with the Cheltenham Festival at Cheltenham Racecourse in Gloucestershire, then the sequence of events at the Punchestown Festival should ring a bell.
Rather than try and jam everything about the five-day event every April onto this page, we wanted to be much more complete. The Punchestown Champion Chase, Ryanair Novice Chase, Punchestown Gold Cup, World Series Hurdle, and Champion Hurdle are just some of the examples of the Grade 1 events worthy of being discussed in detail.
That's why we came up with a full-blown catalog covering the Punchestown Festival "from head to toe." From the origins of the extravaganza to the most impressive performances and records that have been achieved, it's all in there. Just click the button below to be directed to a comprehensive guide honoring Ireland's most acclaimed series of jump races.
John Durkan Memorial Punchestown Chase
While nearly everyone associates everything to do with Punchestown Racecourse with the festival in April, there happens to be an event in December that we needed to address. The John Durkan Memorial Punchestown Chase got started in 1968 and was a 2-mile race for its first five years in existence.
It was changed to a 2 ½-mile event in 1973, the same distance it's currently run at today. This steeplechase run is designated for male and female horses that are a minimum of 5 years old. Three 10-year-old horses have won the John Durkan, including two-time winner Bobsline in 1986. Bobsline is one of 7 horses to have won this race twice, most recently Djakadam in 2015 and 2016.
It may not bring the same anticipation as the Tuesday-Saturday races in April, but don't discount the John Durkan Memorial Punchestown Chase. The fact that it's held on a Sunday in December gives patrons at Punchestown one final opportunity to catch steeplechase racing at its finest before the turn of the new year.
There's a Lot Going on at Punchestown Racecourse
We have told you all about what the track is like, and you know it's the home of the biggest festival of jump races anywhere in Ireland. Did you really think a place this rich in tradition was only used for Thoroughbred races? Think again, because more than a few significant concerts have been held at Punchestown.
Creamfields, the British dance and music festival, was at the racecourse three straight years from 2000-2002. Irish music festival Witnness was held at Punchestown during those three years, as well as in 2003.
Irish folks have likely heard of, if not attended, Oxegen before. It is actually just a continuation of Witnness; it just goes by a different name nowadays. If you like dancing and good music, you'll probably love Oxegen.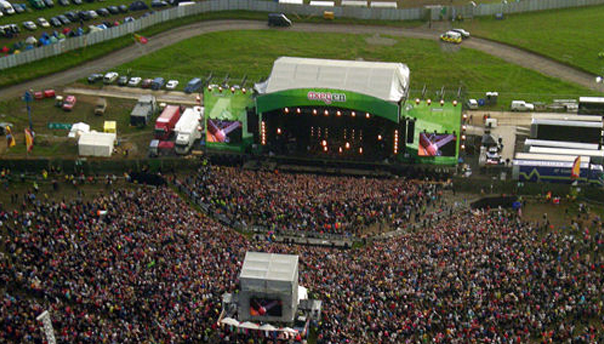 Legendary artists such as Bon Jovi and Eminem have both performed in front of thousands of screaming fans at the racecourse in Punchestown, not to mention that AC/DC had nearly 70,000 on hand during their show in the summer of 2009.
As you can plainly see, we aren't talking about the "B" and "C" level musicians here. We are talking about the cream of the crop in music and entertainment, and they love coming to Punchestown.
An event centre was added in 2001, consisting of more than 60,000 square feet (5,600 square meters), which can be modified for an array of events. If you want to book some space for a private party, it's certainly possible. However, expect to cough up a few Euros, as renting out the opulent facilities comes at a price.
Head to Punchestown Now!
If you are thinking about scheduling a trip to the racecourse southwest of Dublin, we want to help progress those plans. We'll do our best to explain how easy it is to get there and how much there is to see and do along the way. We want you to take that "seed of an idea" of heading to Punchestown Racecourse and make it a reality!
If you live anywhere other than the central-east portion of Ireland, you'll likely have to take a flight. Of course, if you are coming from the Isle of Man or perhaps Liverpool or Wales, you can get there by heading west across the Irish Sea aboard some sort of ferry.
If you just enjoy riding in boats, the Dublin Sea Port is just a 1-hour commute to Punchestown. If you aren't anywhere in the vicinity of the "Emerald Isle," here's what you should do.
Book a flight to the airport in Dublin, the capital city. If possible, allow yourself some extra time to take a stroll around the city. Maybe that's walking around "Dublin's Playground," otherwise known as Phoenix Park.
Or perhaps you would rather just chill out with a Guinness in hand at the Temple Bar. Either way, there is a lot to do in Dublin before taking the 40-minute or so drive down to Punchestown Racecourse.
If you come during the festival in April, you'll be able to take advantage of shuttle bus services and the Marathon Coaches. There are inexpensive options to get from Dublin to the track, and you won't have to worry about paying for parking. If you want to stay around the racecourse at night and not travel back and forth from Dublin, feel free to reserve a room at one of the nearby hotels.
So that's it – no more excuses! Go ahead and make the arrangements for the next Punchestown Festival!
Final Thoughts
Did you have any idea that the racecourse in County Kildare, Ireland, was so illustrious? Were you aware that it is the site of the biggest series of hurdle and steeplechase races in all of Ireland?
The point of creating this page was so that you could have a centralized location for learning about Punchestown Racecourse.
Understanding how the courses are designed, as well as how the grandstands and enclosures are positioned, allows you to feel like you are on the property even if you have never even stepped foot in Ireland! The unique layout of the three courses is something you won't find anywhere else.
The Punchestown Festival is so admired and so esteemed that we had no choice but to organize it all into a separate, individual page. We provided the link so that you don't miss a beat during the Punchestown Champion Chase or the World Series Hurdle.
With how many glorified concerts and music festivals that have been hosted at Punchestown, we felt obligated to fill you in on some of the notable artists who have performed on stage at the racecourse.
Getting you hyped and amped up about everything that goes on at Punchestown Racecourse meant we needed to enlighten you on how to get there.
The bottom line is that if you have the means and the time to head to Punchestown, we aren't sure what you are waiting for. Use this guide as your source of foundation, and you'll be more than prepared to have one heck of a time!
May
Sportsbook of the Month

Sign up Bonus
60% Up To $1,000
READ REVIEW
Visit Site
X