Longchamp Racecourse – First-Class Horse Racing in Paris
If you haven't been lucky enough to visit Bois de Boulogne in Paris, France, you ought to start looking into setting up a trip.
Imagine a park as beautiful as Central Park in New York City. Now picture a park that is two and a half times bigger than that and is equipped with two racecourses, not to mention a large tennis stadium.
One of those racing venues planted in the middle of the public common grounds is Longchamp Racecourse. Without a doubt the most prestigious horse racing facility in all of France, there's a lot to talk about when it comes to Longchamp. After failing to find an all-in-one catalog telling us everything we could want to know about the Longchamp Racecourse, we decided to create one ourselves!
We plan on telling you about the location, including how and when it was opened and what the layout of the course is like. Of course, it would be irresponsible of us to discuss Longchamp Racecourse and not bring up the Prix de l'Arc de Triomphe, the most acclaimed horse race in the entire country.
We'll give you the keys to unlocking everything about the historic race, not to mention we'll cover some of the other major Group 1 flat races that take place at Longchamp. We'll finish by making sure you have everything you need for a scheduling a potential trip. When the races are, what else surrounds the course, and how you actually get there will all be revealed in an organized section at the bottom of this page.
Until then, start with this box of key facts before diving into to the bulk of the guide.
Overview of Longchamp Racecourse
Year Opened

1857

Location

Bois de Boulogne, Paris, France

Owners

France Galop

Course Type

Flat

Notable Races

Prix de l'Arc de Triomphe, Grand Prix de Paris, Poule d'Essai des Poulains, Poule d'Essai des Pouliches

Official Website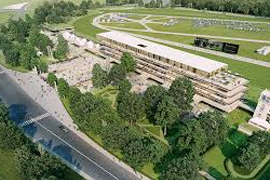 Introducing Longchamp Racecourse
Why not build a racecourse smack dab in the middle of a gigantic public park? Clearly the Duke of Morny thought it was a great idea when he approached the authorities and inquired about the proposition. This happened back in 1856, but it didn't take long for the duke's idea to become a fruition.
April 27, 1857, was the date of the very first race at Longchamp. It was contested in front of a mass of people that included Emperor Napoleon III and his spouse, Empress Eugénie. Talk about making a one-of-a-kind entrance; the royal couple actually arrived at Longchamp via floating down the Seine River in a luxurious yacht.
By 1863, the Grand Prix de Paris was formed.
For the next 50 or so years, this was known as the most expensive horse race in the world, but not without a few hiccups in between. Unfortunately, the grounds were the recipient of a bomb during the 1870 Siege of Paris, which caused plenty of damage. The land was then used as a field hospital to treat injuries during World War I before it was transformed into an area for planes to take off and land.
We wish that was the end of Longchamp Racecourse being on the receiving end of disastrous bombs, but it happened again in 1943, this time during a race. The good news is that after the second world war, Longchamp stopped worrying about being hit by airstrikes and was solely focused on hosting amazing horse races.
Stands were rebuilt and improved over the years, but the major changes to Longchamp came much later.
We are referring to the major renovations applied to the course from 2015-2018 that forced the grounds to be closed temporarily. Don't worry, as we will elaborate on these plans and what changes were made in a dedicated segment later in this article. Fans need not worry, because as of April 8th, 2018, Longchamp is open for business!
Before we get to that, we need to take a step back and depict what the property is like.
Understanding the Dynamics of the Racecourse
If you are expecting a short and sweet explanation describing a single racecourse, you are reading about the wrong racing venue.
Longchamp Racecourse has a unique design, one you won't come across anywhere else.
The racecourse at Longchamp isn't a typically-shaped oval, nor does it resemble a triangle or a rectangle. Imagine an oval that has a kink or a bend in it. See, when you host a plethora of races ranging from 1,000 meters to 4,000 meters in length, you need a course that is versatile. This is why there are essentially four courses intertwined into one large course.
In a nutshell, the description of the layout goes like so.
The longest course is 2,750 meters, while two others measure 2,500 meters and 2,150 meters respectively. There is also a straight course intended for the sprint races. This 1,000-meter course crosses the other three tracks in a straight line, creating an intersection with the other 3 designs. Due to the placement of the straight course, these events are held literally in the middle of the racecourse.
The adaptability of the track is shown by the 46 different starting points utilized for races. This makes each event at Longchamp seem unique, even though the Thoroughbreds are running on virtually the same strips of turf.
The racing complex is fairly large, about 57 hectares (nearly 141 acres) to be exact. This means there is more than enough space to support such grand events. We are going to get to the upgrades and what happened during the more than two-year renovation, but we first need to unveil the most illustrious races. After all, Longchamp Racecourse wouldn't be a major attraction if it weren't for its most significant competitions.
Celebrated Group 1 Racing at Longchamp
Everyone here probably already knows all about the Prix de l'Arc de Triomphe. People get so caught up in it that they sometimes forget about all the other esteemed events at Longchamp. For those that weren't aware, more than half of the Group 1 races in France are hosted at Longchamp. This place is far from a "one-trick pony."
We are going to address the most important ones, which of course means starting with the granddaddy of them all.
Prix de l'Arc de Triomphe
Well, where do we even start? We could begin by telling you that the Prix de l'Arc de Triomphe started in 1920 and has since been regarded as the most admired event in all of Europe, let alone Paris or France.
We can flood you with highlights from the 2,400-meter competition, or we could simply point out that the winning horse takes home a whopping amount of nearly €3 million! Yes, you read that figure correctly – this is the third most expensive purse attached to a horse race in the entire world, behind the Pegasus World Cup and the Dubai World Cup.
Clearly, there is way too much juicy information on the Prix de l'Arc de Triomphe for us to jam it all into this Longchamp Racecourse guide. Our team of horse racing gurus decided to do one better and create an individual page, organizing everything there is to know about the race that takes place on the first Sunday in October each year! Indulge yourself by clicking the button below!
Grand Prix de Paris
Believe it or not, when the Prix de l'Arc de Triomphe came along in 1920, another event was already in its 57th year. That's right, the Grand Prix de Paris was inaugurated in 1863 and is held at Longchamp Racecourse each and every Bastille Day.
Three-year-old Thoroughbreds are eligible to compete in the Grand Prix de Paris, except for geldings (castrated horses). The event started out as a 3,000-meter race and was actually extended to 3,100 meters in 1964. After going back to the original length of 3,000 meters in 1978, it was shortened to its 2,000 meters in 1987. Finally, the Grand Prix de Paris was lengthened to 2,400 meters in 2005, the distance it remains at today.
With 600,000 Euros up for grabs, including more than €340,000 awarded to the victorious horse, this event still garners the attention of all Thoroughbred racing fans around the world every time July 14th rolls around.
Poule d'Essai des Poulains
Exactly 20 years after the creation of the Grand Prix de Paris, Longchamp Racecourse introduced the Poule d'Essai des Poulains. Well, technically, that isn't entirely true, because the Poule d'Essai was first run way back in 1840.
That lasted until 1883, when the Poule d'Essai was separated into two exclusive events. The Poule d'Essai des Poulains is a 1,600-meter race for three-year-old colts (male horse) only. It was immediately granted Group 1 status when France first started using the grading system in 1971. After being run on the middle course, it was moved to the "grande piste" (main course at Longchamp) in 1987.
Freddy Head, the six-time winner of the Champion Jockey of the year award in France, has won this event a record six times. His first came in 1975 aboard Green Dancer, while his most recent victory at the Poule d'Essai des Poulains came while riding Shanghai in 1992.
You can bet your bottom dollar that this €600,000 event is circled on the calendars of the owners of three-year-old colts.
Poule d'Essai des Pouliches
Now for the second race generated from the decision to separate the Poule d'Essai into two races in 1882. The Poule d'Essai des Pouliches is the same format as the Poule d'Essai des Poulains, save for one major detail.
"Pouliche" is the French word for a filly or a female horse. This means that this event is designated solely for the lady horses. Also 1,600 meters in length, there is a pretty penny on the line here, folks. To be exact, about €450,000 worth of pennies!
Apparently, Freddy Head has an affinity for this course and these events. The all-time leader in wins by a jockey in the Poule d'Essai des Poulains also owns the record for most wins in the Poule d'Essai des Pouliches. The last of his eight victories came in 1997 while guiding Always Loyal to the winning post.
Both of the Poule d'Essai races are held each year at Longchamp in mid-May. American Thoroughbred racing fans looking for some events to bet on and watch in between the Kentucky Derby and the Preakness Stakes need to look no further. The action is taking place at Longchamp Racecourse in the middle of these two events.
English racing fans can relate to these events by comparing them to the 2,000 and 1,000 Guineas Stakes at Newmarket.
Head to the "New" Longchamp Racecourse Now!
You've heard of the Eiffel Tower, right? How about the Louvre Museum? You know, the home of the Mona Lisa? Well, guess what? Both of these places are just a short ride away from Longchamp Racecourse! If you don't mind walking a few miles, getting there on foot is an option as well.
We don't need to spend time telling you what to do and what to see in Paris. It's only one of the most beautiful and most impressive cities in the entire world, and the opportunities are endless. Getting there is on the bucket list for many people around the globe, so locals should feel blessed. What we need to do is introduce the brand-new ParisLongchamp Racecourse!
April 2018 saw the grand opening of a new and improved Longchamp Racecourse.
Longchamp Racecourse decided to shut its doors on October 5th, 2015, with a plan in mind. The plan, orchestrated by the France Galop company, was not to just make a few minor changes to the facilities and shift a few buildings around. We are talking about more than €130 million poured into a complete redesign and restructure of the majority of the features.
Considering it took two and a half years to complete the renovation, locals and horse racing fans in general were ecstatic about the opening on April 8th of 2018. One of the major changes was removing heaps of concrete and replacing it with newer and "greener" creations.
Olivier Delloye, the director general of governing body France Galop, had this to say during an interview with CNN.com:
"It will really be a green bubble for Parisians, just 10 minutes from L'Arc De Triomphe."
Other than the actual racecourse, everything else has been given a facelift. We should certainly note that from the re-opening in April 2018, the property is officially called "ParisLongchamp."
The upgrades to the Longchamp are designed to take the racecourse from a place to watch big races to a tourist destination all year round. Time will tell how the plans pan out, but based on how things are going, we feel confident saying that Longchamp Racecourse has gotten even better.
They are looking to add five or six more meetings per year, not to mention hosting some evening events during the early part of the summer. They plan on using the grounds to host concerts and other social events and festivals when racing is not on the calendar. ParisLongchamp is truly on its way to becoming one of the most prominent and renowned sports complexes/destinations found anywhere on the planet.
Closing Remarks
After reading the last section, you must be amped up at the thought of heading to the new racecourse in the Bois de Boulogne. Paris was already one of the must-see cities in the world; now it has one of the most technologically-advanced and "greenest" racing venues ever created.
As exciting as the re-opening was, you need to go back to the beginning to truly appreciate Longchamp Racecourse and the history behind it. Home to the Prix de l'Arc de Triomphe and the Grand Prix de Paris, this racecourse is extremely rich in tradition. We felt that it was imperative that we share all the highlights with you.
Uncovering what the layout of the racecourse is like allows you to visualize Longchamp in the back of your mind. With everything that surrounds the course, not to mention all the new features, we can't imagine why anyone wouldn't want to go check it out at least once.
May
Sportsbook of the Month

Sign up Bonus
60% Up To $1,000
READ REVIEW
Visit Site
X