All About Arlington International Racecourse
The Pegasus World Cup had a whopping $12 million purse in 2017. Clearly, the money in horse racing can get pretty massive. Did you know that the first Thoroughbred race to ever feature a prize pool of a million bucks or more came back in 1981 at Arlington International Racecourse? Do you know what races take place there today?
The famous racetrack just minutes northwest of downtown Chicago is exactly what this page is all about. Arlington Heights, Illinois, is home to Arlington International Racecourse. We wanted to create a guide that tells you everything you would want to know about the racetrack.
From how it got started to specifics about the track, we want you to leave this page feeling like a veteran of the racecourse. By the last section, you may even want to schedule a trip to check the place out for yourself. We will tell you how to get there and of course reveal what the betting platform is like once you arrive.
Before we jump into the segments, take a look at this brief overview of Arlington International Racecourse.
Overview of Arlington International Racecourse
Year Opened

1927

Location

Arlington Heights, Illinois

Owners

Churchill Downs Inc.

Course Type

Flat

Notable Races

Arlington Million, Beverly D. Stakes, Secretariat Stakes

Official Website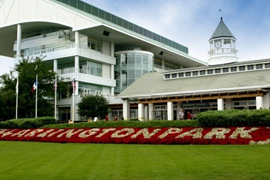 The Beginning of Arlington International Racecourse
Arlington International Racecourse in Arlington Heights, Illinois, opened in 1927 thanks to the vision of Harry D. Brown, a businessman from California. This was nearly 100 years after horse racing started gaining traction in nearby Chicago.
It wasn't a matter of if this idea would work; the question was how well it would work. Once Benjamin Lindheimer took over control in 1940, the racecourse was quite literally "off to the races." That same year, Arlington Park (as it is also referred to) became the first racetrack to implement an electric starting gate.
That wasn't the first time Arlington International Racecourse beat its competitors to the punch when it came to new ideas and applications.
In 1936, Arlington Park became the first US racetrack to install a photo-finish camera at the finishing line. And according to some in the industry, the track is actually responsible for introducing the "trifecta" bet in 1971. Folks in the New York Racing Association may argue and say it was them who first offered the bet, but you get the point. Arlington International Racecourse was ahead of its time.
Unfortunately, it all came crashing down in the summer of 1985 at the hands of a fire. The catastrophic damage caused to the property forced the park to shut down for four years. Thankfully, when it reopened in 1989, more improvements were on its way.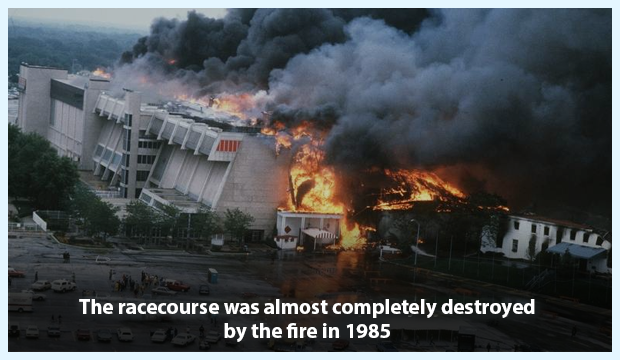 Churchill Downs Inc. bought the racecourse in 2000 and has done nothing but upgrade the facilities and put Arlington squarely back on the map of the most intriguing and important racetracks in the entire country. Let's take a closer look at the actual track to get a better idea of what makes this place so unique.
Racecourse Features
The current racetrack at Arlington Park is not like every other track you see in the United States of America. Up until 2006, the outside track was fairly standard. It measured 1 1/8 miles and featured a dirt surface. The main oval encircled an inner course that was made out of turf. The turf course is one mile long.
In 2007, Churchill Downs Inc. decided to introduce a synthetic track. This allows races to be run in inclement weather that a typical dirt surface could not withstand. The polytrack exterior is made up of a combination of recycled rubber, synthetic fibers, and silica sand. The plastic lining from copper phone wires (jelly cables) is also mixed in to help buffer any contact. This entire blend is then treated with wax to help sustainability.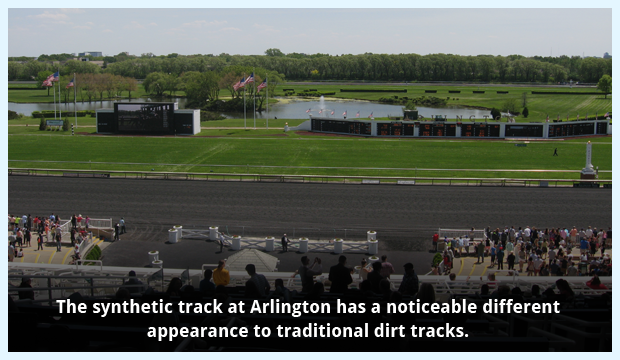 The authorities clearly spent the time and money to make sure the racetrack would make sense. They put an equal effort into making sure the property could host a large crowd and plenty of horses. More than 2,000 Thoroughbreds can fit in the stabling area, and the seating capacity is now up over 50,000.
It is easy to appreciate the level of care and attention to detail that has been put into Arlington Park. It is evident from the moment you step foot on the grounds.
The Three Grade – I Races at Arlington
We talked about the early years at Arlington. We then explained specific information about the track and its surface. It is time to transition into the races that take place annually at Arlington.
Before we get to those, it's worth noting that the prestigious Breeders' Cup Classic in 2002 took place at Arlington. Yes, that was the site of the infamous betting scandal where three friends hatched a plan that almost netted them more than $3 million. You'll enjoy reading about their tale of deceit and how they were behind the biggest betting scandal to take place in the US for over 100 years.
As the Breeders' Cup at Arlington was a "one-time thing," we are here to break down the three Grade-I events that are held annually at Arlington Park today. Interestingly, all three races take place on the same day!
We told you that Arlington International Racecourse was the site of the first million-dollar purse in Thoroughbred racing history, so let's start there.
Arlington Million
The name of this race gives away the prize pool, so there is no mystery there. Before the start of this event, there was no such thing as million-dollar horse races. Fast forward to today, and it's fairly common to see jockeys lead horses on a dirt track for enormous sums of money.
The race that set this precedence was the first Arlington Million in 1981. The president of the park at the time, Joe Joyce, had the idea to up the ante. As it turns out, his premonition was pretty spot-on, as several other races went on to adapt to a seven-figure purse.
The 1 ¼-mile race in August is meant for any Thoroughbred at least three years old. The winner of the first-ever Arlington Million, John Henry, is the only horse to win this event multiple times. Believe it or not, John Henry returned in 1984 as a nine year old, and incredibly, the gelding (castrated horse) won the event again.
The speediest time ever recorded in this race came in 1995 when Award blitzed the competition to the tune of 1:58.78. Don't hold your breath waiting for this mark to fall, as we haven't seen a horse break the 2-minute mark in this event since.
Beverly D. Stakes
The purse may not be a $1 million like in the race we described above, but there is still plenty on the line at the Beverly D. Stakes. We can think of 700,000 reasons why an owner might want to enter his or her female horse into this event.
That is right – this race is for fillies and mares only, so the male horses have to sit this one out. The age requirement at the Beverly D. Stakes is three years old; it has been that way ever since this race came about in 1987. While no female horses have won this race twice, we have seen five jockeys win this event twice.
United States' Racing Hall of Fame member Kent Desormeaux is the only jockey to claim three Beverly D. Stakes titles. The fastest time in this event also happens to be a turf course record for 1 3/16-mile races at Arlington Park. That came at the hands of Dank during the 2013 running. Dank is also one of six Beverly D. Stakes winners that wound up parlaying their win at the Beverly D. Stakes into winning the American Champion Female Turf Horse of the Year award.
If you want to catch the action, just head to Arlington International on the same day in August as the Arlington Million. Actually, there is another race at the track that day that you may want to stick around for, as well.
Secretariat Stakes
As if your summer day at Arlington Park wasn't eventful enough, there is a third big-time competition taking place that you won't want to miss. We are talking about the Secretariat Stakes. This race is intended for three-year-old Thoroughbreds and is 10 furlongs. A furlong is 1/8 of a mile, for those of you just getting your feet wet into the sport. For all our non-math majors, that equals out to 1 1/4 miles.
The event boasts a handsome $450,000 prize pool and takes place on the inside turf track. This race originated in 1974 after hosting an invitational event of sorts the year before. In 1973, fans in Chicago were craving seeing the legendary horse and Triple Crown Winner Secretariat in action.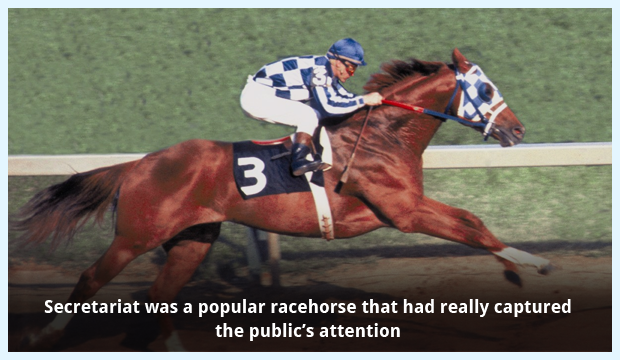 After Secretariat won the title, the event was officially formed, and thus the Secretariat Stakes was born. What started out as a 1 1/16-mile race was increased to 1 1/8-miles, before then being increased all the way up to 1 1/2 miles in 1978. Six years later, this extraordinarily long race was reduced to the current length you see today.
Kitten's Joy is the only horse to break the 2-minute barrier at the 1 ¼-mile level. He set the record for the fastest time in this event in 2004, finishing in 1:59.65. Kent Desormeaux and Pat Day each have three Secretariat Stakes' victories on their resumes, the only two jockeys who can stake that claim.
All in all, this race is a pretty big deal.
The fact that all three of these major Grade-I races are held on the same day means Arlington International Racecourse is host to one of the most notable racing days on the entire calendar.
Planning a Trip to Arlington Heights
Arlington Park has it all. No matter what degree of a horse racing fan you are, Arlington International Racecourse will have something that piques your interest. It doesn't matter if you are someone who wants to watch every single race intently or you just want to take part in the festivities for the good food and social atmosphere.
There is so much to do at Arlington Park; all you have to do is check it out for yourself. As far as getting there – that's easy. If you had never heard of the suburb Arlington Heights, chances are you have heard of Chicago and O'Hare International Airport. Guess what?
The major airport is just 14 miles from the racecourse.
When your airplane lands, you can be at the horse racing facility placing wagers within a half-hour. If the flights to O'Hare seem a bit expensive or if your local airport doesn't fly there, you have a second fantastic option.
It's a short 45-minute ride to the park in Arlington Heights from Chicago Midway International Airport, if that route happens to make more sense for you. Just make sure you stop by a Portillo's and get one of their famous Italian beef sandwiches. They even have a location right in Arlington Heights, and we can promise you won't be let down.
If you are coming from north of the area, there may be a third option that makes more sense. You are only looking at a 75-mile straight shot south from Milwaukee to Arlington Heights. As you can see, there are plenty of high-traffic areas reasonably close that make getting to the racetrack feasible. Obviously, if you can fly into O'Hare, we suggest doing that. You will basically be a stone's-throw away from catching the Thoroughbreds in action.
Keep in mind that planning a trip to Arlington Heights means you can take advantage of checking out the great "Windy City." Your opportunities for things to do, places to go, and food to eat will be endless. We already told you about the great Italian beef sandwiches, but don't forget about the deep-dish pizzas and Vienna beef Chicago hot dogs. You have two MLB baseball teams, as well as NFL, NBA, and NHL franchises located within the city limits.
Still thinking about planning a trip to Arlington Heights? Hopefully we gave you a few reasons to consider making the trip.
Betting at Arlington International Racecourse
Would you believe it if we told you there was an actual school you could go to in order to help you be a successful horse bettor?
We introduce Arlington University. Yes – this is a real thing. And the campus happens to be located on the main level of Arlington Park. It's time to trade your books and papers for betting sheets and charts of data. Here's some more information about taking a potential "class" at the Park.
Don't worry; you aren't being graded, and there are really no rules. It simply an opportunity for you to surround yourself with intelligent people and ask them whatever questions about betting on horses that you may have. After you feel comfortable and knowledgeable enough about the race at hand, it is time to place your wagers.
If you are planning on attending a race at Arlington Park, you'll be pleased to know there are several options for getting your bets on. An increasingly popular one is to use the racetrack's very own mobile betting app.
Once you arrive at the property, you can pull out your phone, log right into this betting app, and start firing away! You'll have full access to all the available bets for the day's racing.
If you are the type of person who has no idea what an app is and wants to talk to a person when making a bet, there is another option waiting for you. Despite everything moving towards paperless transactions and no human interaction, you can still make a bet at the facility the old-fashioned way. You got cash and want to tell the betting attendant where you want to place your money? He or she will be happy to assist you.
Another option is to use an online betting site. Most of today's betting sites are fully compatible with mobile devices, so you'll be able to access them with your smartphone or tablet. Just make sure that you stick to the TOP online betting sites, such as those that we recommend.
BEST HORSE RACING BETTING SITESAs recommended by GamblingSites.com
When it comes to betting on the horses, our recommended sites won't hang you out to dry. These online sportsbooks are more than aware of what the betting public is interested in and what they aren't. The more prominent the event is, the more betting opportunities you will find. And you should have no problem at all placing your wagers. The simplicity and ease of use of betting online is the reason why the industry has exploded.
We don't want you to think you are completely left out in the event you are not able to attend a race at Arlington Park in person. You can use these sites from the comfort of your own home, too, or from anywhere that you have internet access. There are also several betting parlors scattered across the state of Illinois that allow you to bet on horses.
The bottom line is that whether you are in the grandstands cheering for a horse or sitting on your living room sofa, there will be no shortage of bets available at Arlington International Racecourse.
The Summary
What's not to love about a historic racetrack located just minutes from one of the coolest cities in the United States? Arlington Park is a place where you can watch Thoroughbreds compete at the highest level while simultaneously betting on the outcomes. It's a place where you can tour the city's landmarks and famous buildings and eat amazing food all at the same time. Arlington International Racecourse is a destination worth checking out.
We gave you some background information about the grounds and then told you all about the racetrack itself. We discussed all three of the Grade-I races that are held on the same summer day annually at the course. After spending a few sections revealing facts and data about what goes on at Arlington, we explained to you just how easy getting to the park is.
Finally, what would a guide about an esteemed US racetrack be without addressing the betting options you will encounter? The hows, whys, and wheres are all uncovered in our segment dedicated to making some money wagering on the races.
We want this page to represent an organized catalog of sections that expose the ins and outs of the park. When it comes to Arlington International Racecourse, there is a lot of fun to be had. You just have to be aware of what's available.
May
Sportsbook of the Month

Sign up Bonus
60% Up To $1,000
READ REVIEW
Visit Site
X