Betting College Football Championship & Bowl Games
One of the most anticipated times of the year for college football fans is bowl season. It's a chance to watch some top quality games, often between teams that don't meet during the regular season. Bowl games involving teams from NCAA's Division I Football Bowl Subdivision (FBS) generate the most interest, but even some of the smaller bowls attract large audiences.
We know what you're probably wondering: why are they called "bowl games?" The answer is simple really. The term "bowl games" originates from the Rose Bowl stadium. This venue hosts the annual Rose Bowl Game: the oldest of all bowl games. Since the first Rose Bowl Game was held in 1902, many more bowl games have been introduced around the country. They were traditionally considered exhibition games (and many still are). Their popularity grew so rapidly because people appreciated the absence of a post-season playoff system to determine an annual champion of the FBS.
In 1998, the NCAA introduced the Bowl Championship Series (BCS). This involved a selection system that created matchups for five bowl games in which ten of the top ranked teams in FBS would participate in. One of these games would be granted the honor of being named the BCS National Championship Game. This game features the two highest ranked teams and the winner would be declared champion of the FBS. Bowl season suddenly became even more interesting.
The BCS ran until 2014, when it was replaced by the College Football Playoff. There are now two semifinal games, between four teams selected by a committee. These two games rotate among six major bowl games, and the two winners compete for the College Football Playoff National Championship.
Although bowl season has seen some changes over the years, one thing has remained the same; bowl season opens the door for excellent betting opportunities. Smart bettors know how to take full advantage of these opportunities, and the purpose of this article is to help you do the same.
First and foremost, you need to understand that betting on bowl games and the national championship requires a slightly different approach from normal. This doesn't mean you should completely ignore the betting techniques and methods you have grown accustomed to, so long as you're viewing these games in isolation from the regular season games. Certain factors carry more weight than usual, while others carry less.
Below we have explained some important betting factors that you need to pay particular attention to. We've also discussed two key points you need to take into account, and offered our top betting tips for college football bowl season. We end with a recap of some of the most memorable college football bowl games in history.
Vital Betting Factors to Assess
The regular college football season and the college football bowl season are NOT one in the same. Yes, a lot of what you know about betting on college football will still apply to the bowl season, but how you approach these games will be different. It's vital that you're considering the right betting factors.
Here's a list of what we believe to be the five most important betting factors to consider when betting on bowl games and/or the College Football Playoff National Championship game.
Team & player quality
Player & coach experience
Motivation
The venue
Recent form
Injuries
Notice anything interesting? The factors listed above are already things you probably take into consideration when it comes to most football games. While that's true, we wanted to emphasize the importance of how you consider them. We'll look at each of these factors in more detail, explain why they're important, and how they should influence your betting decisions.
Team & Player Quality
This is one betting factor that is ALWAYS relevant. Regardless of what college football games you're betting on, assessing the quality of both the teams and the players involved is a necessity. This is generally easier during the regular season, since many college football games are mismatches. It will often be reasonably obvious which team is stronger and has the better players.
Bowl games are different. They typically involve two well-ranked teams that are almost evenly matched. This means making betting decisions becomes a little more challenging. You need to properly analyze each team, and try to determine which one is likely to have the edge. Studying the relevant statistics and looking back at performances over the regular season will help with this, but you need to do more than just look at the basic stats.
Paying attention to detail is key here.
Ideally you want to get a clear idea of where each team is strong and where each team is weak. Then you need to think about how this will affect the matchup. We also recommend considering the respective playing styles of each team.
Player & Coach Experience
Experience counts for a lot in bowl games, especially the ones that REALLY matter. The pressure and intensity of these games is different from most games during the regular season, and that can affect both the players and the coaches. How they cope with the pressure and intensity will be key to how a game is likely to play out.
Players and coaches that have been involved in these games before will typically have a significant edge. They're less likely to get carried away by the occasion, or wilt under the pressure. Seeing as how they know what to expect, they will be better prepared. For this reason we'll often favor an experienced team over an inexperienced team, even when the experienced team is technically weaker.
Motivation
Overall, motivation doesn't have that much impact on bowl games when there's something tangible at stake. In a playoff semifinal, for example, it's safe to assume that both teams will be very motivated to win. Bowl games that don't have much riding on them, however, can cause motivation to have a significant impact.
Some college football teams will feel so honored just to have made a bowl game that they may not actually be too concerned with whether they win or lose. They'll still set out to win of course, but their main motivation may be to just enjoy the occasion and make the most out of it. Other teams may be disappointed with the bowl game they've made, having expected to make a bigger or better one. They might be especially motivated to make up for their disappointment, or they may not care much about the game at all.
It's hard to assess motivation levels, but some insight can be very useful.
It's hard to determine how motivated a team will be when playing in a bowl game where there's not much at stake. It's definitely something you want to think about though. If you can find spots where you're confident one team will be much more motivated than their opponents, that can really help you make some solid betting decisions.
The Venue
Football bowl games are exciting events that take place in very large stadiums. While the big college teams are used to playing in these types of venues, this might be a whole new experience for the smaller college teams. At the very least, it may not be something they are very comfortable with. Although these teams sometimes rise to the occasion and savor the invigorating atmosphere, there's also a chance that a team will feel intimidated. If their nerves get to them, their performance is likely to suffer.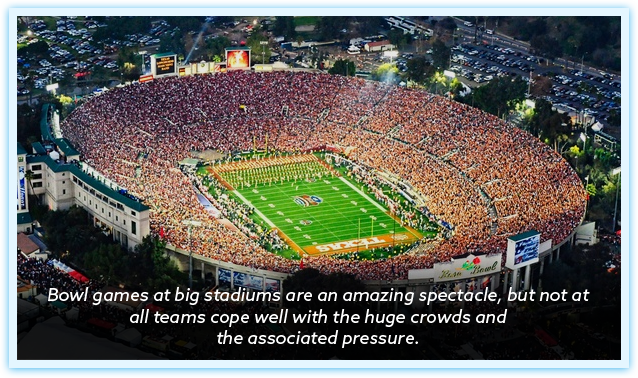 Based on our experience over the years, you need to be very wary of backing teams that aren't used to playing in front of big crowds. We're not suggesting that you should automatically write them off, but you should realize that those teams might be negatively affected.
Recent Form
Recent form can be a very useful indicator going into bowl season. There are always a few teams that really hit form towards the end of the regular season, and look to be in great shape for their upcoming bowl game. There also tends to be a few teams that drop off towards the end of the season, and come into their bowl game weaker than normal.
As a general rule, we've found that it's the teams with momentum that perform much better in their bowl games. Some teams can pick themselves up and turn their recent form around of course, but that tends to be the exception rather than the rule.
Injuries
Teams that are missing key players due to injury are clearly going to be at a disadvantage to those that are at full strength. Injuries affect both regular season games and bowl games alike. It's always important to consider the potential effects of losing players to injury, which is why it's important to study the depth of a team and not just the starting talent.
When it comes to bowl games, there's another aspect to injuries that's important to look at. We tend to only focus on players that are out due to injury and we often overlook the fact that some players are in between being fully fit and injured. Having just completed the regular season, most teams will have a few players whose health is not where it ought to be. They don't have severe enough injuries to miss out on their bowl games, but they will not be able to perform at 100%.
We have to be honest with you. This isn't an easy betting factor to assess properly, as teams are not always going to be forthcoming about the health of their players. If the information you need to know isn't readily available, then it's nearly impossible to draw any conclusions. Spend time trying to find out what you can, as you may be able to uncover valuable information.
If you properly take into account all the betting factors we've mentioned here, then you should be able to handicap college football bowl games without too much difficulty. We still have more advice to offer though, starting with a couple of very important points you need to consider.
Other Bowl Season Considerations
Bowl games and the National Championship game differ from regular college football games in a number of ways. The two differences we have listed below are especially important. To say you MUST be aware of them would be an understatement.
Media coverage is usually much greater.
Betting volume significantly increases.
We hope that the first point here is fairly obvious to you. Since these games attract so much attention on a national scale, the media is forced to cover them more thoroughly. Bowl games, and especially the major ones, are covered extensively on television, in the written press and on the internet.
This is mostly a good thing, but it has a downside too.
More media coverage means more information to work with. This can help to improve your betting decisions, as more information typically leads to more informed judgments. However, the downside is that not all of the information available will be useful. Many people share their "expert opinions" even though they lack insight. Sometimes taking everything you hear and read into consideration can be overwhelming and actually have a negative impact on your decisions.
The second point is also a result of the attention that these games receive. With more people interested, the volume of betting goes up. This can be both good and bad. It's good because the additional betting activity comes mostly from recreational bettors who are often quite predictable. Their money typically goes on favorites and the over. The weight of their money can often lead to the bookmakers and betting sites making significant adjustments to their odds and lines, which can create additional value in betting against the majority.
The downside of the increased betting volume is that the bookmakers and betting sites have to pay more attention to the odds and lines that they set. This means that the odds and lines are usually very tight for bowl games, making it hard to find any value at all.
We discuss dealing with increased media coverage and betting volume in more detail in the article listed below.
Top Betting Tips for Bowl Season
Let us make this point clear! There's no magic formula that will guarantee success for betting on college football bowl games. There aren't even any specific strategies that we recommend using. The fact of the matter is that these tend to be games that are very hard to predict. All you can do is handicap them as best you can, and try to make good decisions. The information and advice we've offered so far should help you do just that.
The following tips should help too.
Don't bet on every bowl game
Bet on games featuring teams you know
Look for rematches
Check for coaching changes
Be wary of rivalry games
Our first tip here is an important one. There are LOTS of bowl games at the end of the regular college football season, and it's just not realistic to think that it's possible to bet on them all. By trying to bet on them all, or even most of them, we can almost guarantee that you'll lose money. You just won't be able to dedicate enough time to properly handicapping each one.
It's much better to be selective, which brings us nicely on to our second tip. The best games to focus on are those involving teams that you're already familiar with. If you've been betting throughout the regular season, then there are bound to be some teams that you know better than others. The more you know about a team, the better your chances are of making accurate predictions concerning the outcomes of their games. It makes sense to put your money down on games where you already have a lot of relevant information at your disposal.
Moving right along to our third tip, keep your eyes out for rematches. Rematches involving teams that you're familiar with are ideal, but any rematch will do. While they would be considered rare in college football, they are seemingly more common during bowl season. Rematches provide additional information to work with, as you can look back at how the previous game played out. This won't indicate exactly what will happen during the rematch, but it will give you insight as to how the two teams match up against each other.
It's not uncommon for college football teams to undergo coaching changes as soon as the regular season finishes. Our fourth tip is to look out for these changes, as they can be extremely significant. If a team is going to a bowl game with a brand new coach in charge, they're likely to be at a disadvantage if their opponents have a more established setup. It doesn't mean that the team with the new coach will DEFINITELY lose, but we'd certainly be inclined to give them a lesser chance of winning.
Our fifth and final tip is to be cautious of bowl games that involve a major rivalry. Big rivalry games are incredibly tough to predict for a variety of reasons, and you need to employ a very specific approach when betting on them. This is something we discuss at length in the following article.
We have covered everything we wanted to as far as betting advice for the college football bowl season goes. Now, it's time to move on to the final section of this article where we cover some of the major bowl games that take place each year.
Major College Football Bowl Games
The most important college football bowl games are the six that host the playoff semifinals. We've listed these below. Two of them are used each year for the playoffs, with each bowl game being used once every three years.
Rose Bowl
Orange Bowl
Sugar Bowl
Cotton Bowl Classic
Peach Bowl
Fiesta Bowl
Let's take a look at each of these games in a little more detail.
Rose Bowl
As we mentioned in the introduction to this article, the Rose Bowl Game is the longest running bowl game in existence. That's why it's nickname, "The Granddaddy of Them All." It's been held since 1902, and takes place at the Rose Bowl stadium in Pasadena.
The Rose Bowl Game is usually played on New Year's Day. When January 1st falls on a Sunday, however, it's played on Monday, January 2nd. It used to be played between the two champions from the Big Ten conference and the Pac-12 conference. That changed when the BCS system was introduced. However, now that it's part of the College Football Playoff system, it's back as a Big Ten versus Pac-12 matchup any year it's not a designated playoff semifinal.
Orange Bowl
The Orange Bowl has been played annually since 1935. Even though it has been played at three different venues over the years, it's official home is now the Hard Rock Stadium in Miami Gardens. The game will typically involve the Atlantic Coast Conference champion, although that depends on which teams have made the playoffs. For example, if the Atlantic Coast Conference champion qualifies for the playoffs in a year when the Orange Bowl is NOT hosting one of the playoff semifinals, the team who came in second in the conference will play in the Orange Bowl.
The Orange Bowl was first played as a playoff semifinal in 2015, when Clemson demolished Oklahoma by 37-17. It's scheduled to host a semifinal again in 2018.
Sugar Bowl
The Sugar Bowl was traditionally associated with the Southeastern Conference. That wasn't the case these past few years for various reasons. Thanks to the introduction of the playoff system, the association has once again been strengthened. The Sugar Bowl will be serving as a playoff semifinal once every three years, and in the other two years it will host the champions of the Southeastern Conference and the champions of the Big 12 Conference.
First played in 1935, the Sugar Bowl is another long running game. It was played as a playoff semifinal for the first time in 2015. Ohio State beat Alabama by 42-35.
Cotton Bowl Classic
The Cotton Bowl Classic was founded in 1937. It was first played at the Cotton Bowl stadium in Dallas, Texas, and for many years it hosted the champion of the Southwest Conference. When that conference was dissolved in 1996, it started to host a team from the Big 12 Conference. Their opponents were typically a team from the Southeastern conference.
Although the Cotton Bowl Classic is one of the oldest bowl games, and although it's widely considered one of the most important, it was not part of the Bowl Championship Series. The game was even moved to the Cowboys Stadium in 2010, in the hope that a newer stadium with better amenities would help it gain entry into the series. While that never did happen, the Cotton Bowl game finally got the recognition it deserved when the College Football Playoff system was introduced.
Peach Bowl
The Peach Bowl has been played in Atlanta since 1968. It's been played at three different venues over the years, but its official home is now the Georgia Dome. The game has been played there since 1993. We speculate that it will move again once the Atlanta Falcons' new stadium is completed.
This bowl game is usually played on or around December 31st. In 2007 it set a record as the best attended non-BCS bowl game ever. The 2016 season marked the first time it was to be used as a playoff semifinal.
Fiesta Bowl
The Fiesta Bowl was originally played at the Sun Devil Stadium in Tempe, Arizona. It was moved to the University of Phoenix in 2006, where it has been played ever since. It became part of the BCS in 1998, and hosted the national championship game every four years. It will now be hosting a playoff semifinal in the same years as the Peach Bowl.
This game is one of only two bowl games to have been broadcast on all the "Big 4" networks. It currently airs exclusively on ESPN.
In addition to the ones listed above, there are several other bowl games worth mentioning. The ones found below aren't only very important, but they have also been around the longest.
Sun Bowl
TaxSlayer Bowl
Citrus Bowl
Liberty Bowl
Independence Bowl
Holiday Bowl
June
Sportsbook of the Month

Sign up Bonus
60% Up To $1,000
READ REVIEW
Visit Site
X