Hide Bonus Offers
| | | | | |
| --- | --- | --- | --- | --- |
| #1 | Bovada Sports | 50% Up To $250 | Visit Site | Bovada Sports |
| #2 | BetUS | 125% Up To $2,500 | Visit Site | BetUS |
| #3 | MyBookie | 100% Up To $1,000 | Visit Site | MyBookie |
| #4 | Everygame | 100% Up To $500 | Visit Site | Everygame |
| #5 | BetOnline Sports | 60% Up To $1,000 | Visit Site | BetOnline Sports |
Top 10 Stadiums in Major League Soccer

We all know that soccer isn't the top sport in North America – and this means that many MLS clubs share multi-purpose stadiums with teams from more popular sports like football and baseball.
Atlanta United shares the 71,000-capacity Mercedes-Benz Stadium with the Atlanta Falcons, while New York City FC plays at Yankee Stadium – the home of the Yankees.
However, in recent years, the rise of Major League Soccer has seen a host of clubs build their own soccer-specific stadiums. In fact, modern venues like LAFC's Banc of California Stadium and Minnesota United's Allianz Field are now considered among the best stadiums in the country.
But what are the best stadiums in MLS?
Below, I rank the top ten stadiums in Major League Soccer, taking into consideration design, capacity, atmosphere, location, and more.
10. Subaru Park
Location: Chester, Pennsylvania
Team: Philadelphia Union
Capacity: 18,500
In terms of capacity, Chester's Subaru Park is one of the smallest MLS stadiums. But if you're looking for the most picturesque view in Major League Soccer, you'll struggle to beat the home of the Union.
Located on the banks of the Delaware River, fans are treated to a waterside view of the Commodore Barry Bridge. In recent times, Philadelphia supporters have also been treated to plenty of memorable on-field moments, with the U clinching the Supporters' Shield in 2020.
The stadium even has a 2,000-seat area designated specifically for the Sons of Ben – the Union's loyal supporters' group.
Subaru Park is also famous for hosting Rugby Union matches, with the Collegiate Rugby Championship coming to Chester every year. But when the venue is packed with soccer fans, it is undoubtedly one of the best stadiums in MLS.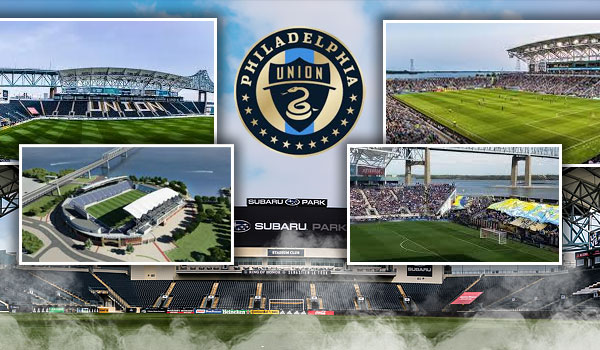 9. Earthquakes Stadium
Location: San Jose, California
Team: San Jose Earthquakes
Capacity: 18,000
After they entered MLS as one of the charter clubs of the league back in 1996, the Earthquakes never really had a stadium to call home.
The team played games at multi-purpose venues like Spartan Stadium and Buck Shaw Stadium for the best part of two decades. But in 2015, the Quakes finally moved into their own stadium.
When it opened its gates, Earthquakes Stadium – formerly Avaya Stadium – instantly became one of the best venues to enjoy a Major League Soccer match. Unlike many other MLS stadiums, San Jose's ground is soccer-specific, making it one of the most atmospheric venues in the league.
Boasting a distinctive double-decker design, Earthquakes Stadium is conveniently located adjacent to the San Jose International Airport. Oh, and if you're someone who likes a drink while you watch the game, you'll be pleased to know that the stadium also boasts the largest outdoor bar in North America!
With a capacity of 18,000, Earthquakes Stadium is by no means the biggest in MLS. But what it lacks in size, it more than makes up for with its modern design and quirky features.
8. Red Bull Arena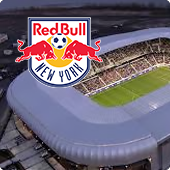 Location: Harrison, New Jersey
Team: New York Red Bulls
Capacity: 25,000
Ever since Red Bull Arena opened in 2010, it has been a key destination for American soccer.
Not only has it seen the New York Red Bulls become one of the most successful teams in MLS, but its first-class facilities have also seen the USMNT play numerous matches in Harrison, with CONCACAF Gold Cup games and World Cup qualifiers being staged at the venue.
The stadium's bowl-shaped structure easily makes it one of the most eye-catching MLS arenas from the outside, while its internal facilities are among the best in the country, never mind the league.
However, the arena's undesirable location prevents it from ranking higher on the list of the top stadiums in Major League Soccer. Surrounded by parking lots and warehouses, Red Bull Arena isn't exactly well situated.
7. Lumen Field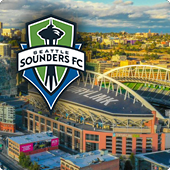 Location: Seattle, Washington
Team: Seattle Sounders
Capacity: 69,000
Lumen Field – formerly CenturyLink Field – was built for the Seattle Seahawks, giving it the feel of an NFL stadium. But while many MLS teams have traditionally struggled in multi-purpose venues, the Sounders have been able to transform their home ground into a fortress.
Between 2012 and 2019, the Sounders boasted the highest average attendance in Major League Soccer, attracting over 40,000 fans to their games for eight consecutive seasons.
Of course, the pandemic skewed attendance figures for the 2020 campaign. But Lumen Field's 69,000 capacity has enabled Seattle to become one of the league's best-supported teams in recent years.
Ultimately, there are very few MLS stadiums that can rival the atmosphere produced by ECS – Emerald City Supporters – on matchday.
Many believe that the Washington club would be better suited to a soccer-specific stadium. But having won two MLS Cups, one Supporters' Shield, and four Open Cups since 2009, the Sounders clearly feel right at home at Lumen Field.
6. Allianz Field
Location: Saint Paul, Minnesota
Team: Minnesota United
Capacity: 19,400
It is often the smaller stadiums that generate the best atmospheres – and Minnesota United can certainly vouch for that.
The Loons entered Major League Soccer back in 2017, accompanied by a passionate and vibrant fan base. The team had to wait until 2019 to move into Allianz Field, although Minnesota supporters will tell you that it was worth the wait.
Located in the suburbs of Saint Paul, rather than downtown Minneapolis, Allianz Field is a state-of-the-art stadium with a host of modern characteristics. Costing $200 million to construct, the Loons' home ground is undoubtedly one of the best stadiums in MLS.
Interestingly, the Wonderwall – the stadium's 2,800-capacity safe-standing area – is the steepest grade allowed (34.8 degrees), meaning that supporters feel right on top of the action.
There are certainly bigger stadiums in Major League Soccer, but there aren't many that are as unique as Allianz Field.
5. Children's Mercy Park
Location: Kansas City, Kansas
Team: Sporting Kansas City
Capacity: 18,467
It's fair to say that Sporting Kansas City set the benchmark for MLS stadiums when Children's Mercy Park opened in 2011.
Ever since the Wizards moved to their new home, teams have dreaded visiting Kansas. The stadium's roof is designed to prevent fan noise from escaping, leading to one of the most intimidating atmospheres in Major League Soccer.
Thanks to additional seating, SKC registered an average attendance of 20,003 during the 2014 season – the seventh-highest average in the league that year. Since then, the club has consistently averaged over 18,000, with Peter Vermes' men claiming two Open Cup triumphs in that time.
Blending modern architecture with an unforgettable matchday experience, Children's Mercy Park must be viewed as one of the top MLS stadiums.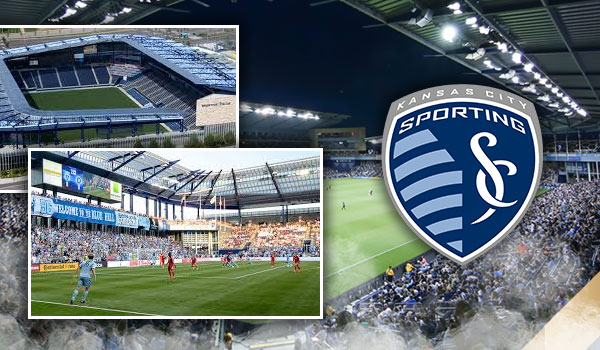 4. Exploria Stadium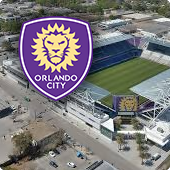 Location: Orlando, Florida
Team: Orlando City
Capacity: 25,500
Despite being one of the newest and largest Major League Soccer venues, Orlando's Exploria Stadium still manages to capture the intimacy that every soccer fan craves.
Opened just in time for Orlando City's inaugural MLS campaign in 2017, Exploria's vast safe-standing area is arguably the best of its kind in the United States, while the seats were specifically designed to bring you close to the action.
Better still, the stadium is located just a few blocks away from the heart of downtown Orlando, meaning that you get the best of both worlds – the soccer and the city.
And as if that wasn't enough, you can even see palm trees swaying in the warm Florida breeze all around the stadium. Who wouldn't want to see that!?
3. Banc of California Stadium
Location: Los Angeles, California
Team: LAFC
Capacity: 22,000
When it comes to architecture, LAFC's home ground might just be the most aesthetically pleasing stadium in Major League Soccer.
With its sloping roof and sleek design, Banc of California Stadium made the Los Angeles landscape even more iconic when it opened in 2018. However, the stadium is equally alluring on the inside.
It could be argued that the 22,000-capacity arena is closer to the field than any of its MLS rivals, making it one of the best places to watch soccer in the United States. On top of that, there are countless private suites, boxes, and rooftop lounges, allowing fans to enjoy the game in luxury.
Los Angeles FC instantly gave their supporters something to cheer about at Banc of California Stadium by winning the Supporters' Shield in 2019. In fact, the team's performances drew sell-out crowds throughout the season.
No discussion concerning the best stadiums in MLS can go ahead without the inclusion of LAFC's modern-day masterpiece.
2. Providence Park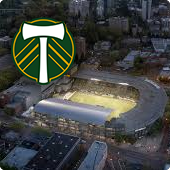 Location: Portland, Oregon
Team: Portland Timbers
Capacity: 25,218
Having been opened all the way back in 1926, Providence Park is one of the oldest Major League Soccer stadiums on the map, behind FC Cincinnati's Nippert Stadium (1915) and Chicago Fire's Soldier Field (1924).
Sure, just about every other venue in the league is a hell of a lot more modern. But Providence Park ranks second among the best MLS stadiums simply for its atmosphere.
I mean, "Timber Joey" – Portland's mascot – cuts a giant log with a chainsaw every time the Timbers score a goal. If that doesn't make you want to go and check out Providence Park on matchday, I don't know what will.
The stadium itself is pretty unconventional, with football and baseball teams calling Providence Park home over the years. But despite its quirks, the Timbers Army has transformed the venue into one of the best experiences in MLS.
Still, one MLS stadium stands out from the rest.
1. Mercedes-Benz Stadium
Location: Atlanta, Georgia
Team: Atlanta United
Capacity: 71,000
If you were walking in downtown Atlanta and you weren't aware of Mercedes-Benz Stadium, you would be forgiven for thinking that a spaceship had just landed in the middle of the city.
Granted, the mammoth 71,000-capacity structure looks like something out of a sci-fi movie. But it is actually the home of Atlanta United.
The Five Stripes share the ground with the Atlanta Falcons. But unlike many of their MLS rivals, the city's soccer team always attracts NFL-sized crowds. Indeed, Atlanta United posted an average attendance of 52,510 for the 2019 season – over 12,000 more than their nearest challengers.
Not only is Mercedes-Benz Stadium the biggest stadium in Major League Soccer, but it also one of the most modern sporting venues in the entire country.
A 360-degree halo display – the first of its kind – allows fans to follow the action on a 1,075-foot screen, which sits high above the field. Oh, and there's a 6,700 square foot four-sided display column, too.
Ultimately, fans of American soccer should check out Mercedes-Benz Stadium for the greatest matchday experience in MLS.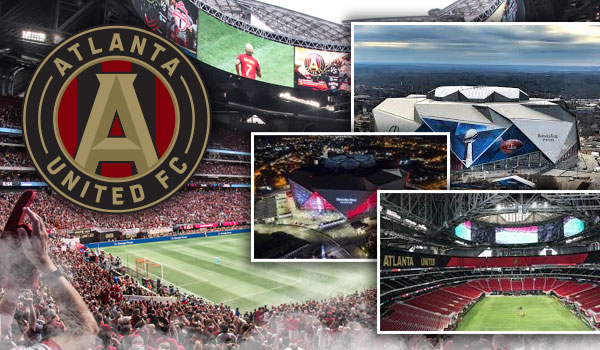 Summary
Well, that's it for my take on the best stadiums in MLS.
Whittling down all the stadiums in Major League Soccer to just ten wasn't easy. After all, there are so many great venues to enjoy soccer in North America.
Other top MLS stadiums include Nissan Stadium (Nashville SC), BMO Field (Toronto FC), BC Place (Vancouver Whitecaps), and Rio Tinto Stadium (Real Salt Lake). But at the end of the day, I'm happy with my top ten.
For more MLS content, why not check out some of the posts below?