Hide Bonus Offers
| | | | | |
| --- | --- | --- | --- | --- |
| #1 | Bovada Sports | 50% Up To $250 | Visit Site | Bovada Sports |
| #2 | BetUS | 125% Up To $2,500 | Visit Site | BetUS |
| #3 | MyBookie | 100% Up To $1,000 | Visit Site | MyBookie |
| #4 | Everygame | 100% Up To $500 | Visit Site | Everygame |
| #5 | BetOnline Sports | 60% Up To $1,000 | Visit Site | BetOnline Sports |
How I Discovered Buffalo Slots from Aristocrat and What I Love About These Games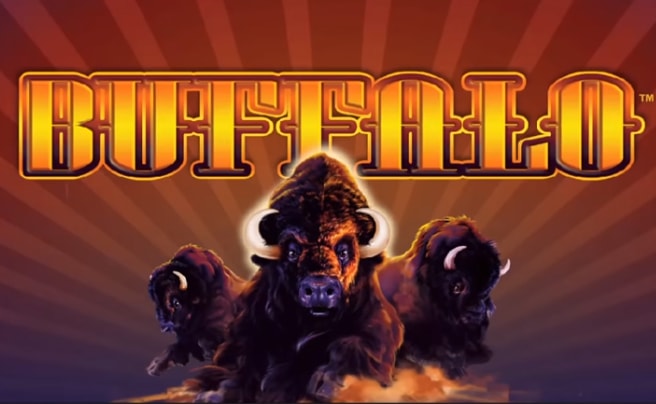 If you've set foot in a casino in the States, it's hard to miss the unmistakable sound of a win from the Buffalo slot machines as "BUFFALOOO" echoes out across the gaming floor.
These slot machines are easily among my very favorite. The excitement and the progressive jackpots are real, and once you learn the game, it is easy to sit back, relax, and (hopefully) watch your wins add up.
I took a recent father-daughter trip with my dad to California and made the mistake of heading out to the Palm Springs area in early September, where the daily highs are 110 +/- degrees. Oops!
Once the novelty of the desert heat wore off, exhaustion and dehydration set in, and we were in need of refreshments and a little entertainment until the sunset so we could take an evening desert hike.
Our oasis? The Morongo Casino Resort and Spa in Cabazon. We parked and found our way inside, registered for our players' cards, and got to work.
Traditionally, my dad has always been the big bettor and loves poker and blackjack, but when he wants to relax, he will gladly hit up the slots.
Since we didn't want to commit to an intense card game, we hit up the slots, and my dad suggested the Buffalo machines. Then we slid in our players' cards, added funds, and got started.
My Experience with Buffalo Slots
The Buffalo slots are a common feature in US casinos. I've seen them in Vegas, New York, and California, and I have heard from other casino aficionados that they are popular in most major casinos.
They are a penny slot, though you have to play for a minimum number of coins per spin (at Morongo, it was 50 cents minimum).
My dad explained that the major wins happen on Buffalo progressive rounds, but by increasing your minimum bet, you can increase the number of potential matches.
For example, two random puma symbols across all the reels could win with the absolute maximum bet, similar to adding pay lines on a traditional slot, and win more on non-progressive rounds.
I spun the reels a few times and started to get the hang of the game.
There are a few variants of the Buffalo slot machines: Buffalo Grand, Buffalo Stampede, Buffalo Gold, and the original Buffalo. The machines themselves are all pretty similar, but the major difference is in the progressive rounds.
In some versions, you can trigger a stampede, for instance, to add more payout lines, collect Buffalo coins to trigger bonus rounds, or add a wheel of fortune progressive feature to win free spins or jackpots.
The Buffalo Gold paid off more for me since I hit a progressive round and collected several Golden Buffalo symbols and racked up a nice $50 win that set me nicely ahead.
I'd suggest you play all the different Buffalo slot variants and find out which better suits your playing style or which you simply enjoy playing the most.
A nice perk with these slots is that several also have extra-large screens and bench seats, so if you brought a friend, there's plenty of space for you and your companion to stretch out, relax, and win big.
Also, crank the volume to improve your gaming experience. These slots are loud, and the payouts frequently happen, so if you want to be seen and heard and have a crowd rooting for you in no time, this is your game.
I netted a little less than $100 in wins over the course of four hours and treated myself and my dad to a quick dinner at In-N-Out and a California date shake at Hadley's before hiking off into the sunset.
Finding the Right Buffalo Slot Machines
On the way back, I did spot Buffalo slots scattered throughout the Las Vegas McCarran airport and played for a few hours while I was waiting for my flight to depart.
A nice perk here was that the machines were newer and cleaner, but the sound was limited to keep from distracting other flyers, which was a little bit of a let down since the game really is so much more exciting at max volume.
One other aspect to note is that some of the progressive-round jackpots on these slots are local to the individual slot, while other jackpots are located on a network spread out across several other casinos.
While the number you see on the slot might be awesome, it's not necessarily local to that machine, which makes your odds of a huge win less favorable.
Buffalo slots have minor and major win levels, and minor levels are typically tied to the individual slot machine you are playing at, while major wins are based on a network of other machines.
If you want a better chance at a high minor win jackpot (which can still be several hundred or thousand dollars), take your time and survey the casino floor for a machine with a high minor win displayed.
My rookie mistake in playing these slots was not realizing how the jackpot amounts were tiered, and had I taken my time and found a machine with a high local payout, the $50 win I got would have been a lot higher since I cleared out the minor jackpot amount local to the machine I was playing.
Playing Buffalo Slots Online
If you're looking for entertainment at home and want to give Buffalo slots a try, you have plenty of options. You have a variety of online casinos to choose from, and you can find a list of the best-rated ones here.
One of the major perks here is that if you're not a bold gambler but still want to play Buffalo slots without a crowd gathering around you at the casino, you can crank the volume at home and enjoy without a pack of spectators gathering around you.
Depending on the online casino you choose, you may also have some options for free demos to learn the game before you start playing for real money as well, which may be a plus for some players until you get a feel for which version of Buffalo slots is the luckiest for you.
The game itself isn't hard to learn, but the progressive rounds and jackpots vary depending on the version of the Buffalo slot you're playing, so it wouldn't be a bad idea to sample a few different versions of the slot first if you're new to the game.
Summary
Buffalo slot games aren't overly complicated, and they're an excellent way to unwind and try your luck if you're new to slots. They're also a good option if you play a lot of slots and are looking to change up your game a little.
I tried a few other slots in the casino myself but thoroughly prefer Buffalo as my slot machine of choice because it is such an entertaining game, and the progressive rounds really can net you a solid, big win on a small initial wager.
Do you have a favorite slot game or range of slots? Let me know in the comments below if you do.