Hide Bonus Offers
| | | | | |
| --- | --- | --- | --- | --- |
| #1 | Bovada Sports | 50% Up To $250 | Visit Site | Bovada Sports |
| #2 | BetUS | 125% Up To $2,500 | Visit Site | BetUS |
| #3 | MyBookie | 100% Up To $1,000 | Visit Site | MyBookie |
| #4 | Everygame | 100% Up To $500 | Visit Site | Everygame |
| #5 | BetOnline Sports | 60% Up To $1,000 | Visit Site | BetOnline Sports |
Five Crazy Roulette Bets That Actually Worked – Should You Follow in Their Footsteps?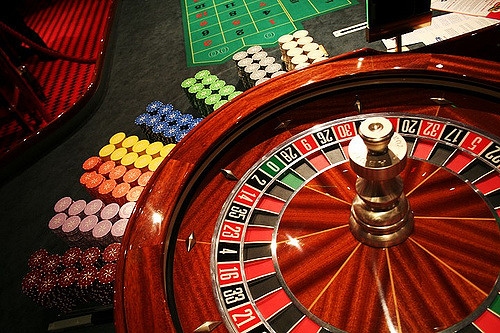 Gambling strategy purists will tell you that the best roulette strategy involves choosing the right game and using good bankroll management.
The top roulette game is the French version, which features a 1.35% house edge. The next-best game is European roulette, which has a 2.70% house advantage.
Once you find a good roulette variation that gives you a chance to win, the next step is to properly manage your money and avoid betting too much per spin.
Interestingly enough, though, some players have completely bucked common strategy and taken extremely risky approaches.
Five gamblers have actually won big with their crazy bets. I'm going to discuss each of these amazing roulette stories along with the pros and cons of such extreme strategies.
1 – Ashley Revell Wagers Everything He Owns on Roulette
One of the greatest roulette stories of all time belongs to Ashley Revell. The Kent, England, native sold all of his possessions in 2004 to accumulate enough money for a giant roulette bet.
This included selling his house, car, clothes, and other belongings to build his bankroll. Once the fire sale was over, the 32-year-old had earned $135,300 (£76,000).
The sheer notion of selling everything you own just for a single roulette bet sounds crazy. But there was a method to Revell's madness.
His story was being documented by the UK's Sky One Channel, which later turned it into an episode of the miniseries Double or Nothing. Revell's tale would also be part of an E! documentary called THS Investigates: Vegas Winners & Losers.
The next step for Revell involved finding a casino that would actually accept his $135,300 wager. Las Vegas' Plaza Hotel & Casino agreed to take the risk, which set the stage for Revell's big gamble.
The only problem with choosing Plaza is that they feature an American roulette wheel, which carries a 5.26% house edge. As I explained earlier, both French and European roulette offer stronger odds to win.
Nevertheless, Revell was undeterred and traveled to Las Vegas anyways. He placed $135.3k on red as part of a red/black wager (1:1 payout) and waited in anticipation while the wheel spun.
The ball landed on the red 7 pocket, which sent Revell off into a big celebration. He doubled his money and collected $270,600 in total.
The Brit later started an online poker site called Poker UTD, which folded in 2012. Today, he owns the site iGaming Recruitment, which matches job applicants with casino businesses.
As for whether or not he'll ever try something like this again, Revell seemed opposed at the time. But he certainly enjoyed the experience.
"That was just the most amazing experience I have ever had in my life. The first thing I am going to do is buy some new clothes, some sunglasses, obviously!"
2 – Poker Pro Jake Cody Bets First-Place Tournament Prize on Roulette
Jake Cody is a long-time poker pro with a list of outstanding accomplishments. He's one of the few players to win a Triple Crown, which involves winning an EPT (now defunct), WPT, and WSOP title.
In 2018, Cody took first place in a £2,200 high-roller event at the partypoker UK Poker Championships. His prize was £42,670 ($60,000), which seemed worthy of a small celebration, even for an experienced pro like Cody.
But rather than celebrating and adding the $60k to his bankroll, Cody put the entire amount into a single roulette bet (black) at the UK's Dusk Till Dawn casino.
This move created a scene, with many onlookers pulling out their smartphones to film the event.
The poker pro didn't actually come up with the idea himself. Instead, one of his friends suggested that it would be funny if he bet his entire tournament prize on a roulette spin.
Following Cody's triumph in the £2,200 high roller, he went through with the crazy roulette wager after having a few drinks.
The event drew such a buzz that Dusk Till Dawn owner Rob Yong took over as dealer for the spin.
Cody placed his $60k tournament prize on black and waited as Yong spun the ball around the wheel.
The ball landed on black and launched Cody and the entire room into a celebration that was caught on numerous phones. He doubled his money and collected £85,340 ($119,882) in all.
After the spin, Cody said that he was fully prepared in the event of a loss. But he was ecstatic to avoid losing his entire tournament payout.
"Don't get me wrong, I was prepared to lose, but I would have been pretty damn annoyed the next day after I put all that work in the tournament, ran good. I had a lot of deep runs last year and lost a lot of flips but this tournament everything went well. I would have felt pretty moronic if I lost, but I decided to take the risk and go for it."
Given that so many smartphones caught the story, Cody became a social media sensation the next day. Numerous mainstream news outlets filled the internet with tales of his big roulette win.
Despite the social media attention, Cody doesn't plan on repeating this kind of risk in the future. Instead, he prefers playing anything where he has an edge, including poker and sports betting.
"[The bet] was kind of a one-off. People that know me, know I play a bit of table games – blackjack, a bit of craps – but I'm not some wild gambler."
3 – Sean Connery Wins a Single-Number Bet….Three Straight Times!
Everybody knows Sean Connery as a world-famous actor who starred as James Bond. But few people know that Connery is also a gambler who's not afraid to take a big risk.
Back in 1963, Connery visited Italy's Casino de la Vallee while filming a movie. He was fond of roulette and put his money on 17.
As you may know, a single-number wager has the longest odds of winning. Your odds of winning this bet on a European wheel are 36:1, while they're 37:1 on an American wheel.
Not surprisingly, the Scottish actor lost his first two spins. But he got lucky and won his third spin, earning a 36:1 payout in the process.
Most gamblers would have walked away from the wheel at this point. But Connery did the unthinkable and risked his entire prize on 17 again.
Shockingly enough, he won his second single-number wager and increased his money by 36 times. However, this amazing story doesn't even end here.
Connery let his money ride on 17 for a third time and won yet again. After starting with a small single-number wager, he left the table with a $27,000 profit.
In case you're wondering, the odds of winning three single-number bets in a row are over 50,000:1. Therefore, Connery is not only extremely talented but also lucky.
As for his film career, the retired Scottish actor has played the leading role in a number of movies, including The Rock, The Hunt for Red October, The Name of the Rose, The League of Extraordinary Gentlemen, Indiana Jones and the Last Crusade, Marnie, Finding Forrester, Highlander, Murder on the Orient Express, and Dragonheart.
4 – Newcastle United Owner Wins £820,000
Mike Ashley, who owns the Newcastle United football club, doesn't need big roulette wins to build his net worth. Nevertheless, he's yet another player on this list who's won big with the game.
Perhaps inspired by Connery, the billionaire placed his money on 17 at London's Mayfair casino in 2008. Ashley also bet on a number of other outcomes, such as black, odd numbers, splits, and six lines.
Following a short 15-minute session, he won £820,000 in total profits.
Ashley politely told the dealer, "That'll do me, thanks very much," before leaving the table.
The English billionaire has made a fortune in the sporting goods market and lays claim to a £3.8 billion net worth. But Ashley is perhaps best known for owning Newcastle United, which he purchased for £135 million in 2007.
He's notoriously shy and maintains a very private life. Keeping with this image, he rarely gives interviews or makes public appearances.
5 – Computer Programmer Puts $220k Life Savings into a Single Bet
Chris Boyd was likely the original inspiration for Ashley Revell. In 1994, the English computer programmer saved $220,000 over three years so that he could make a huge roulette bet.
After saving $220k, Boyd began searching for a casino that would take his wager. He finally found one in Vegas' Binion's Horseshoe Club (now closed).
Under most circumstances, Binion's only allowed $100,000 max bets, but they bent the rules for Boyd. The casino also covered the 00 on their American wheel, essentially turning it into a European roulette wheel and giving Boyd better odds.
He placed his entire $220k in life savings on red – just like Revell – and won. Following the big win, the computer programmer vowed to quit gambling.
Advantages of Crazy Roulette Bets
One of the biggest problems in roulette is the house edge. This includes a 1.35% house edge for French roulette, 2.70% for European roulette, and 5.26% for the American version.
These house advantages don't seem so bad on a short-term basis. After all, the average French roulette player can expect to win back $98.30 for every $100 wagered.
But the problem is that your chances of losing money increase as you're continually exposed to the house edge. Even if you start off hot in a session, odds are high that you'll start losing money if you continue gambling.
Letting your entire bankroll ride on a single spin minimizes the number of bets that you're exposed to the house advantage. Rather than pressing your luck again and again, you take one shot at a near coin-flip situation.
This isn't to say that your overall odds of winning are better. But you only have to take one risk this way, rather than multiple risks throughout a long gambling session.
Downsides to Making Crazy Roulette Bets
The first problem with making a giant roulette wager is that the casino will always have a slight edge.
Sure, you have almost a 50/50 chance of winning an even-money bet. But you're still throwing your money into a negative expectation (-EV) situation.
The second problem is that you're taking a tremendous amount of risk. Boyd and Revell put their entire livelihoods on the line in a -EV proposition.
Most people wouldn't take this amount of risk even if they had a 75% chance of winning – let alone less than a 50% chance.
Even wealthy individuals like Connery, Cody, and Ashley weren't making wise gambles when they made big roulette wagers. When you have as much money as them, the goal is to grow your wealth through wise long-term investments.
Finally, making giant roulette bets robs you of gambling's entertainment side. Rather than getting thrills out of multiple wagers, you only get to enjoy a single exciting bet.
Conclusion
One thing that I've learned in this discussion is that Brits love making crazy roulette wagers. Everybody on this list is from Great Britain.
The second thing I've learned is that you either have to be wealthy or just plain mad to make such huge bets.
Ashley, Cody, and Connery fall into the rich category, as they only took risks they could afford. Meanwhile, Revell and Boyd put everything they had into single wagers.
I personally would never do anything like Boyd and Revell. First off, this is just plain irresponsible and can lead to losing everything.
Secondly, I'm all about enjoying my gambling sessions. And risking everything I have on a single bet would rob me of this joy.
But one undeniable fact is that letting everything you own ride on one roulette spin makes for a great story.
Even if you're merely making high-stakes bets like Ashley and Cody, it still draws interest. In Cody's case, his tale went viral.
But unless you're looking to gain fame, I don't suggest following in the footsteps of any of these players.