Hide Bonus Offers
| | | | | |
| --- | --- | --- | --- | --- |
| #1 | BetOnline Sports | 60% Up To $1,000 | Visit Site | BetOnline Sports |
| #2 | Bovada Sports | 50% Up To $250 | Visit Site | Bovada Sports |
| #3 | BetUS | 125% Up To $2,500 | Visit Site | BetUS |
| #4 | Everygame | 100% Up To $500 | Visit Site | Everygame |
| #5 | MyBookie | 100% Up To $1,000 | Visit Site | MyBookie |
2021 AL MVP Betting – Is This Shohei Ohtani's Race to Lose?

Los Angeles Angels star pitcher/outfielder Shohei Ohtani is putting it all together this year and is arguably the most exciting player to watch in the majors.
Ohtani is the current favorite to win the 2021 AL MVP award, with stellar +135 odds at the top MLB betting sites. The 26-year-old Japanese phenom has been remarkable so far this season, both on the mound and at the plate.
He truly is changing the game and giving a "Little League" feel to the professional level. It is great to see a player at the Major League level pitch and hit just like everyone used to as a kid.
His ability to play at a high level at multiple positions sets him apart from everyone else in the league.
Ohtani is not only fun to watch, but he is also extremely valuable. The 2018 AL Rookie of the Year is basically two players in one. He not only plays multiple positions, but he's also at the top of the league in them, as well.
Could he parlay his elite dual-threat ability into the AL MVP in 2021? Let's break his case down and see if he's the great bet he appears to be.
Nobody Is Doing What He's Doing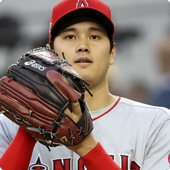 Ohtani technically isn't the absolute best at his positions, but no one can do what Ohtani is doing right now, and it is truly special. He has a chance to be arguably the most valuable baseball player ever to play.
He is truly changing our league because we hear whispers about new players who are going to pitch and hit like Ohtani. The new players to attempt to do that will be known as the "New Ohtani."
Ohtani currently is 11th in the league in wRC+ at 156. He's also pitched 36.1 innings at an ERA of 2.72, which is top 30 among pitchers who have pitched at least 30 innings.
In other words, he's operating as an elite pitcher, and he's in the conversation to dish out a no-hitter at some point in 2021.
Ohtani's full hitting stats include a .269/.330/.610 slash line, 15 home runs, 35 runs scored, 40 runs batted in, and 7 steals.
Ohtani's 15 homers are tied for the 3rd most in the league, his 35 runs are tied for the 11th most, his 40 RBI are 6th most, his .610 slugging percentage is 4th most, and his .340 ISO is the best in the league.
As great as Ohtani has been, there is some downside to his game.
He has the 19th highest Hard-Hit percentage at 40.3%, but he's striking out at a 29.5% rate which is the 15th highest in the league. He is swinging at a very high percentage of pitches, 51%, to be exact.
Ohtani also isn't walking a lot, either, at a 7% walk rate, but when you're hitting the ball this good, you can't complain about the lack of walks.
Ohtani is statistically one of the best power hitters in the entire league and is simply having a remarkable year. He might have some regression throughout the year regarding his aggressiveness at the plate because pitchers may opt to stay out of the zone and try to let him strike himself out.
That seems to be Ohtani's only weakness when it comes to hitting. He is having a remarkable year so far and would be an MVP candidate just because of his hitting statistics.
Ohtani's Elite Pitching Sets Him Apart
If you thought the argument for why Ohtani will win the 2021 AL MVP award was over after that, think again.
Other MVP candidates may be a little better than Ohtani when it comes to hitting, but if they are better at hitting than him, they at least aren't better at pitching than him.
If there is a rare occasion where there is a pitcher in the mix for MVP and Cy Young, they aren't going to be nearly as good as Ohtani when it comes to hitting.
Needless to say, Ohtani is in a league of his own as an elite dual-threat MVP candidate.
His hitting is probably what draws in the viewership and garners the most attention in terms of AL MVP hype, but the fact that he's also so good on the mound is pretty unbelievable.
Just look at his pitching stats through seven starts this year.
| | | |
| --- | --- | --- |
| ERA | Strikeout Rate | Batting Average Allowed |
| 2.72 | 12.39 K/9 | .152 |
Shohei Ohtani has not been perfect, as he still owns the third-highest walk rate in the majors (6.44 BB/9), and opposing batters have arguably been "unlucky" in the BANIP department (.222).
That said, he also has not been getting squared up. Ohtani has a 4% Barrel rate, which is 5th lowest in the league. This certifies his HR/9 of 0.74 and means that his pitch ability keeps opponents from hitting home runs against him.
Ohtani features a fastball that averages 95.2 MPH, but his best pitch is his split-finger fastball. His split-finger pitch is the fourth highest-rated of all pitches in baseball (and best splitfinger) in terms of "Runs Above Average per 100 pitches," with a wSF/C of 5.11.
For reference, the next highest-rated split-finger fastball is fellow Japanese pitcher Yusei Kikuchi at a wSF/C of 2.41. Ohtani has also added a cutter to his arsenal this year, along with his slider and curveball.
Ohtani has incredible stuff and shows potential to be an amazing pitcher throughout his career.
Can Shohei Ohtani Stay Healthy?
I only have one concern when it comes to Ohtani: if he can actually stay healthy.
The worst thing in any sport is injuries. Everybody hates injuries. If only there were a way to get rid of them like we were in a video game simulation, but sadly that is not the case.
Ohtani has been no stranger to them, either. Just look at the ailments he's dealt with so far in his young MLB career.
Ankle surgery in 2017
Tommy John surgery in 2018
First-degree YCL sprain in the elbow
Blisters
Unfortunately, one of the most said saying in sports is "If only he can stay healthy," but Shohei Ohtani is the epitome of the saying.
When you play as many positions as Ohtani does, the injury risk is surely higher. L.A. manager Joe Maddon would be wise to play Ohtani when he can, but also give him plenty of rest when he needs it.

Top Tip
It is never encouraged to hope for or bet on injuries to happen, but Ohtani's shaky health history can't be ignored. It could make sense for bettors already not high on Ohtani to factor this in and find another bet they love.
That said, Ohtani will only get better and better as he gains more experience in the MLB, which means the sky is the limit for him. He signed a 2-year contract for $8.5 million, and he is arbitration-eligible in 2023.
When 2024 comes around, don't be surprised if Ohtani is offered one of the biggest contracts in sports history.
Ohtani's Main AL MVP Competition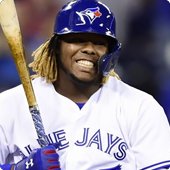 Now, who is in the way of Shohei Ohtani for the 2021 AL MVP?
The next closest player odds-wise is Vladimir Guerrero Jr. at +350. He's absolutely a viable contender – and comes with welcoming odds – but a huge gap follows these two mashers.
The odds drop off significantly from there, with big names like Aaron Judge, Byron Buxton, Xander Bogaerts, J.D. Martinez, and fellow Angel Mike Trout coming in at +2000 or worse.
Mike Trout was on pace for an insane year before his calf injury and could have been one of the most entertaining teammates to race for the MVP ever, but now he will miss significant time and is unlikely to win MVP.
Vladimir Guerrero Jr. is having an incredible year in his own right and could be Shohei Ohtani's main competition down the stretch.
Guerrero is leading the league in wRC+ at a whopping 197. He's tied for the league lead in home runs with 16, has a slash line of .331/.440/.652, tied for 3rd in runs with 39, 4th in the league with 41 RBI, and 4th in the league in ISO at .320.
Will Shohei Ohtani Win the 2021 AL MVP?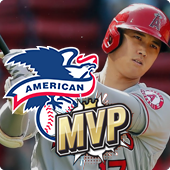 There are a few players that rival Ohtani at the plate. It's a long MLB season, too. Concerns of injury or other elite talents with eye-popping stats could rise up and give Ohtani a real fight.
With all due respect to Guerrero (and any other would-be contender), he doesn't pitch.
Ohtani's ability to pitch and hit at insanely high levels automatically separates him from anyone in the 2021 AL MVP conversation.
Ohtani has a chance to be the best player in baseball history with his level of talent. He is must-see TV whenever the Angels are on and could draw more interest to the sport that has decreased over the years.
That doesn't mean you can't bet on other players to win the AL MVP this year, but circling Ohtani as the favorite to take home the award is probably a good idea.