Top Idaho Sports Betting Sites in 2022
Idaho has a history of allowing different gambling pursuits and then taking them off the table. So, it's not a surprise that Idaho sports betting isn't available.
That's okay. Residents have turned to the internet and started placing their bets online. You can too. All you need is a few bucks and a real money account with one of the best Idaho sports betting sites.
Rank
Betting Site
Exclusive Bonus
Get Started

#1

Bovada Sports

50% Up To

$250

Visit Site

Visit Site

#2

BetUS

125% Up To

$2,500

Visit Site

Visit Site

#3

MyBookie

100% Up To

$1,000

Visit Site

Visit Site

#4

Everygame

100% Up To

$500

Visit Site

Visit Site

#5

BetOnline Sports

60% Up To

$1,000

Visit Site

Visit Site
Even though Idaho doesn't have any major league action, punters are still interested in the big four in US sports, as well as other betting markets for soccer, Australian rules, rugby, and more.
You'll find all that and much more at the top betting sites in Idaho. This guide will explain everything you need to know to start placing your bets online today.
Let's start with where to look.
Where to Bet on Sports in Idaho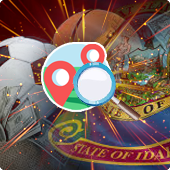 Are you already loyal to an Idaho sports betting site, or is the concept new to you?
Regardless of your situation, we'll introduce you to some of the best real money sportsbooks that you may not have considered.
We're also going to walk you through all the services provided by US-facing betting sites so you can reap the most benefit. You may be aware of sports betting sign-up bonuses in Idaho. But do you know about the rollovers that accompany them?
Online sports betting in Idaho can be a little tricky at first. But once you understand the basics of banking, bonuses, and betting markets, you can call yourself a pro.
Is There a List of Idaho Betting Sites?
Before we get into all the details, though, let's start with the best sports betting sites for Idaho punters.
Locating an online betting site that suits your specific needs isn't like combing through the pages of Amazon looking for the best smartphone charger. There's not a sports betting marketplace that lists all the Idaho online sportsbooks along with their best and worst features.
Or is there?
Sort of. Our list of recommendations is about as good as it gets when you're searching for a reputable, safe, and legitimate Idaho online betting site.
We don't list every available Idaho sports betting site, as we weed out providers that don't meet our high standards.
Using our recommendations, you can pick from the best of the best Idaho sports betting sites that made the cut.
So, if you're wondering where to find real money sports betting in Idaho, you can start with our rankings. But before you dive right in, we've got some other helpful information for you, especially if you haven't previously accessed a gambling site.
What the Idaho Online Sportsbooks Offer
It probably goes without saying that you can submit a bet slip with a prediction on NFL, MLB, NBA, and NHL action.
But there's so much more to Idaho betting online.
Betting Markets
The online sports betting sites open to Idahoans have menus that typically take a few pages to fill.
Not only do you have major league sports and some of the top global soccer (aka football) leagues, but betting markets that cover the expected and unexpected.
Badminton, rugby, MMA, motorsports, esports, virtual sports, sailing, darts, the list goes on and on and only varies slightly depending on which of the ID sportsbooks you decide to use.
The types of wagers available also cover the gamut with parlays, straight bets, reverses, if-bets, and moneylines, to name a few.
Racebook, Esports, Political Betting
Esports usually merits a dedicated section of the sportsbook, as does horse racing with a separate racebook. Prop bets and futures are included in the main menu, and you may be surprised at the things that you can bet on in Idaho.
Idaho betting sites go way beyond sports and racing. Politics and entertainment are typical, but you may also come across something like the weather and climate change.
Many of the top-rated ID sportsbooks are full-service gambling sites with casino games, and maybe even a live casino and a poker room. That gives you plenty of options, as you can jump around from section to section and take advantage of a variety of betting opportunities.
Other optional perks are Idaho sportsbook bonuses. Welcome bonuses, like deposit matches, are prevalent, as are free bets and tournaments.
How to Bet Online in Idaho
Knowing that you can bet online in Idaho for real money and actually doing it are two different things.
Submitting your bet slip is a straightforward process. But, remember, you still have to move cash into your betting account first, and you'll need to decide if you want to participate in the sportsbook bonus program or not.
So, we'll leave you to figure out your predictions and picks, but we've got a few tips that'll get you to that stage.
Deposit Considerations
The first thing to consider is how you're going to deposit to your player's account. You'll find that Idaho's top real money betting sites offer similar banking menus, but not identical. A few of the sites impose fees on deposits and payouts, and others only allow for a few different ways to transfer cash.
It's essential to look into the banking situation before registering a betting account to make sure you can use your preferred method. As a US player, you may want to consider cryptocurrency. While every Idaho betting site accepts debit and credit cards, they can be hit and miss.
Bitcoin Advantages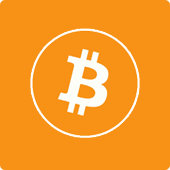 Conventional financial institutions don't automatically approve every transaction you initiate. Therefore, it's beneficial to have a few backup plans or switch to a crypto option, like Bitcoin. Bitcoin is the easiest to use and provides fast and free transactions in both directions.
If you're not interested in cards or Bitcoin, then you may be able to do a person to person transfer, although your limits will be much lower. Another guaranteed method is sending in a money order or cashier's check. But, that'll slow down the process as you probably won't be able to place a bet for at least a week.
When it's time to cash out those winnings you've accumulated, card depositors will most likely have to settle for a check in the mail.
Most Idaho sports betting sites don't payout to cards, even though they accept them for deposits. Once again, we make our case for Bitcoin, as you can use it for deposits and withdrawals.
While we're on the topic of Bitcoin, it's also the financial method of choice in a few ID sports betting sites and often gets you a more substantial bonus. For example, if you're offered a 50% deposit match bonus as a new player offer in the sportsbook, Bitcoin could get you something like 100%.
Sports Betting Sign-Up Bonuses in Idaho
Idaho sportsbook bonuses are part of every online bookmaker's service. At the very least, you'll have a welcome offer that's usually a deposit bonus. That means you'll get bonus cash according to how much you deposit. If it's a 50% bonus, and you deposit $200, you'll have $100 in free play cash.
Free play isn't entirely free, though, as you have to comply with a rollover. The rollover can be quite substantial in online casinos, like X30, based on your deposit and bonus. But, sportsbooks are typically more lenient with playthrough requirements, so look for something like X10.
Bonus Conditions
A rollover is the number of times you need to bet your bonus before it's beneficial to you. For example, if you have $100 in bonus cash with an X10 rollover attached, you'll need to wager $1,000 before you can request a withdrawal.
Be sure to read through the promotion's terms and conditions before you accept any Idaho sportsbook bonuses.
Bonuses and free bets can be quite beneficial, but only if you know how to use them. If you place the wrong bet, wager too much, or withdraw with an active bonus in your account, you could lose out on the prize and any winnings generated.
Mobile Betting vs. Sports Betting Apps
Another service provided by the best online sportsbooks in Idaho is mobile betting. You won't come across any ID sports betting apps you can download, but you don't need them, as the mobile responsive sites are equally impressive.
All you have to do is open your mobile browser and type in the URL of your preferred sportsbook, and you have everything you need on the small screen.
With today's mobile betting sites for Idaho players, you can do everything on your smartphone that you can on your desktop or laptop. That means you can even register a new betting account, make a deposit, or claim a bonus.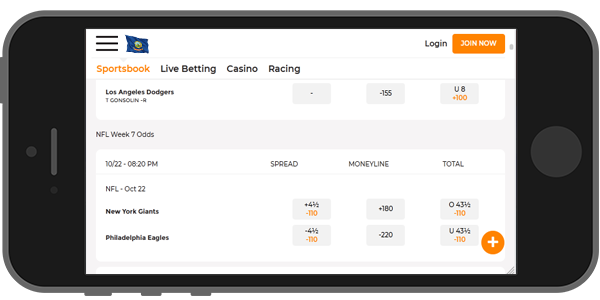 Picking an Idaho Betting Site
As a quick recap so far, you now know how to deposit and request payouts. You've received an introduction to ID sportsbook bonuses, and you know that you'll have access to a long list of betting markets, as well as other opportunities, like casino games on your computer or mobile device.
What's left?
The most important consideration is to choose the right bookmaker if you're planning to bet sports online in Idaho.
Recommending Online Betting Sites
By now, you can see that we take online betting in Idaho (and everywhere else) seriously.
We've witnessed some gambling sites fall by the wayside and others that had to put in a lot of hard work to improve their reputation. But that's good for punters, as online bookmakers are much more accountable to their patrons.
Reviews of Idaho Online Sportsbooks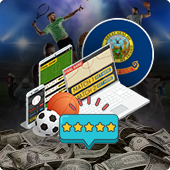 Our team of experts stays on top of everything when it comes to online betting. Not only do we thoroughly review every Idaho online sports betting website, but we turn to other reviews and player forums, feedback, and newsworthy items before making any formal recommendations.
If you're curious to find out more about our process, we've got an entire article devoted to our methods. But we'll share the criteria that we consider to be most important, as it will be to you as well.
Behind the scenes, we compile information based on ownership. We look at other sister sites by the same ownership group, the business's reputation, and any positive or negative feedback. That includes reading through reviews and player discussion groups.
Now, that doesn't mean that one complaint or positive comment is enough to go by; we're specifically looking for patterns of abuse or bad behavior.
Our Betting Site Ranking Process
In addition to the background data, we conduct full reviews of every Idaho betting site. We methodically go through the entire website with our criteria checklist.
Here's some of what's including on that.
User-friendliness of the website
Variety of betting markets
Live betting
Help materials conveniently posted
Customer service access
Mobile betting
Banking menus, including options, limits, and turnaround times
Any fees for deposits or withdrawals
Bonuses and promotions
Other betting opportunities, like casino games
Transparency with terms and conditions
Compiling the Results
Once we've got all of the results in place, we assign ratings to the most significant service aspects, like the betting markets and banking. Those ratings make it easier to compare one Idaho sports betting site to another.
So, those recommendations you see listed on this page and others on our site? They're the result of a lengthy review process. That's not the end of the story, though, as we continue to loop around and revisit our information to make sure it's consistently updated.
Get Started at Idaho's Online Betting Sites
Idaho remains relatively quiet about land-based sportsbooks. There are no pending bills or viability assessments in progress.
Gambling isn't entirely out of the picture, as Idaho currently has a state lottery, daily fantasy sports, touch tab lottery machines, and tribal casinos with gambling machines. But there doesn't seem to be a rush for ID sports betting.
For the time being, residents wanting to submit a parlay or make a prop bet will need to turn to one of the safe and reputable Idaho online sports betting sites outside of the US. They've designed their service to accommodate Americans through various banking options and safe, secure, and licensed sports betting software.
To get started, all you need is a computer, tablet, or smartphone and the link to one of our recommended Idaho betting sites.
FAQ About Idaho Sports Betting
Are there sportsbooks in Idaho?
No.
The state has five tribal casinos, including the Coeur D'Alene Casino-Spa-Resort, with its 2,000+ gambling machines. But sports betting hasn't been approved for brick and mortar venues. Idahoans wanting to place sports bets use online sportsbooks provided by out of area operators.
Can I take advantage of Idaho sportsbook bonuses?
You can! Top-rated Idaho real money betting sites have extensive promotional programs for their players.
As long as you register a player's account, you can access incentives like deposit matches, free bets, and tournaments.
How do I know which Idaho betting site is the best?
Even the top-rated betting sites in Idaho vary somewhat with banking methods, bonuses, and some betting markets. So, the absolute best Idaho betting site is up to you.
However, our recommendations narrow the field for you, as we've done the legwork with a comprehensive review process. You can't go wrong by selecting from any of the highly ranked online bookmakers on our list. They've proven to provide fair betting opportunities, safe banking, and reliable payouts.
Are Idaho mobile betting apps available?
We have to get a bit technical with this answer, as mobile sports betting apps for Idahoans aren't available, but mobile sportsbooks are at your disposal. That means that you wouldn't go to the Apple or Google Play store to look for sports betting opportunities, as they're all social.
But if you type the website address for your favorite ID bookmaker into your mobile browser, you'll end up with a top-notch Idaho mobile sportsbook.
How do I deposit cash with an Idaho online sportsbook?
Deposit and payout methods vary depending on the specific Idaho betting site you opt to use. However, you'll find a few consistent banking options, such as credit and debit cards and Bitcoin.
Beyond those three, you'll come across other ways to deposit like gift cards, prepaid cards, cryptocurrencies, person to person transfers, or you could mail in secure funds, like cashier's checks or money orders.
May
Sportsbook of the Month

Sign up Bonus
60% Up To $1,000
READ REVIEW
Visit Site
X