Online Sports Betting Sites for Arkansas
If were in Arkansas during the early 1900s, your jaw would probably drop to see how far gambling had come in the late 1900s. While you wouldn't exactly use the term "hotbed" to describe real money gambling in AK today, casinos and Arkansas sports betting are on the rise.
Today, betting in AK is licensed and regulated. From three sportsbooks to the best Arkansas sports betting sites online, punters have plenty of options in the Natural State.
How We Rate

Safety & Security
You should be able to gamble online without fear. So we only recommend licensed sites that use the latest security and encryption techniques.

Bonuses
Maximize your bankroll with fantastic bonuses. Our recommended sites offer valuable bonuses with fair terms and conditions, including manageable wagering requirements.

Games & Betting
The best sites have the best wagering options. That's why you will find extensive games and betting opportunities on our recommended sites.

Banking
Getting your money to and from your account shouldn't be a hassle. We only recommend sites with a variety of convenient banking methods, including cryptocurrency and e-wallets.
Not only can you walk up to a sportsbook in Arkansas and place a real money wager at the window or kiosk, you've got some online options as well.
We're about to take you on a journey through the evolution of AR betting. If you have questions, then we've got answers. Here are some of the questions we're going to answer in our guide below.
How do you find Arkansas sports betting locations?
What AK betting apps should you use to place your wager?
Can you bet on sports online in Arkansas?
And much more.
When you're ready to get started, simply sign up with one of the top real money Arkansas betting sites we recommend.
The Big Three for Betting in Arkansas
Unlike many of its sister states with dozens of casinos, VLT parlors, and maybe a few sportsbooks in some venues with geo-fencing on betting apps, the Natural State wraps its services up into a bow.
Or, to be more accurate, it would be three bows.
Three Casinos, Three AR Sportsbooks
Brick and mortar gambling venues are currently limited to three different counties. That could change shortly, though, as the state has a provision for a fourth. But, in the meantime, three is the lucky number. There's a trio of casinos, each with Vegas-style sports gambling for Arkansas bettors.
Two out of three started as racetracks turned racinos. The third, Saracen Casino-Resort, has been open since 2019 with a gambling annex, allowing for a full range of betting opportunities even before the grand opening of the entire casino-resort property planned for the fall of 2020.
Even in the small casino, though, Saracen hopped on the new Arkansas sports betting train with an abbreviated menu of markets.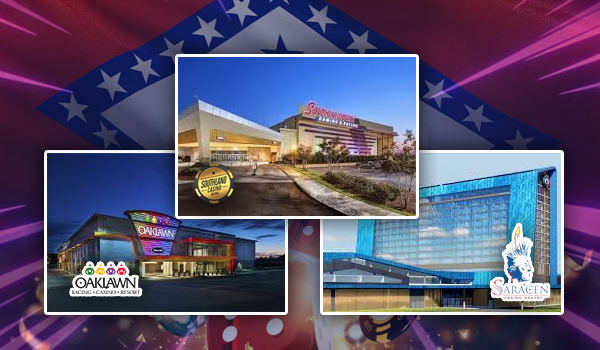 Arkansas Sportsbooks Launch in 2018
We'll get into a bit more of the gambling legislation progression in the next section. But full-service casinos and Arkansas sportsbooks were both approved in 2018. Before 2019, racinos were the only doors you could walk through to place a bet in Arkansas.
Hot Springs was first on the list, honoring its tradition of being at the forefront of gambling activities. Oaklawn Racing started as a thoroughbred track, and followed the two-part transition into racino, then casino-sportsbook.
Oaklawn Betting Online
Not only did Oaklawn open its betting windows before anyone else, but it is the only venue to offer an Arkansas mobile betting app for racing action.
Arkansas mobile sports betting is limited to Oaklawn's online racebook, daily fantasy sports, and offshore providers.
Oaklawn Racing Casino-Resort
2705 Central Avenue
Hot Springs, AR 71901
1-800-OAKLAWN
Saracen's Mini-Casino
In October of 2019, Saracen opened a mini-casino to accommodate casino players and sports punters. Betting markets were limited, and there was a $500 wagering limit. However, the Quapaw Nation wanted to move fast to capitalize on the excitement of the new in-state Arkansas sports betting service.
The central Saracen Casino Resort includes 2,000 gambling machines and a 300-room hotel.
Saracen Casino Resort
3512 Market Street
Pine Bluff, AR 71601
870-686-9001
Southland's Impressive Start
Real money sports gambling in Arkansas is also alive and well in the third of three casino resorts. Like Oaklawn, Southland Casino-Resort started as a greyhound track and still offers thousands of races annually. In the fall of 2020, though, the property unveiled new casino gaming, and a full-service sportsbook with kiosks open from 9 am to 5 am daily.
The third Arkansas sports betting venue was last (so far, anyway), but not least. Southland came out swinging with a wide range of betting markets, including auto racing, MMA, soccer, golf, Australian rules, and, of course, the big four for US players (baseball, basketball, hockey, and football).
Although it's still early days, Southland may have started a bit behind with its grand opening, But the West Memphis casino-sportsbook takes the top spot for gambling revenue, contributing 60.5% of the market share for 2019.
Southland Casino Resort
1550 N Ingram Blvd.
West Memphis, AR 72301
800-467-6182
Current operating hours at Oaklawn and Southland are 9 am to 5 am, seven days a week, while Saracen is around the clock.
Evolution of AR Sports Betting Laws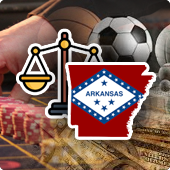 Arkansas' gambling stance has changed considerably since the turn of the 21st century.
The state has gone from zero tolerance to providing anything and everything when it comes to land-based betting opportunities.
Colorful AR Gambling History
Betting in Arkansas for real money didn't start with the trio of casinos, though. Racing has been a mainstay in the state since the 19th century. Oaklawn Racing Casino-Resort has been around for more than a century before turning into today's modern property with amenities unheard of in the 1800s.
Hot Springs was hopping in the 1920s through 40s with more than ten casinos and off-track betting. Al Capone was a frequent visitor, and local law enforcement's payoffs were enough to keep the party going for a few decades, anyway. However, when the tide turned in 1947, Arkansas went from a gambling oasis to a desert.
First Arkansas Betting Sites
The state approved racinos in 2005, but the Arkansas state lottery didn't even emerge until 2009.
From that point, though, the Arkansas gambling evolution began with Oaklawn racino's Oaklawn Anywhere app, introduced in 2014. It was the first state-approved virtual betting service for residents, with horse racing streaming and wagering on the go.
Next on the list was the nod to daily fantasy sports in 2017. DFS didn't just expand legal gambling opportunities, but real money online sports betting in Arkansas.
Casinos and Sportsbooks Through Issue 4
Approval of Issue 4 was the most significant catalyst for change, though, and the voters drove it. Residents were vocal about Arkansas sports betting. They petitioned for Issue 4, which approved Vegas-style casinos and sportsbooks, and it worked.
In 2018, Issue 4 passed, and, by 2019, Oaklawn Racing was first with its casino-sportsbook combination.
The only thing that the state hasn't formally legislated, at least not yet, is online and mobile sports betting for AR players, except DFS and racing.
For race betting, Oaklawn's Oaklawn Anywhere app is currently the only choice. It's the exclusive off-site betting app for AR punters as far as in-state services.
Alternative AR Sports Betting Services
However, out of area providers also welcome Arkansas sports betting action with mobile sportsbooks as well. Every online sportsbook that has opened its virtual doors to US players, including Arkansas, has a mobile-friendly counterpart.
As the legal gambling age is 21 for residents, it carries over to online betting in Arkansas as well.
If you're curious to learn more about Arkansas' gambling history you can delve deeper into AR gambling laws and legislation in our gambling laws section.
Online Betting Options in Arkansas
Not only do Arkansans now have three in-state sportsbooks, but a variety of ways to place a bet online in Arkansas.
Three land-based AR sportsbooks in Hot Springs, Pine Bluff, and West Memphis
State-approved daily fantasy sports online
Oaklawn Anywhere – the official off-site betting app in Arkansas for racing only
Out of area providers with Arkansas online betting sites and mobile play access
The three Casino-Resorts with active Arkansas sports betting windows are already approved for on-property mobile betting. On-site mobile betting in Arkansas was part of the Issue 4 package.
That means that they could launch an app that only works on casino grounds. However, none of the properties have opted to take that route as yet.
DFS in Arkansas
Daily fantasy sports has been accepting Arkansas sports bets online since 2017. While it's not big business, it does accommodate DFS' devoted players and adds just over six-figures to the state coffers annually.
DFS operators are national brands that have been given the nod to offer their services to AR residents. But there's also a home-grown Arkansas betting site with Oaklawn Anywhere.
Going Mobile with the Oaklawn Anywhere App
Oaklawn Racing Casino-Resort is the official provider of in-state off-site betting in Arkansas with its exclusive Oaklawn Anywhere app. Its virtual betting windows are open around the clock for racing action at all tracks, not just its home turf.
Even though greyhound racing online in Arkansas isn't offered through Southland, Oaklawn Anywhere is an advance deposit wagering (ADW) service covering all tracks that allow virtual betting.
It's not a traditional sportsbook for Arkansas, but Oaklawn Anywhere has similar player benefits, like a $150 sign-up bonus for new real money bettors.
Arkansas Betting Site Differences
Compared to online sports betting in AR from out-of-area gambling sites, Oaklawn Anywhere is limited in its banking options.
Visa and Mastercard are possibilities, but not guaranteed, as banks may still decline the transfer requests, as they do with other betting websites.
Oaklawn's app leans more toward locals with cash deposits at the casino and EZ Money cash transfers.
Arkansas betting online through US-facing sportsbooks also allow debit and credit card deposits, but they expand banking to include Bitcoin and other cryptocurrency methods. Crypto wallets are the all-around best for real money AR sports betting sites, with fast, free, and nearly 100% guaranteed transactions.
In addition to financial differences, online sports betting in Arkansas tends to be more diverse. You'll find a broader range of betting markets, ongoing promotions, in-play wagering, and prop bets like entertainment.
The land-based Arkansas sportsbooks cover US sports, including the Arkansas Razorbacks. When it comes to esports, entertainment, and a more comprehensive range of international matches, online or mobile betting has a slight edge.
Revenue from Arkansas Sports Betting and Casinos
It's only been a few years since Issue 4 passed, but Arkansans have embraced the new gambling venues and opportunities.
Even before the casinos, racinos had year after year of increased commercial gaming revenue. But from 2018 to 2019, it jumped more than 15% to over $427 million.
The bulk of the total still came from gambling machines. But table games were also added along with the sportsbooks. Table gaming produced $27.5 million, and sports betting $1.3 million.
Arkansas Gambling Revenue
Year
Source
Revenue
The increase from the previous year
2015
Racino
$296 million
+26.5%
2016
Racino
$323 million
+9.2%
2017
Racino
$356 million
+8.3%
2018
Racino
$371 million
+6%
2019
From Racino to Casino, Table Games, Sportsbook (partial year)
$427 million
+15.1%
While AR residents now have access to a plethora of gambling opportunities, including casino and sports betting, there's still room for growth.
Issue 4 opened the door to four gambling venues in four different counties. The Pope County license is still up for grabs, so a new casino-resort could be on the horizon.
Additionally, sportsbooks were given the nod to provide on-property mobile betting. So far, no one has taken advantage of the opportunity yet, so that's another looming possibility. From there, it could be a hop, skip, and jump to mobile sports betting throughout Arkansas.
Safest and Best Online Sports Betting in AK
Whether you're accessing Oaklawn Anywhere as an online greyhound betting site in Arkansas or head to Southland to use the kiosk for Arkansas derby betting, you probably feel confident that they're safe and legitimate Arkansas sportsbooks.
While that's true, they're not the only legitimate options.
Reliable Arkansas Sports Betting Sites
You may not realize that some of the best real money Arkansas betting sites are also reliable and with excellent reviews. So, if you like the idea of a mobile sportsbook that's a few clicks of a button away on your computer or smartphone, then we've got just the information you need.
Our expert team is always on the job, looking for new online betting services, reviewing existing ones, and staying on top of everything regarding online sports betting in Arkansas, throughout the US, and globally.
Because we've been doing this for some long, we've created and refined our system. It helps us weed out any disreputable operations and recommend only the most legit Arkansas online sports betting sites.
Ranking Online Sportsbooks in Arkansas
Both the best brick and mortar and online Arkansas books should have a top-notch variety of real money betting markets with low minimum and high maximum wagering limits. Beyond that, though, evaluating legit betting sites in AK is different than our land-based review process.
The criteria we consider includes the following.
Deposit and payout methods
Banking fees
Withdrawal turnaround times
Sportsbook bonuses, free play, tournaments, and other player perks
Variety of betting types (moneylines, parlays, if-bets, reverses, point buying, etc.)
In-play wagering
Prop bets and futures extending to entertainment, politics, etc.
Responsive customer service
Other betting opportunities (slots, poker, table games)
User-friendliness of the website
Mobile play access
Licensing and regulation
How to Get Started with Online Sports Betting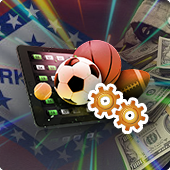 Before you place your first online sports wager, you'll want to find the best Arkansas sports betting sites for you personally. That means narrowing recommendations for the top gambling websites to the ones that suit your needs with banking, bonuses, and betting markets.
Then, all you have to do is set up a login so that you can move cash into your player's account. It takes a minute or two to fill out, as online sportsbooks only require your name, address, and phone number to get started.
From Deposit to Bet Slip
Once you're registered, have opted into or declined any welcome bonuses, you'll initiate a deposit. This is where you may need to get creative. If you use a debit or credit card, it may be a straightforward process, and your betting funds will be available within a few minutes. But, if you run into traditional banking issues, you can always turn to cryptocurrency like Bitcoin.
After you've got your money in place, things couldn't be easier. The top AR betting sites have sportsbooks with easy to read lines, a bet slip with instructions printed on it, and customer service standing by via live chat.
Mobile Betting in Arkansas
Arkansas mobile sports betting is just as easy and straightforward. While Oaklawn Racing's Oaklawn Anywhere is an official app, out of area gambling providers use mobile responsive sites. They provide everything that the full website does, from registration to bonuses to easy to review betting markets.
As you won't find Arkansas sportsbooks in the Apple or Google Play store, all you have to do is type the website address into your smartphone or tablet browser. You'll be impressed with your new and very portable online bookie.
A Quick Summary
Arkansas gambling has gone from zero to 60 in just a few years.
Likewise, AR online betting sites have also come a long way. While there are plenty of US-facing providers that welcome residents from the Natural State, you can consider a handful as the cream of the crop.
You don't need to put hours into researching the top Arkansas sports betting sites, though. You can get the ball rolling by selecting one of our recommendations instead.
AK Sports Betting FAQ
Does Arkansas have sports betting?
Arkansans don't just have sports betting, but options in where and how to place wagers. The state now has land-based sportsbooks in its three casino resorts.
A small number of offshore providers with US-facing services have also opened their virtual doors to punters from Arkansas for online and mobile access.
Are there online greyhound betting sites for AK?
Greyhound racing with online wagering is covered through Oaklawn Anywhere, Oaklawn Racetrack's official mobile betting app.
Additionally, other online and mobile sportsbooks for AR players also have racebooks, as well as casino games, and poker rooms.
Where can I bet on sports in Arkansas?
There are a few options for real money AR sports betting. You can head to one of the three casinos, which now offer sports gambling for Arkansas players.
One of the three, Oakland Racing Casino-Resort, also has a mobile betting service on racing events through its Oakland Anywhere app. As a third option, you can select from online sportsbooks, like the ones we've recommended as the safest and best, based on reviews and player feedback.
Is there mobile betting in Arkansas?
Yes. There are a few sources for Arkansas online mobile betting. Daily fantasy sports are entirely online, and every AR betting website has a mobile responsive version so you can easily submit bet slips from your tablet or smartphone.
However, the only official in-state Arkansas mobile betting app that you'll find in the Apple or Google Play stores is Oaklawn Anywhere, exclusively for wagering horse racing.
September
Sportsbook of the Month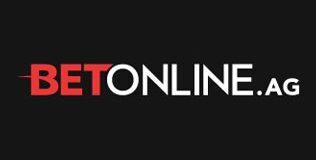 Welcome Bonus
50% up to $1,000