Betting on Swimming at the Olympic Games
Swimming has been part of the Summer Olympic Games since the first modern edition of the event in 1896. Only a few disciplines were featured initially, but the list has grown to more than 30 nowadays.
As a result, there are lots of opportunities for betting on swimming at the Olympics. This guide can help you take full advantage of them. We deliver useful tips, information on the schedule and the different disciplines, and more.
Our Guide to Betting on Olympic Swimming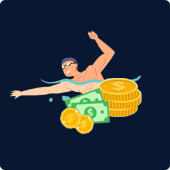 Swimming Events at the Olympics
Before we move on to our tips for betting on swimming at the Olympic Games, it's a good idea to explore the different events that take place.
All of them take place in a 50m pool with the exception of the 10km marathon that is in open water.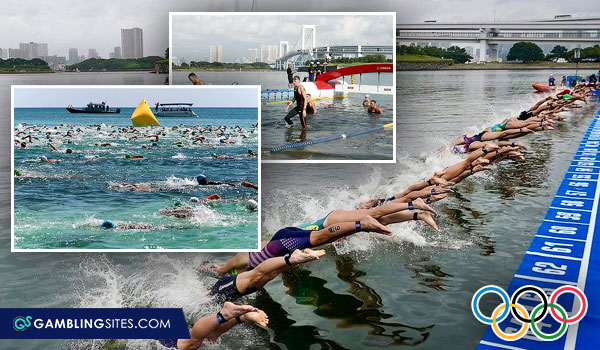 The full list of swimming events at the Olympics includes a few different styles. Distances also vary, with both sprints and longer races.
Here are all the different races for each style.
| | | | | | |
| --- | --- | --- | --- | --- | --- |
| | Freestyle | Backstroke | Breaststroke | Butterfly | Medley |
| 50 m | Yes | No | No | No | No |
| 100 m | Yes | Yes | Yes | Yes | No |
| 200 m | Yes | Yes | Yes | Yes | Yes |
| 400 m | Yes | No | No | No | Yes |
| 800 m | Yes | No | No | No | No |
| 1500 m | Yes | No | No | No | No |
| 100 m relay | Yes | No | No | No | Yes |
| 200 m relay | Yes | No | No | No | No |
| 10 km marathon | Yes | No | No | No | No |
There are men's and women's versions of all of these events. In fact, swimming is one of the few sports at the Olympics where the disciplines are identical for both genders.
There's also a mixed 4 x 100 medley relay that was introduced for the 2020 Summer Olympics. It features two men and two women. Each country has the right to pick a swimmer for each stroke and there are no restrictions.
The best sites for betting on Olympic swimming events for money offer odds on all events and there are often prop bets, too. This means plenty of opportunities to win some cash!
Basic Tips for Betting on Olympic Swimming
Your Olympic swimming betting strategy should always adjust to the events you target, but there are certain basic tips that are always valid.
You should consider them every single time you explore the latest Olympic swimming odds because they can help you avoid the biggest mistakes that most people make.
Consider the Importance of the Olympics in Swimming
The Olympic Games are not the most prestigious event in some sports like soccer or tennis, but that's not the case in swimming. This is the biggest stage available and every single swimmer dreams of winning a medal at the Olympics.
That's something to consider during your preparations, especially when trying to figure out what times you should expect to see from the athletes. You should start with their all-time personal bests and then explore their season bests. Most competitors usually peak around the Olympics.
Pay Attention to Rule Changes
We've seen various rule changes throughout the years and some of the most obvious examples are the FINA swimwear regulations.
Certain swimwear options have been banned, like the polyurethane swimsuits developed for the 2008 Olympics.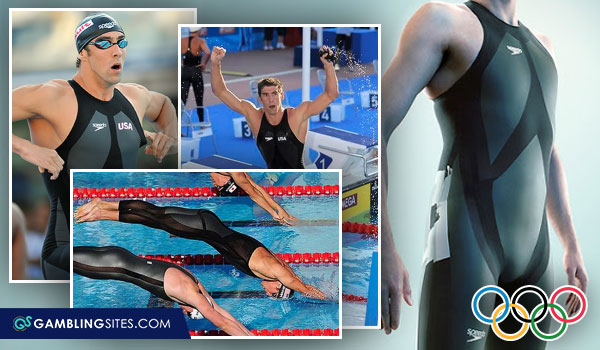 Other rules related to caps, starts, and other elements of swimming events have changed throughout the years.
Most of these changes affected the outcomes one way or another, so you should definitely pay attention to the current rules when placing your Olympic swimming bets.
Watch Out for Emerging Youngsters
Many athletes peak earlier in swimming compared to other sports. We've seen many young swimming champions at the Olympics throughout the years.
Most gold medalists are in their early 20s, but some teenagers also achieved glory at the Olympics. Kyoko Iwasaki, for example, was only 14 when she won a title in 1992.
You should be alert for potential young stars that could emerge at the Olympics. Following the competitions below can help with that.
World Championships – If an athlete emerges out of nowhere at the World Championship in the year before the Olympics, you can expect even stronger results at the Olympics.
Youth Competitions – Many of the top performers dominate the youth competitions before transferring to the senior level.
US Trials – The number of strong swimmers in the US is insane and many talented athletes can go under the radar. Check out the US Trials for future stars.
Other Domestic Competitions – Countries like Australia, Germany, Hungary, the Netherlands, and a few more have strong traditions in swimming, too. Following their domestic competitions can help identify potential Olympic contenders.
Investing time in scouting the younger generations can definitely benefit your gambling strategies. It can help you hit huge Olympics swimming odds for athletes that are unknown to the general audience and even the bookies.
Follow the General Sports Betting Rules
Swimming betting at the Olympic Games has plenty of unique aspects that you need to consider, but the fundamentals of sports gambling also apply.
You should always respect the following golden rules.
Bet for Value – Betting on outcomes with a higher probability than the odds suggest is the only way to win money in the long run. That's why you should avoid guessing and focus on identifying betting value.
Proper Bankroll Management – Even the best Olympics swimming betting strategy will lose some of the time. You need a smart staking plan that could help you handle the bad streaks without losing all of your money.
Stay Selective – You should always stay selective with your wagers and only bet money when you feel confident in your wagers. Placing too many of them is a certain way to lose in the long term.
Ignore Your Bias – It's easy to be biased, especially if your country is involved. Try to ignore any emotional wagers based on your feelings and stick to logic and reason instead.
Look Out for Props – Most people focus on betting on the winners of the different swimming events, but the top sportsbooks usually have props too. Markets like best performing nation or over/under medals for a country could be great too.
We have more resources for Olympics betting that are focused on fundamental aspects of the Games. Many of them apply to swimming, so be sure to take a look at the following pages.
Betting on Individual Swimming Events at the Olympics
Most of the swimming events at the Olympics are individual, so learning how to prepare for them is crucial if you want to make money.
We have several tips that can help you find profitable wagers. Make sure you read them carefully!
Analyze Previous Achievements
The most objective way to evaluate the chances of each contestant when it comes to swimming betting at the Olympics is to explore an athlete's previous achievements.
They can provide a good basis for what you could expect at the Olympics. We recommend that you always check the personal record and the season's best time of each participant.
However, you should account for the following factors when looking at the former.
When Was the PB Recorded? – If an athlete registered their personal best a few years before the Olympics and hasn't come close to the same achievement since, you should probably ignore this number and focus on more recent performances.
Where Was the PB Recorded? – Some swimming competitions are in 25m pools and there are other factors that might be at play. You should focus on achievements in big international competitions where circumstances are similar.
Age of the Athlete – A young swimmer has room for improvement, while an aging veteran will probably decline and that you can't ignore that when evaluating each athlete's chances.
Trajectory – The athlete's age is the most obvious factor for improvements, but other circumstances can also affect an athlete's development. Better trainers, more sponsors, and stuff like that can lead to a massive jump. Try to figure out if a swimmer is on the way up for the upcoming Olympic events.
The different angles above can help you understand how relevant the personal best time is. Combine that with the latest achievements and the season-best for a complete picture on both the ceiling and the current form of the athletes.
Watch Out for Specialists
Most titles in swimming are won by two types of athletes. The first one includes superstars that are exceptional in multiple styles or/and disciplines – the likes of Michael Phelps, Mark Spitz, and Katie Ledecky are the best examples.
We all know their names, even people who are not too interested in swimming.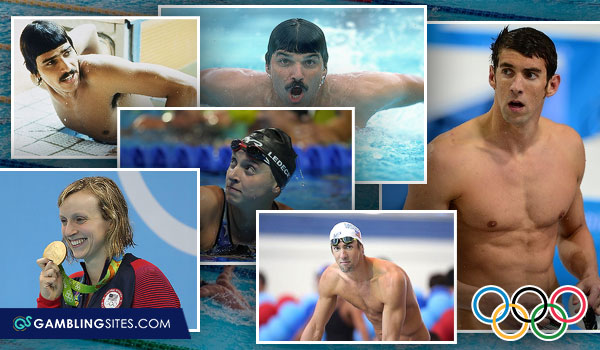 There's another category of swimmers you should be aware of, though, and that's tight specialists.
These athletes usually focus on only one or two events and that makes them extremely dangerous. They don't have distractions and they don't accumulate additional fatigue by spreading their efforts.
They have a powerful advantage that shouldn't be underestimated when you bet on swimming at the Summer Olympics.
Watch for the Schedule
This is somewhat related to the previous point and the superstars we mentioned. Many swimmers participate in multiple events and that can be an issue at times.
The schedule could include different disciplines on the same day and little time to rest. That could have a negative impact on the swimmers that are trying to win multiple medals.
Think in Cycles
The importance of the Olympics in swimming means that every athlete follows a careful preparation process designed to lead to top performances once the competition is here.
They can't stay in peak shape throughout the entire year, so it's crucial to try and figure out how the cycle of each athlete in the build-up has been going.
The following factors can help you determine that.
Injuries – If there are any major or even minor injuries in the past year, the athlete might underperform to an extent.
Results – The swimmer should be achieving solid results in the major events of the Olympic year. Being a step or two below top-level is probably ideal, considering what the priority is.
Other Distractions – We've seen doping scandals, personal issues, sponsorship struggles, and other non-swimming factors affect the performance of the athletes, so make sure to check for such things.
If you see potential problems in the preparations, you should adjust your expectations about a swimmer's performance at the Olympics.
Betting on Olympic Swimming Relays
The Olympic swimming schedule includes three relays for men, three for women, and a mixed relay. If you want to bet on these events, you should always consider the specifics of team competitions.
We have prepared a list of factors to evaluate when betting on relays. They can help you recognize profitable opportunities by calculating the chances of each team.
Balance – One of the most obvious factors to consider here is the overall talent level. Each relay includes four members and if even one of them is significantly worse than the rest, their chances of success are limited. Stick to teams with very good swimmers on every post.
Leadership – Superstars can elevate the rest of the team in relays. We often see swimmers with more modest achievements overperform because they are pumped by the boost provided by the star of the team. That's why having a top swimmer is always a huge bonus.
Strategy – In theory, the order of the contestants shouldn't matter too much. In practice, that's not really the case. It's important to put the right person in the right place. For example, starting with the weakest member might be a huge mistake because the rest could get discouraged if the gap is too big once their turn comes.
Distractions – This is similar to one of the tips for individual events. If an athlete had a busy day, it might affect the results and ruin the team's chances.
Of course, you should also follow all the regular steps for your preparation and look for previous results, overall team strength, and more. The goal here is to try and estimate what times you could expect from the different nations.
Swimming Medals and Records at the Summer Olympics
When you bet on Olympics swimming, you're essentially trying to predict the future. To successfully do that, you should get familiar with the past first.
Swimming has been part of the modern games since the first edition in 1896 and we have plenty of data to work with. Let's take a look at the most successful nations in Olympic swimming history.
Most Successful Countries at Olympic Swimming
Country
Gold
Silver
Bronze
Total
United States
246
172
135
553
Australia
60
64
64
188
East Germany
38
32
22
92
Hungary
28
25
20
73
Japan
22
26
32
80
Netherlands
22
18
19
59
Great Britain
16
28
30
74
Germany
13
19
29
61
China
13
19
11
43
Soviet Union
12
21
26
59
It's obvious that the United States representatives have dominated the sport, so you should always have that in mind.
Here are the most successful men in the history of Olympic Swimming.
| | | | | |
| --- | --- | --- | --- | --- |
| Athlete | Gold | Silver | Bronze | Total |
| Michael Phelps (USA) | 23 | 3 | 2 | 28 |
| Mark Spitz (USA) | 9 | 1 | 1 | 11 |
| Matt Biondi (USA) | 8 | 2 | 1 | 11 |
| Ryan Lochte (USA) | 6 | 3 | 3 | 12 |
| Gary Hall, Jr. (USA) | 5 | 3 | 2 | 10 |
| Ian Thorpe (Australia) | 5 | 3 | 1 | 9 |
| Aaron Peirsol (USA) | 5 | 2 | 0 | 7 |
| Nathan Adrian (USA) | 5 | 1 | 2 | 8 |
| Tom Jager (USA) | 5 | 1 | 1 | 7 |
| Don Schollander (USA) | 5 | 1 | 0 | 6 |
Once again, Team US is leading the way. Let's see if the same can be said about the women's medal table.
| | | | | |
| --- | --- | --- | --- | --- |
| Athlete | Gold | Silver | Bronze | Total |
| Jenny Thompson (USA) | 8 | 3 | 1 | 12 |
| Kristin Otto (East Germany) | 6 | 0 | 0 | 6 |
| Amy Van Dyken (USA) | 6 | 0 | 0 | 6 |
| Krisztina Egerszegi (Hungary) | 5 | 1 | 1 | 7 |
| Dana Vollmer (USA) | 5 | 1 | 1 | 7 |
| Katie Ledecky (USA) | 5 | 1 | 0 | 6 |
| Missy Franklin (USA) | 5 | 0 | 1 | 6 |
| Dara Torres (USA) | 4 | 4 | 4 | 12 |
| Dawn Fraser (Australia) | 4 | 4 | 0 | 8 |
| Kornelia Ender (East Germany) | 4 | 4 | 0 | 8 |
Plenty of American swimmers once again, but some representatives of other countries. too.
The Olympic records in swimming paint a similar picture, with most of the top times currently held by US swimmers.
Other Options for Betting on the Olympics
Swimming is one of our favorite sports for Olympics betting, but there are many others that deserve your attention. The Games feature several popular sports and some more obscure events that are not widely available outside of the Olympics (if at all).
There's a large list of team sports that you can bet on, including the following.
Soccer – The men's tournament is for youngsters, but the women's features the top players in the world.
Basketball – It's Team USA against the world in basketball and the American squads usually win.
Volleyball – The highest level of volleyball you'll see is at the Olympics.
Handball – Another sport in which the Olympic title is the most prestigious trophy.
Rugby – There's no American football at the Olympics and rugby is the closest alternative.
You can also bet on exciting individual sports, like the ones below.
Athletics – Another sport that features a ton of different disciplines.
Boxing – Some of the greatest champions in pro boxing have started from the Olympics.
Tennis – One of the most popular sports in the world, it's no surprise tennis is part of the Games.
Wrestling – Another classic Olympic sport with different categories for both men and women.
Skateboarding – One of the most recent additions to the Olympic schedule.
Our team deliver predictions and analysis on different events for each edition of the Olympics Games, so make sure to check our Olympics blog for more information when the time is right.
AUGUST
Sportsbook of the Month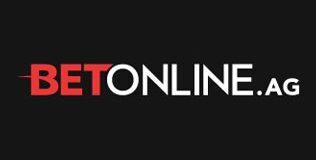 Welcome Bonus
50% up to $1,000
Read Review
Visit Site