Betting on Boxing at the Olympic Games
Did you know that when you place bets on Olympic boxing, you're gambling on one of the oldest sports in history?
Originally known as pygmachia, boxing was introduced to the Olympiad in 688 BCE. Much has changed since then, but it's safe to say that boxing's place at the modern games remains undisputed.
If you're keen to gamble on boxing in the Olympics, we can guide you through how everything works. By providing valuable Olympic boxing betting tips, advice, and much more, our aim is to help you maximize your chances of winning your wagers.
Contents of Our Olympic Boxing Betting Guide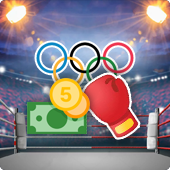 Olympic Boxing Qualification and Format
Before you begin betting your money, it's a good idea to get to grips with how boxing works at the Olympics.
From qualification to the gold medal fights, here's how the world's best and brightest make the cut.
Qualification
There are two main ways Olympic boxers can earn their spots at the games. The first way is via continental qualification tournaments that are split into the following regions.
Africa
Asia and Oceania
Europe
The Americas
Boxers who excel nationally are not always guaranteed a place at the games. This is due to the hugely competitive nature of these qualifiers.
The chances of Olympic boxers making the grade without standing out on a national level are slim, however.
Men's Continental Qualification Spots
Division
Africa
Americas
Asia/Oceania
Europe
Flyweight
3
5
6
8
Featherweight
3
5
6
8
Lightweight
3
5
6
8
Welterweight
3
4
5
6
Middleweight
3
4
5
6
Light Heavyweight
3
4
5
6
Heavyweight
2
3
4
4
Super Heavyweight
2
3
4
4
All hope is not lost for those who do not win at the continental tournaments. Fighters can get a second bite of the cherry if they shine at the world qualifying event.
Boxers who have failed to land a spot can make it to the games if they are from eligible National Olympic Committees (NOC) and have no quota place in a weight class for their country.
Other than these two main ways to qualify, there are five men's and three women's Tripartite Commission invitations that are awarded to fighters from countries unlikely to make it through the main channels. Fighters can request a slot to compete to encourage diversity.
Finally, the host nation of the games is typically awarded up to six spots in selected weight categories.
Weight Classes
There are eight weight classes for men's boxing at the Olympic games. Your Olympic boxing bets for women will be limited to fights in five weight classes.
Olympic Boxing Weight Classes
Men's Flyweight (52kg)
Women's Flyweight (51kg)
Men's Featherweight (57kg)
Women's Featherweight (57kg)
Men's Lightweight (63kg)
Women's Lightweight (60kg)
Men's Welterweight (69kg)
Women's Welterweight (69kg)
Men's Middleweight (75kg)
Women's Middleweight (75kg)
Men's Light heavyweight (81kg)
Men's Heavyweight (91kg)
Men's Super Heavyweight (+91kg)
Changes to weight class structure were made to boxing at the Olympics before the Tokyo games. These were removing two male weight categories and adding two for women's boxing.
Tournament Format
Many find Olympics boxing betting exciting. This is, in part, due to the knockout format of both the men's and women's tournaments.
For each weight class, random draws determine fights. Opponents are matched up in the preliminary rounds, regardless of rankings.
The winners of those fights then move on to the next round, until two unbeaten fighters at each weight class meet in the gold medal fight.
The winner of that fight gets the gold, while the loser collects the silver.
Bronze medals are awarded to losing semi-finalists in all weight categories.
Most betting on Olympic boxing will be unaware of just how much things have changed with this sport.
In Ancient Greece, Onamastos devised the first rules of boxing. Then, there was the inclusion of the "sweet science" at the 1904 St Louis Games, marking one of the greatest moments in the history of the Olympics.
Since then, we have witnessed even more adjustments and tweaks to the codes. These rules can make a lot of difference when it comes to finding value in Olympic boxing odds, so get to know them pronto.
General Rules
The aim of the game in boxing is to hit and not get hit. But rules determine a fight, and these must be strictly always adhered to.
To compete, boxers must be no younger than 18 and no older than 40.
Professional fighters are permitted to compete.
All fighters must wear red or blue.
10-ounce gloves are mandatory for all men's and women's fights up to and including men's lightweight.
12-ounce gloves are required for bouts in the men's welterweight class and all weights above.
Headgear is banned for men but required for all women's fights.
Boxers must be clean-shaven before every bout.
Opponents are required to touch gloves before and after each fight.
Both men's and women's fights are fought across three rounds consisting of three minutes per round.
Judges' scores of all rounds will be displayed after every round.
Scoring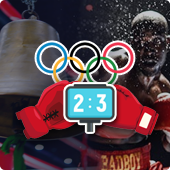 If you're hoping to make money wagering on Olympic boxing, it's crucial to learn about how the scoring works.
The 10-point must system makes what was once the pinnacle of amateur boxing resembles the professional game more. Especially with the absence of headgear in the men's divisions.
How boxing scoring works at the Olympic games is, thus, easier to understand. Rules are a little clearer, which makes things fairer overall.
Judges award 10 points to the fighter that lands more quality blows on the target area. This shows tactical and aggressive superiority, and the desire to win the fight. 9 points are usually awarded to the fighter deemed to have lost a close round, but these can drop all the way down to 7.
Understanding the following details could really improve your success rate when betting on boxing at the Olympic games.
10-9 Round – This score is awarded when both fighters are close to one another in terms of competitiveness. A close round can include an incidence of a standing eight-count or even a knockdown for either or both men. However, this is rare.
10-8 Round – When one fighter stands out for the frequency of significant, quality punches landed. Often, a fighter that has landed a knockdown or standing-eight will be awarded a 10-8.
10-7 Rounds – This score is typically awarded when one boxer absolutely dominates the other, scoring quality blows and landing multiple knockdowns.
Boxing Futures and Props at the Olympics
We've covered what you need to know about Olympic boxing, so let's turn our focus toward betting on boxing at the Olympic games.
If you want the best markets for Olympics boxing odds, futures and proposition bets are up there.
Here are some of the best Olympics boxing betting markets to target in these categories.
Betting on the Winner of a Division – As simple as it sounds. For example, you bet on the fighter you believe wins the men's heavyweight tournament, before it starts. He wins, and you win your bet.
Betting on Nation with Most Olympic Boxing Medals – Perhaps Uzbekistan or Great Britain are the big favorites, but you believe the USA will win the most medals. If your bet is right, you win.
Boxing Over/Under Medals for Nation – This Olympic boxing bet you can place on most, if not all, participating nations.
Other Olympic Boxing Prop Bets – Keep your eyes out for more exciting prop bets. Some of the top Olympics betting sites online offer odds on things like the nation with the most KOs and specialized prop markets dedicated to both the men's and women's divisions.
You can bet on who wins gold in most categories, too, with the best betting sites offering Olympic boxing odds on this scenario.
In almost every instance, it's best to get your futures bets down as soon as possible. Not only will you avail of better odds, but a little knowledge about boxing strategy can also help you win money betting on Olympics boxing matches.
With 13 weight categories to choose from, you will have plenty of chances to make money on the fights. We recommend you use all the information you can on this site to help you determine who stands the best chance of winning your wagers.
Our main guide to gambling on boxing is a good place to start.
Betting on Boxing Matches at the Olympics
The best Olympics boxing betting markets for most bettors are on individual matches. The main markets tend to focus on most of what you would expect from a regular fight.
Outright Winner – Olympic boxing betting doesn't get any simpler. Pick the fighter you think will win, and if they do, you get paid.
How the Fight Ends – How does the fight end? You can choose to opt for a decision, a stoppage, or even fewer common scenarios like a draw.
Method of Victory – If you like the look of a knockout for the heavyweight in the red corner, and the Olympics boxing odds look tasty, it's your time to shine.
Total Rounds – Also known as over/under bets. Choose whether the fight will go over or under 1.5 rounds.
Live/In-Play Olympics Boxing Betting
Don't forget that you can also add live and in-play wagers when betting on boxing at the Olympics.
Live boxing bets are a great way to bet on the fights. If you have an eagle eye, you might spot something from the ring walk to the first couple of punches thrown that doesn't look good, and potentially win some money as a result.
Olympics betting odds for live boxing matches fluctuate depending on the fight. But there is a lot to suggest that this modern tool can be a great way of increasing your chances of making money on the Olympics.
Olympic Boxing vs. Professional Boxing
There are differences between professional and Olympic boxing. Understanding them could be key to increasing your profit margin.
Bookmakers offering odds for boxing betting at the Olympics will have a sound comprehension of professional boxing vs. Olympic fights, so you should, too.
Shorter Fights
Odds for Olympic boxing matches won't be as extensive as pro fights because, well, they are shorter.
Professional bouts start at 4 rounds. As competitors up their experience levels, they fight through 6 and 8 round matches until they get to a higher level.
The average fight for a seasoned professional lasts 10 x 3-minute rounds. A championship bout is 12 x 3 minutes. Contrast this with 3 x 3-minute rounds in the Olympics, and you will see a major difference in bouts.
Higher Intensity
A noticeable distinction between pro and Olympic boxing matches is the intensity levels. One of our top Olympic boxing betting tips is to keep this in mind.
Where a boxer will usually have 10 to 12 rounds in a major pro bout, there is more time to strategize and build towards a clean performance.
Fewer rounds mean less time to impress judges and make a mark on
the fight.
When placing Olympic boxing bets, factor this into your strategy. More punches will be thrown, thus more punches landed, much earlier than when two pros go at it.
While a professional boxing betting strategy can come in handy here, it's much better to know how to use the differences to your advantage before you place your wagers.
Amateurs vs. Professionals
In a professional bout, you won't find an amateur boxer. When a fighter turns professional, they drop their amateur status. Amateur boxers only fight their fellow amateurs in most competitions.
However, changes to Olympic boxing rules ahead of Tokyo 2020 led to pros and amateurs competing against each other. This made for an interesting mix and one that was always going to have some effect on Olympic boxing betting.

Top Tip
Keep that in mind that some professionals might find the transition back to the amateurs difficult, while others will be better fighters for it.
Shorter Rest Periods
The average world-level boxer fights around twice a year. Contrast this with your elite-level Olympic boxer, who could fight up to seven or eight times in 12 months.
The fights are shorter and not as taxing on the body. Still, the tournament format that exists in the Olympics means that there is less time between bouts.
Boxers at the Olympics do not have much time to rest, recover, and recuperate.
A fighter that goes through a war in a previous tournament bout might not be able to compete in their next fight due to injuries sustained.
This very scenario at Rio 2016 when Vladimir Nikitin of Russia was forced to withdraw from his bantamweight semi-final having been beaten badly in a controversial win over Ireland's Michael Conlan.
Headgear for Women
Women's headgear is something else to factor in when boxing betting at the Olympic Games.
As mentioned earlier, women must wear headgear in all fights. This might have an effect on the results of bouts and lead to less to fewer stoppages.
One of the major differences between Olympic boxing and professional fights was the use of a protective coating for the head, but it no longer applies to the men's game.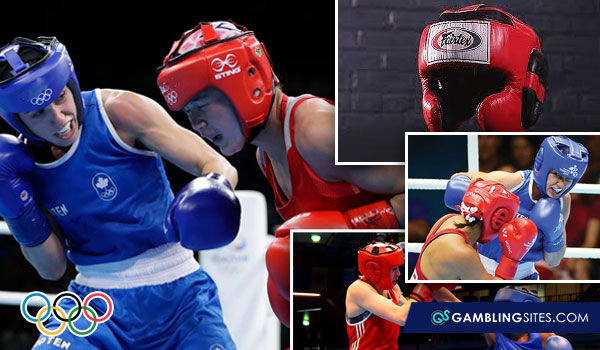 Tips for Winning Your Olympic Boxing Bets
A few Olympic boxing betting tips can go a long way to helping you win real money on the fights.
In addition to the information above, the following pointers will prepare you for gambling on boxing matches at the Olympics.
Study Form and Injuries
Who is peaking ahead of the Olympic games?
Do you know who looks the best bet for gold in the men's middleweight category?
When was the last time they fought, and did they come through with a convincing win?
Apologies for bombarding you with questions, but these are just a few things you need to think about before betting on boxing at the Olympics.
Use sites like BoxRec to study the records of fighters competing at the games. Look into any injuries they have sustained, as well as personal problems and outside factors that contribute to a loss.
Back Previous Winners
There have been multiple-time Olympic gold medalists that have made Olympic bettors significant profits over the years. Many of the greatest boxers in Olympic history have won in successive tournaments.
The logic here is that, if they were the top dog four years before, the chances are that they will come into these games as the man or woman to beat. That is unless they have turned professional and have no interest in competing at the Olympics again.
Take a look at these multiple-time Olympic medalists in the men's game.
| | | | | | |
| --- | --- | --- | --- | --- | --- |
| Boxer | Representing | Gold | Silver | Bronze | Total |
| Felix Savon | Cuba | 3 | 0 | 0 | 3 |
| Teofilo Stevenson | Cuba | 3 | 0 | 0 | 3 |
| Laszlo Papp | Hungary | 3 | 0 | 0 | 3 |
| Zou Shiming | China | 2 | 0 | 1 | 3 |
| Oleg Saitov | Russia | 2 | 0 | 1 | 3 |
| Boris Lagutin | Soviet Union | 2 | 0 | 1 | 3 |
| Roberto Cammarelle | Italy | 1 | 1 | 1 | 3 |
| Zbigniew Pietrzykowski | Poland | 0 | 1 | 2 | 3 |
| Arnold Vanderlyde | Netherlands | 0 | 0 | 3 | 3 |
But before you put all your money on previous winners, make sure to consider the following.
Performance Levels – Are they still the same boxer they were four years ago? Perhaps they are better, or worse than the last Olympics. The bookies will also have an eye on them, so do the math here.
Age of Boxer – Father Time remains unbeaten. Boxers decline with age, so be cute enough to study whether this fighter is firing at the same rate they were previously.
Standard of Previous Victories – Was their gold medal deserved, or gifted? Who did they beat in the run-up to the semi-final and final of the previous tournament?
It's also worth factoring in where a boxer comes from. Certain countries have traditionally performed well when it comes to Olympics boxing.
Most Medals in Olympic Boxing History
Gold
Silver
Bronze
Nation and Total
50
24
40
United States (114)
37
19
17
Cuba (73)
18
13
25
Great Britain (56)
15
15
17
Italy (47)
14
19
18
Soviet Union (51)
10
5
15
Russia (30)
10
2
8
Hungary (20)
8
9
26
Poland (43)
7
7
10
Argentina (24)
7
7
8
Kazakhstan (22)
Study the Tournament Structure
Winning gold at these games is no mean feat. With that said, some boxers tend to have it easier than others.
One of the most difficult things is to make predictions for betting on Olympic boxing matches because they follow a random draw. But in the later rounds, you can get an idea of who faces who next.
This is where you should think smart before placing all your money on a fighter. The tougher the bracket, the harder it is to win your wagers.
Olympics boxing betting can be a lot of fun. But to enjoy even moderate success, you have to be switched on and aware of even the smallest details.
More Guides for Betting on the Olympics
Boxing and Olympics betting typically make a great match, as our guide to betting on boxing at the Olympics demonstrates.
With that said, there are several other Olympic sports to bet on. One of the reasons why the Olympic Games remain so popular with bettors is the diversity of athletes and events on offer.
Here are some of the best sports to gamble on at the Olympics.
Basketball – The United States traditionally dominates. But every now and again a surprise winner emerges.
Soccer – The world's most popular sport is a huge hit at the Olympics.
Hockey – The competition for gold is just as heated as any other event at the games.
Swimming – One of the staple events of the Olympic games.
Tennis – Back and forth action makes for one of the most popular Olympic sports to bet on.
With that said, many of our experts prefer the following events.
Athletics – Track and field remain hugely popular, with the 100 meters arguably the showpiece event of the games.
Wrestling – Alongside boxing, one of the oldest additions to the Olympics.
Rowing – Blood, sweat, and tears will be shed on the water.
Extreme Sports – From surfing to skateboarding, these are not for the faint-hearted.
Check out this page and you will see that we have detailed guides for betting on all these events at the Olympics.
Each time the games come around, our team of betting experts also provides gambling advice, predictions, and more to help you win money on your Olympics wagers. Visit our dedicated Olympics blog for the latest from the team.
AUGUST
Sportsbook of the Month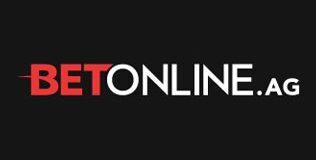 Welcome Bonus
50% up to $1,000
Read Review
Visit Site