Lucky Coin Slot Machines
Lucky Coin is a 5 reel, 10 pay line slot machine that Amatic developed for land-based casinos, and then later formatted for online play.
This game is based on Chinese coins, which many cultures regard as a symbol of good luck. Not surprisingly, you'll see other lucky Chinese symbols in this game too.
We're immediately skeptical of this game upon seeing that it has an Asian theme.
After all, there are countless slot machines that are based on Chinese culture. And when you've reviewed dozens of these games, they tend to run together.
The big challenge with Amatic's Lucky Coin is if it differs enough from similar slot machines to stand out in this extremely crowded genre.
Let's find out by discussing Lucky Coin's atmosphere, sound effects, animations, pay table, graphics, and bonuses. We'll also compare this game to a couple of other Asian themed slots.
Lucky Coin Slot Machines Overview
Atmosphere / Background
We've seen some Asian slot machines with drab backgrounds that are dark red with no extra frills. Luckily, this game offers enough flare in its background to create an interesting atmosphere.
You'll see a gold dragon and coins above the reels, along with the title in big gold letters. The background also features little blue and green flowers that contrast well with the gold and redbackground.
Taking everything into account, Lucky Coin's atmosphere not only offers an Asian feel, but also has enough frills to give this game personality.
Music and Sound Effects
The game opens with the sound of a gong and coins dropping.
You'll also hear a few Asian themed tunes during winning payouts. These tunes don't last very long, but they're obviously Asian inspired and add to the game's theme.
The only downside to Lucky Coin's music and sound effects is one that we've seen in other Amatic games.
The music that plays when you're deciding whether to collect your winning payout or gamble it is extremely annoying. The beat sounds like change clanging together, which wouldn't be so bad ifit didn't happen the entire time that you're trying to decide.
The other annoying tune happens during the Gamble feature, which is a rapid sifting sound that represents a playing card changing colors. This is irritating enough that you may have secondthoughts about the Gamble option, even if you enjoying risking your winnings.
Animations
Like other Amatic slot machines, Lucky Coin offers some quality animations after winning payouts.
These include: the woman flipping around to reveal a wild symbol, coins flashing, letters breaking into tiny pieces, the dragon's eyes flashing before it moves closer to the screen, the koifish turning orange, and the dragon turtle shooting out little pieces.
Pay Table and Graphics
Symbols and payouts for Lucky Coin are listed below. Keep in mind that payouts are based on a 1 credit per line bet:

Woman Wild
Featuring blue hair, an umbrella, and elegant clothing, this Asian woman substitutes for every symbol except the Lucky Coin scatter. She also pays 9,000 credits for 5 symbols, 2,500 for 4symbols, 250 for 3, and 10 for 2.

Lucky Coin
3 or more Lucky Coins anywhere on the reels trigger the free spins bonus. This symbol also pays 5,000 credits for 5 symbols, 200 for 4 symbols, 50 for 3, and 20 for 2.

Dragon, Dragon Turtle
These symbols both pay the same, offering 750 credits for 5 symbols, 125 for 4 symbols, 25 for 3, and 2 for 2.

Lotus Flower
The flower pays 400 credits for 5 symbols, 100 for 4, and 20 for 3.

Koi Fish, Red Lizard
These symbols pay 250 credits for 5 symbols, 75 for 4, and 15 for 3.

A, K
These symbols pay 250 credits for 5 symbols, 75 for 4, and 15 for 3.

Q, J, 10
These letters pay 100 credits for 5 symbols, 25 for 4, and 5 for 3.

9
The 9 pays 100 credits for 5 symbols, 25 for 4 symbols, 5 for 3, and 2 for 2. On a side note, we find it odd that the 9 offers an extra 2 credit payout, while the Q, J, and 10 don't.
Symbol Graphics
The symbols graphics are really good in this game. We especially like the detail in the woman, dragon, dragon turtle, and koi fish.
The lotus flower and red lizard look okay, and the only low-quality symbol is the Lucky Coin.
We like how this game includes a mixture of stereotypical good luck symbols and more unique ones.
The dragon, koi fish, lotus flower, and gold coin are used in almost all Asian slot machines, but the dragon turtle and glamorous lavish woman are unique in the genre.
Lucky Coin Slot Bonus Features
Free Spins
When you trigger free spins, you'll be taken to another screen with a gold background and music playing. The tune is a fast paced Asian beat that makes the free games more special because youfinally hear some music.
Another perk to the free spins is that you get a 3x multiplier on wins. This helps you rack up incredible payouts during the bonus round.
Just to give you an idea of these big wins, we triggered free spins with 10 credits per line and won 15,110 credits.
Gamble Features
Following any win, you can choose the Gamble button at the bottom to double or quadruple your winnings.
You double your winnings by selecting whether a playing card will be red or black, and you quadruple payouts by guessing if the card's suit will be clubs, diamonds, hearts, or spades.
You can win the Gamble feature up to eight straight times before you're forced to make another spin. If you lose at any point, you'll lose both your triggering payout and any winnings gainedduring the Gamble round.
This is a fun side game to try if you want to boost your small payouts and don't mind losing them. But again, be aware of the annoying sound that represents the card back rapidly changingcolors.
Betting Options
The 10 pay lines are fixed, making the minimum bet $0.10 when your bet per line is one cent. The maximum bet is $50.00, which works out to $5 per line.
If you want the reels to automatically spin with your selected betting options, you can click Auto Start in the bottom left-hand corner. If you want to take back control of your spins, click AutoSpin again and the reels will quit spinning.
Other Options
Click the thin black bar at the top of the screen to bring down more options, including the ability to turn sound on / off and change the language.
Available Languages include English, German, Greek, Hungarian, Russian Spanish, and Turkish. Once you change the language, all words presented on the game screen will be in the desiredlanguage.
Win Frequency
One common theme in Amatic slot machines is high win frequency, which is also seen in Lucky Coin. We won on about half our spins when playing, which is really good for only 10 pay lines.
Unlike many Amatic games, Lucky Coin doesn't feature stacked symbols, where an entire reel is taken up by one symbol. Nevertheless, you'll still find yourself winning a lot, which keeps yourbankroll strong during a session.
Return to Player RTP
RTP for Lucky Coin is 96.0%, which is above average for an online slot. Combining this RTP with the high win frequency, you'll pick up plenty of wins while playing.
Comparison to Other Asian Themed Slot Machines
You don't have to look far to find Asian slot machines because every land based and online casino has them. We whittled this massive genre down to a couple of online slots to compare to LuckyCoin.
We chose Ainsworth Gaming's Dragon Lines because it's another old slot machine that was formatted for online play. We picked Realtime Gaming's Super 6 to show how Lucky Coin compares to a moremodern slot.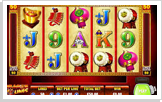 Dragon Lines
Dragon Lines is a 5 reel, 100 pay line slot machine that also deals with lucky Chinese symbols.
The most interesting aspect of this game is how you can play 100 pay lines per spin. But while it's exciting to have this many pay lines active, the win frequency is still lower than LuckyCoin.
Dragon Lines' graphics will immediately catch your eye because they feature bold, rich colors. The dragon looks amazing since it's not only bright but also filled with various colors.
One thing that we don't like about this slot is how cliché it is in comparison to Lucky Coin. The dragon, firecrackers, ingot, lantern, and yin yang symbol are featured in almost everyAsian-themed game.
The only original symbol that we see is the Chinese drum, which doesn't have much significance since it shares the same payouts with the lantern.
The lone bonus feature is free spins, which you trigger by landing 3 or more yin yang symbols anywhere on the reels.
One more thing worth mentioning is that the background – a dark red color – fails to match the atmosphere presented in Lucky Coin, which relegates Dragon Lines to a lower notch.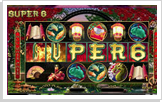 Super 6
Released by Realtime in 2016, Super 6 differs from most Asian-themed online slots in a couple of ways.
First off, this game features 6 reels and gives you 729 ways to win on any spin.
Another unique aspect of Super 6 is that you can get free spins and multipliers by spelling out S U P E R 6, or part of the word, on the reels.
Beyond these unique aspects, what Super 6 does better than most Asian game is present superior graphics and atmosphere.
Super 6 features top-tier graphics, with the background and symbols offering incredible detail. The background is especially notable since it features a pond, mill, garden, and trees. The Asianmusic that plays during the game only further sets the atmosphere.
While we like Lucky Coin, you can really see a difference between this older slot and the intricate design featured in the newer Super 6.
Conclusion
Far too many Asian themed slot machines blend into the crowd because they use the same symbols, have bland backgrounds, and don't have enough features.
Lucky Coin isn't bursting with features, but it does have a unique background and symbols that separate it from most games in this niche.
The background uses a dragon, coins, and flowers to embellish the atmosphere. Many of the symbols are found in other Asian slots, but the woman and dragon turtle bring something new to the table.
You'll also enjoy decent animations after winning payouts, including various symbols bursting into pieces, and the gold coin and dragon flashing.
The graphics are also good, with the woman, dragon, dragon turtle, and koi fish looking particularly detailed.
One more thing to like is that RTP is 96%, and you'll win at a high frequency.
We only see two problems with the slot, with one being the limited bonus features, and the other being the annoying sound effects / music that you'll hear at different stages.
Regarding the latter, we don't like the music that plays when you're deciding whether to collect or gamble winnings, and the sound during the Gamble feature is also irritating.
Our Thoughts:
But overall, these are minor imperfections in what's one of the better Asian themed slot machines that we've played. If you already like these types of slots, then it's definitely worth playingLucky Coin.
September
Casino of the Month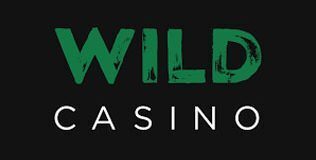 Welcome Bonus
250% up to $5,000