Ferris Bueller's Day Off Slots
Released by Paramount Pictures over 30 years ago, Ferris Bueller's Day Off is one of the most iconic high school comedies ever made.
The film has been critically praised for its light and humorous approach to a young man helping his friend enjoy life.
WMS' Ferris Bueller's Day Off slots recreates this story by using symbols and phrases from the movie.
If you've ever played slots based on the movie Grease – another Paramount film – this slot has a very similar feel.
Is this comparison a good or bad thing? And does Ferris Bueller's Day Off have enough features to give it more appeal than just being based on a famous movie?
Find out as we cover this game's setup, pay table, graphics, bonus features, betting options, and compare it to other movie slots like Grease.
Overview
If you're unfamiliar with this movie, it follows a high school senior named Ferris Bueller, Matthew Broderick, who fakes being sick to get a day off. His wealthy friend, Cameron Frye, Alan Ruck,and girlfriend, Sloane Peterson, Mia Sara, join him in truancy as they hang out in downtown Chicago.
This 5 reel, 25 pay line game depicts the film with real pictures of the characters and movie objects. As mentioned before, the characters also say signature phrases from the movie when theyappear in winning pay lines.
The background depicts the scene where Ferris, Cameron and Sloane have a pool party in a random person's backyard. In contrast to the real life symbols, the background is a poor illustration thatdoesn't match the reels.
We also don't like how long it takes for the reels to stop spinning. After pushing the spin button, you wait five seconds before the reels come to a halt.
One other annoyance in this game is the sound effects, which have varying volumes. The Ferrari's horn and Jeannie Bueller screaming "I knew it!" are extremely loud in comparison to the othersounds, making it hard to find an even keel volume level.
Ferris Bueller's Day Off Pay Table and Graphics
Here's a look at this game's regular symbols along with the payouts that they offer:
Edward Rooney

In the movie, the Dean of Discipline never has much luck catching Bueller and gets attacked twice by the family's Rottweiler. But the unfortunate Rooney is your ticket to big payouts since heoffers 5,000 coins for 5 symbols, 500 for 4 symbols, 50 for 4, and 5 for 2.

Sloane Peterson

Any time that Sloane appears in a winning pay line, she speaks on the phone to a French waiter during one of the movie scenes. Sloane pays 500 credits for 5 symbols, 50 credits for 4 symbols,25 for 3, and 2 for 2.

Cameron and Grace

Cameron screams when he appears in a win, while the school secretary says one of her lines from the movie. These symbols both pay 200 credits for 5 symbols, 25 credits for 4, and 15 for 3.

Rottweiler and Ferrari

Both the Rottweiler and Ferrari pay 150 credits for 5 symbols, 20 credits for 4, and 10 for 3.

A, K

These two letters give you 125 credits for 5 symbols, 15 credits for 4, and 8 for 3.

Q

The Q pays 100 credits for 5 symbols, 10 for 4, and 5 for 3.

Wild Symbol

Ferris' parents act as the wild symbol, and they say a line from the opening scene when showing up in a winning pay line. The wild symbol only appears on reels 2, 3 and 4, and substitutes foreverything except the scatter symbol, discussed in the features section.
As for the graphics, it's always nice when movie slots use real pictures. Beyond this, most of the symbols say lines or make sound effects when appearing in a win.
Our biggest problem with the graphics is the background, which looks like an image from an older SIMS computer game.
We also find it odd that Ferris doesn't appear on the reels. But we assume this has something to do with Broderick and a licensing deal.
Ferris Bueller's Day Off Bonus Features
One of the best qualities of Ferris Bueller's Day Off slots is the multiple bonus features that are offered. These all tie into the movie, and you can see what's available below:
Save Ferris! Scatter

The Save Ferris! badge is the scatter symbol, and it multipliers payouts by 2x for 2 symbols, 5x for 3 symbols, 15x for 4 symbols, and 200x for 5 symbols. If you get three or more badgesanywhere on the reels, you unlock the Fake the Parents feature.

Fake the Parents Bonus

This bonus round sees you push keys on Ferris' keyboard, with a different movie clip playing each time. The keyboard part ends when Dean Rooney looks at his computer, and your number of freespins and multiplier are revealed. You're then taken to a parade scene to watch your free spins play out on the reels.

Kick the Car Feature

When the Ferrari lands on reel 2 and Cameron lands on reel 4, the Kick the Car bonus comes up. This shows Cameron kicking the car three times, and your credits depend upon the force that hekicks with. We never had a time where Cameron didn't destroy the car and give us at least 750 credits. We also noticed that Kick the Car comes up far more than any other bonus.

Hollywood Jackpots

Ferris Bueller's Day Off is connected to CryptoLogic's Hollywood Jackpots, which offers five different levels of prizes, including Blockbuster, Acclaimed, Classic, Epic, and Smash. You pickfour out of nine stars to reveal your score and what level of jackpot you win. We earned Smash and Epic jackpots, both of which are small. The Blockbuster progressive jackpot was worth over$28,700 when we played.
Betting Options
This game allows you to adjust pay lines from 1 25 and change the coin size from $0.01 $5.00. You can also autospin the reels from 1 50 spins and use the Bet Max button to quicklyselect every pay line.
Ferris Bueller's Day Off tries to incorporate the movie into every single aspect of the game, which is why you'll hear car horns and barking dogs when toggling through the betting options.
You can also use the Advanced menu to set stop conditions for yourself, including win threshold, cumulative loss, cumulative win, stop on free spins or bonus, and stop on jackpot.
Return to player for Ferris Bueller's Day Off is 94.5%, which is below average for an online slot. Despite the low RTP, our bankroll lasted quite a while, leading us to believe that thevolatility is low.
One thing that really helps boost your bankroll is the Kick the Car bonus. When playing all 25 pay lines, this seemed to come up once every 40 50 spins. You'll also see the Fake the Parents freespins happen frequently too.
Comparison to Other Movie Slots
We mentioned earlier that Ferris Bueller's Day Off bears resemblance to Daub Games' Grease. It also compares to a couple of other WMS movie slots in Wizard of Oz and Caddyshack. You can seecomparisons between these games and Ferris Bueller below: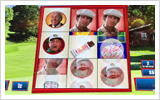 Caddyshack Slots
Based on a 1980 comedy about an upscale golf course, Caddyshack slots is a 3 reel, multi pay line slot machine. In contrast to other games that we're going to discuss, WMS never developedCaddyshack for online play.
Much like Ferris Bueller's Day Off, Caddyshack uses original characters from the movie. And the background is an upgrade from Ferris Bueller since it features a real golf course.
Bonuses are determined by chipping the golf ball into one of 7 holes, each representing a different bonus.
Here are some examples: the Zingers bonus plays a clip of Al Czervik, Rodney Dangerfield, making jokes wile credits are added up, the Na Na Na bonus gives you random wilds, and the Gopher Wildshas golf ball wilds appear on the reels.
What makes each bonus round even more fun is that you see movie clips playing during each round.
Overall, we like Caddyshack more than Ferris Bueller's Day Off because of the chipping feature that reveals bonuses, superior background graphics, and movie clips playing at the top. But theone downside is that you can only play Caddyshack slots in land based casinos.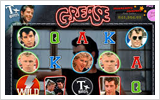 Pink Ladies & T Birds
Daub Games made a few Grease themed slots, but this one best resembles Ferris Bueller's Day Off. Grease: Pink Ladies & T Birds is based on the two gangs featured in the hit 1978 musicalGrease.
You start off the game by choosing whether you want to join the T Birds or Pink Ladies. This choice might seem arbitrary, but it determines what symbols and movie clips appear when you'replaying. You can change between the two gangs at any time via the button in the right hand corner.
Just like Ferris Bueller, Grease uses real life characters for the symbols. While this is nice, we don't like that you see Danny or Sandy performing the same action behind the reels duringevery spin.
Another problem is that this game is light on bonuses compared to Caddyshack and Ferris Bueller. You do get a couple bonus features, but not to the extent of other movie themed slots.
On the plus side, you get to see a couple movie clips while playing, including Danny racing a rival gang member and Sandy singing. But we don't think that this or anything else in Grease isenough to place it above Ferris Bueller's Day Off.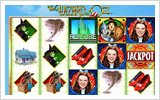 Wizard of Oz
Based on the famed 1939 adventure film The Wizard of Oz, this game was developed by WMS for land based and online casinos.
One thing that sticks out is the symbols, which are low quality cartoons rather than real life versions of the characters. This immediately puts Wizard of Oz on a lower run than any of themovie slots that we've discussed. We also don't like the background, which is just a blue sky.
The music that plays when you spin the reels is nice since it closely resembles the movie. We also like some of the special features, including Glinda the Good Witch floating in a pink bubbleto grant you an expanding wild.
But overall, Wizard of Oz lacks the quality graphics and atmosphere that Caddyshack, Ferris Bueller's Day Off, and Grease: Pink Ladies & T Birds offer.
Conclusion
Slots companies take a risk any time they tackle an iconic movie like Ferris Bueller's Day Off. But we think that WMS has done a good job with this slot.
We like the real life character symbols and movie phrases that WMS added. The movie clips that play during bonuses are also a nice touch.
Speaking of which, Ferris Bueller's Day Off includes several bonuses that are frequently triggered. The fact that the bonuses happen so often helps sustain your bankroll regardless of the lowRTP.
The only downsides to this game include the varied volume level during animations, and the low quality background.
As for the volume, it would be nice if we didn't hear most animations at one volume, and then suddenly have Jeannie screaming or the Ferrari horn blaring. The background is surprisingly bad whenconsidering how well everything else is done.
Our Thoughts:
But these are only minor drawbacks in what's an otherwise solid game. Whether you're a fan or the Ferris Bueller movie or not this game is worth your time.

Sign up Bonus
250% Up To $5,000
READ REVIEW
Visit Site
X