Creature From the Black Lagoon Slot Machine
In the 1930s and 1940s, Universal Studios thrilled viewers and enjoyed box office success with a string of monster movies such as Frankenstein and The Wolf Man. These horrificcreatures became known as the "Universal Monsters," and they remain a part of pop culture to this day.
By the 1950s, audiences were flocking to see epics, dramas, and westerns, but Universal was far from finished with their experiments in terror. 1954 saw Creature from the Black Lagoonreleased in theaters around the country, and the popularity of the film resulted in two sequels and another successful addition to the studio's stable of boogiemen.
While a big-screen version of the character hasn't been seen since 1956, the Creature (also known as "Gill-man") has lived on in merchandising ranging from lunch boxes to action figures. Sinceonline casinos are always looking for ways to draw in extra customers, it didn't come as a great surprise when a deal was inked between Universal and Netent to bring their creations to the homegaming audience. This resulted in the birth of the Creature from the Black Lagoon slot machines, alongside titles such as Dracula and The Invisible Man.
The Movies
Whenever I play a licensed game, I always try to watch some of the source material to get in the mood. If you're the same way, then be sure to check out one or more of the following motionpictures from the 1950s: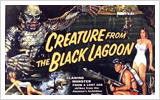 1954
A scientific expedition to the Amazon draws the attention of the Gill-man and leads to danger, violence, and lots of dead supporting characters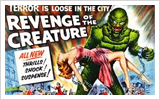 1955
The Gill-man is captured and studied by scientists, but his infatuation with a female researcher leads to trouble for everyone involved.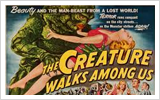 1956
The final film in the franchise sees the Gill-man captured again, this time getting badly burned and undergoing a surgical transformation into something more resembling a human being.
Great Expectations
When you play the Creature from the Black Lagoon slot, you'll be in for a visual treat right from the beginning. Prior to the appearance of the main reels, the Universal Studios logoappears along with some sinister music, immediately letting you know that this isn't the usual online slot machine. Then, in old school black-and-white, the title creature breaks the placidsurface of a lagoon, slowly flexing his amphibious muscles before lunging straight at the player. This is a great way to kick off the gaming experience, and I wish all slots would include somemanner of introductory movie to heighten the anticipation.
Sights & Sounds
While the Creature from the Black Lagoon slot machine doesn't have a massive amount of animation on the reels like a 3D game, it does deliver a solid overall experience. The depiction ofthe characters and other symbols is done in a pleasing artistic style that hearkens back to a bygone era of movies, and the musical score is able to go from relaxing to tension-filled in aheartbeat.
When one of the characters is part of a winning combination, their symbol changes to show them in an alternate pose. This can range from recoiling in terror to defiantly brandishing a knife,depending on which individual turns up on the reels.
Just like the game's opening sequence, there's also an animated segment when the player unlocks the free spins. Here, we witness Gill-man spying on Kay as she stands alone near the helm of theboat, and he creeps onto the vessel and carries her away to his underwater lair. It's pretty cool stuff, which is sure to thrill fans of classic monster movies.
For those who love the Universal monsters, you'll also get a kick out of the dialogue that turns up for certain winning combinations. I'm not sure if this is taken directly from the originalmovie or done by modern-day voice actors, but the lines are definitely from the 1954 feature. There are more than a dozen to enjoy, with each one further immersing the player in the storyline.Some of my favorites include the following:
"Go in the cabin and lock the door!"
"We're trapped and fighting for our lives, and you're worried about whether people will believe us."
"We didn't come here to fight with monsters. We're not equipped for it."
"We've just begun to learn about the water and its secrets."
"Sitting out here…waiting for some monster to appear."
"It appeared to be human!"
"We can learn more from it if it's alive!"
"There's just one problem: going into unexplored territory with a woman."
"I have never seen anything like this before."
"My boys call it 'the Black Lagoon'…a paradise."
Paylines
The game has 20 fixed paylines, which means all 20 must be played on every spin. If you're the type of player who enjoys varying the amount of active lines, then this might be a slightdisappointment. Keep in mind, however, that the size of the denomination can be adjusted to provide a satisfying experience for customers of all economic levels.
Creature from the Black Lagoon Pay Table
Like all slot machines, this game has a variety of symbols that provide payouts when they wind up in certain patterns on the reels. This section reviews each of these icons, as well as listingthe various prizes associated with them. Please note that I'll be discussing the characters and their roles in the movie, which means a number of spoilers may appear after this point.
Kay Lawrence

The girlfriend and colleague of Dr. David Reed, Kay accompanies him on an expedition to the Amazon to research a possible link between mammals and amphibians. When she's not hanging aroundlooking sexy for possible voyeuristic monsters, she likes to go for inadvisable swims. This obviously drives the Gill-man wild with lust (can't say I blame him), and he decides to take Kayback to his hidden lair. Luckily, her male companions rescue her before anything inappropriate happens. Portrayed in the 1954 movie by Julie Adams, the symbol pays the following when part ofa winning combination: 25 credits for three matches, 250 for four, and 750 for five.

David Reed

Every film from this era needed a male hero, and this time it takes the form of an ichthyologist (fish scientist) named David Reed. He's handsome, brilliant, and all-too-happy to take hisgirlfriend on an expedition into the dangerous Amazon. He does have the good sense to suggest retreating after the Gill-man kills a number of people, but by that point the group is trapped inthe Black Lagoon. He manages to survive repeated assaults by the creature, and he and his colleagues eventually rescue Kay, vanquish the monster, and return home. Played in the film byRichard Carlson, Dr. Reed offers the following payouts: 20 credits for three matches, 200 for four, and 600 for five.

Carl Maia

Portrayed in the big screen by Antonio Moreno, Dr. Maia runs a marine biology institute in Brazil. When he leads an expedition into the Amazon that uncovers a skeletal hand with webbedfingers that could be an important link between amphibians and mammals, the events in the film are set into motion. He gains financing for another expedition to find additional fossils, andthis leads he and his team into an encounter with the curious Gill-man. Unfortunately, the initial meeting does not go well, and Maia's entire research team is massacred early on. The gooddoctor, however, manages to survive to the end credits. A winning combination made up of this symbol pays 15 credits for three matches, 150 for four, or 500 for five.

Captain Lucas

Played in the feature film by Nestor Paiva, Captain Lucas is a cigar-chomping, knife-wielding seaman who's in charge of the tramp steamer Rita. He initially mistakes the creature'sfirst victims as being killed by a jaguar, and he also takes his passengers to see the mysterious-yet-beautiful "Black Lagoon" (from which no one has ever returned alive). The crustycharacter manages to survive the attacks of the Gill-man, although a number of his crew aren't so lucky. When part of a winning combination, Lucas pays 10 credits for three matches, 100 forfour, and 400 for five.

Binoculars

Whether searching for your kidnapped girlfriend or watching for marauding monsters, a pair of binoculars always comes in handy during an expedition down the Amazon. The function of thesedevices hasn't changed much over the decades, although the version depicted here isn't as stylish as what's sold at your local sporting goods store.

SCUBA Tank

When an underwater menace is on the loose, going for a swim probably isn't the best idea. If you need to track the creature to his aquatic lair, however, SCUBA gear and an accompanying oxygentank is the way to go. After all, it's kind of hard to hold your breath when being pursued by a murderous piscine amphibious humanoid. This symbol offers the following payouts: five creditsfor three matches, 40 for four, and 125 for five.

Camera

In the modern era, anyone spotting the Gill-man would whip out their cell phone and have his terrifying visage posted to Facebook within seconds. If they were feeling especially bold, theymight even snap a selfie with the confused beast, just moments before he pummeled them to death with his webbed hands. This symbol, however, depicts a camera suited to field work by ascientist in the 1950s. It pays the following: four credits for three matches, 30 for four, and 100 for five.

Knife

When you're swimming in an underwater lagoon, a knife can come in pretty handy for cutting rope or a net. It's also a decent option if you're attacked by a confused aquatic monster, andsticking him with the pointy end could mean the difference between survival and decomposing beneath the water. When part of a winning combination, this symbol offers the following payouts:four credits for three matches, 30 for four, and 100 for five.
Please note that the payouts above are not expressed in dollar amounts. "Credits" are multiplied by the size of the wager to determine the prize, which means a 10 credit win on a $0.05 line betwould result in a $0.50 payout.
Special Symbols and Features
In addition to the normal symbols listed above, the Creature from the Black Lagoon slot machine also includes a few special icons and bonus features. These include the following:

Wild Symbols
These icons can appear randomly on any of the reels during the main game, and they substitute for all symbols except free spins and target icons. In both the main game and free spins mode,getting a wild on the reels causes it to become sticky, which means that it remains in place during one re-spin.

Free Spins
This feature is activated when three or more free spin icons appear anywhere on the reels during the main game. Getting three free spin icons rewards 10 complimentary spins, while fourresults in 15 spins. The maximum that can be initially won is 20, although the player must get five symbols to earn this amount. During the bonus phase, any target symbols that appear onthe reels causes the Gill-man to swim onto the screen and get shot with a harpoon gun. He pulls out the arrow and swims off, but not before his health meter is reduced by one. This canresult in an additional spreading wild being unlocked, as well as the possibility of 10 additional free spins.
Conclusion
Whether you're a fan of profitable casino games or classic horror films, the Creature from the Black Lagoon slot machine should have something to hold your attention. It's a beautifulgame filled with memorable sights and sound, and fortunate players can rack up respectable wins with a modest financial risk. Even better, you won't have to travel to the Amazon and risk beingattacked by a monster in order to collect these treasures.

Sign up Bonus
250% Up To $5,000
READ REVIEW
Visit Site
X