Bonus Codes for BetUS – Latest Promos
If there's one thing you can say about BetUS is that it doesn't skimp on quantity. The prominent online sportsbook with decades of experience in the industry posts approximately 20,000 betting markets each week.
When you take a virtual walk outside of the sportsbook, you'll also find three casinos, deposit options that include four cryptocurrencies and three credit cards, and a BetUS promotions page that reveals one bonus after another.
New players don't receive a "take it or leave it" welcome bonus invitation. Instead, they have plenty of options, depending on preferred gambling options. We're here to help you take full advantage of all the latest BetUS bonuses and promos.
One thing to keep in mind, though, is that you'll need to use one of the dedicated BetUS bonus codes when you make your first deposit.
Bonus
Type
Bonus Code
200% – 150% Sports + 50% Casino
Crypto Sign-Up Bonus
JOIN200
20%
Crypto Cash Bonus
20CASH
250%
Casino Crypto Sign-Up Bonus
CAS250
100%
Crypto Sports Bonus
SU100CRYPT
Learn More About Crypto Bonuses at BetUS
125% – 100% Sports + 25% Casino
Sign-Up Bonus
JOIN125
150%
Casino Bonus
CAS150
10% Cash + 20% Casino
Cash Bonus
10CASH
More on BetUS Signup Bonuses
200% – 150% Sports + 50% Casino
First Crypto Deposit Bonus
FIRST200
100%
Re-Up, First Time Deposit Sports Bonus
RU100CRYPT
100%
Re-Up Bonus on Next Two Deposits
100CRYPTO2X
20%
Re-Up Cash Bonus
RU20CASH
Learn About Crypto Reload Bonuses at BetUS
100%
Summer $100 Deposit Casino Bonus
SUMMER100
50%
Summer $50 Deposit Casino Bonus
SUMMER50
10% Cash + 20% Casino
Re-Up Cash + Casino Bonus
RU10CASH
Up to 50%
Re-Up Sports Bonus
N/A
100%
Referral Bonus
N/A
BetUS Casino Bonus Info
You'll notice that we only have five BetUS promo codes listed. That doesn't mean that there isn't a whole host of other promotional opportunities. It's just that the other awards and contests don't require any promotional codes for activation.
We provide you with all of the details that you need to opt-in to a new player promotion, so make a note of any BetUS bonus code you want to use. It's a good idea to understand the rollover requirements and other terms and conditions, so we also cover those.
As a general rule, BetUS sportsbook bonuses have an X10 rollover. If you're playing slots instead, you're looking at either X30 or a two-time X30 playthrough requirement.
As long as you're aware of the terms and conditions, you can reap significant benefits from the BetUS deposit bonuses and other promotions. Whenever you're in doubt, though, we suggest confirming those stipulations with customer service.

A Two for One BetUS Sign-Up Bonus
Some sportsbooks have dedicated free bets and then separate casino welcome bonuses, and players typically select one or the other. BetUS has a different approach with a new player combo platter.
The primary BetUS bonus you'll see when you first visit the betting site is a 125% sign-up bonus, but the promo cash is split. You'll have 100% allocated to the sportsbook, and that's good for up to $2,500. The remaining 25% is for casino gaming, with bonus play cash up to $625.
To take advantage of this particular BetUS welcome offer, you have to be a new player making a first deposit.
You'll need to enter BetUS bonus code JOIN125 for promotion activation and transfer at least $100 into your new betting account.
If you're unfamiliar with rollovers, be sure to scroll to the bottom of this page, as we have a quick introduction to the basics of sports and casino rollovers or wagering requirements.
With this special BetUS sign-up bonus, you have to meet an X10 rollover in the sportsbook and X30 twice with casino games.
Crypto Bonus for the Sportsbook and Casino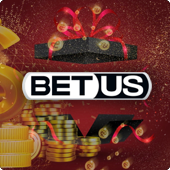 These days it's relatively common for a gambling site to offer a better bonus for Bitcoin or other cryptocurrency. BetUS doesn't disappoint with its crypto bonus, but it may confuse.
There are TWO crypto bonuses are listed on the BetUS promotions page.
The first 150% crypto bonus is a welcome bonus for new players. That's the one we're describing here, and you'll need to use BetUS promo code SU150CRYPT to claim it.
We'll get to the second crypto bonus next. But the difference is that this one is a sign-up bonus, whereas the second one is for first time crypto-based deposits, and it sits in the re-load section. It looks nearly identical except for the promotional code.
This particular promotion is structured like the original welcome bonus, where it's a split-value incentive. The total value is 150%. 100% is a sportsbook bonus, and you can claim up to $5,000 depending on the size of your deposit. Then, the remaining 50% is the casino bonus.
For the casino bonus portion, you can claim as much as $2,500. Again, it depends on how much money you deposit. There's also a $15,000 maximum cash out from bonus-based casino gambling.
Rollovers are X10 in the sportsbook and a two-time X30 in the casino. Also, keep in mind that games like craps, roulette, baccarat, and pai gow poker are out of the picture when you have any active BetUS casino bonuses in your account.
Crypto Reload With Another BetUS Bonus Code
The second crypto bonus is part of BetUS' reload program. While the standard 50% Re-up Bonus doesn't have a BetUS promotional code requirement, this one does.
You'll need to enter RU150CRYPT to activate this BetUS bonus, and you also need to make sure it's the first time you're depositing with cryptocurrency.
BetUS accepts Bitcoin, Bitcoin Lite, Bitcoin Cash, and Ethereum with a relatively low $10 minimum deposit and $50,000 maximum. Like the welcome bonuses, though, you'll need to transfer at least $100 to claim bonus play cash.
This particular re-load incentive follows the same pattern as the crypto welcome and the regular BetUS sign-up bonus. It's not a one-shot award. Instead, it's divvied up between the sportsbook and casino.
You'll have a 100% deposit match to use in the sportsbook with an X10 rollover and a $5,000 bonus limit.
The remaining 50% is dedicated to the casino. Casino players have to meet an X30 rollover for both release and cashout and are limited to a $15,000 payout with bonus use.
Again, this crypto reload bonus is for first-time cryptocurrency deposits. However, you don't need to be a new BetUS player to claim it.
Valuable BetUS Casino Bonus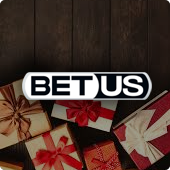 BetUS is known for its massive sportsbook more than anything else. However, that doesn't mean that players don't spend some time in the casino as well.
If you want to forego the BetUS sports betting bonuses and stick to casino games, then you've got an option.
Usually, when you see a maximum bonus value of $3,000 or even $1,500, it's a total value based on a two or three-part welcome offer. But with BetUS, the casino welcome bonus is a one-shot deposit match that's good for up to $3,000.
One of the advantages of this particular BetUS promotion is a lower deposit requirement. The other welcome bonuses require $100, but the casino reward is good even with a $50 transfer to your new betting account.
If this is your welcome bonus of choice and you're a new player, you'll need BetUS promotional code CAS150. The maximum cashout is $10,000, and the rollover remains unchanged at a two-time X30 requirement.
BetUS Bonus Rollovers
We've used the terms "rollover" and "playthrough requirement" quite a bit in our descriptions of BetUS promotional codes. If these are foreign concepts to you, allow us to enlighten you.
A rollover is the number of times that you're required to bet your bonus and, sometimes, your deposit and bonus combined. For example, if you have a $100 bonus obligation and an X20 rollover, then you'll need to wager $2,000 before you can request a payout.
Casino-based playthrough requirements typically have quite a few stipulations. Gambling sites direct you to games that are allowed or off-limits. There's usually a designated maximum bet. Plus, you'll find a cap on your cashouts, like $15,000 with the BetUS casino bonus.
It's vital that you understand the rollover and wagering requirements when using BetUS bonus codes.
BetUS does an excellent job of spelling out its sportsbook rollover conditions. We'll just hit the highlights here, so you're comfortable using the BetUS promo codes we're providing.
The BetUS sportsbook bonus rollover is X10. For example, if you receive $100, you'll need to stake $1,000 before your cash is free and clear.
Sometimes you're placing a bet to win less than 100% of your stake, and that's where things get a little complicated. When you're working on a wagering requirement, you'll end up with a combination of win amounts and risk amounts, depending on which is less.
BetUS provides the following two examples.
Bet $220 to win $200
Bet $100 to win $140
In the first scenario, the win amount of $200 is less than $220, so your rollover is offset by the $200.
In the second example, your stake is less than the potential win, so the $100 contributes to your wagering requirement.
This is essentially to prevent people using BetUS bonus codes to place a few wagers that are extremely likely to win, and clearing the promotional requirements easily.
Daily Perks (No BetUS Promo Codes Required)
Our introduction to BetUS bonus codes included the mention of a long list of promotions. A glance at the list of welcome bonuses may have you scratching your head, though, as it's relatively short.
That's because only five BetUS bonuses require promo codes.
But you're looking for gifts and incentives, and you don't care how they're implemented and whether or not you need a dedicated bonus code.
So, we want to share a few of the sportsbook and casino daily and weekly reward programs as well.
Monday Bonus
Offer: Straight Flush 3 Card Poker
Limit: $500
Description: 40X Payout on all Straight Flushes
Tuesday Bonus
Offer: Slots 250 Tuesdays
Limit: $2,500
Description: 250% Match Bonus on Slot Deposit (min $100, max $1000)
Wednesday Bonus
Offer: Video Poker Wednesdays
Limit: Less than 5X Bonus Amount
Description: 10% Cash Back Bonus on Video Poker net losses from day
Thursday Bonus
Offer: Roulette Thursdays
Limit: N/A
Description: Play Roulette to be entered in a $500 bonus raffle (min $50 cash bets)
Friday Bonus
Offer: 50/50 Fridays
Limit: Match Bonus $1000/Chip $150
Description: 50% Match Bonus + $50 Free Chip (Match Bonus Code FIFTY50; Must call casin for free chip)
Saturday Bonus
Offer: Slots Saturdays
Limit: $1,000
Description: 150% Match Bonus + 25 Free Spins (Match Bonus Code SLOTS150; Must call casino to claim free spins)
Sunday Bonus
Offer: Double Up or Money Back
Limit: $500
Description: Call or live chat to claim free 100% credit bonus if not able to double up on Sunday deposit by 7pm ET
These are only a few of the BetUS bonuses and promos that can be claimed without using promotional codes.
You'll find plenty of other cashback promotions, tournaments, and other incentives that are easily claimed. Just make sure you use BetUS bonus codes for the welcome offers, though.
BetUS Bonuses FAQ
Is there a BetUS no deposit bonus?
The BetUS sportsbook doesn't promote a no deposit bonus as a welcome offer.
However, players can claim no deposit bonuses through some daily awards, like cashback and tournament play.
Can I take advantage of a deposit match as a regular player?
There is an on-going re-load bonus program, but no BetUS promo codes are required.
To opt-in, you'll go to the promotions page and then click a blue button that says "Claim Bonus."
Does the list of promotions include BetUS casino free spins?
No.
BetUS may host the occasional free spins promotion, but it's not something that you can claim whenever you want.
How do I activate a specific BetUS sportsbook welcome bonus?
As there are a few possibilities for new players, you'll to check the latest BetUS bonus codes and select the right one. You can then enter it when you make your first deposit.
If you run into any issues, be sure to contact customer service by phone or live chat before you place any bets. Otherwise, you could miss out on the best BetUS bonuses.