Gambling in Oregon – Laws and Regulations
Oregon Gambling Law Overview
Casino Gambling: Not Legal
Tribal Gambling: Legal
Poker: Legal (Tribal)
Horse Racing Betting: Legal
Dog Racing Betting: Legal
Lottery: Legal
Daily Fantasy Sports: Not Specified
Charitable Gaming: Legal
Social Gambling: Legal
Online Gambling: Not Legal
While Oregon may not have the reputation of being a big gambling state, but they offer a large number of gaming options.
The Portland area is home to several poker rooms and racetracks, while tribal casinos are sprinkled throughout the state.Oregon's laws also allow for social gambling, charity gaming, and a state-run lottery.
The one thing we're surprised with, though, is that the Beaver State bans online gaming operators.
Oregon has liberal laws – including becoming the third American state to legalize recreational marijuana – so we're surprised about their harsh stance towards internet gaming. But as we'll cover later, the government doesn't take their iGaming ban too seriously.
Before we get to this, let's take a broad look at Oregon's gaming industry and also discuss their gambling laws.
Oregon allows bars, convenient stores, and restaurants to feature video lottery terminals, which earn $800 million in annual revenue. The state makes around $350 million in ticket sales, meaning the lottery generates over $1.1 billion.
Approximately $250 million of this amount goes towards public schools, economic development, and state parks.
Tribal casinos don't pay taxes, but they contribute revenue in other ways. This includes employing over 5,000 Oregon residents, who, in turn, pay income tax.
The tribes' estimated economic impact on Oregon is $130 million per year.
Oregon Gambling Stats & Key Info
Age Requirements

18 for lottery & racetracks; 21 in casinos

Approximate Annual Gambling Revenue

$1.8 billion

Approximate Annual Gambling Taxes

$250 million

Number of Commercial Casinos

0

Number of Racinos

1

Number of Tribal Casinos

7

Casino Regulatory Body

Oregon State Police Tribal Gaming Section

Lottery National Rankings

26th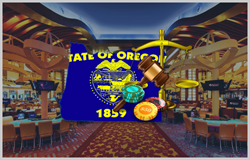 Most states have the lottery or a dedicated gaming commission oversee their gambling enterprise. But Oregon is unique because their state police work with tribal gaming officials to regulate the casino industry. Specifically, the Oregon State Police work to ensure that casinos operate with the fairness, honesty, and integrity set forth by the Indian Gaming Regulatory Act (IGRA) of 1988.
Legal Status of Gambling in Oregon
One thing that stands out about Oregon's criminal code is how clearly they list fines and punishments for those who break the law. Most state's criminal codes bury fines/punishments in the middle of their constitution – if they even list this info at all.
Here's a look at Oregon's punishments, as defined by statue 161.635:
$6,250 for Class A misdemeanor.
$2,500 for Class B misdemeanor.
$1,000 for Class C misdemeanor.
How can you make sure that you don't commit any of these offenses and have to pay thousands of dollars in fines? Let's start with Oregon's definition of illegal gambling, as per statue 167.166 (7):
"Gambling means that a person stakes or risks something of value upon the outcome of a contest of chance or a future contingent event not under the control or influence of the person, upon an agreement or understanding that the person or someone else will receive something of value in the event of a certain outcome."
The same statue also exempts the following games and activities from being considered illegal gambling:
Bona fide business transactions
Contests played for tokens or chips, instead of money
Charitable gaming
Social gaming
Bingo
Every legal bet in Oregon falls under one of these categories. For example, video lottery terminals in bars and convenience stores are under the social gaming category.
The Beaver State also has lax laws on social gaming. Statue 167.116 (20)(a) clears the way for social gambling with the following excerpt:
"A game, other than a lottery, between players in a private home where no house player, house bank or house odds exist and there is no house income from the operation of the social game."
According to statue 167.121, cities and counties have the right to dictate the terms of social gaming. Furthermore, they can require that you obtain licensing for social games.
Below you can see more on Oregon's legal forms of gaming.
Casino (Tribal) Gambling
The Cow Creek Tribe opened Oregon's first casino in 1994 after successfully negotiating a compact. Since then, several more tribal casinos have opened around the state.
Oregon casinos offer both Class II (bingo) and Class III (Vegas style) gaming, including blackjack, craps, roulette, slot machines, and video poker.
Spirit Mountain Casino is the state's largest, housing 2,000 slot machines and 50 table games. Wildhorse Resort & Casino is the next biggest with its 1,200 slot machines and 17 table games.
Tribes have been trying to open a casino on public land for years, but haven't had any luck. Since the 1970s, politicians have made several unsuccessful attempts at getting commercial casinos legalized.
Based on these failed efforts, Oregon politicians and voters aren't motivated to expand casino gaming.
Charitable Gambling
Oregon is one of the more-liberal states when it comes to charity gaming, allowing bingo, drawings, lotteries, Monte Carlo nights, raffles, and Texas hold'em poker.
The state's constitution was amended in 2005 to allow Texas hold'em under the Monte Carlo umbrella. Charity poker tournament buy-ins are limited to $200, and only non-cash prizes can be awarded.
According to statue 167.112 (5)(a), the following groups can hold charity gambling events: civic, educational, fraternal, humane, nonprofit, patriotic, philanthropic, reactional, and social groups.
Eligible groups must obtain licensing from the Oregon Department of Justice before conducting their charity gambling event. As per statue 167.118, other stipulations include the following:
Administrative members who run the games can't receive profit or prizes stemming from gambling activities.
Bingo, lotto, raffle, and Monte Carlo events must be held at locations and on days as set forth by sections 464.250; 464.380; 464.420; and 464.450.
A bingo or lotto game can't award a prize exceeding $2,500 for a single game. Bingo licensees may only hold two games per year, and the total amount of prizes can't exceed $10,000 per game.
Bingo, lottery, and raffle operations can't have operating budgets worth more than 18% of their total annual handle.
Monte Carlo-style gaming can only award non-cash prizes (just like poker).
While Oregon's charity gaming laws have a fair amount of stipulations, these are reasonable based on what we've seen from other states.
Horse and Dog Racing
Passed in 1933, the Pari-Mutuel Wagering Act legalized greyhound and horse racing. It also created the Oregon Racing Commission as a governing body.
The state features four horse tracks, including Crooked River Roundup Racing, Grants Pass Downs, Harney County Fairgrounds, and Portland Meadows. Oregon also features off-track betting at various businesses across the state.
The Beaver State has a long history of greyhound racing, which ran from 1933 to 2004 at Multnomah Greyhound Park. Multnomah stopped offering races due to low revenues and the declining dog racing industry.
Lottery
In the early 1980s, Oregon had a problem with their residents buying lottery tickets from neighboring Washington. Wanting these tax dollars to stay in-state, the government amended the constitution to allow for a lottery.
Voters approved the measure in 1984, and the Oregon Lottery began selling scratch-off tickets the following year.
In 1992, Oregon started offering video lottery machines at bars, convenience stores, and restaurants. With over 12,000 terminals throughout the state, this is the Oregon Lottery's largest source of income.
Other products offered by the Oregon Lottery include: Mega Millions, Powerball, Lucky Lines, keno, Pick 4, scratch-off tickets, and Win for Life. Of these, scratch-offs and keno generate the most revenue at $120 million and $93 million, respectively.
Poker
Several tribal casinos offer poker rooms in Oregon, with 77 tables found throughout the state. Aces Full has the largest poker room with 16 tables and a regular tournament schedule.
Games offered include: H.O.R.S.E., limit Texas hold'em, no-limit Texas hold'em, Omaha Hi-Lo, and pot-limit Omaha.
Social Gambling
Social gaming is legal in Oregon, provided that the host isn't banking the games and/or profiting in any other way (i.e. selling drinks, food).
Statue 167.117 (16) defines what constitutes a social player with the following:
"A person who gambles at a social game of chance on equal terms with the other participants therein is a person who does not otherwise render material assistance to the establishment, conduct or operation thereof by performing, without fee or remuneration, acts directed toward the arrangement or facilitation of the game, such as inviting persons to play, permitting the use of premises therefor and supplying cards or other equipment used therein."
Sports Betting
In 1989, the Oregon Lottery gained approved for Sports Action, a parlay game based on the National Football League (NFL).
The federal government passed the Professional and Amateur Sports Protection Act (PASPA) in 1992, which banned sports betting. However, Oregon was one of four states grandfathered into the law.
The NFL wasn't happy the Sports Action parlays, threatening Oregon that they'd never be granted a pro football team. But the NFL couldn't do anything else because Oregonavoided infringing upon the league's trademark.
Rather than using team names, Sports Action only used city names on the parlay tickets. All money made from the football parlays went to funding in-state college sports teams.
The Oregon Lottery added NBA games (minus the Portland Trail Blazers) to Sports Action in 1990. The NBA sued the state, but Oregon dropped NBA parlays anyways because it didn't produce enough revenue.
Sports Action continued offering NFL parlays, which drew continued criticism from the NBA and National Collegiate Athletic Association (NCAA).The NCAA threatened that no March Madness tournament games would be held in the state while Sports action was offered.
The Oregon Lottery argued that their parlays had a maximum wager of $20, which is much smaller than bets offered at Nevada sportsbooks.
In 1997, State Sen. Jeannette Hamby introduced a bill to discontinue Sports Action, but it failed to pass.
In 2005, the state legislature did pass another bill that ended Sports Action at the conclusion of the 2006-07 NFL season. With Gov. Ted Kulongoski's signature, the bill passed and the parlay game was abolished.
A positive byproduct of ending Sports Action is that the NCAA awarded tournament games to Portland's Rose Garden arena (now Moda Center) in 2009.
Where Can I Gamble in Oregon?
Online Gambling Options in Oregon
Statue 167.019 states that it's illegal for online gaming operators to accept payments from Oregon residents, which you can see below:
"A person engaged in an Internet gambling business may not knowingly accept, in connection with the participation of another person in unlawful gambling using the Internet."
This section goes on to state that payments can't be accepted through credit cards, checks, electronic funds transfer, or "any other form of financial transaction that involves a financial institution as a payer or financial intermediary on behalf of or for the benefit of the other person."
The quoted part shuts the door on gaming sites accepting a financial transaction through any means. But we still wonder if Bitcoin – a cryptocurrency that doesn't involve banks, governments, or any third party – could be exempt from this definition.
In any case, most offshore casinos, poker sites, and sportsbooks seem to ignore Oregon's laws.
We're not sure why offshore operators continue braving Oregon, especially when the penalty for accepting iGaming transactions being a Class C felony. In any case, Oregon natives can play at most US-friendly gaming sites.
Nothing in Oregon's criminal code suggests that it's illegal for players to gamble online. Even their definition of an illegal gambling device (statue 167.117) doesn't reference anything close to a smartphone or computer.
Given that Oregon has never arrested anybody for online gaming, you should be safe to play at online casinos within state lines.
Recommended Gambling Sites for Oregon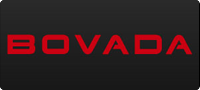 Bonus 50% up to $250
Read Review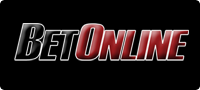 Bonus 100% up to $1000
Read Review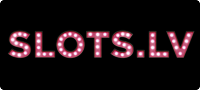 Bonus 200% up to $5000
Read Review
Voters Overwhelmingly Reject Commercial Casinos
As mentioned before, Oregon politicians have made multiple attempts to legalize commercial casinos. The latest efforts included two bills in 2012, which sought to legalize non-tribal casinos and to build a casino in suburban Portland.
According to Oregon Live, the bills were soundly rejected by over 70% of the voters.
Portland Meadows has a longstanding fight to become a racino and offer video lottery terminals. Racetrack officials argue that this is the only way to keep the track alive in a declining horse racing industry.
Competition from Washington's Ilani Casino
In 2017, the Cowlitz Tribe opened the Ilani Casino in Ridgefield, Washington – just 25 miles from downtown Portland.
The $510 million complex has been a hit with gamblers since it features 2,500 slot machines, 75 table games, Michael Jordan's Steak House, and seven other restaurants.
While this has been a boon for the Cowlitz Tribe and Southwest Washington, it's also hurting Oregon casinos in the Portland area. Everything from the Portland Meadowlands track to Spirit Mountain Casino are being impacted.
Spirit Mountain is being hit especially hard because they're located 60 miles from Portland, making Ilani a more-convenient destination.
According to Willamette Week, one way that Oregon could counteract Ilani Casino's impact is to increase the number of lottery terminals throughout the state. But research also shows that Oregon is already saturated with gaming options.
Another option includes letting lottery retailers like Portland Meadows offer more than six video terminals. This limitation is part of Oregon's ban on commercial gaming, but it's also pushing more Portland-area gamblers towards Washington.
Going further, the casino ban is a major reason why Ilani Casino was built in Washington, rather than in Portland by a privately owned group.
Daily Fantasy Sports Bill Introduced
Oregon hasn't offered an opinion on daily fantasy sports (DFS), but they're one of many states that are currently mulling over the activity.
State Rep. Jodi Hack has proposed House Bill 2549, which would officially make DFS legal in Oregon. At the time of this writing, HB 2549 is in its early stages and has yet to draw much feedback.
Oregon Gambling FAQ
What is Monte Carlo Charity Gambling?
The Oregon constitution uses the term Monte Carlo to describe Vegas-style tables games, including baccarat, blackjack, craps, and roulette.
Licensed charities are allowed to offer Monte Carlo nights to raise proceeds for their cause. But there are two catches involved:
The gaming must use imitation money, such as chips or tokens. No money can be exchanged on the gaming tables.
Players can exchange their chips for non-cash prizes, or use their chips to purchase prizes through an auction.
What are the Rules for Charity Poker Tournaments?
While approved charities can legally offer Texas hold'em tournaments, they must adhere to the following rules:
Players can't spend more than $200 on a game. This includes tournament buy-ins, add-ons, and re-buys.
Charity groups must have a working system in place to track how much each player is spending so that they don't exceed $200.
If an additional fee beyond $200 is being charged to enter a fundraising event, the licensee must describe what players are receiving for the extra cost.
Is Online Gambling Legal in Oregon?
According to statue 167.019, it's illegal for any individual or business to offer online gambling to Oregon residents. By law, online casinos, poker sites, and internet sportsbooks aren't supposed to be available in Oregon.
But for whatever reason, many offshore sites continue operating in the Beaver State. This likely occurs for two reasons:
Oregon doesn't have a regulated online gaming market like Delaware, New Jersey, or Nevada.
Oregon has never taken legal action against an offshore gaming site. Contrast this to fellow unregulated states Kentucky and Maryland, which have both waged legal wars with offshore sites.
This doesn't make it right for internet casinos and poker rooms to continue operating in Oregon. But this is where we stand right now due to the lack of repercussions.
As for online gamblers, Oregon's laws don't specifically state that it's illegal to place internet wagers. Furthermore, they've yet to arrest and prosecute anybody over the matter.
Is My Poker Game Legal in Oregon?
Yes. The Beaver State has straightforward laws that make social gaming legal.
Of course, nobody can take a cut of the gambling action, and all money wagered must be returned to the players in the form of prizes.
One more stipulation is that private businesses, clubs, and public properties can only hold social gaming events in accordance with local ordinances.
If you're going to play card or dice games in a business, you should contact a local lawyer to see if your game is legal.
What are the Rules on Charity Door Prize Drawings?
Door prize drawings must take place at a nonprofit organization's regular meeting spot. Also, the total value of all prizes can't exceed $500.
Do All Charity Groups Need to Obtain Licensing for Gambling?
In most cases, yes, nonprofit organizations must be licensed by the Oregon Department of Justice to run bingo, raffle, and Monte Carlo gaming. The only three exceptions include the following:
Nonprofits that offer bingo games with a handle of less than $2,000 per session, and a total handle of less than $5,000 per year.
Charity groups offering raffles with a total handle of less than $10,000 per year.
Nonprofit organizations offering Monte Carlo gaming with a total handle of less than $2,000 per event, and less than $5,000 per calendar year.
History of Oregon Gambling Laws
1933
Oregon passes Pari-Mutuel Wagering Act; greyhound racing starts the same year
1973

Portland Meadows begins offering horse racing
1973
State allows social gambling
1976
Oregon allows bingo and raffles for charity gambling
1984
Oregon State Lottery is authorized
1989
Sports Action lottery game is approved, allowing Oregon to offer NFL parlays
1991
State bans private lottery terminals (must be offered by government)
1992
Federal government passes PASPA to ban sports betting, but Oregon is exempt
1994
Cow Creek Tribe opens first casino in Oregon
2004
State stops offering greyhound racing
2005
Texas hold'em approved for charity gambling
2007
Sports Action parlay games abolished
2012
Voters reject ballot question to allow commercial casinos in Oregon
In Summary
Unlike Nevada to the south, Oregon isn't widely regarded as a gaming paradise. But they do have enough options to keep the average gambler happy.
The lottery is the state's biggest source of gaming since it offers scratch-offs, multi-state drawings, and video terminals. Casino gaming also maintains a large presence thanks to 7 tribal casinos spread throughout the state.
Oregon tolerates most forms of social and charitable gambling. But the latter includes a few restrictions in terms of prizes and how much revenue can be generated.
Oregon clearly states in their laws that it's a felony to offer online gaming. But as we covered in the FAQ section, few offshore sites respect the Beaver State's anti-online gaming stance.
This means that you're free to play at offshore casino, poker, and sports betting sites until something changes.