Gambling in the State of Idaho
Idaho Gambling Law Overview
Casino Gambling: Not Legal
Tribal Gambling: Legal
Poker: Not Legal
Horse Racing Betting: Legal
Dog Racing Betting: Legal
Lottery: Legal(State-Owned)
Daily Fantasy Sports: Not Legal
Charitable Gaming: Legal(Only in approved formats)
Social Gambling: Not Legal
Online Gambling: Not Specified(Players can use unregulated sites without fear of penalty)
The information in the box below provides a comprehensive overview of Idaho's complex gambling laws.
Despite its placement in the northern reaches of the U.S., Idaho's gambling laws are more closely aligned with those of the "Wild West."
That is to say, gambling is largely outlawed there today, despite Idaho's longstanding history as a territory friendly to card sharps and players traveling the frontier. Even so, a slow but steady easing of those strict laws has seen Idaho gradually step into the 20th century – if not the 21st.
Residents and visitors in Idaho can purchase lottery tickets at the local convenience store, place pari-mutuel wagers on horse races, and even head to a tribal casino for some bingo. These tribal casinos even spread slot-machine styled video gaming terminals – much to the consternation of a few hard-line lawmakers – giving Idahoans a full complement of gambling options to choose from.
With that said, traditional casino table games like blackjack, baccarat, roulette, and craps are all banned by state law, so you won't be doubling down or hitting a hard eight here anytime soon.
Idaho is also one of the only states to expressly prohibit poker, and predictably, online gambling options are nonexistent outside of the usual unregulated channels.
Overall, the status of Idaho's gambling law is akin to a patchwork quilt, with new sections being stitched on, or removed altogether, as the years go by. While not a gambling-friendly locale by any means, Idaho's previous resistance to all forms of action has waned recently, moving the state closer to the center in that regard.
Idaho Gambling Stats & Key Info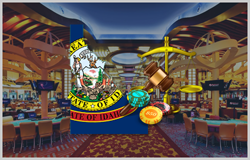 Age Requirements: 18 (for all types)
Approximate Annual Gambling Revenue: N/A
Approximate Annual Gambling Taxes: N/A
Number of Commercial Casinos: 0
Number of Racinos: 8
Number of Tribal Casinos: 7
Casino Regulatory Body: State Legislature
Racing Regulatory Body: Idaho Racing Commission
Lottery National Rankings: N/A
Transition to Legal Status of Gambling
After becoming the 43rd state admitted to the Union in 1890, its original state Constitution made Idaho's gambling quite clear:
"The legislature shall not authorize any lottery or gift enterprise under any pretense or for any purpose whatever."
That short and stern passage left little room for legal interpretation, but by the 1930s slot machines had made their way to the outskirts of locales like Garden City, Idaho Falls, and Pocatello. The fact that these machines were neither "lottery" nor "gift enterprise" put them in the proverbial grey-zone, legally speaking, and for nearly two decades Idahoans could take their shot at the one-armed bandits.
In 1947, a state statute was passed to expressly legalize slot machines, and for a few years, Idaho was home to a thriving industry of saloons and slot parlors.
By 1953, however, slot machines were declared to be unconstitutional by the Idaho Supreme Court, under the provisions of section 18-3804 of the Idaho Code. Slot machine owners were hounded down, their equipment destroyed by burning or, if they were fortunate, sold off to casino interests in Nevada.
In 1963 pari-mutuel horse racing was authorized by section 54-2501, which created the Idaho State Racing Commission. The state's first Horse Racing Act had been approved by the legislature six years earlier, but it was shot down via veto from the Governor. The 1963 passage was the first legislative override of a Governor's veto in over 20 years.
The ponies have been in action ever since and today Idaho is home to eight racetrack facilities.
In November of 1988, voters approved a bill authorizing the creation of the Idaho Lottery, which officially launched in July of the following year. As a member of the Multi-State Lottery Association, the Idaho Lottery offers popular nationwide games like Powerball, Mega Millions, and Lucky for Life, alongside several regional variants like Bingo and Weekly Grand.
In total, 50 percent of the program's net ticket take is distributed to Idaho's public school systems, while the rest goes to the state's Permanent Building Fund to support university and college infrastructure. To date, the Idaho Lottery's official website lists more than $785 million as being "returned to Idaho" since 1989.
Idaho's primary mode of gambling is the lottery program, which sells tickets, scratch cards (called "pull tabs" there), and other products at convenience stores, gas stations, bowling alleys, and a variety of other locations throughout the state.
The same year Idaho voters approved a state lottery saw the Congress in Washington D.C. pass the Indian Gaming Regulatory Act (IGRA) of 1988. This sweeping reform to the nation's gambling laws permitted any federally recognized tribal organization to forge gaming compacts with the states in which their lands are physically located.
Several tribes, including the Coeur d'Alene, the Kootenai, and the Nez Perce, entered into negotiations with Idaho's state government in 1992, seeking to construct casino facilities where Class III gaming would be held.
Under IGRA, Class I and II games were defined as charity drawings and raffles, bingo, pull tabs, and other "social" forms of gambling. The act categorized casino-style games, such as blackjack, craps, and roulette, as Class III offerings.
Recognizing that IGRA held the potential to turn Idaho into thriving casino gambling market, one which would stand in opposition to long-held state laws, lawmakers went to work in blocking the tribe's access to Class III games. The state constitution was amended in 1992, under Idaho Const. Art. III § 20(1)-(3), to limit Idaho's legal gambling options to the state lottery program, pari-mutuel racing, and bingo / raffle games for charitable purposes.
Crucially, this amendment included the following language explicitly banning the casino games which comprise the Class III gaming category:
"No activities permitted by subsection (1) shall employ any form of casino gambling including, but not limited to, blackjack, craps, roulette, poker, baccarat, keno and slot machines, or employ any electronic or electromechanical imitation or simulation of any form of casino gambling."
The Coeur d'Alene Casino and Hotel opened in 1993, offering a simple bingo hall to comply with the amendment. Other tribal casinos followed throughout the state, proving to be quite popular despite the lack of Class III games.
By 2002, however, the demand for conventional casino-style gaming had grown to the point that Initiative 1, the Idaho State-Tribal Gambling Compact Initiative, was placed on the ballot. If approved by voters, the bill would amend Idaho state law to allow tribal casinos to spread video gaming machines, which were defined as follows:
"Gaming machines used by Indian tribes which are not activated by a handle or lever, do not dispense coins, currency, tokens or chips, and which perform only certain defined functions, and defining such machines as neither slot machines nor imitations or simulations of any form of casino gaming."
The ballot initiative was a compromise of sorts, allowing tribes in Idaho – and gamblers as well – to participate in gaming that closely resembled slot machines, while not actually breaching the law. Voters overwhelmingly supported the measure, and it passed with 57.8 percent of the vote, paving the way for a new era of tribal gaming in Idaho.
Today, despite a growing movement to rescind the 2002 law, tribal casinos in Idaho is home to thousands of video gaming machines that look and feel just like slots.
In 2011, the horse racing laws were amended to allow simulcasting of races at locations other than the actual race venue, expanding Idaho's legal race betting industry through the introduction of eight such licenses.
Punters are free to bet on live races or historical races per the 2013 voter-approved referendum HB-220.
In 2013, lawmakers also approved highly controversial "instant racing" machines, which offer automated betting on race-like wagers using equipment and layouts that closely resemble slot machines. Prior races were recorded and presented to players with no identifying information, with the experience accompanied by bells, whistles, lights, and other accouterments common to slot game play.
The instant racing machine law was quickly repealed just two years later, with legislators claiming they had been "duped" by industry lobbyists into legalizing a loophole to the state's slot machine ban.
In 2017, the Idaho racing industry launched a last-ditch effort to overturn the 2015 repeal, but little progress has been made on that front as of late April.
Where Can I Gamble in Idaho?
Online Gambling Options in Idaho?
Like so many other states, Idaho suffers from a distinct problem when it comes to its online gambling laws. Namely, there aren't any on the books.
Most of the foundational laws underpinning Idaho's gambling industry – the 1890 constitution, the 1988 lottery act, and 1992's constitutional amendment banning Class III gaming – were written well before the concept of online casinos or poker rooms were ever envisioned.
Complicating matters further is the federal law known as the Unlawful Internet Gambling Enforcement Act (UIGEA) of 2006, which prohibits a business from engaging in transactions related to online gambling. Before the UIGEA was passed, online casinos and poker rooms operated in all 50 states, serving customers as unregulated entities. After 2006, most of the major sites fled the US market, and "Black Friday" in 2011 effectively shuttered the online poker industry in America.
And while a few progressively-minded state governments (Nevada, New Jersey, and Delaware) have kept pace with technological advancement by regulating legal online gambling industries, progressive policy has never really been Idaho's calling card.
Today, the state has no laws specifically addressing online casinos or poker rooms (see the DFS section later on for that segment of the online gambling market). As such, many resources found online will tell readers that the lack of legal language effectively puts Idahoans in legal limbo, allowing them to access unregulated sites at their leisure – and risk.
And sure enough, somebody sitting on their computer in Boise right now can easily find a few US-facing online casinos or poker rooms willing to let them play for real money. That's true in every state – the three iGaming-approved jurisdictions mentioned above aside – so Idaho's online gambling legality debate isn't all that unusual.
Unfortunately, a provision found within Art. III § 20(1)-(3) of the Idaho constitution, which was amended in 1992, includes the following passage (emphasis added):
"No activities permitted by subsection (1) shall employ any form of casino gambling including, but not limited to, blackjack, craps, roulette, poker, baccarat, keno and slot machines, or employ any electronic or electromechanical imitation or simulation of any form of casino gambling."
This language obviously doesn't refer to the internet as we know it today, given the era in which it was written. Even so, many legal experts who specialize in iGaming issues believe that online gambling could very well be interpreted as "electronic or electromechanical imitation or simulation" of casino games.
And unlike most states which don't adequately address online gambling, Idaho actually makes playing a banned game a misdemeanor under the state penal code. That means an online blackjack fan in Idaho could, theoretically, be charged with a crime for doubling down via their laptop.
Of course, no such cases have been recorded, and chances are good that they never will be. Unless state lawmakers choose to explicitly ban online gambling, the current "grey zone" status quo will remain in place, leaving players free to make their own choices from the barebones selection of US-facing operators.
There are many off-shore gambling sites that offer services to Idaho residents and some of them are very good options for people looking to gamble online. We list highest recommended below.
Recommended Gambling Sites for Idaho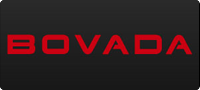 Bonus 50% up to $250
Read Review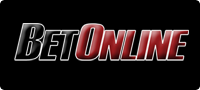 Bonus 100% up to $1000
Read Review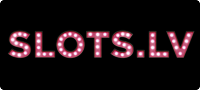 Bonus 200% up to $5000
Read Review
Idaho Gambling FAQ
What about home poker games and other "social" forms of gambling, surely these are allowed?
Unfortunately, they aren't. Under section 18-3802 of the Idaho State Code, gamblers themselves are considered guilty of a misdemeanor crime if they:
"(a) Participates in gambling; or
(b) Knowingly permits any gambling to be played, conducted or dealt upon or in any real or personal property owned, rented, or under the control of the actor, whether in whole or in part."
One might suspect that this statute would pertain to organized "poker clubs" and the like, quasi-businesses ran for the purpose of profit – and not your grandpa's weekly Texas Hold'em tournament.
But you'd be wrong, as Idaho police are notorious for taking their constitutional duty to arrest all gamblers quite seriously. A search for "Idaho poker game arrest" will turn up countless stories, some dating back decades, involving hard-nosed local cops raiding a quiet home game.
Even elderly players are not immune to the dragnet, and while this aspect of the law is quite unpopular among ordinary people, Idaho authorities have continued their crackdown on illegal gambling rings without abatement.
I heard about a poker room opening at an Idaho tribal casino a few years back… what's the story there?
Sure enough, the Coeur d'Alene tribe opened a small poker room in May of 2014 – only to be sued almost immediately by the state of Idaho. According to the state, the tribe was specifically prohibited from offering Class III games like poker, which the Idaho constitution defines as a game of chance and not skill.
The tribe appealed but lost their case in 2015 in front of the 9th Circuit U.S. Court of Appeals. To date, no further attempts to open tribal poker rooms have been made.
Curiously enough, the Idaho Lottery spreads several games which are directly inspired by poker game play, including one product which uses the following marketing language:
"Do you like high-stakes poker or the fast action of blackjack? What about good ole' fashioned high card wins or just getting more fish than your buddy? Well if you do, then you'll love 'yours-beats-theirs' or poker-style scratch games."
I'd like to organize a small pool among co-workers, for betting on pro playoffs and college hockey… will that fly?
Nope.
First of all, sports betting is banned under the federal law known as the Professional and Amateur Sports Protection Act (PAPSA) of 1992. That means all but four states (Delaware, Montana, Nevada, and Oregon) lack legal sports betting options.
Furthermore, under section 18-3809 – Bookmaking and Pool Selling – of the Idaho State Code, even personal sports betting pools are considered to be a crime:
"Any person who for gain, hire or profit engages in pool selling or bookmaking at any time or place within this state; or any person who keeps or occupies any room, shed, tenement, tent, booth or building, float or vessel, or any part thereof … is guilty of a misdemeanor, and upon conviction is punishable by a fine of not more than one thousand dollars ($1,000) or by imprisonment in the county jail for a period of not more than six (6) months or by both such fine and imprisonment."
History of Idaho Gambling Laws
Idaho state constitution is enacted; explicitly outlawing all forms of "lottery" based gambling

Slot machines become popular due to lack of clear legal language banning their use
State statute exempting slot machines from the lottery ban is passed, legalizing them throughout the state
Slot machines are deemed to be unconstitutional by the Idaho Supreme Court, and are officially prohibited by Section 18-3804 of the Idaho Code
State legislature approved the first Horse Racing Act, which is then vetoed by the Governor
A second Horse Racing Act is passed and signed into law (section 54-2501 of Idaho Code), creating the Idaho State Racing Commission to oversee Idaho's pari-mutuel horse racing industry

State legislature passes Senate Bill 1471 in March, called the Lottery CreationAct, which is then put to voters in a public referendum. Idahoans approved a new lottery program in November
The federal government authorizes the Indian Gaming Regulatory Act (IGRA), which enables federally recognized tribes to forge gaming compacts with the states on which their lands are situated. This nationwide reform transforms Idaho's gambling industry
Three federally recognized tribes – the Coeur d'Alene, the Kootenai, and the Nez Perce – petitioned Idaho to negotiate the state's first tribal gaming compacts under IGRA. The tribes sought the right to offer Class III gaming, or casino games like blackjack, roulette, and slot machines, rather than limiting their operations to Class I and II gaming (charity drawings, bingo halls, and pull tabs)
Constitutional amendment [Idaho Const. Art. III § 20(1)-(3)] is passed to specifically outlaw Class III games, limiting the state's legal gambling industry to the state lottery, pari-mutuel horseracing, and bingo or raffle games held for charitable purposes. This amendment effectively limited Idaho's tribal casinos to Class I and II games only, a limitation which was upheld by the courts despite the tribes' repeated challenges
Initiative 1, the Idaho State-Tribal Gambling Compact, was put to voters. When it was approved with 57.8 percent of the vote, Idaho's tribal casinos were granted the right to offer video gaming machines, so long as they lacked coins, pull levers, and other signifiers of slot machine game play
Horse racing laws are amended to allow for bets to be placed at locations other than the actual racetrack, thus expanding Idaho's racing industry through expanded simulcasting
State legislature approves Bill No. 220, which allows for wagers to be placed on historical horse races (section 54-2512A of Idaho Code), using machines which mask pertinent information about the venue, jockeys, and conditions
A state court rules that the Coeur d'Alene tribe cannot legally construct a poker room within their casino facilities. The tribe had opened a six-table poker room in May, but the state quickly sued them to effect immediate closure. The tribe brought their case to the 9th Circuit U.S. Court of Appeals, but that body upheld the original court ruling in 2015 – effectively banning Idaho tribes from spreading poker games
State legislature approves Bill No. 1011, which repeals the historical horse racing machine law passed just two years before. Lawmakers claimed that they were "duped" by the slot machine style devices, which include bells and whistles, along with reels and symbol graphics like fruit.
Idaho Attorney General Lawrence Wasden announces agreement with DraftKings and FanDuel, the two largest daily fantasy sports (DFS) operators, which effectively prohibits Idahoans from accessing the sites' real money contests.
Rep. Tom Loertscher (R-Bone) introduces a bill which would reverse the 2002 referendum allowing tribes to operate video gaming machines. The proposal was quickly shot down, but it does reveal that the state's longstanding opposition to slot machines of any sort hasn't diminished.
Daily Fantasy Sports in Idaho
When the daily fantasy sports (DFS) craze swept the nation a few years ago, most states sat back and allowed residents to enjoy the fast-paced professional sports competitions.
Permissiveness isn't really Idaho's style, however, and it followed a few other hardline states in taking strict measures to eradicate DFS within its borders.
On May 2 of 2016, the state's Attorney General Lawrence Wasden announced that his office had reached an agreement with the executives of DraftKings and FanDuel, the two largest DFS operators nationwide. Under the terms of that agreement, both sides agreed to pull up the proverbial stakes and leave Idaho voluntarily, restricting all access to real money contests to players physically located within state borders.
Wasden issued a press release explaining how Idaho's historical aversion to gambling led his office to take decisive action:
"The concern I have is that the paid daily sports offerings provided by these companies constitute gambling under Idaho law. I have a duty to enforce and uphold that law. I commend the companies for negotiating in good faith and agreeing not to make these contests available in Idaho.
Idaho defines gambling, in part, as risking money or other things of value for gain that is contingent in whole or part upon chance or the outcome of an event, including a sporting event. My concern is that the daily fantasy sports offerings my office reviewed require participants to risk money for a cash prize contingent upon individual athletes' collective performances in various future sporting events. As I see it, this falls within Idaho's definition of gambling."
This decision put Idaho in a group of anti-DFS states like Alabama, Arizona, and Louisiana. And while other jurisdictions like New York have banned DFS, only to re-legalize it as a regulated – and taxed – industry, Idaho's political climate doesn't bode well for that possibility.
For all intents and purposes then, DFS is banned just like poker in Idaho.
Conclusion
Though Idaho isn't the most gambling-friendly state in the nation, residents can participate in a few activities. Tribal gaming, horse racing, and dog racing are legal so we have hopes that more casino and poker options may become a reality in the
future.