10 Western Themed Slot Machines You Need to Play

From gunslingers to gold mines, stampeding buffalo to train robberies, nothing says "yee-HAW" quite as well as a Wild West-themed slot machine.
You'll find everything you want to build your imaginary Western Saloon & Gaming Hall right in your browser's favorites list. Hey, even the music is twangy.
So feel free to read up on the best western slots (as far as online slot machines are concerned, anyway)—and all from our selection of the best online casinos available.
1. Outlaws (Wild Casino)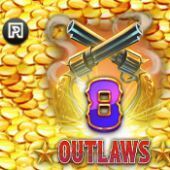 Starting our list of the best western slots is this offering from a newer player in the slot marketplace, Pure RNG Casino Software. 8 Outlaws is Pure RNG's own take on the Wild West with this five-reel, 25 pay line video slot.
This game features clever symbols representing the usual rustic townsfolk, lawmen, and bandits—even the space-filling ten-through ace symbols make their appearance.
The game has wild cards (including sticky wilds), free spins, and a Gamble feature that allows you to double your winnings.
Want to find this online wester-themed slot and the others on this list? Search the best online casinos below.
How We Rate

Safety & Security
You should be able to gamble online without fear. So we only recommend licensed sites that use the latest security and encryption techniques.

Bonuses
Maximize your bankroll with fantastic bonuses. Our recommended sites offer valuable bonuses with fair terms and conditions, including manageable wagering requirements.

Games & Betting
The best sites have the best wagering options. That's why you will find extensive games and betting opportunities on our recommended sites.

Banking
Getting your money to and from your account shouldn't be a hassle. We only recommend sites with a variety of convenient banking methods, including cryptocurrency and e-wallets.
2. Blazin' Buffalo (Ducky Luck Casino)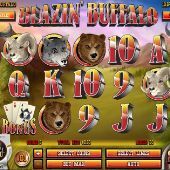 What about the American buffalo (Bos bison, if you want to get species-specific about it) brings out the creative side of video slot machine developers? There must be a zillion buffalo slots out there, give or take a billion. Some are hits, and some are misses, but Rival seems to have brought their best together to create Blazin' Buffalo.
The video slot is a five-reel, 50-pay line slot that features some excellent background music that will get you in the Great Plains state of mind while the various symbol—including snakes, mountain goats, hawks, wolves, and bears. The usual 9-acre symbols fill out the bottom of the payout tables.
The wild symbol is a full moon (clearly labeled as such), while bags of money are (clearly labeled again) as jackpot triggers. Spin enough Blazin Buffalo symbol, of course, and you trigger free spins. More free spins can be re-triggered during the free play.
A Find the Buffalo bonus round is also triggered by spinning three 3-ace symbols. The bonus round challenges you to find the buffalo behind one of three cards.
Incidentally, the animations in Blazin' Buffalo are all first-rate, and the sound effects are not obtrusive. You may catch yourself humming the background music long after you finish your session.
3. Gold Canyon (Wild Casino)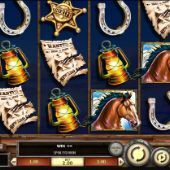 BetSoft—one of the biggest names in the video slot machine business—brings us the well-designed high-volatility Gold Canyon.
This five-reel, 20-line game features a Wild West cast of characters with artwork vaguely reminiscent of the Red Dead Redemption series of RPGs.
A cowboy is the expanding wild symbol, and the scatter symbol is a bundle of dynamite. Regular symbols include wanted posters, horseshoes, sheriff's badges, poker hands, and mining lamps.
After any win, you are offered the option to flip a coin to double your win—and Gold Canyon even lets you decide whether to risk all or just half your win.
4. Gold Heist (Ducky Luck Casino)
Why spend time mining for gold or hunting buffalo on the Great Plains when you can cut right to the chase and steal the gold? That's the set-up with DragonGaming's Gold Heist, a five-reeler featuring 30 pay lines and multiple opportunities to turn your foray into the wild west from a bust to the perfect heist.
The standard symbols of jack through ace are the main fare here, but the symbols you'll be watching for are banks, mine carts full of gold nuggets, piles of gold bars, and six-shooters.
The wild symbol is a desperado, while the scatter symbol is a miner with a pickaxe. That miner is grinning, which makes you suspect he isn't aware of your repeated attempts to steal his gold.
By the way, the background music is a twangy western loop with Good, Bad, and Ugly whistler taking the lead.
Spinning at least three scatter symbols triggers the Minecart bonus. For this, you'll be rewarded with one pickaxe for each scatter symbol, and you'll then use those pickaxes to open gold nuggets to reveal a random number of spins. Once you've used up all your pickaxes, your free spins begin. Note that three or more scatter symbols during one of the free spins can trigger another minecart bonus (i.e., more free spins).
The bonus symbol is a winding set of railroad tracks, and three of these trigger the Mine Trail bonus, where you spin a wheel of fortune to win up to 200 times your wager.
Select several gold wagons to reveal the number of free spins you get. Once you've made your selections, the number of free spins is accumulated, and you can start playing them. All free spin winnings get doubled.
This is one of several online western-themed slot machines you can find at Ducky Luck. If you're interested in playing there, consider learning more about the site in our review.
5. Gold Rush Gus (Ducky Luck Casino)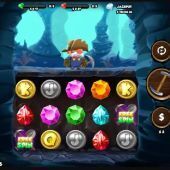 Next up on our list of best western slots, this innovative video slot from newcomer Qora Gaming has made plenty of top western slots lists for the past couple of years—primarily because of its unique take on the five-reeler.
Instead of rotating reels, the area of Gold Rush Gus' active playing screen is comprised of five stationary rows of colored rocks buried in stacks of three. Think of it as a five-reel, ten-pay line video slot where the reels get to take a break. Literally.
Above those colored rocks, Gold Rush Gus trots with his trusty pickaxe until he finds a good spot, then WHACK!
He reveals the values of all 15 stones beneath him with a single mighty swing. If there's a winning combination there, you collect. If not, he moves on to the right (almost very reminiscent of the old Nintendo platformers).
The available symbols are various colored gems and the usual 9 through ace. There are also free spin symbols and a bonus round key symbol that triggers the arrival of a mole with a treasure chest containing a mystery win.
Important
If that treasure chest includes a diamond, you win a progressive jackpot.
What's not to like?
The music is more cartoon than wild west, but it's lively, and you can always mute it if you prefer silence. In either case, the animation of Gold Rush Gus is entertaining, and the novelty of how the results of each "spin" are revealed makes this one worth an hour or two—which should be relatively painless, given the slot's 96.5 RTP.
6. Gunspinner's Gold (Ducky Luck Casino)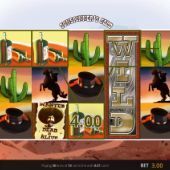 If you like your shootin' irons and western movie classics, it's hard to beat Gunspinner's Gold from Saucify. This five-reeler with 30 pay lines packs more movie references into its symbols than Dennis Miller on a Sergio Leone binge.
The wild symbol is a lawman (a la Tombstone) who expands to fill the reel he appears on and spread the winning around. Then there are the simple symbols of Clint Eastwood's hat in most of his spaghetti western flicks.
Throw in a cactus, cowboy boots, a whiskey bottle, crossed six-guns, gold-dust pouch, a cowboy on a rearing horse, a marshal's badge, a wanted: dead or alive poster and a grinning saloon girl, and you've got yourself a serious game of "spot the western movie reference" going on.
But that's not why you're playing, right? So you'll be glad to know that there are liberals. Now, add the background music that is a pro-level sound-alike for the theme song to The Good, the Bad & the Ugly. Yeah, that's what I'm talking about.
Scatter symbols trigger up to 20 free spins, and the RTP for this game is a solid 95.3%. It isn't currently available on mobile devices, but it will work fine on your laptop.
7. High Noon (Wild Casino)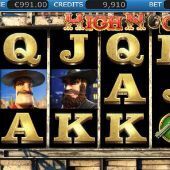 Nucleus Gaming delivers a more cartoonish take on the typical wild west scenario, with symbols like the six-shooter, the sheriff, the small-town mayor, the comely saloon girl, and of course, the bad hombre.
The five-reel, 30-pay line High Noon also brings the free spins with its Sheriff's Badge symbol. Any time you have a winning spin, you have the option to try a double or nothing gambit.
The game doesn't demand head space for background music, and the sound effects of play are typical of non-themed slots.
High Noon has an RTP of 95.4%.
This is far from the only online slot worth playing at Wild Casino. Get to know the site and what they have to offer as far as slots go in the review below.
8. Paydirt (Las Atlantis Casino)
I'm not sure why RealTime Gaming decided to make Pay Dirt one word but never mind (see what I did there?).
Be that as it may, you won't notice the difference when you try out this five-reel, 25-pay-line exploration of a roaring '90s gold mine, replete with symbols of crusty miners, ore carts, picks, heavily loaded pack burros—even armed claim jumpers.
With a 97.5% RTP, you're sure to spend some quality time in the mine as you work on gathering as many scatter symbols as you can. Varying numbers of scatters result if one of three different bonus games.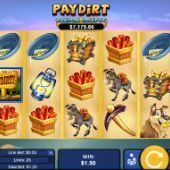 Gold Rush is triggered by three scatters and spins to see how many gold nuggets you can get for a bonus.
Gold Fever gives you five free spins to gather those gold nuggets.: 5 free spins, during which reel 3 is made entirely of Gold Nuggets.
Strike It Lucky reveals five gold mines that award free spins, during which all bonus symbols are replaced by Gold Nuggets. Any retrigger can bring you ten more free spins.
Incidentally, the top payout on Paydirt is a gobsmacking 50,000 times your wager. What's not to like? Who would have thought working in a hole in the ground could be this much fun?
It may pay to see what other online slots are worth digging into at Las Atlantis. Before you make that call, though, it might be a good idea to check out their site review.
9. Smoking Gun (Wild Casino)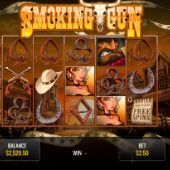 This is an excellent addition to your best western themed slots repertoire. A five-reel, 50 pay line low volatility game, Smoking Gun is a solid contribution from Rival to the Western-themed slot aficionados.
The game visuals, including crossed pistols (natch), cigar-chomping desperados, squinty-eyed sheriffs, wary saloon girls, fiery brands (a clever way to include the four card suits)—what more could you ask for? Do you also want a toe-tapping musical score playing in the background as you spin? You got it, podnuh.
The animations on the reels, as well as for the various winning combos you can get, are exceptionally executed and entertaining. This game will keep you hitting that button with scatters and free spins.
The RTP for Smoking Guns is 94.93%
10. Trigger Happy (Las Atlantis Casino)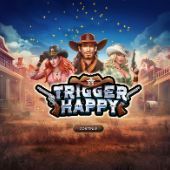 This best western themed slots from RealTime Gaming hits all the right notes, with well-designed symbols like cowgirls, saloons, cactus, boots, tin stars, horses, and desperados. It also includes the nine through the ace symbols for the lower end of the win scale.
A five-reeler, Trigger Happy's 30 pay lines are fixed, meaning that you don't need to alter your comfortable wager amount to access the full range of bonus rounds and free spins.
To get to those bonus features, you need to spin at least three of the scatter symbols (the tin star (or sheriff's badge, if you're being polite).
That gives you seven free spins. A randomly-awarded Lucky feature gives you a choice between the Trigger Happy bonus or the Lucky Games bonus. Go with the Lucky Games bonus, which can give you five to ten free spins.
Trigger Happy features a minor and a major randomly-awarded progressive jackpot—the latter of which is typically in the thousands of dollars.
Happy Trails to You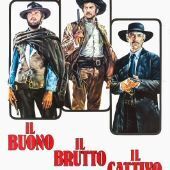 Online slots tend to focus on our other interests, so it's no surprise that there's a surfeit of TV show themed slots.
But until the internet's gold rush, there weren't that many slot machines seriously aimed at capitalizing on the enduring myths of the Wild West.
So don't delay: There's gold in them thar online casinos! (Sorry, that sounded much more clever in my head).
Be that as it may, it is true. Some of the top western slot machines mentioned above have much better RTPs than other types of slots, and not a few of them feature randomly awarded progressive jackpots that can be, if not life-changing—then certainly mortgage-paying.
If you're interested in the other themed slots, I suggest our sports themed slot machines.
AUGUST
Casino of the Month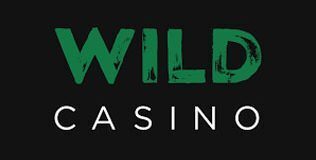 Welcome Bonus
250% up to $5,000
Read Review
Visit Site