Online Sports Betting Sites for Georgia
We get asked time and time again if it's possible to bet on sports online in Georgia. The short answer is – absolutely.
We're going to show you how to bet online for real money in Georgia in our guide below. Your first step to getting started is to join one of the best Georgia sports betting sites. You'll find our top picks below.
Rank
Betting Site
Exclusive Bonus
Get Started

#1

BetOnline Sports

60% Up To

$1,000

Visit Site

Visit Site

#2

Bovada Sports

50% Up To

$250

Visit Site

Visit Site

#3

BetUS

125% Up To

$2,500

Visit Site

Visit Site

#4

Everygame

100% Up To

$500

Visit Site

Visit Site

#5

MyBookie

100% Up To

$1,000

Visit Site

Visit Site
Can you bet on sports online in Georgia?
How do you bet on the Kentucky Derby in GA?
Can you use Bovada in Georgia?
Sports enthusiasts in the Peach State ask these questions over and over again.
Like most US locations, Georgia is a mixed bag with its betting opportunities. So, if you've been wondering similar questions because you'd like to give Georgia online betting sites a try, then you've come to the right place.
We're going to address your questions about sportsbooks, betting apps, and what you can (or can't) bet online in GA. Whether you want to back the Atlanta Falcons, Hawks, or Braves, you're more of a Georgia Bulldogs fan, or your preferences lie in the politics and entertainment realm, all will become clear.
The best real money Georgia betting sites are just a few clicks away. Are you ready to get started?
Can You Bet on Sports in Georgia?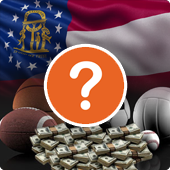 As you're probably aware, Georgia sportsbook legislation proposals have come and gone a few times already.
In 2020, some government officials went back to the drawing board with sports betting as a way to offset the substantial in-state losses resulting from the COVID-19 pandemic, but they still came up short.
No Brick and Mortar GA Sportsbooks
If you live in the state, you currently can't walk into a casino, sportsbook, or pull up a state-regulated GA betting site.
Where does that leave you if you're wondering how to bet on sports in Georgia?
One answer is that you can cross state lines and head into Tennessee. But, then again, that's not betting on sports in GA. The alternative is to use a Georgia online sports betting site that originates from outside the area.
Full-Service Betting in GA
While there are quite a few online casinos, there aren't as many Georgia online sportsbooks. The betting sites that do exist will usually include casino gaming. But it doesn't always work in reverse, as some Georgia online casinos stick to slots, table games, and video poker exclusively.
If you weren't aware that you could bet online in Georgia, you probably have quite a few more questions. One of the first would be how to locate the best provider for real money sports betting in Georgia.
The answers are right here on this page. We have a team of experts who have produced all kinds of results and recommendations for you. But, before we get to some suggestions, it's best to know what you're looking for when it comes to safe and legitimate Georgia betting sites.
Online Betting Options in GA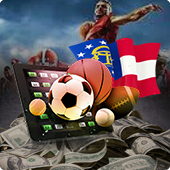 Let's start at square one with the types of Georgia betting websites that you'll find, courtesy of your good old laptop or smartphone.
As we mentioned, gambling sites could be limited to online casino games. But when an operator is known more for its virtual sportsbook, it tends to have casino action as well.
Those games ensure that players stick around, instead of submitting a bet slip and then heading over to Amazon to do some shopping.
Bet Online in Georgia
Unlike some of the massive sportsbook operations in places like the UK or parts of Europe that also host live streaming of the events, you won't find too much of that in Georgie betting sites. You can get in on live betting, though.
Aside from that, whether you're in your home state, or a place like London, China, or Australia, online sportsbooks typically list some American sports and soccer (football) from around the world.
At Georgia betting sites, the big four (MLB, NFL, NHL, NBA) will be at the top, but they're not the only games in town.
Tennis, rugby, golf, martial arts, boxing, and NASCAR rotate in and out with the season and schedule of events, and college sports are also in play.
GA Sports Betting Stakes
You won't see much of a difference between the types of betting allowed by Georgia sportsbooks. They typically cover the standards with single bets, parlays, teasers, pleasers, if-bets, round robins, totals, props, and futures.
The distinctions amongst the real money GA online betting sites lie more with the limits. Of the most legitimate and safest sportsbooks, you'll find minimums in the $0.50 to $2.00 range. Maximums are all over the place, depending on the sport and type of action.
For example, one GA betting site has a $25,000.00 ceiling on NFL spreads, while its competitor only allows for $5,000.00. That's a significant difference, and one of the things that you'll need to consider when you narrow your list for best sports betting in Georgia.
How to Use Georgia Online Betting Sites
After we hit the highlights throughout our introduction to Georgia betting sites, we'll move on to cover our recommendations and how we arrived at them.
First, though, it's best to touch on all aspects of online sports betting in Georgia, including player accounts, deposits, bonuses, and payouts.
If you're not aware of the differences between an in-person bet and using a real money GA online betting site, we haven't done our job correctly.
Just the Basics, Please
The first thing you have to do to get the ball rolling is to register a betting account. That'll give you a login and a place to keep your credit balance in the online sportsbook. Getting setup takes five minutes or less, as gambling sites are looking for the basics (name, address, and phone number).
You'll have to provide an accurate phone number, though, as the service usually calls you with a code to verify that you're submitting correct information.
Once you're good to go, you'll need to transfer money into your online account so that you can submit your first bet slip.
Overcoming the Banking Dilemma
Banking could be the tricky part of the entire process, at least for your first deposit anyway. It all depends on what method you're using, though.
If you have a Bitcoin wallet or the Georgia betting site that you've selected accepts other cryptocurrencies you possess, then it's a quick and painless process. Transactions typically take about 20 minutes for deposits and won't cost you anything.
Things change when you take the traditional banking route instead. Credit and debit card transactions are in the financial institutions' approval hands, so it's not always a slam dunk.
Here are a few banking tips that you may find useful, especially if you have a challenging time transferring money into your new online sportsbook account.
Mastercard tends to have a higher approval rate than Visa
Many online GA sportsbooks now accept gift and prepaid cards for deposits
Bitcoin or other cryptocurrency is one of the all-around best methods for fast and free transactions in both directions
If you use a card for your deposit, you may end up with a check payout as not all operators allow for card payouts
Review the entire banking menu for methods, turnaround time, and fees
When all else fails, Georgia betting sites accept money orders, cashier checks, and person to person transfers, but you won't have immediate access to your cash
As you're initiating your deposit, keep an eye out for the welcome bonuses available at most Georgia online sportsbooks.
You may have access to a free bet, a deposit match, or another player incentive reserved for new users.

Top Tip
Even some of the top-rated Georgia betting sites tack on fees to payouts, and sometimes to deposits as well. Others give you one free check withdrawal every 90 days. So, whether you're looking for the safest betting apps in GA or the safest GA sportsbook service on your computer, banking is a top consideration. A little planning can add to your winnings.
Grab Your Smartphone for Mobile Betting in GA
For the most part, we've been referencing laptop and desktop access to Georgia betting sites, but if you're curious about mobile betting, we've got the answer for you in a nutshell.
Yes, you can use your smartphone or tablet to access Georgia betting sites.
Geo-Located Betting Apps
As the Peach State doesn't have any state-regulated gambling venues, Georgia sports betting is only available from out of the area providers. The Google Play and Apple stores only approve real money betting apps for jurisdictions with in-state gambling operations.
That's why a place like New Jersey, with Atlantic City casinos launching online counterparts, can have official apps for its residents.
However, don't think about trying to access those from GA, as they're geo-fenced. The same holds in Nevada. Casino sportsbooks have launched mobile apps for players, but once you cross into California, Arizona, or Utah, access is gone.
Alternative to Betting Apps in Georgia
Even without an app, it's straightforward to use a mobile service.
Let's say that you're a boxing fan and you want to bet on the fight in Georgia, but you're away from your computer. All you have to do is take out your phone and type the name of your go-to sportsbook into your mobile browser.
Mobile formatting has come a long way over the last few years. You'll be amazed at how easy it is to submit your bet slip, even on the smallest screen.
Oh, and if you don't have a betting account setup, you can do that from your phone or tablet as well.
Don't be fooled, though; if you Google "best betting app Georgia," you'll get results, but they're not entirely accurate. "Best mobile betting Georgia" would be more precise.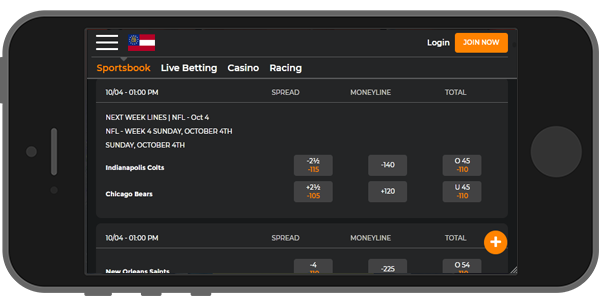 An Alternative to Off Track Betting
You could also try "off track betting Georgia," though you'd be disappointed in the results, as the state doesn't have any off-track betting locations. But, as sportsbooks and racebooks go hand in hand, there's another benefit to sports betting online in Georgia.
You'll find that the top real money Georgia sports betting providers also accept race bets from thoroughbred and harness tracks in the US and Canada. Some extend the service to include other global locations as well.
We have written a full guide that will show you how to bet on horse races online.
Expanded Betting Opportunities
When you first access a Georgia betting site, you'll probably be impressed with the variety of opportunities in front of you.
Regardless of which gambling site you opt to use, you'll see a busy sportsbook with line after line covering everything from NFL football to badminton. But sports betting now goes beyond the traditional with esports, virtual sports, and prop bets.
Esports to Politics
If you haven't investigated e-sports as yet, you may be surprised at how big the industry has become. Fans and casual bettors are fully aware of CS:GO, League of Legends, and DOTA2. It's not only fun for gamers but provides year-round betting opportunities.
Virtual sports extends to horse racing and are also the solution to weather problems, downtime, and off-seasons.
As far as props and futures in the sportsbook, pretty much anything goes these days. However, politics is number one in the US in 2020.
Around the world, prop bets like political predictions were the only game in town for a while as everything else was in COVID-19 lockdown. Regardless of what else is happening, though, politics will probably always be alive and well in Georgia betting sites.
Legal Sports Betting in Georgia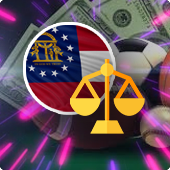 The state of Georgia has maintained its conservative stance regarding in-state gambling.
Unlike many other US locations, you won't find casinos within state lines, nor has sports betting made it through the legislative process.
An Unconventional Way to Bet Online in GA
The Peach State has maintained a successful lottery for several decades, with proceeds benefiting education. Even though most everything else is a no-no, except for some poker and charity gaming, the lottery is behind legal online gambling in Georgia.
Lottery players can buy online tickets, but there are also online games of chance ranging from $0.50 to $10.00. It may not be a formal casino or sportsbook, but it is a licensed and regulated Georgia betting site.
Georgia Sportsbooks Looming in the Distance
Georgia continues to turn down one gambling proposal after another. Sports betting isn't going away, though, and you can be sure that some government officials will continue to introduce bills until something finally clicks.
If you're interested in learning more about Georgia's gambling laws and history, we've got a detailed article devoted to the topic.
Choosing the Best GA Betting Sites
We started by letting you know that sports betting is in GA courtesy of out of area providers. Then, we progressed to touch upon betting markets, politics, racing, bonuses, banking, and mobile betting in Georgia.
What we haven't addressed as yet, is how we arrived at our list of best real money Georgia online betting sites. If you've done any research on the topic, you're aware that it's not as easy as looking for a movie theater or a restaurant, or even a land-based casino.
Legitimate GA Sports Betting
Without state-regulated services, it's necessary to look at the US-facing sportsbooks and find out which ones allow the Peach State residents to use the service. Then, it's time to narrow the options to the safest and best online betting for Georgia.
Our team has decades of experience in online gambling. Each member is fully aware of what to look for when compiling a list of the best Georgia betting sites, and it's a lengthy and ongoing process.
Our Six-R Approach to Finding the Top Betting Sites
Research
Review
Rate
Rank
Recommend
Re-visit
The reviews start before anyone looks at a betting website, as reputation, player feedback, and newsworthy items factor into the process. An owner with a pattern of payout problems isn't going to make a recommended list unless a significant amount of time passes with an impressive turnaround.
Once we get to the heart of the matter, though, we use a long list of criteria in conjunction with our rating system. This includes the following, and more.
Overall appearance and user-friendliness
Betting markets
Types of bets accepted
Minimum wagers
Maximum bets and win thresholds
Banking methods
Deposit and withdrawal fees
Payout turnaround time
Customer service availability
Sportsbook welcome bonus
After all of the data is compiled, individual scores and an overall average determines the overall rating. From there, we compare one site to another for our rankings, leading to the best Georgia betting sites, taking into consideration all of the criteria that we've outlined.
Keep in mind, though, that you could see rankings shift from time to time. That's because of the sixth "R" in the process, which is re-visit. We consistently update reviews and re-evaluate our findings.
How Should You Use Our Recommendations?
You could consider our list of top-rated GA online betting sites as our way of taking you close to the finish line, but you still need to cross it.
So, we advise starting with one or two and heading to the sites to get a better feel for what they provide based on your preferences. Look for the specific bet markets that you're interested in, as well as the banking situation.
If you want to use Ethereum, for example, only some of the GA sportsbooks accept it. You can find that information in the book's banking area, or we include detailed deposit and withdrawal information in each of our betting site reviews if you prefer.
Now You Know How to Bet Online in Georgia
We knew you had questions, and, hopefully, we provided the answers you were seeking.
You may also want to know that online gambling has come a long way, especially in recent years. Punters are savvy. They know what to look for and what to expect in a quality sportsbook. If they run into any issues with their bets, payouts, or even poor customer service, they're going to shout it out to the entire online gambling community.
So, you have nothing to worry about if you want to bet sports online in Georgia for real money. This is especially true if you join one of our top-rated Georgia betting sites.
Scroll to the top of this page now and choose the sports betting site that's right for you.
July
Sportsbook of the Month

Sign up Bonus
60% Up To $1,000
READ REVIEW
Visit Site
X