Online Sports Betting Sites for Alaska
There aren't any major league sports teams in Alaska. That's not surprising. But what is surprising is the fact that online betting is in full gear, thanks to the best Alaska sports betting sites.
Rank
Betting Site
Exclusive Bonus
Get Started

#1

Bovada Sports

50% Up To

$250

Visit Site

Visit Site

#2

BetUS

125% Up To

$2,500

Visit Site

Visit Site

#3

MyBookie

100% Up To

$1,000

Visit Site

Visit Site

#4

Everygame

100% Up To

$500

Visit Site

Visit Site

#5

BetOnline Sports

60% Up To

$1,000

Visit Site

Visit Site
Whether you're already aware of Alaska sports betting, or it's a foreign concept to you, we're going to do our best to demystify it.
We'll start with some unusual state-regulated betting in Alaska. From there, we'll dive right into online AK sports betting with some tips and tricks to make the most of your experience.
We've even conducted lengthy and thorough reviews of each AK online sportsbook, so that we could provide you with a list of the absolute best real money Alaska betting sites.
If that sounds good to you, then let's get started.
Alaska Sports at a Glance
The US' 49th state has less than a million residents, and most of them spread over 663,300 square miles.
So, accommodating everyone is a challenge in itself, and that's why real money online betting in Alaska is favorable.
Seattle or Vancouver?
If Alaskans want to catch a Seattle Mariners, Seahawks, or Kraken game, it's a minimum of a 12-hour ferry ride. So, it's not like everyone can just head to the stadium every night. Instead, it's more like a planned vacation, where you need at least a few days.
Scheduled flights are available from Juneau to Vancouver. But even by plane, you're looking at a seven and a half hour travel time plus your hours spent in the airport.
That means that Alaska's location is limiting for sports fans. Fortunately, most games and matches are televised, and the ones that aren't are probably streaming online.
Home Grown Sporting Events
Even though Alaska doesn't have any major league teams, it has a few exclusives that you won't find anywhere else.
The Last Frontier is home to the World Eskimo Indian Olympics, a multi-sports event that dates back to 1961. There's also the prominent Last Great Race on Earth, otherwise known as the Iditarod.
Sports Betting Laws in Alaska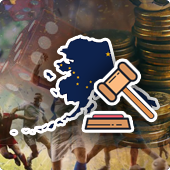 Not only are there no major league sports teams based in the state, but real money sports betting in Alaska is also off the table, at least in-person.
The legal stance on sportsbooks could soon be changing, though.
Economic Considerations
Alaska received statehood in 1959, and, since then, it hasn't worried too much about maintaining its state budget. The pipelines kept the state coffers overflowing. Since 1976, residents have even received annual checks from the Alaska Permanent Fund.
But the current economy, partially fueled by the Coronavirus pandemic and low oil prices, is prompting AK government officials to look elsewhere for income streams.
Alaskans don't pay state income tax or sales tax, so it's time to get creative.
Gambling to Provide State Funds?
One of the top of mind considerations is an Alaska State Lottery.
Currently, the only legal betting opportunities in AK are bingo, pull tabs, charity gaming, and a few unusual sporting events tied to non-profits. Alaska is one of only five remaining states that are lottery holdouts. So, as times change, it makes sense to try something new.
Along with a lottery program, legal sports betting for real money is also in the discussion phases. Previous Alaska sports betting bills have failed to get past the proposal stage but never say never.
It certainly makes more sense to introduce lottery tickets and betting kiosks than alternatives like casinos, simply based on the expansiveness of the Last Frontier. Anchorage is the largest city and is still under 300,000 residents.
Exclusive Sports Betting in Alaska
A complete, state-sanctioned AK sports betting program is still up in the air, but there are a few unusual annual wagering opportunities.
While little betting pools may pop up from time to time, such as the first salmon catch of the year, all eyes are on the Iditarod.
The annual competition starts on the first Saturday in March every year. It's also known as the Last Great Race on Earth, and where else can you have a successful 15-day dog mushing contest than the great state of Alaska?
As the Iditarod organization is categorized as a non-profit, the event falls under charitable gaming.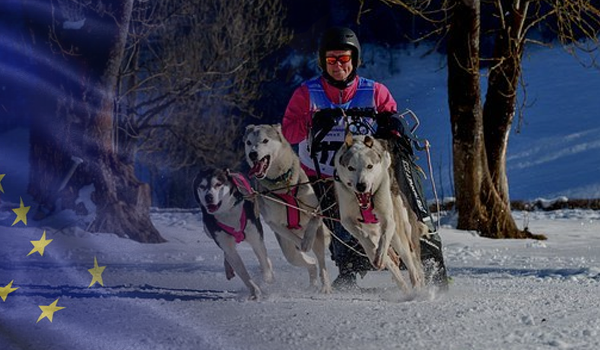 Trifectas
There have always been cash-backed predictions. But now, Alaska punters can get in on official trifecta action for the annual competition.
Participants need to be 18 or older and buy-in for $10.
The three-part bet slip includes the following.
The winning musher
Speed
How many dogs they'll have at the finish line
Tie-Breakers
Winning bets are taken one part at a time. So, ties on the winning musher then move on to how long it took for the competitor to finish the race. If there are still ties, then the number of dogs is next. If all three results in a tie, the payout is split.
Unlike the typical bookie situation, trifecta betting is divided accordingly.
40% to the winner of the trifecta
40% to the Iditarod organization
20% split between the top 20 mushers
You won't find this betting opportunity at any of our top-rated Alaska betting sites. The state has an exclusive on this type of bet for now.
AK Daily Fantasy Sports
We mentioned that bingo, pull tabs, and charity gaming are three legal gambling activities in Alaska. Daily fantasy sports (DFS) fall into an odd gray area, and it's not just ambiguous in Alaska, but several other states.
Everyone has differing opinions on whether DFS is gambling or a game of skill. Some states, like Hawaii, strictly prohibit the activity, while others have given it the official nod.
Alaska isn't an unusual case, as there are still quite a few places that just look the other way. They neither endorse it nor prohibit it.
So, plenty of Alaskans are participating in daily fantasy sports for real money. Like internet casinos and online sports betting in Alaska, DFS is convenient because it's an online game.
Other Alaska Betting Sites
Alaska doesn't have any land-based casinos, nor does it have state-regulated sports betting or poker rooms.
So, for Alaskans who enjoy backing their favorite teams, or playing slots or table games, the only alternatives are online.
Betting for AK Punters
US-facing gambling sites allow residents from most US states, including AK, to use their services. They structure their banking and bonus programs for Americans, and use software licensed for North American casinos and sportsbooks.
If you're a casino player, you have a bigger selection of websites. That's because online casinos stick to slots, table games, and video poker.
But, many sportsbooks don't just stick to sports and race betting. They expand their services to include slots, table games, and may even have a poker room. So, many online sportsbooks are actually full-service gambling sites.
Alaska Online Sportsbook Essentials
When you set off to find one of the best real money Alaska sports betting sites, you'll want a bookmaker that includes services that are essential to your needs.
Plenty of betting markets (especially the ones you prefer)
Variety of wagering types (straight, parlay, moneyline, if-bets, reverses, etc.)
Bonuses, promotions, tournaments, free bets
Proposition bets and futures (entertainment politics, religion, etc.)
In-play betting
Banking menu with plenty of deposit and withdrawal alternatives
User-friendliness and mobile access
Responsive customer service
Other betting opportunities, like slots and table games
We cover all of these things in our reviews, and they're factored into our rating and recommendation process.
We'll fill you in more on our process shortly, so you can see how seriously we take online betting in Alaska.
How to Bet Online in Alaska
We don't want to take up too much time covering the ins and outs of online betting here, as we have other "how-to" articles that fit the bill.
However, it's important to touch on the basics, especially if you've never accessed an Alaska betting site before.
Money Talk
Aside from selecting the safest and top-rated AK sports betting sites, which we're about to help you with, the most important aspect of real money online sports betting in Alaska is having a proper banking method.
Alaskans are in a similar situation as players from the rest of the US. Americans don't have long lists of non-traditional banking methods. Most US players tend to go right to the debit or credit option whether making a simple online purchase or funding a betting account.
In other countries, e-wallets and prepaid solutions dominate when it comes to financial alternatives.
Banking Menus
So, when you're trying to get the ball rolling with your first sports bet, be prepared. Debit, credit, and gift cards are accepted by most Alaska sports betting websites, but approval is in the hands of your bank. If you're declined, you'll have to move onto plan B.
Plan B is our favorite, as it's Bitcoin or other cryptocurrencies. Crypto methods are ideal for betting account deposits as they're fast, free, and almost 100% guaranteed. If you're planning to be a regular AK betting site user, a Bitcoin wallet could end up being your best resource.
There's also a Plan C, though. You can ready yourself for online betting in Alaska with a money order, cashier's check, or bank wire. We've even come across the occasional betting site that allows for Zelle.
Sports betting in Alaska is so much easier once you hop over that banking hurdle.
So, the process to get started with online betting is as follows.
Find the all-around best online sportsbook
Take two minutes to register a new player's account with your name, address, and phone number
Make a deposit into your new betting account
Once you have a credit balance in your player's account, you're good to go for your first bet. It's almost easier submitting a bet slip online than in person, as you've got prompts and directions right in front of you.
Bonuses at Alaska Sports Betting Sites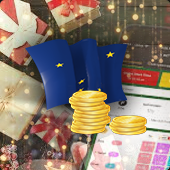 Sports gambling in Alaska comes with a few perks, aside from convenience. Most of the top-rated sports betting sites for AK welcome new users with various incentives.
You could receive a deposit match bonus, which could be something like 100% deposit match on your first transfer. Other opportunities involve free bets or sports betting tournaments.
The one thing that you'll want to know, though, is that you may have to comply with some playthrough requirements (aka rollovers).
A rollover is the number of times that you need to wager your bonus amount or, in most cases, your deposit plus bonus. Sports betting bonuses tend to be easier to comply with compared to casino offers. In the casino, you may have to meet rollovers as high as X30 or even X40.
Sportsbook bonuses have lower playthrough requirements that are typically between X1 and X10. In any case, be sure to read through bonus terms and conditions before you take the leap. You want to be sure that you reap the benefit of these offers instead of embarking on a losing proposition.
Mobile Betting Sites in AK
Whether you prefer to use your computer or smartphone, you'll have the same access to sports gambling in Alaska.
When you bet sports online for real money in Alaska, you'll see that the best bookies have easy to use mobile betting sites in AK as well. All you need to do is pull up the website the same way that you would on your desktop or laptop.
The mobile responsive sportsbooks should accommodate your need for mobility. But don't go searching for them in the Google Play or Apple stores or you'll come up empty. Any betting site app that you could across is for social gaming only.
Alaska betting sites give you mobile access, but they don't typically provide official apps that you can download.
Ranking the Best Alaska Online Betting Sites
We've already given you a few tips on what to look for in a quality Alaska sports betting service. They include things like the variety of betting opportunities, as well as banking, customer service access, etc.
However, when we're preparing our lists of recommendations, we take an even more detailed approach.
Our AK sportsbook recommendation method consists of three parts.
Compile background information – sportsbook ownership and management, player feedback, news items, patterns of positive or negative reviews
Complete and comprehensive review – our evaluations cover every aspect of the AK sports betting site from betting opportunities to banking, bonuses, customer service, and overall impressions
Revisit and monitor for changes – follow-up reviews, research on sister sites, etc.
Review, and Then Review Again
The first two parts are straightforward. We're looking at what we can see, as well as what goes on behind the scenes. But, after we review, rate, and rank the most legit AK betting sites for real money, we return from time to time and re-review them again.
That's why you may see our rankings and recommendations change from time to time. New management or added services could change our impressions.
Our expert team stays on top of everything, monitoring player forums, watching for new sites to launch, or expanded betting opportunities.
You can read more about our recommendation process in a separate article. But the takeaway is that we don't suggest an Alaska betting site unless we have the information to back up our decision. So, you can feel confident selecting from any of our top-rated online sportsbooks for AK players.
The best bookmakers all provide the following.
A well-designed website that's consistently maintained and updated
The most popular betting markets, as well as global events
Horse racing bets, whether in a separate racebook area or prominently displayed in the sportsbook
In-play wagering
Easy to read lines – via computer or smartphone
Customer service availability
Free or low-fee payouts
Quick payout approval and processing
Plenty of banking alternatives
Bonuses without high rollover requirements
Tournaments and other promotions
We can't give you the absolute best Alaska betting site, as it depends on your personal preferences. What we can do, and have done, though, is narrow the field to the operators that fit the bill with all of the above criteria.
So, you've now got a list of the best providers for real money online betting in Alaska.
You're Minutes Away from Betting Online
Alaska betting sites give punters the full Las Vegas sportsbook experience from the top betting markets to prop wagers and futures.
Free bet bonuses, comp points, and casino games on the side round out the gambling site features.
So, even though you don't have any in-state sportsbooks, you're just a few clicks away from the best Alaska betting sites, no travel required.
Alaska Sports Betting FAQ
Is sports betting legal in Alaska?
Brick and mortar casinos and sportsbooks aren't legal in the state of Alaska. But there are proposed bills that could change the gambling climate in the future.
In the meantime, residents can use online sportsbooks or mobile betting sites in Alaska, both through offshore providers.
How do I find an Alaska sportsbook?
Currently, you can't visit an Alaskan sportsbook, as sports betting legislation is pending but hasn't passed as yet.
The only AK sports betting services are online through out of state bookmakers.
Can I participate in real money betting in Alaska?
Yes. State-approved activities include bingo, pull tabs, and charity events, like the Iditarod. Daily fantasy sports aren't officially sanctioned, nor are they off-limits, so Alaskans participate anyway.
For all other betting opportunities, like sports betting or casino games, AK residents have some safe and legitimate gambling websites.
What do I need to do to bet online in Alaska?
Alaska sports betting sites are easy to use. All that's required is a simple registration, which takes about two minutes.
From there, you'll need to move cash into your betting account if you're planning on real money wagering. All AK sportsbooks accept debit and credit cards, but cryptocurrency, like Bitcoin, is an ideal choice for both deposits and payouts.
Once you have a cash balance, you can submit your bet slip right from the bookmaker's homepage.
Are there mobile betting sites in Alaska?
While there aren't any official betting apps in Alaska for your mobile device or smartphone, mobile betting is possible. Every reputable sports betting provider has a full-service mobile responsive mini-site.
All you have to do is type the website address in your mobile browser, and you can even register a new player's account, if you haven't done that already.
May
Sportsbook of the Month

Sign up Bonus
60% Up To $1,000
READ REVIEW
Visit Site
X