Online Sports Betting Sites for Alabama
The only thing better than watching your favorite sports team win on TV is winning the bet you made on your team to win while watching it all happen in real time.
This is easier than ever to pull off thanks to the internet. All you need is a few bucks for placing your bets and an account with one of the legit Alabama sports betting sites that will take them.
Rank
Betting Site
Exclusive Bonus
Get Started

#1

Bovada Sports

50% Up To

$250

Visit Site

Visit Site

#2

BetUS

125% Up To

$2,500

Visit Site

Visit Site

#3

MyBookie

100% Up To

$1,000

Visit Site

Visit Site

#4

Everygame

100% Up To

$500

Visit Site

Visit Site

#5

BetOnline Sports

60% Up To

$1,000

Visit Site

Visit Site
You can start betting online for real money in Alabama by joining one of our recommended sites now. But what if you don't know where to start?
Our AL betting guide below will help you out. Here's what you'll learn.
The Alabama sports teams you can bet on
Whether you can bet online in the state
The legality of betting in AL
What the future looks like for sports betting in the state
And more.
By the time you're done reading this guide, you'll have the information you need to start betting for real money in AL.
Let's get started.
Why We Recommend These Alabama Betting Sites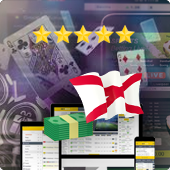 If you want to bet sports online, then the first thing you need is an account with at least one online sportsbook in Alabama.
You can try to find a sportsbook on your own. But we think that's a bad idea. There are dozens of sportsbooks in the state. It will take you countless hours and hundreds of dollars to properly test them all.
Do you have the time to do that? Most people don't. If you're like most people, you barely have time to watch the game each week. Odds are you don't have hundreds of dollars to blow testing sportsbooks either.
Leave the testing and financial risk in our hands instead. Our team of expert online sports bettors go through every betting site with a fine-toothed comb to ensure it's safe for you to join.
What do we look for?
Betting license
Positive reputation
Variety of US banking methods
Fair terms and conditions
Large selection of betting markets
Betting welcome bonus, rebates, and free bets
Mobile betting app or website
Competitive odds and lines
If you're new to betting online, then we recommend joining any betting site we recommend that sounds good to you. You can't go wrong.
However, if you have an idea of the types of bets you want to make, banking methods you want to use, or the promotions you want to claim, then read our betting site reviews.
That's all there is to it. If you want to bet sports online for real money, then you need an account with an online bookmaker – preferably one of the best.
The easiest way to find a legit online bookmaker in AL is to look at our list of recommended sports betting sites, which you can find at the top of this page.
Betting on AL Sports Teams
AL is the second most populous state without a professional sports team, but if you are looking for information about Alabama sports betting, you probably already knew that.
However, there are several minor league teams in the state that you can bet on.
When you use one of our recommended Alabama online betting sites, you'll be able to bet on the University of Alabama Crimson Tide, the Auburn University Tigers, and many other college-level teams.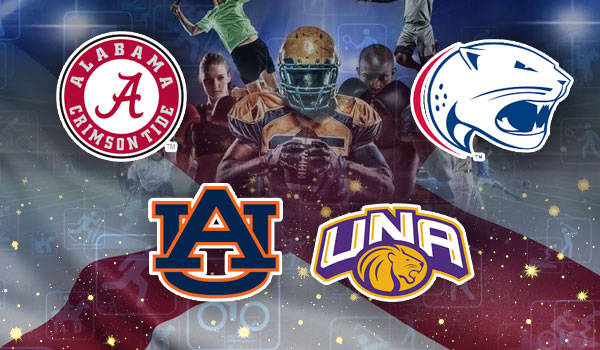 In case you're also wondering what types of bets you can place, our favorite sportsbooks accept all sorts, including futures, spreads, over/unders, straight bets, and parlays.
Mobile Betting Apps in Alabama
No matter where you are, online sports betting in Alabama is always just a click away. You can use your mobile device to bet on sports anywhere as long as you have an internet connection.
If you are looking for an AL betting app, you need to know what to look for. Here are a couple things to keep in mind.
AL sports betting apps in the Google Play or iTunes app store are play-for-fun apps. You can't use these apps to make real money bets. Many mobile betting apps offer only information. You can use them for betting statistics, team updates, betting lines, and more. These, too, aren't for making real money wagers.
The best Alabama sports betting sites don't have an app for you to download. Instead, you use your device's browser to access the betting site.
When you place your wagers on a mobile website or sports betting app in Alabama, you'll be able to access all of the same bets that you could if you were betting on your PC.
The bottom line is that online sports betting in Alabama is convenient and straightforward with these mobile-friendly websites, which is why so many people enjoy mobile sports betting. They let you place wagers from anywhere and at any time.
The mobile Alabama online sportsbooks we recommend are easy to navigate too, even when you are on your phone. You can quickly search for your favorite teams and wagers without having to scroll through hundreds of options.
It doesn't matter whether you use an Alabama betting app or one of the top sports betting sites in AL on your mobile device's internet browser. Online betting in Alabama for real money is easier and more convenient than ever before, thanks to these mobile options.
Horse Racing Betting in Alabama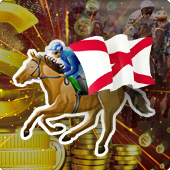 Race betting is a sub-section of sports betting, but there are some significant differences. One of the most significant differences is the fact that horse race betting and dog race betting have been legal and regulated longer than any other form of gambling.
For the longest time, Nevada was the only state that allowed casinos and sports betting. However, almost every other state, including Alabama, made an exception for race betting.
Live horse races in Alabama were short-lived because the Birmingham Race Course did not open until 1987. By the time AL got its first live racetrack, the sport of horse racing was already dying out across the country.
So, the Birmingham Race Course focused on greyhound racing instead. They offered live greyhound racing from 1993 until 2020 but chose not to reconvene live racing after the end of the Coronavirus shut down.
Birmingham Race Course is still available for simulcast wagering of horse and dog races around the country. They also recently added electronic gaming machines that let you gamble on horse races that have already happened by blocking some identifiable information.
The owner of the track has stated that they hope to bring live horse races and live dog races back to the track in the future, but it is not financially feasible to continue live racing right now.
If you are a die-hard racing fan, you are probably upset about the lack of live racing in Alabama. You can continue to bet in person through simulcast facilities, but the best way to bet on horses for real money is to visit an Alabama betting site online.
Daily Fantasy Sports in Alabama
Another type of online betting in Alabama is daily fantasy sports. Daily fantasy sports or DFS is different from traditional sports betting in that these wagers do not apply to a specific team or player.
Here is a basic introduction to how DFS betting works.
Instead of betting on whether the University of Alabama will beat Auburn University, you create a fantasy team that could have players from both schools. And then you wait until after they play their game to see if you fantasy team won.
DFS requires a thorough knowledge of player statistics, so it is often classified as a game of skill instead of chance.
| | |
| --- | --- |
| Traditional Sports Betting | Daily Fantasy Sports |
| Based on the results of live sporting events | Based on statistics |
| Players compete against a bookmaker | Players compete against each other |
| Illegal outside of Nevada until 2018 because of PASPA. Since PASPA has been repealed, some states are considering legislation. | UIGEA included an exception that fantasy sports betting was not gambling because it required skills and knowledge. |
| Bookmakers collect money on losing bets | DFS sites collect entry fees from tournaments |
| You place your bets on a game-by-game basis | You can create one fantasy team and enter it into multiple contests. |
| Offers several different types of wagers | Offers different types of tournaments |
| You can bet on any sports, including international teams | Most DFS sites only accommodate major league teams in the United States |
While fantasy sports have been considered legal in most states, in 2016, Alabama's Attorney General, Luther Strange, stated that daily fantasy sports betting was an illegal form of gambling.
He claimed that DFS betting was different from traditional fantasy sports that take an entire season to complete. Part of his statement was a cease and desist order that forced DFS sites like FanDuel and Draft Kings to stop accepting players from Alabama.
After that statement, daily fantasy sports in Alabama was impossible for several years. Legislators worked for three years to pass legislation that would allow DFS.
Finally, in June of 2019, Governor Kay Ivey signed the bill to create a licensed and regulated DFS betting industry in Alabama.
Thanks to that new law, AL online sports betting now includes daily fantasy sports options.
Sports Betting Laws in Alabama
While we cannot offer legal advice, we can explain our interpretation of the betting legislation and laws in Alabama.
Before you start betting online, the first thing you need to know is, can you bet online in AL? The short answer is, yes, because the state constitution does not explicitly prohibit sports wagers. You are free to bet online in Alabama for real money because there is nothing that specifically outlaws the activity.
However, not illegal is not the same thing as legal and regulated.
Most people use AL online sports betting sites that are operated by a company in another country. Corporations in Alabama cannot offer sports betting because there is no regulated industry, but that could be changing soon.
The Future of Sports Betting in AL
In February of 2020, Representative John W. Rogers introduced a bill, H.B. 336, that would create an Alabama sports wagering commission and set up a process for businesses to get a license to operate a sportsbook in Alabama legally.
Unfortunately, the bill got stalled in committee because of the Coronavirus pandemic.
It is unclear whether the House of Representatives will eventually get to vote on H.B. 336 or if the issue will get revisited sometime in 2021. But it is good news that Alabama's political leaders are considering the possibility of regulated, real money sports betting.
Hopefully, you will be able to use Alabama online sports betting sites operated by local companies in the future.
However, the legislative process could take several years. Until the state's political leaders make sports betting legislation a priority, you can enjoy online sports betting in Alabama by using some of the safe, legitimate, top-rated sports betting sites that we recommended above.
Bet Online for Real Money in AL
You have lots of options for online sports betting in AL. You can enjoy traditional sports betting, horse and dog race betting, and daily fantasy sports.
The legitimate Alabama betting sites that we recommended at the top of this page allow you to participate in all types of betting from your computer or mobile device.
They are safe betting sites that give you all of the sports betting options you need, including the option to place a wager on your favorite Alabama college sports teams.
AL Sports Betting FAQ
We have given you a lot of information on Alabama online sports betting, but there are always a few questions that remain.
To ensure you have all the information that you need, we have compiled this list of frequently asked questions.
Can you use Bovada in Alabama?
Yes. Bovada is one of the top sports betting sites in Alabama (and the rest of the United States).
You can also play your favorite casino and poker games at Bovada.lv.
How Old Do Must You Be to Bet Online AL?
Alabama is unique because it is one of the only states that allow people younger than 21 to gamble. There are a few tribal casinos that offer electronic bingo machines and Class II gaming. You have to be 18 to gamble in one of those tribal casinos, or if you want to gamble at a charity event.
The gambling laws in Alabama stipulate that you must be at least 19 to bet on horse or dog races and daily fantasy sports.
All gambling requires some elements of risk. That is part of what makes it fun.
However, you do not want to take on more risk than necessary. There is a difference between the inherent risks of gambling and the risks that come with scams or predatory terms. Online sports betting in Alabama is safe as long as you choose a reputable and trustworthy betting site.
What Does AL Law Say About Bookmakers?
Compared to other states, the betting laws in Alabama are confusing. They have several harsh laws that make things like arcade games a crime, but they also do not do a good job of defining crucial terms. So, there is a lot of confusion and room for interpretation in Alabama's gambling laws.
One example of this confusion is the bookmaker law. The state's constitution says that acting as a professional bookmaker is illegal, but it exempts people who take casual or personal bets. It does not go any further, so there is no explanation of what separates casual bookmakers from professionals.
We recommend you seek expert advice if you have any concerns about real money online betting in Alabama.
May
Sportsbook of the Month

Sign up Bonus
60% Up To $1,000
READ REVIEW
Visit Site
X