Women's Flyweight Division in the UFC
The UFC women's flyweight division was created in December 2017.
This makes it the youngest division under the promotion's banner and one that doesn't have the same highlight reels and historic appeal as other weight classes in combat sports.
But despite its lack of history, this is a division that has huge potential. With the iconic Valentina Shevchenko running the show, the pastime of betting on UFC women's flyweight fights has increased in popularity, just as it should.
This page is designed to help you place your bets on women's flyweight bouts by providing you with everything you need to know about the weight class. As you will gather from the list below, this is an extensive page that covers upcoming fights in the division, the contenders battling for the title, and so much more.
Feel free to get started with any of the categories below!
Upcoming UFC Fights at Women's Flyweight
Jessica Eye vs. Joanne Calderwood – UFC 257
Roxanne Modafferi vs. Viviane Araujo – UFC FN 185
Victoria Leonardo vs. Natalia Silva – UFC FN 186
Nicco Montano vs. Karol Rosa – UFC FN 187
Molly McCann vs. Lara Procopio – UFC FN 187
If you're new to this page, this is, basically, where you will find details of upcoming UFC women's flyweight fights.
From Valentina Shevchenko to Jessica Andrade, you can begin planning on betting on getting your women's flyweight title bets down by visiting this section. Details of the scraps involving all ladies at 125-pounds will be here.
Now, you can also find details of upcoming fights in other weight classes. In order to do that, visit our UFC Schedule page to see what's on the menu.
Current Women's Flyweight Champion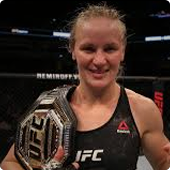 Current Champion: Valentina Shevchenko
Champion Since: December 8, 2018
Successful Defenses: 4
Last Opponent: Jennifer Maia
Artist. Icon. Technician. Savage.
Just a few choice words to describe one of the greatest living mixed martial artists, Valentina Shevchenko.
This lazer-precise MMA genius was born in Kyrgyzstan to a Ukrainian family. Still, she is proud to refer to herself as "thoroughly Russian." Her family enjoyed Soviet citizenship before the breakup of the U.S.S.R., but Shevchenko still closely aligns herself with Mother Russia.
Shevchenko has previously come out to deny she is a deep cover spy.
Shevchenko's love of combat sports developed at a very young age. She took up taekwondo in kindergarten and Muay Thai a few years later. Then, "The Bullet" decided to try her hand at the famous Brazilian art of Vale Tudo.
Along with Amanda Nunes and Cris Cyborg, Shevchenko is one part of a trio of truly legendary female mixed martial artists. She is peerless at this weight class and is not expected to lose a fight at women's flyweight any time soon.
Now, that might make the following section feel a little… mmm, I don't know, pointless? But, of course, when it comes to fighting, any fighter can win on any given day.
Here are the ladies tasked with arguably the most difficult role in combat sports today.
Leading Women's Flyweight Contenders
Valentina Shevchenko is as close to the perfect champion as you will find in MMA.
Her dominance knows no bounds, and her stranglehold over this division looks impossible to break free from. It is her domain, and therefore anyone looking to shake up the status quo will need one hell of a performance to cause her any trouble.
No one is unbeatable. Just ask any of the following pretenders to the women's flyweight crown, and they will tell you that.
Jessica Andrade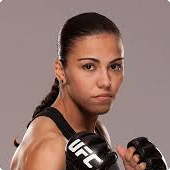 Andrade is a tank.
The former strawweight champion hits like a freight train and loves nothing more than a firefight on the feet.
Andrade has set her sights on capturing the UFC women's flyweight title, but in order to achieve that goal, she will first have to dethrone the current champion.
A task much easier said than done, even for a woman that can literally slam her opponents on their heads at will.
Katlyn Chookagian
Chookagian has previously fought for the UFC flyweight strap but came up short to Valentina Shevchenko.
A tall and rangy fighter, Chookagian looks to dominate her opponents by using her sizeable advantage and simple but effective boxing.
The American is a handful for any fighter on any given day.
Lauren Murphy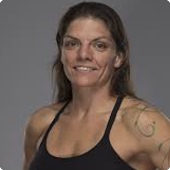 Murphy has worked her socks off in order to be heard at 125-pounds.
A tough jack of all trades, Murphy is another fighter that loves to get stuck in.
An attritional competitor, "Lucky" isn't afraid to get her hands dirty on the inside.
Her commitment to roughing up her opposite woman makes her a difficult opponent.
Can the Alaskan get her hands on the title?
Cynthia Calvillo
Calvillo is another strawweight to flyweight convert on a mission to take Valentina Shevchenko's crown.
A good all-round fighter with a solid Muay Thai striking base, Calvillo is also dangerous on the floor.
Like many of her peers, her eyes are set firmly on glory. But does she have what it takes to win the title?
Top UFC Prospects at Women's Flyweight
Maycee Barber has a big career ahead of her. That was clear from her stint on the Contender Series.
The American prospect is still finding her feet in mixed martial arts but has plenty of time to develop on her already impressive array of skills.
If Barber can keep improving, she could one day go very far in the promotion. At this point, winning the UFC women's flyweight title in the future is a very achievable aim.
Kazakhstan's Mariya Agapova is another fighter with a bright future in the UFC.
Agapova, like Barber, has shown tremendous potential and will only get better with time. Will she one day rule this division? And if so, can she create a legacy that will be remembered alongside the division's greatest ever fighter in Valentina Shevchenko?
Let's now change direction, for a little. Instead of looking to the future, let's instead look back to the previous champions in the division.
Previous Women's Flyweight Champions
As the most recently added division under the UFC banner, women's flyweight doesn't have a lot of history to cover.
In fact, we have had just two champions in this division since the title was put on the line in 2017. Valentina Shevchenko was the second, but the inaugural champion was none other than Nicco Montano.
Nicco Montano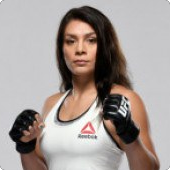 Won Title: Against Roxanne Modafferi (December 1, 2017)
Lost Title: Stripped of Title
Successful Defenses: 0
Montano is of Navajo, Chickasaw, and Hispanic descent.
Her love of mixed martial arts was developed at an early age, eventually culminating in the young Montano fighting on the regional scene. Her success in smaller MMA promotions led to a place on The Ultimate Fighter: A New World Champion, where she would go on to win the inaugural women's flyweight title.
Montano, who had struggled financially before the win, announced that she would "buy good food" with her prize money from the show.
Despite never defending her title before being stripped for a botched weight cut, Montano will always be remembered as the first fighter to have owned the women's 125-pound strap.
Other Notable Women's Flyweights
When compared with some of the older divisions in the UFC, women's flyweight can't compete with the history of any of them.
But still, there have been fighters that have made their presence known in the weight class.
They may have failed to win titles or failed to impose themselves on the upper reaches of the rankings, but the following ladies will be remembered as flyweights of note.
Roxanne Modafferi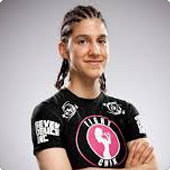 Modafferi lost to Nicco Montano in the very first UFC flyweight title fight.
But that never deterred her from pushing her way into the leading pack in the division.
She won some; she lost some.
She always came back for more.
Modafferi's staying power was insane, given she made her MMA debut in 2003.
Joanne Calderwood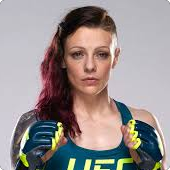 As Scotland's first female professional mixed martial artist, Calderwood was no stranger to pressure.
A Muay Thai standout, the Irvine-born striker fell in love with the Thai art by complete accident.
She attended a class to keep her brother company when his friend failed to show up.
This lit the match that would eventually grow into a fire.
Best UFC Fights at Women's Flyweight
The UFC women's flyweight division just hasn't had enough time to compete with the likes of the men's lightweight division when it comes to iconic fights.
In time, this will surely change. There is no doubt that we will have many more examples of great fights to list below in just a few years. As more and more fighters develop — and the competition hots up even more — we can expect to see greater contests.
As for now, these are the historic fights that stand out at 125-pounds.
Shevchenko vs. Eye
Event: UFC 238
Result: Shevchenko by TKO
At UFC 238, Valentina Shevchenko's aim was to defend her UFC flyweight title for the very first time.
Standing opposite Shevchenko was Jessica Eye, the number one contender to the champion's crown. It was her shot at glory and one that she wouldn't let slip through her fingers.
But from the first bell, it was clear that Shevchenko was in the mood to attack. She peppered Eye's body with slamming kicks before pushing the pace up with takedowns and shots from the top. Eye wasn't ready to give in, however, and scrambled out of danger before finishing the first round with confidence.
Not long after the 2nd bell, Shevchenko showed why she is an all-time great.
Montano vs. Modafferi
Event: TUF 26 Finale
Result: Montano by Unanimous Decision
In a battle of will, Nicco Montano overcame the rugged toughness of Roxanne Modafferi to become the first-ever UFC women's flyweight champion.
Montano was not expected to appear in the final but got the call on super late notice when Sijara Eubanks was not cleared to take part in the TUF 26 finale. It was a serious stroke of luck that presented Montano with a huge opportunity to realize her greatest ambition.
The Arizonan got the nod from all three judges and left the cage as a champion.
To learn about other great UFC fights, visit our dedicated page to the best fights in the promotion by hitting the button below.
Major Rivalries in UFC Women's Flyweight
We would love to tell you about the heated rivalries that have gone down in the women's flyweight division of the UFC.
More than that, we would enjoy nothing more than explaining how such rivalries were forged by competitors who were just so close to each other in terms of skill and accomplishment. But that just isn't the case with this division. Not yet, at least.
As long as Valentina Shevchenko competes in the UFC women's flyweight division, she will be the champion. There is no fighter at this weight class that will beat her. Regardless of who stands in there with her, Shevchenko will win.
One of the goals the Russian has is to create a legacy that looks even more impressive in the record books than that of Demetrious Johnson. Shevchenko can certainly go on to better men's flyweight legend Johnson's 13 title defenses. But is her perceived lack of quality opposition something that works against her?
Well, that's a very difficult question to answer because Shevchenko is just miles ahead of most fighters on the planet. Perhaps the only fighter that can beat her right now is Amanda Nunes, but her focus is on defending her UFC bantamweight and featherweight titles.
As it stands, Shevchenko's only rival in the UFC women's flyweight division is herself. If she can stay focused, avoid complacency, and continue to be a standard-bearer in women's MMA, she will carry on doing what she does best.
That's winning.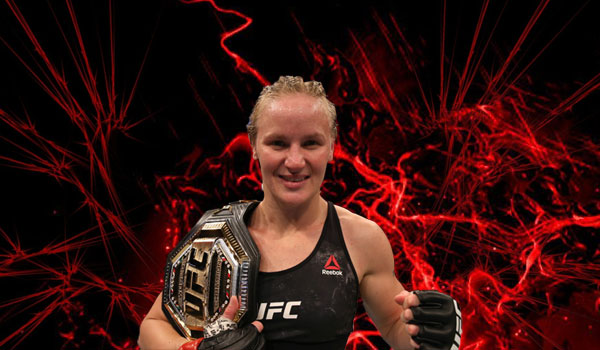 Future of the Women's Flyweight Division
The UFC women's flyweight division is a little too young to have the same depth of history as the more established weight classes.
But the upside to this is that we will get to witness the weight class go from strength to strength over the coming years.
It's more than likely that the division will be run by all-time great Valentina Shevchenko for the foreseeable. But will we get to witness a fighter emerge that can dethrone someone who, at least feels like, the eternal champion at 125-pounds?
That's a matter that will be decided over the coming years.