Women's Featherweight Division in the UFC
Compared to other weight classes in MMA, the UFC women's featherweight division is an infant.
While the two original codified divisions of the promotion were born from what was essentially an early experiment in the 1990s, this weight class made its debut in February 2017.
But even though women's featherweight is one of the youngest divisions in mixed martial arts, there has been a lot of quality action since its inception.
We're covering everything there is to know about the heaviest weight class there is for women in the UFC, from the past to the present, and even a bit of the future.
If you are looking to bet on UFC women's featherweight fights, bookmark this page. Why? Well, let's just say that it could come in very handy when placing your wagers. Additionally, the information on this page will take your knowledge of the promotion to a whole new level.
Upcoming UFC Women's Featherweight Fights
Looking for the latest odds, bets, and predictions for UFC fights in the women's featherweight division?
If so, this is where you will find them. We update this section with details of all upcoming fights in the women's 145-pound weight class, so remember to come back and visit us regularly to stay on top of things.
Of course, you will find a list of the latest UFC fights to bet on below.
Current UFC Women's Featherweight Champion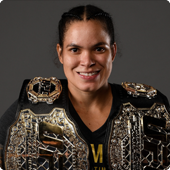 Current Champion: Amanda Nunes
Champion Since: December 29, 2018
Successful Defenses: 2
Last Opponent: Megan Anderson
Amanda Nunes is one of the greatest mixed martial artists of the century.
One of the only two-weight world champions in UFC history, the Brazilian powerhouse stands at 5'8″ and fights in both the featherweight and bantamweight divisions. She is regarded as the best there has been in women's MMA at both 135 and 145 pounds.
Growing up in the Brazilian state of Bahia, Nunes took up karate before she started elementary school. She eventually moved on to Judo, before taking up Brazilian Jiu-Jitsu. Nunes moved from Brazil to the U.S. to train, landing in Coconut Creek, Florida, with American Top Team.
Nunes is married to another UFC fighter, Nina Ansaroff, who is a strawweight competitor.
In short, the "Lioness" is a multiple-record breaker and one of the most respected fighters in the promotion—a true legend of MMA.
UFC Women's Featherweight Contenders
These are the ladies currently hunting championship gold in the UFC featherweight division.
Could the future of women's MMA be shaped by any of the names below? Perhaps these following fighters believe that to be the case.
But just how far they go depends on how hard they are willing to push themselves.
Felicia Spencer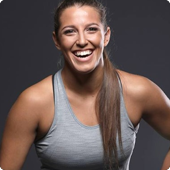 If there is one thing Spencer has in abundance, it's heart.
After all, Spencer holds the unique distinction of fighting the two most terrifying female mixed martial artists of all time, and dragging both to the judges' scorecards.
No one expected her to last against Cris Cyborg or Amanda Nunes, but she proved to be much, much tougher than many thought she was.
The Canadian can fight, too. The former Invicta FC featherweight champion is respected for her ability to put her opponents away in the blink of an eye.
Zarah Fairn Dos Santos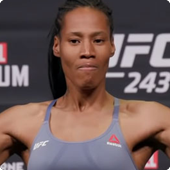 Although considered to be less talented than some of her peers, Zarah Fairn Dos Santos wants a taste of UFC gold.
The Brazilian has competed in numerous promotions around the world and is undoubtedly set on earning a title shot in the UFC.
It's fair to say that Zarah has a few flaws and that she's not the complete fighter just yet. Does she have great potential, though? Absolutely!
If she can iron out a few creases in her game, she could, one day, get her wish.
It will be interesting to see how she develops from here for sure.
Top Women's Featherweight Prospects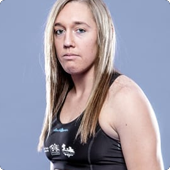 Letson is a fighter that fans would like to see a lot more of in this division.
It's no secret that women's featherweight is, well, a little lacking compared to some divisions. And while we expect this to change dramatically in the future, we still want to see raw talent emerging.
Letson is a fighter that can bring a little freshness to the division. When the current champion has bid farewell to the sport and walked off into the sunset, "Nidas" could be ready to fight for a title.
Previous Women's Featherweight Champions
Although the history of the women's featherweight division is more pamphlet than paperback, there have been some amazing competitors that have competed at 145-pounds.
Looking back, there have been just three champions in the history of women's featherweight. That includes the current champ, Nunes. But what about the ladies that held the title before her?
We're sure you'll recognize these two legends.
Cris Cyborg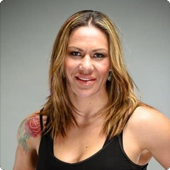 Won Title: Against Tonya Evinger (July 29, 2017)
Lost Title: Against Amanda Nunes (Dec 29, 2018)
Successful Defenses: 2
Cyborg was just as much of a machine as her name suggested.
An absolute wrecking ball of a fighter, the Brazilian struck terror into the hearts of competitors for years after her 2005 debut. That fight ended in a loss. But no one there that day would have imagined just how good the youngster would become.
A controversial figure, Cyborg was slapped with a one-year suspension from professional MMA back in 2012 due to the presence of anabolic steroids in her blood. When she returned, she joined Invicta FC before moving to the UFC a couple of years later.
It is believed that the former featherweight kingpin is singlehandedly responsible for the UFC creating the women's featherweight division.
Germaine de Randamie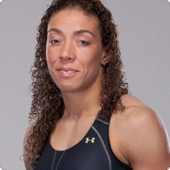 Won Title: Against Holly Holm (Feb 11, 2017)
Lost Title: Title stripped for Refusing to Fight Cris Cyborg
Successful Defenses: 0
A superb striker and technician, de Randamie is one of the greatest strikers in MMA history.
"The Iron Lady" amassed a pro kickboxing record of 46-0 before deciding to try her hand at MMA in 2008. She lost her first fight by way of submission but gave it another shot. Her second fight yielded a much better result, at the Playboy Mansion, of all places, in September 2010.
A former psychiatric nurse, de Randamie now works as a police officer in the Netherlands.
Other Notable Women's Featherweights
Although this division is still in its infancy, there have been a couple of fighters that have got close to the title, only to never quite taste glory.
We're sure that the list of notable fighters in the UFC featherweight division will grow and grow as the years go by. But as it stands, these are the other competitors to make a splash at featherweight.
Holly Holm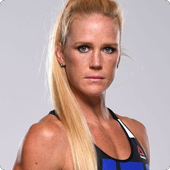 Best known for knocking out Ronda Rousey to win the bantamweight championship in 2015, Holm came close to adding another title to her name.
A women's boxing legend, "The Preacher's Daughter," landed a shot at the inaugural featherweight title against Germaine de Randamie in 2017. It was a fight that would go down as one of the most controversial in women's MMA, and we cover it below.
Needless to say, Holm is the most recognizable fighter to compete in this division without winning a title. Although an excellent striker, she just couldn't quite find the recipe for success at 145.
Yana Kunitskaya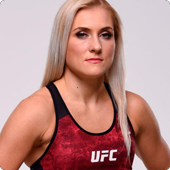 Russia's Yana Kunitskaya came face to face with the monster of the division, Cris Cyborg, in 2017.
A win over Cyborg would have landed Kunitskaya a dream featherweight title win. But unfortunately, her bid for glory quickly turned into a nightmare.
Kunitskaya had some excellent wins in her career, including an Invicta FC bantamweight championship victory over Raquel Pa'aluhi. But that elusive UFC featherweight strap is the one that got away.
Greatest UFC Fights at Women's Featherweight
The UFC is the pinnacle of women's MMA. It is the final destination in the pursuit of greatness for any mixed martial artist.
The highest summit to climb is, of course, the featherweight division. And since the 145-pound class was established, we have seen some epic battles for supremacy.
We're talking blood, sweat, and tears—unbelievable acts of courage and momentous performances that have taken mere mortals to the top of the mountain.
Here are the greatest fights of them all.
Nunes vs. Cyborg
Event: UFC 232
Result: Nunes by KO
The stage was set in Las Vegas.
The crowd screamed in tandem, but for opposing idols. It was one of those rare, rare nights when you could almost reach out and grab a handful of electricity. It was something else.
But when that cage door closed, you had two women who were so alike, yet so different. Both Brazilian. Both dominant champions of their divisions. Both proven winners.
Cyborg's last and only loss came in her pro debut in 2005. A full thirteen years later, with 20 victims to her name, she stood opposite her compatriot with death in her eyes. It was a case of destroy or be destroyed. She had the power, the size, and the backing of bettors on UFC betting sites on her side.
But Nunes wasn't reading from her script. And whatever script she was taking direction from, well, no one else had read.
Simply. Unbelievable.
Holm vs. de Randamie
Event: UFC 208
Result: de Randamie by Unanimous Decision
The prospect of a new women's weight division was passed back and forth from the UFC to the media like an unwanted Christmas gift.
Then, it was announced that UFC 208 would feature the first-ever women's featherweight title fight. It was an exciting prospect, given two of the sport's best strikers were to compete in the showpiece main event. Holly Holm, the former women's bantamweight champion, would look to take her striking skills to the dangerous, powerful Germaine de Randamie.
The fight went down on a cold, February night in Brooklyn, NY. The chill in the air presented a minor inconvenience, but that was soon turned to warm and comforting anticipation as both ladies made their way to the cage. This was something fans rarely get to see—a new title on the line.
Both fighters put everything on the line, but it was clear that one was here to win and to win only. And despite the boos, that's what de Randamie did, via late shots after the bell that stunned Holm.
It was hella controversial, but Germaine de Randamie was the new UFC featherweight champion of the world.
Major UFC Women's Featherweight Rivalries
We're expecting that you already have a good idea of the big rivalries in the UFC women's featherweight division.
As we have previously mentioned, the history of this division is nowhere near as deep as some of the weight classes that have been around since the early days. But still, we have two major rivalries that — while they were brief and fleeting — will be remembered for a long, long time.
Here are the greatest rivalries in women's featherweight history.
Amanda Nunes vs. Cris Cyborg
It's never difficult to point out the fundamental reasons why two fighters would become rivals.
In sports, we've seen some amazing rivalries border into fully-fledged, mutual disdain. Sometimes, the dial has swung all the way past the neutral point straight towards obsessive hatred. And, well, it's pretty obvious when that happens.
In the case of the Nunes-Cyborg rivalry, there was little to no trash talk, a la Conor McGregor or Colby Covington. Nothing beyond what is to be expected, such as the normal mind games and the tossing of the odd barb here and there. Nope, to get to the bottom of this rivalry, you had to first understand the distinct psychological clash that was going on behind closed doors.
You see, this was not just a battle of supremacy between two ladies vying for the title of Brazil's queen of MMA. It was genuine warfare between two fighters who respected and feared each other in equal measure.
But there could only ever be one winner.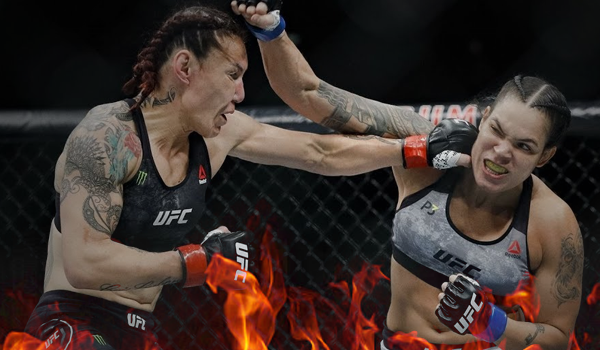 Holly Holm vs. Germaine de Randamie
This was a rivalry that was meant to a completely professional one.
There was no subplot heading into this fight. None at all. That was forsaken in favor of a return to the good old days of a martial arts showdown. Honor, respect, and decency over trash talk and cheap soundbites. It was billed as a supreme battle between two extremely talented strikers.
You had Holm, the boxer and kickboxer, against de Randamie, the Muay Thai extraordinaire. The perfect striking lover's dream bout. Still, it was hard to ignore the differences in both fighter's profiles.
Holm represented flowing blonde hair and a wholesome American attitude to life. On the other hand, de Randamie was the former psychiatric nurse who had once knocked out a man in a boxing match. She was fighting part-time in between keeping Dutch streets safe as a police officer.
But all law and order went out the window in this one, as de Randamie did everything within her power to gain the upper hand. Punches after the bell, dirty tactics… she made a point of turning what was meant to be a contest into a war.
Holm never forgave her. While the new champ, de Randamie, ran away from an even bigger bully in Cris Cyborg.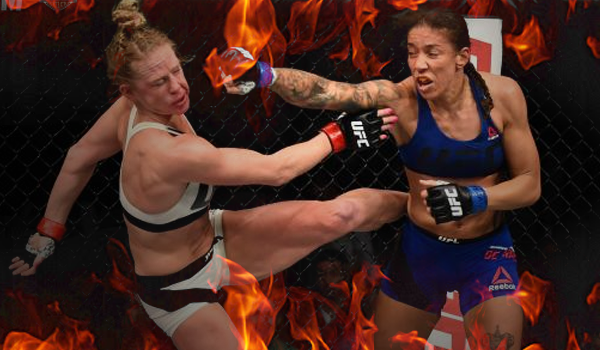 A Division That Will Blossom
UFC President Dana White once famously argued that there was "not enough depth" to create a women's division in the UFC.
Once upon a time, even suggesting that some women could similarly compete in MMA as their male counterparts would have been met with concern. But just look how far the sport has come and how much it continues to blossom.
There are legendary female fighters who are spoken about in the same breath as some of the legendary males. One of the reasons for this is the UFC's featherweight division. And the best part? Well, you ain't seen nothing yet.
There are exciting times ahead.