Betting on Zhang Weili Fights
Zhang Weili is the best Chinese fighter in the world right now.
The UFC strawweight champion is, pound-for-pound, one of the scariest fighters in MMA today, and is a surefire thing to be doing the business in the promotion for years to come.
Our UFC betting experts have put together this guide to help you win money betting on Zhang Weili fights, with the latest Zhang odds, news of Weili's next fight, and so much more.
Here's a breakdown of your complete guide to betting on Zhang Weili fights in the UFC.
Zhang Weili Odds
Whether it's Zhang's next opponent in the UFC, or odds for Weili's potential opponents after that, you can always check in here for what the top MMA bookmakers are saying.
Odds for Zhang vs. Namajunas
Who will Zhang Weili fight next? Well, it looks as though "Thug" Rose Namajunas will be the next fighter tasked with taking on China's greatest export since noodles.
Namajunas lost the title to Jessica Andrade, of course. Andrade, in her first defense of the UFC strawweight title, was battered by "Magnum" in front of a partisan crowd in Shenzhen, China.
Andrade would later be beaten by Namajunas, before moving up to women's flyweight.
Zhang Weili Props and Specials
This is where you will find the latest wild and wonderful betting odds for the UFC's dangerous strawweight queen, as well as several UFC fight props.
The latter usually only get released close to fight night, but here's what is out there right now.
Zhang Weili to Finish 2021 as the UFC strawweight champion – +100 (BetOnline)
This section is regularly updated with more bets like the one above. Be sure to come back regularly to see what we have for you.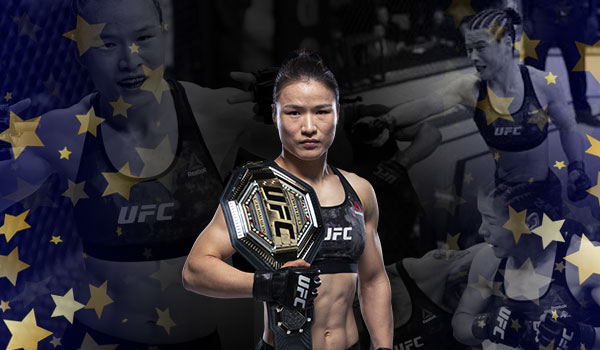 Where to Bet on Zhang Weili Fights
Here at GamblingSites.com, we know a lot about the best sites for betting on UFC fights. After all, we have been reviewing them for years and years. And over time, we have developed a philosophy that we extend to our readers — safety comes first.
So, we only recommend UFC betting sites or apps that are 100% legal, safe, and trustworthy. These sites can stand up to relentless scrutiny and come out the other end smelling of roses.
Whether you are looking for the best bets for Zhang Weili's next fight, or are looking for markets for UFC fights outside of her division, our top sites for betting on MMA will take your game up a level.
The following pages feature more information on our recommendations.
Zhang vs. Namajunas
How tired are you of hearing "when will Weili fight Rose?"
As much as we can all get a little exhausted with the speculation, the buzz around this fight is enjoyable enough to keep going. To know that Zhang and Namajunas will fight in 2021, and we will get to bet on Weili vs. Namajunas, is, well, pretty awesome.
There was a little uncertainty surrounding the fight over the festive period, but things look now to be back on track for "early 2021."
Who are you behind in the fight? Now that you have seen the odds for Zhang vs. Namajunas, will you be going for the champ or the previous champ? Both ladies match up incredibly well, making the chances of this ending up as much of a cerebral, stylistic battle as an all-out punch up.
We're still waiting for Zhang vs. Rose to be announced. But this is what we know so far.
Details for Zhang vs. Namajunas
Event: TBC
Date: TBC
Location: TBC
Weight Class: Women's Strawweight
Weili Zhang vs. Rose Namajunas for the UFC women's strawweight title.
What a fight this will be, huh?
There are rumors that the UFC will look to book this fight for April, but we could even see it before then.
But anyone looking to bet on Zhang vs. Namajunas for real money earlier than that can get on the odds right now, which will definitely favor those backing the champ.
The closer we get to fight night, the shorter her odds are likely to become.
Betting on Zhang vs. Namajunas
Our UFC betting experts are itching to bring to you a betting preview of Zhang vs. Namajunas worthy of the occasion.
But until the fight has been signed and sealed, they will be keeping their knowledge of the scrap to themselves. That almost makes it sound esoteric, which of course it is not. It's just a fancy way of saying, well, it's better to get the full picture of Weili vs. Rose before betting predictions are made.
That said, feel free to back your fighter right now, if you like. You can head over to any of our recommended sites for betting on the UFC and take the odds that appeal to you most.
Make sure you pay us a visit soon. You will find a full, dedicated fight preview for the biggest UFC fight of 2021, in the strawweight division, right here, when it's time.
Until then, you can check out the latest UFC betting content by visiting the sections below.
Rumors and Potential Fights for Weili
You might as well plaster a big old poster saying "WANTED" — with a mean-looking photo of the champ in the center — in every one of the best MMA gyms around the world.
Weili has plenty of pretenders to her title, that's for sure. There are numerous fighters out there currently polishing their weapons in the hope that they will get to fight the awesome Chinese striker sooner rather than later.
Here are rumored fights for Zhang Weili in 2021 and beyond.
Zhang Weili vs. Carla Esparza
Zhang Weili vs. Joanna Joanna Jedrzejczyk 2
Valentina Shevchenko vs. Zhang Weili
Zhang Weili Fighter Profile
WEILI ZHANG KEY INFO
Pro MMA Record
21-1 (10 Kos)
Record in Other Sports
Kickboxing (2-2)
Weight Class
Strawweight
Gym Affiliation
Black Tiger Fight Club
Head Coach
Xuejun Cai
Current UFC Ranking
Strawweight (Champion), Women's Pound-for-Pound (#3)
UFC Titles Won
Women's Strawweight Championship
Main Rival
Joanna Jedrzejczyk
Zhang was born on August 13, 1989 in Handan, Hebei, China.
When she got a little older, she decided to move to the country's capital, Beijing, in order to follow her dreams.
While in Beijing, Weili worked several jobs, including a role as a school teacher and another as a supermarket cashier. But in the back of her mind, she had always wanted to live the life of a fighter. It wasn't the easiest path, yet she found a way to do it.
Zhang's introduction to mixed martial arts came when she watched Flashpoint, a martial arts movie starring Donnie Yen. She was captivated by the movies, as she was when she took up Shaolin Kung Fu, Sanda, and Shuai Jiao grappling.
Making her debut in 2013, Zhang suffered a disappointing loss to Meng Bo in the second round of her debut fight. But rather than sulk about the loss, she went back to the drawing board and worked her butt off in the gym.
Zhang Weili MMA Record
Opponent
Result
Date and Event
Joanna Jedrzejczyk
Win – Decision
UFC 248 – March 7, 2020
Jéssica Andrade
Win – TKO
UFC Fight Night: Andrade vs. Zhang -August 31, 2019
Tecia Torres
Win – Decision
UFC 235 – March 2, 2019
Jessica Aguilar
Win – Submission
UFC Fight Night: Blaydes vs. Ngannou 2 – November 24, 2018
Danielle Taylor
Win – Decision
UFC 227 – August 4, 2018
Bianca Sattelmayer
Win – Submission
Kunlun Fight MMA 15 – October 3, 2017
Marilia Santos
Win – TKO
Kunlun Fight MMA 14 – August 28, 2017
Ye Dam Seo
Win – TKO
Top FC 15 – July 22, 2017
Aline Sattelmayer
Win – Decision
Kunlun Fight MMA 12 – June 1, 2017
Simone Duarte
Win – TKO
Kunlun Fight MMA 11 – May 25, 2017
Nayara Hemily
Win – Submission
Kunlun Fight MMA 9 – February 25, 2017
Veronica Grenno
Win – TKO
Kunlun Fight MMA 8 – January 2, 2017
Karla Benitez
Win – KO
Kunlun Fight MMA 7 – December 15, 2016
Maira Mazar
Win – Submission
Kunlun Fight 53 -September 24, 2016
Emi Fujino
Win – TKO
Kunlun Fight 49 – August 7, 2016
Liliya Kazak
Win – KO
Kunlun Fight 47 – July 10, 2016
Alice Ardelean
Win – Submission
Kunlun Fight MMA 5 / Top FC 11 – May 22, 2016
Svetlana Gotsyk
Win – TKO
Kunlun Fight 38 / Super Muaythai 2016 – February 21, 2016
Samantha Jean-Francois
Win – TKO
Kunlun Fight 35 -December 19, 2015
Mei Huang
Win – Submission
Chinese Kung Fu Championships – October 27, 2014
Shuxia Wu
Win – Submission
Chinese Kung Fu Championships – April 17, 2014
Meng Bo
Loss – Decision
China MMA League – November 9, 2013
Standing at 5'4″ and weighing in at just 115-pounds, Weili is not exactly the most frightening fighter on paper.
But there are few fighters in women's MMA that have exhibited the nasty, brutal power that Zhang has in her career to date.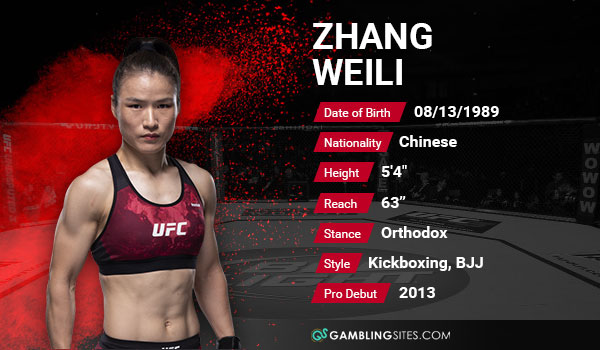 Zhang Weili FAQ
You probably still have questions about Zhang Weili, right?
Get stuck into the answers to these Zhang FAQ's, below.
Where is Zhang Weili From?
Zhang is from China.
She was born in Handan, which is situated in China's Hebei province.
It appears that Weili is not married at present.
But as a very private person, little is known of her relationships outside of the cage.
If you're looking to marry Zhang Weili, well, we can't help you there. Sorry…
Is Weili China's First UFC Champion
Yes, Zhang is the first-ever Chinese UFC champion.
Coming from a country synonymous with martial arts, that's a major achievement.
Traditional martial arts dominate in China. However, this has been rapidly changing over the past decade or so. As such, we would expect several champions to emerge from China in the coming years, with many of them crediting Weili as an inspiration.
Is Zhang the Only Chinese Fighter in the UFC?
No, Weili is not the only Chinese fighter in the UFC.
In fact, she's not even the first. That honor goes to Zhang Tiequan, who made his UFC debut against Jason Reinhardt back in 2011.
Since then, fighters such as Li Jingliang and Song Yadong have helped fly the flag for Chinese fighters in the UFC.
Will Zhang Weili Win Her Next Fight?
You can find out what we make of Zhang's chances of winning her next fight in the second section from the top of this page.
You can also find odds for Zhang's next fight, as well as the best bets, predictions, and analysis for her next outing inside the cage.
Will Zhang Weili Move Up to Flyweight?
It's not out of the question.
Zhang would be moving up ten pounds, but would unlikely be motivated to do so unless she is given a title shot.
It would be awesome to be witness a Zhang vs. Valentina Shevchenko fight for the UFC women's flyweight title. If she continues to dominate at 115-pounds, she just might move up to 125.
What Language Does Weili Zhang Speak?
Zhang's first language is Mandarin (Chinese), but she also speaks English.
Although she has not indicated that she speaks any other languages, Weili may also speak other Chinese dialects.
Who Does Zhang Fight Next?
Zhang will fight Rose Namajunas for the UFC women's strawweight title next.
You can find details of this fight by heading up to our dedicated Zhang vs. Namajunas section at the top of this page.
Can I Win Real Money Betting on Zhang Weili Fights Online?
Yes, of course, you can win real money betting on Weili online!
But first, you must be certain that it is legal to bet in your jurisdiction and that you meet the criteria for opening an account.
To find out whether you are eligible to open a UFC betting account, you can head over to our recommended sites for more information.
Will Zhang Weili Fight Amanda Nunes?
Unfortunately, the difference in weight between these two fighters makes it unlikely.
Nunes vs. Zhang would be awesome, but there is little chance of it happening. Most gamblers betting on Amanda Nunes would be comfortable that they would make money on the Brazilian, as she is just too big for Zhang.