Betting on Valentina Shevchenko Fights
Few things can beat the feeling of winning your bets on UFC bouts. It's even better if your winning wagers are on one of your favorite fighters.
If Valentina Shevchenko is one of your preferred fighters, you'll love what our MMA betting experts have put together for you here.
This will guide will help you to bet on Shevchenko's fights the right way.
Valentina Shevchenko Odds
No Odds Currently Available
Unfortunately, there are no odds for Shevchenko's next fight available.
But things move very quickly in the world of UFC matchmaking. And, as we will touch on a little later, the champ tends to fight in the early months of a year.
This means that there is a very good chance of getting your hands on the top odds for Shevchenko very soon.
Watch this space.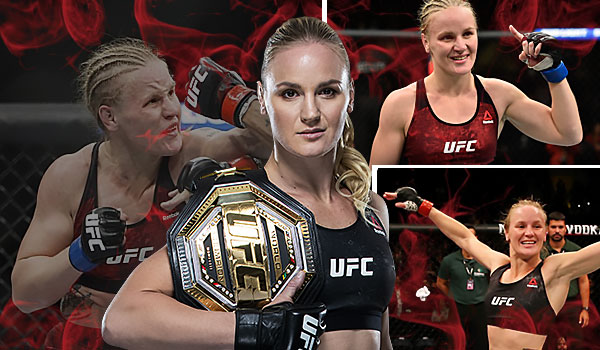 Shevchenko Props and Specials
There are no real money prop bets for Shevchenko, or specials, to cover right now.
But this section is where you will find the latest props and specials for Valentina when a fight has been announced, or, if a situation or scenario occurs that leads to UFC betting sites creating a market that caters to it.
In the past, we have seen Shevchenko odds appear in props and special markets such as for Shevchenko vs. Nunes 3. We have also seen odds and bets relating to how long Valentina will hold the UFC women's flyweight title.
If you are gambling on Shevchenko fights, there will be plenty of opportunities to get your money down when the markets are open.
Once again, things can happen very fast in the UFC. Therefore, check back soon with us for any updates.
Rumors and Scheduled Fights for Shevchenko
Next Scheduled Fight: TBC
When is Shevchenko's fight next in the UFC? Who will she fight?
They are both good questions, but the truth is that we have no definite answer to them right now.
As dominant as the Bullet is in her division, she still has several fighters that the promotion will want to match her up against. So, it's just a case of letting the matchmakers do their thing for the time being.
If you're looking for more details of Shevchenko's next fight, we will be on top of things as soon as we know the key details. When we do, this section will be updated with the important bits of the women's flyweight champion's next defense.
Among this information, you will find the following.
Best bets for Shevchenko's next fight
Valuable wagering advice from our UFC betting experts — more ways to make money gambling on Shevchenko's next fight
Details of Shevchenko's next fight; where, when, etc.
We'll move on to some of the rumored fights for the women's pound-for-pound icon. But make sure to check back for regular updates here, as well as on our dedicated UFC blog.
Feel free to familiarize yourself with our latest UFC picks, too, for all big fights coming up.
It's important to know that fighters of the champ's caliber perform less than those who can be classed as up and coming. Shevchenko has fought twice every year since 2016. Her UFC debut was in December 2015, so that year doesn't count.
Typically, there is also a pattern to when Shevchenko fights — more often than not, she prefers to enter the cage once in the early months of a year, and once towards the end of a year.
Now, this information might not usually help you win real money wagering on Shevchenko fights online. But it can help you determine who she fights.
Sometimes, if there is a betting market for who Shevchenko will fight next, for example, this info could help you make money. You could look at what fighters are free around January/February or November/December, depending on when she will fight, and make a decision that might just pay off.
The following names are rumored to fight Shevchenko this year.
Jessica Andrade
Cynthia Calvillo
How and Where to Bet on Valentina Shevchenko Fights
The first thing to consider when betting on Valentina Shevchenko fights for real money is whether it is worth your time.
To be bluntly honest, if you're wagering on UFC fights featuring any fighter, ask yourself the same question. Why? Well, if you're using an online MMA betting site that doesn't pay your winnings, what is the point in bothering?
Now, that's an example on the extreme end of the spectrum. But certainly not something uncommon. So, when it comes to placing real money bets on Shevchenko, please make sure that you are only using safe, legal, and trustworthy sites. At all times.
We also want you to benefit from things that can really enhance your experience when gambling on Shevchenko fights online.
The best Shevchenko odds and markets
Fast payouts on winnings
A choice of deposit methods
Great UFC bonuses and rewards
Solid customer support
We're confident that the best online betting sites for Valentina Shevchenko fights are those that cover all bases. They are dependable, totally trustworthy, and yet still stylish enough to keep you coming back for more.
Kind of like Shevchenko in the cage.
Our recommendations for the top apps and best sites to bet on Shevchenko fights can be found on the following pages.
Valentina Shevchenko Fighter Profile
In April 2003, Valentina Shevchenko made her MMA debut in a fight under the Kyrgyz Federation of Kulatuu banner.
Despite picking up the first of seven straight wins, the youngster would bounce back and forth between MMA, Muay Thai, and K-1 bouts.
Valentina Shevchenko Key Info
Pro MMA Record
20-3 (6 KOs)
Weight Class
Women's Flyweight (125 Pounds), Women's Bantamweight (135 Pounds)
Gym Affiliation
Tiger Muay Thai
Head Coach
Pavel Fedotov
Current UFC Ranking
Flyweight (Champion), Women's Pound-for-Pound (#2)
UFC Titles Won
Flyweight Championship
Main Rival
Amanda Nunes
An absence of over four years from the cage was snapped with a loss to Liz Carmouche in her US debut in 2010. Just over five years later, Shevchenko was sharing the cage with Amanda Nunes, who would be crowned as the UFC women's bantamweight champion just months later.
Although Shevchenko lost that fight, her stock as a fighter blew up. Fans recognized her elite striking capabilities, her toughness, and her poise inside the Octagon. She certainly looked to have the talent to go very far in the UFC.
It was clear to all that Shevchenko would go on to fight for a title in the near future. And she did just that, earning a rematch with the champ, Nunes, in September 2017. Once again, she would lose to the Brazilian by decision. But this time, many believed that Shevchenko had done enough to win.
Just over a year later, the Bullet outclassed former strawweight champ Joanna Jedrzejczyk to be crowned the champion of the UFC women's flyweight division.
Since then, she has ruled the weight class with an iron fist.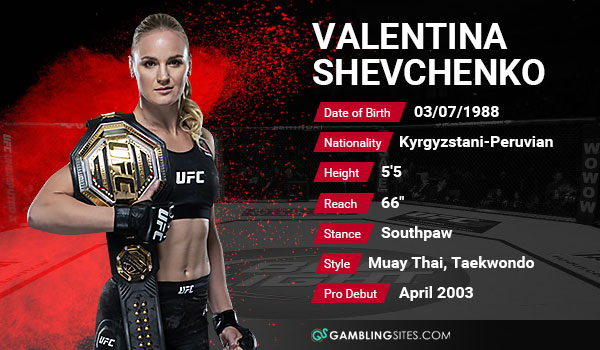 A Brief Valentina Shevchenko Bio
Although she identifies as Russian, Valentina Shevchenko was born in Kyrgyzstan on March 7, 1988, to a Ukrainian family.
Shevchenko was born with fighting in her blood. Albeit very different types of fighting stock.
Her father served in the Soviet Navy, while her mother was a multiple-time Muay Thai champion that would be named as the president of the national Muay Thai Association of Kyrgyzstan.
At five, Valentina took up Taekwondo and showed early promise in her new hobby.
A few years later, she had followed her mother's path into Muay Thai, where she earned widespread attention at just 12 years old by knocking out a woman ten years her senior.
She would also test herself in several other disciplines before dedicating herself to life as a pro martial artist. This led to Shevchenko and her older sister, Antonina, working as instructors in Peru in the late 2000s. The Bullet earned Peruvian citizenship in 2008.
But her place as the greatest of all female UFC flyweights awaited her, and she eventually found her way to Las Vegas.
Shevchenko's UFC record shows just how effective her unique style has been inside the cage. But here's her full fight results since turning professional in 2003.
Valentina Shevchenko's MMA Record
Result
Date and Event
Jennifer Maia
Win by Decision
UFC 255 – Nov 21, 2020
Katlyn Chookagian
Win by TKO
UFC 247 – Feb 8, 2020
Liz Carmouche
Win by Decision
UFC FN – Aug 10, 2019
Jessica Eye
Win by KO
UFC 238 – Jun 8, 2019
Joanna Jędrzejczyk
Win by Decision
UFC 231 – Dec 8, 2018
Priscila Cachoeira
Win by Submission
UFC FN – Feb 3, 2018
Amanda Nunes
Loss by Decision
UFC 215 – Sep 9, 2017
Julianna Peña
Win by Submission
UFC on Fox:- Jan 28, 2017
Holly Holm
Win by Decision
UFC on Fox – Jul 23, 2016
Amanda Nunes
Loss by Decision
UFC 196 – Mar 5, 2016
Sarah Kaufman
Win by Decision
UFC on Fox – Dec 19, 2015
Jan Finney
Win by Decision
Legacy FC 39 – Feb 27, 2015
Hellen Bastos
Win by TKO
Fusion FC 6 – Feb 26, 2014
Priscila Orellana
Win by TKO
Fusion FC 5 – Dec 18, 2013
Akjarkyn Baiturbaeva
Win by Decision
KF-1: MMA World Competition – Apr 30, 2011
Liz Carmouche
Loss by TKO
C3 Fights: Red River Rivalry – Sep 30, 2010
Yulia Nemtsova
Win by Submission
Professional Free Fight – Mar 3, 2006
Kyung Aeh Kim
Win by Submission
WXF: X-Impact World Championships 2005 – Jul 9, 2005
Roza Kalieva
Win by Submission
Kazakhstan Federation of Pankration 2 – Mar 22, 2005
Alla Iskarenova
Win by Submission
Kazakhstan Federation of Pankration – Mar 21, 2005
Erkesh Kokoeva
Win by TKO
Kyrgyz Federation of Kulatuu 2 – Oct 15, 2004
Mi Choi Kim
Win by Submission
WXF: X-Impact World Championships 2003 – Dec 9, 2003
Eliza Aidaralieva
Win by TKO
Kyrgyz Federation of Kulatuu – Apr 21, 2003
Now considered one of the very best fighters in mixed martial arts, the gap between the flyweight queen and her opponents is considerable.
While this often makes for short real money betting odds for Valentina Shevchenko fights, but our expert UFC advice for gamblers is a great way to find out the best way to make money wagering on Shevchenko.
Before we move on, you should know that we also have a dedicated UFC fighters page that you can use to place real money wagers on Shevchenko's elite MMA peers, below.
Valentina Shevchenko FAQ
Are you still looking for information about Valentina Shevchenko?
We think the answers to the following FAQs will be of benefit. Take a look!
Where is Valentina Shevchenko From?

A

Valentina was born in Frunze, Kirghiz SSR in the Soviet Union. This area is now referred to as Bishkek, Kyrgyzstan.

Is Valentina Shevchenko Married?

A

Shevchenko is not married, from what we can tell. But like most high-profile fighters, she prefers to keep her private life to herself, so it's unclear if she has a partner.

Who is Valentina Shevchenko's Sister?

A

The Bullet has an older sister named Antonina, who also fights in the UFC's flyweight division.

Will Shevchenko Fight Her Sister?

A

No. Both sisters have previously stated that they would never fight each other.

When Will Nunes vs. Shevchenko 3 Happen?

A

Shevchenko wants to fight Nunes for the third time. But for the fight to happen, she would have to move back up to Nunes' native bantamweight (135-pounds). Shevchenko vs. Nunes 3 is rumored to happen at some point, but the fight has not been announced yet.

What is Shevchenko's Best Win?

A

Shevchenko's wins

over Joanna Jedrzejczyk

and Holly Holm are widely considered to be the best victories in her career.

What is Valentina Shevchenko's Net Worth?

A

It's difficult to know for certain how much Shevchenko is worth, but reputable publications have estimated her net worth at $5 million.

Can I Bet on Shevchenko's UFC Fights Online?

A

Of course! This betting guide has been created to help you wager on Shevchenko's fights online. You can find the best sites to bet on Shevchenko, her odds and best bets, and much more, above.

Will Shevchenko Move Up in Weight?

A

She previously fought at bantamweight in the UFC, which is ten pounds heavier than her weight current weight. If Shevchenko wants to become the second female fighter to win UFC titles in separate divisions, she could move up to 135-pounds to fight

Amanda Nunes

.

When Does Shevchenko Fight Next?

A

You can find the latest updates and news of Valentina Shevchenko's next fight further up this page.