Betting on Kamaru Usman Fights
If you're looking for odds and bets for Kamaru Usman's next fight, you have come to the right place.
This page will equip you for betting on Usman's UFC fights, but you might be surprised at what else you will find here.
For example, we have Usman's record in the UFC as well as the rest of his MMA career. We have also provided a biography of "The Nigerian Nightmare," a well as answers to frequently asked questions about the champ.
This is your go-to source when wagering real money on Usman. So, here's everything you can find.
Kamaru Usman Odds
Usman vs. Burns; Usman -225, Burns +190
Usman vs. McGregor; Usman -400, McGregor +270
When can I bet on Kamaru Usman's next fight? What are the odds for Usman's next fight?
Right here is where you will find the answers to those questions. You can also find the latest odds for Usman's UFC bouts while finding out who he fights next. If there are odds available, we will have them, right here.
It feels like so long ago that we watched the welterweight icon strut his stuff inside the cage. But thankfully, we should get to see Usman back in gloves at UFC 258 opposite Gilbert Burns.
That fight was canceled on two separate occasions, but will hopefully go ahead as planned on February 13, 2021. The fight will be a five-round main event for the UFC welterweight championship and should be an awesome contest.
As things stand, you can also get odds for Usman vs. Conor McGregor. We're not sure that fight will ever see the light of day, but the welterweight champion has expressed interest in making it happen before.
Unless prompted by something truly special, we're focusing on Usman vs. Burns in the UFC for now.
Kamaru Usman's Next Fight
Kamaru Usman beat Gilbert Burns by way of Round 3 TKO to keep his welterweight strap.
His next fight has not yet been announced. But when we have the details, you can find them here.
Details for Usman's Next Fight
Event: TBC
Date: TBC
Location:TBC
Weight Class: Welterweight
Betting on Usman's Next Fight
Usman will be back in the cage at some point. But as things stand, we have no details of who he will fight, where he will fight, or when.
Until we do, please help yourself to the latest UFC odds, bets, predictions, picks, and analysis via the following channels.
Where to Bet on Kamaru Usman Fights
When looking for the best Kamaru Usman odds and markets, you should only consider betting sites of championship caliber.
There are numerous contenders online today. Countless sites that talk the talk but ultimately fail to deliver a betting experience worthy of your time or money. Ultimately, these sites are no match for the online UFC sportsbooks that consistently provide bettors with a first-class experience.
As any experienced bettor knows, safety and security come before anything else. If a site cannot prove that it is 100% legal, trustworthy, and as defensively sound as an elite fighter, it's best to give it the wide berth. There is no substitute for peace of mind.
When ranking our top sites for betting on Kamaru Usman fights, which basically means the top sites for betting on UFC bouts in general, we don't take kindly to one-trick ponies.
Alongside air-tight safety protocols, we want to see excellent betting markets and odds that are more than above average.
If you're wagering on Usman, your winnings should be paid out as swiftly as possible. We want to see a good balance of bonuses and rewards, payment methods, and pretty much everything else there is that makes an awesome site.
Consider our rankings as the pound-for-pound classification for MMA betting sites. Visit the page below to find out more.
Usman Rumors and Potential Bouts
Kamaru Usman is a phenomenal fighter. He is already up there with the best UFC welterweights of all time and can forge a legacy that will rival any champion.
But as indomitable as he may seem, the Nigerian-born wrestler has to prove that he deserves the title as king of this division. To do that, he needs to see off the challenges of the contenders looking to oust him from power.
The usual questions surround the welterweight champion of the UFC. Is Usman better than Georges St-Pierre? Is Usman a boring fighter? Will Usman move up to middleweight?
Now that he has beaten Burns, he could find himself in there with a handful of contenders. And, it must be said, a couple of fighters that might just surprise you. So before you bet on Usman's next opponent, ask yourself if the fight can realistically happen.
Here's who Usman could fight in 2021.
Kamaru Usman vs. Jorge Masvidal
Kamaru Usman vs. Georges St-Pierre
Kamaru Usman vs. Colby Covington 2
Kamaru Usman vs. Leon Edwards
Key Info and Stats for Usman
Kamaru Usman is a long and rangy welterweight with world-class wrestling and some nasty hands.
His kickboxing game has improved massively over the years, making him one of the hardest riddles to crack in MMA. Defensively solid and with the gas tank of a NASA rocket, it will take something very special to dethrone this fighter.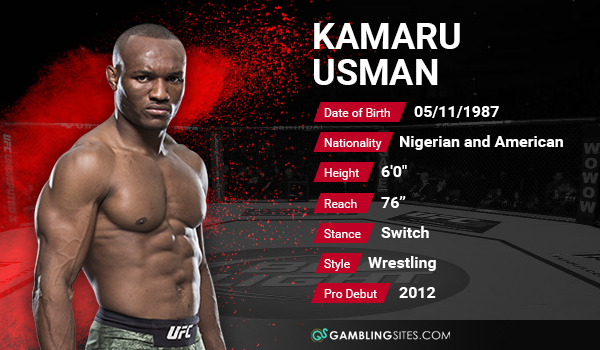 A former collegiate wrestler, the improvements made by The Nigerian Nightmare has seen him elevate himself to one of the very best in MMA.
Having made his debut in 2012, Usman would be at the apex of the UFC by the end of the same decade.
Here are some of the most pertinent of Usman's statistics.
Kamaru Usman Key Info
Pro MMA Record
18-1 (8 KOs)
Record in Other Sports
N/A
Weight Class
Welterweight (170 Pounds)
Gym Affiliation
Strong Style Fight Team
Head Coaches
Jorge Santiago and Trevor Wittman
Current UFC Ranking
Welterweight (Champion), Pound-for-Pound (#5)
UFC Titles Won
Welterweight Championship
Main Rival
Colby Covington
You can bet Usman takes a particular game plan into his fight in almost every single contest, but stopping the champion is something different altogether.
Just because you know it's going to rain doesn't mean you won't get wet. But you can pop up an umbrella, right? Right.
Kamaru Usman Bio
Kamarudeen Usman was born in Auchi, Nigeria, on May 11, 1987.
The son of a soldier and a teacher, Usman and his two brothers were moved to the United States when Kamaru was 8 years old.
In Usman's sophomore year at Bowie High School in Arlington, Texas, he took up wrestling and would later earn NCAA Division II All-American honors, including a national championship, while studying at the University of Nebraska at Kearney (UNK).
Usman initially set his sights on making the United States Olympics team, but injuries forced him to abandon that lofty goal. Instead, Usman decided to take up MMA, competing on the regional scene before earning a spot on The Ultimate Fighter: American Top Team vs. Blackzilians.
Usman's wrestling made a big impression on UFC bosses, and he was officially signed to the promotion following his performances. On July 12, 2015, Usman beat Hayder Hassan to win The Ultimate Fighter 21 Welterweight Tournament.
Usman worked his way through the 170-pound division before landing a title shot against Tyron Woodley in March 2019. It would change his life, forever.
Kamaru Usman Record in MMA
Opponent
Result
Date and Event
Gilbert Burns
Win by TKO
UFC 258 – Feb 13, 2021
Jorge Masvidal
Win by Decision
UFC 251 – Jul 12, 2020
Colby Covington
Win by TKO
UFC 245 – Dec 14, 2019
Tyron Woodley
Win by Decision
UFC 235 – Mar 2, 2019
Rafael dos Anjos
Win by Decision
TUF HHF – Nov 30, 2018
Demian Maia
Win by Decision
UFC FN – May 19, 2018
Emil Meek
Win by Decision
UFC FN – Jan 14, 2018
Sergio Moraes
Win by KO
UFC FN – Sep 16, 2017, 2018
Sean Strickland
Win by Decision
UFC 210 – Apr 18, 2017
Warlley Alves
Win by Decision
UFC FN – Nov 19, 2016
Alexander Yakovlev
Win by Decision
UFC OF – Jul 23, 2016
Leon Edwards
Win by Decision
UFC OF – Dec 19, 2015
Hayder Hassan
Win by Submission
TUF – Jul 12, 2015
Marcus Hicks
Win by TKO
Legacy 33 – Jul 18, 2014
Lenny Lovoto
Win by TKO
Legacy 30 – Apr 1, 2014
Steven Rodriguez
Win by TKO
Legacy 27 – Jan 31, 2014
Rashid Abdullah
Win by KO
VFC 41 – Dec 14, 2013
Jose Caceres
Loss by Submission
CFA 11– May 24, 2013
Usman is one of a league of excellent fighters currently doing their thing in MMA's greatest promotion.
You can read more about the best fighters in the UFC by hitting the following button.
Kamaru Usman FAQ
When it comes to Usman, there are so many questions.
The champ has lived an interesting life. He is a high achiever with one of the most admirable styles in the UFC. But there is so much more to learn about Usman.
Read on for answers to the most frequently asked questions about Kamaru Usman.
Where is Kamaru Usman From?
Usman was born in Auchi, Nigeria but moved to the United States when he was eight years old.
Usman considers his nationality as Nigerian-American and first lived in Arlington, Texas, before moving to Nebraska.
Where Did Kamaru Usman Get his Nickname?
Former Kansas City Chiefs fullback, Christian Okoye, gave his permission for Usman to use "The Nigerian Nightmare" as his cage name.
Okoye had trademarked the moniker in his playing days but was more than happy to allow Usman to have it.
What are the Best Odds for Kamaru Usman's UFC Fights?
You can find the best odds for Usman vs. anyone he is fighting on the leading betting sites.
Our recommended sites are ranked by betting experts on a wide range of criteria, including the strength of each site's odds.
Yes, Usman is married.
However, the UFC fighter works hard to keep his private life separate from his profile in the fight game.
Usman has a daughter, named Samirah, that was born in 2014.
Although he was raised Muslim, Usman converted to Christianity.
The fighter claimed to "know both religions very well," and to "have much respect for both."
What is Usman's Net Worth?
Although Usman has never declared his net worth in public, it is believed that he is worth between $2.5 million and $5 million.
Various publications have published various numbers, but we would be surprised if the Nigerian-born fighter is worth much less or considerably more than the sums above.
Was Kamaru Usman's Father in Prison?
Yes, Usman's father, Mohamed, was jailed for 15 years for crimes that Kamaru believes he did not commit.
The welterweight spoke about his father's incarceration on an episode of The Joe Rogan Experience in 2019. Usman was frank about his humble beginnings, and the events that led up to his father's arrest.
Is Usman the Best Welterweight of All Time?
Kamaru Usman is widely believed to be one of the greatest UFC fighters of all time.
The Nigerian Nightmare has not quite hit the heights or accomplishments of Georges St-Pierre, who is the greatest welterweight of all time. But if he continues to win fights and achieve his goals, there is no doubt that he can be recognized as one of the best to ever do it.
Where Can I Find the Best Bets for Usman's UFC Fights?
Right here, on this page!
Our UFC handicappers and betting experts provide the best bets, picks, and predictions for anyone looking to bet real money on Usman. Or to bet against him, of course.
You can find details of Usman's next fight — including UFC betting previews, odds, and all the top betting content — at the top of this page.
Is Kamaru Usman Related to Israel Adesanya?
No, Usman and Israel Adesanya are not related.
However, they are very good friends. They are both Nigerian born, UFC superstars and clearly have a lot in common both inside and outside of the cage.
Usman has previously admitted that he would never fight Israel Adesanya.
When Will Usman Fight Next?
No details are currently known regarding who Usman will fight next.
You can, however, find details of rumors for Usman's next opponent in the UFC at the top of this page. We will also be providing details of his next fight once they have been announced.