Betting on Jon Jones UFC Fights
Who will Jon Jones fight next? What are the best Jon Jones odds right now? Is Jones the greatest UFC fighter of all time?
These are just three from a plethora of questions on the minds of millions of UFC fans out there. But fear not, as we're here to answer as many of them as possible.
The best way to prepare for betting on Jon Jones fights in the UFC is to have an all-in-one source to come back to whenever "Bones" is preparing to step inose clean and continues to dedicate himself to his craft.nside the Octagon. So, voila! This is for you!
With one of the UFC's greatest fighters of all time ready to take over the heavyweight division, we'll be on top of the best odds and bets for Jones, as found on the best UFC betting sites for Jones' fights.
Here's a quick introduction to what you can find on this page.
Jon Jones Odds
For those of you looking for Jon Jones odds, you can find them right here.
We hit you the freshest odds for Jones' fights, and inform you of who the former dominant light heavyweight champion is tipped to battle in the future.
Jones vs. Ngannou
Jones vs. Miocic
Jones vs. Adesanya
Jones vs. Lesnar
As you can see, the UFC legend is being linked with a fight against Francis Ngannou. Although that fight has yet to finalized, the promotion is keen to get it done.
Jones, for the first time since fighting Stephan Bonnar in January 2009, opens as an underdog. That is a testament to just how good the native of Rochester, New York is inside the cage. But just how good will he look when fighting at heavyweight for the very first time?
Another opponent Jones has been linked to is UFC heavyweight champion, Stipe Miocic.
Jones's odds to beat Stipe put him in the position to be a betting favorite by the time the fight comes around. UFC President Dana White has previously confirmed that Jones will get an immediate heavyweight title shot, however, it will be after the winner of the Stipe vs. Ngannou rematch is sorted.
That fight is scheduled for March 2021.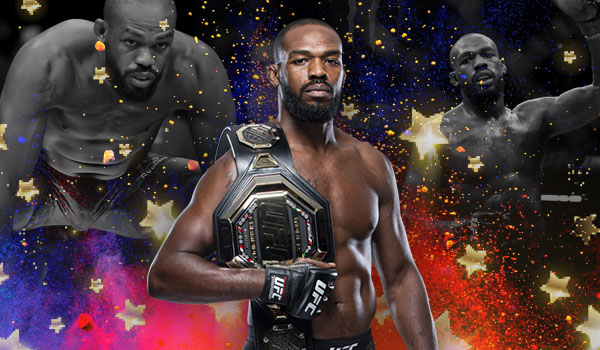 Where to Bet on Jon Jones Fights
Betting on Jon Jones fights is safe and legal. Providing you are wagering on a UFC betting site that is safe and legal, of course.
We're not in the business of misleading our readers. Quite the contrary. We want each and every person reading our content to understand the importance of choosing safe, secure, and fully legal betting sites when gambling, and we have built a strong and very secure reputation on that principle.
So, it's kind of our duty to remind of how crucial it is to choose a great betting site when betting on Jon Jones fights in the UFC.
Now, what we class as a great site isn't one that is bright, loud, and comes with all the bells and whistles. Instead, our betting site reviewers first look to establish the following.
Is the site safe and secure?
Is the site legal and fully licensed by a reputable body?
Is the site reputable and trustworthy?
Once we can prove without a shadow of a doubt that a site meets our strict criteria, we then look towards how it performs in other areas.
For example, we want to see the best odds for UFC fights. We expect top-notch markets. Fast payouts is another thing we like, as are great payment options, awesome bonuses, and high-level customer service agents.
Please keep in mind that choosing from the top betting sites for MMA fights can make a big difference.
You can read more about how we only recommend the very best sites to anyone betting on Jones fights, or any UFC bout for that matter, by heading over to the following page.
We believe that Jones is more than likely set to take on Ngannou in his next fight. So let's move on to the next section which is dedicated to this mouthwatering heavyweight clash.
Ngannou vs. Jones
Will Jon Jones vs. Francis Ngannou happen in 2021? It seems likely.
Whatever you have to say about this fight is almost irrelevant, as nothing would do it justice.
Ngannou vs. Jones It is the closest thing we have to an epic battle in a superhero movie. It will unite broken nations; it will heal the world; it WILL make joy and positivity fashionable again.
OK, perhaps that is a little far-fetched. But you get the picture, right? We expect this fight to be absolutely dynamite and perhaps the greatest test Jones will ever face inside the Octagon.
It's enough to get most casual MMA fans scrambling to place their best Jon Jones bets down, so just imagine how we diehards feel.
Of course, we're preaching to the converted here. You know as well as we do that wagering on Jones vs. Ngannou is going to be the number one pastime of mixed martial arts fanatics across the globe until the first bell rings to signal the fight.
The fight has not been signed off yet. But you can find the details of Ngannou vs. Jones, right here, when it has.
Here's what we know so far.
Details for Ngannou vs. Jones
Event: TBC
Date: TBC
Location: TBC
Weight Class: Heavyweight
Unless 2021 decides to go absolutely crazy, the Ngannou vs. Jones fight happens at heavyweight in the UFC.
A date, event, and location have not been confirmed yet. But as soon as we have these details, they will appear above.
Unless Jones decides to take a tune-up fight at heavyweight, this will be the first time he has ever competed at the 265-pound limit as a professional. Ngannou will certainly have the size advantage over Jones, who will be the much faster and more athletic of the two.
Those betting on Jones to beat Ngannou clearly believe in the legend of 205-pounds. But can he become just the second fighter to topple the Cameroonian colossus?
Betting on Ngannou vs. Jones
Our UFC betting experts will be providing content such as in-depth betting predictions and picks for Ngannou vs. Jones, once the bout has been signed off.
You will find everything you need to know about wagering on Jones' clash with Ngannou right here, as well as through our dedicated blog for betting on UFC fights and our UFC picks sections.
In addition to Ngannou vs. Jones, you will find fresh, quality UFC betting content in these sections of our site.
Potential Fights for Jon Jones
Let's face it — there are probably more odds for Jon Jones fights doing the rounds than any other UFC star right now.
Jones is being linked to heavyweights, light heavyweights, and even a UFC middleweight champion right now. Needless to say, betting on Jones is a pretty popular way for punters to make money, and betting sites for UFC fights are more than happy to provide as many odds as they can.
There are plenty of gamblers that have made serious money backing the former light heavyweight champion. But will Jones lose his next fight? Is there a time when even unbeaten greats like Bones see their perfect record come grinding to a halt?
If so, could one of the following opponents be the man to hand Jones his first official loss as a professional mixed martial artist?
Here are who Jon Jones is rumored to fight in 2021, and, of course, the other potential fights on the horizon.
Stipe Miocic vs. Jon Jones
Jon Jones vs. Israel Adesanya
Brock Lesnar vs. Jon Jones
Jan Blachowicz vs. Jon Jones
Jon Jones vs. Daniel Cormier 3
Jones' Key Info and Stats
Jones is regarded by many as the greatest UFC fighter of all time.
Those who believe Jones to be the MMA G.O.A.T often cite his dominance at light heavyweight as well as the caliber of the opponents he has beaten as the two main reasons for his incredible success in the fight game.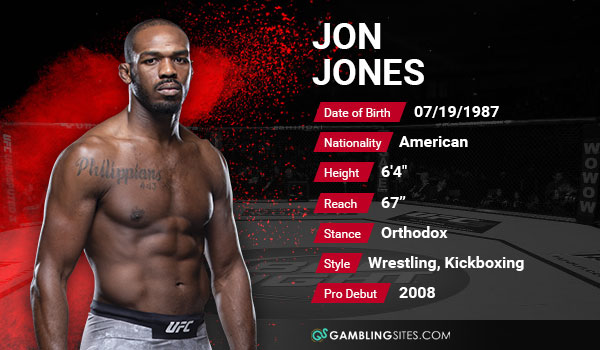 Before Jones' many controversies both inside and outside of the cage, he was universally viewed as the finest example of what a mixed martial artist should be.
Having beaten the legendary Shogun Rua at UFC 128 in March 2011 to win the title for the first time, he showed a maturity that belied his years. That night, Jones became the youngest UFC champion in the history of the promotion at just 23.
What the wunderkind had was just so different to what any other fighter was bringing to the sport. He dominated almost every opponent put in front of him.
A tall, lanky fighter with no discernible weaknesses, Jones' Greco-Roman wrestling, and awesome striking would mark him out as the premier fighter in the history of the UFC light heavyweight division. And let's be honest, the greatest in the history of what was once the premier weight class in MMA.
JON JONES KEY INFO
Pro MMA Record
26-1-0-1 (NC)
Record in Other Sports
N/A
Weight Classes
Heavyweight (265 Pounds), Light Heavyweight (205 Pounds)
Gym Affiliation
Jackson-Wink MMA
Head Coach
Greg Jackson
Current UFC Ranking
Heavyweight (Unranked), Pound-for-Pound (#2)
UFC Titles Won
Light Heavyweight Championship
Main Rival
Daniel Cormier
An athletic wrestler-striker with arguably the most well-rounded arsenal of weapons of all time, Jones' place in the history books is all but assured.
But still, some are dubious of whether his success is truly deserved.
A Short Jon Jones Biography
Born on July 19, 1987, in Rochester, New York, Jones' path to martial arts greatness wasn't the most linear one.
One of four children, Jones' father was a church pastor who wanted his son to follow in his footsteps. Instead, Jones would eventually go against his father's wishes in order to pursue a life as a fighter. Some would say that it would prove to be the best decision he ever made.
Jones was brought up with faith, but this was tested when his older sister, Carmen, died of a brain tumor at just 17 years old. Years later, his beloved mother, Camille, passed away following a lengthy battle with diabetes.
Considered the most naturally gifted mixed martial artist of all time, Jones was a standout wrestler in high school. He also dabbled in football but didn't enjoy the success of his two brothers, who went on to play in the NFL.
Having decided to abandon his studies in Criminal Justice, Jones set his heart on a career in MMA. He taught himself various techniques on YouTube and made his professional debut in 2008.
It wouldn't take long before Jones won the UFC title, stopping Shogun Rua in his 14th pro fight. He would go on to defend the title eight times over 1,501 days before being stripped of the crown in 2015. He would then go on to capture the interim title, before unifying the division against Daniel Cormier.
Stripped again, Jones came close to seeing his career fall by the wayside. But somehow, he has kept his nose clean and continues to dedicate himself to his craft.
Jon Jones Record
Opponent
Result
Date and Event
Dominick Reyes
Win – Decision
UFC 247 – February 8, 2020
Thiago Santos
Win – Decision
UFC 239 – July 6, 2019
Anthony Smith
Win – Decision
UFC 235 – March 2, 2019
Alexander Gustafsson
Win TKO
UFC 232 – December 29, 2018
Daniel Cormier
No Contest
UFC 214 – July 29, 2017
Ovince Saint Preux
Win – Decision
UFC 197 – April 23, 2016
Daniel Cormier
Win – Decision
UFC 182 – January 3, 2015
Glover Teixeira
Win – Decision
UFC 172 – April 26, 2014
Alexander Gustafsson
Win – Decision
UFC 165 – September 21, 2013
Chael Sonnen
Win – TKO
UFC 159 – April 27, 2013
Vitor Belfort
Win – Submission
UFC 152 – September 22, 2012
Rashad Evans
Win – Decision
UFC 145 – April 21, 2012
Lyoto Machida
Win – Technical Submission
UFC 140 – December 10, 2011
Quinton Jackson
Win – Submission
UFC 135 – September 24, 2011
Maurício Rua
Win – TKO
UFC 128 – March 19, 2011
Ryan Bader
Win – Submission
UFC 126 – February 5, 2011
Vladimir Matyushenko
Win – TKO
UFC Live: Jones vs. Matyushenko – August 1, 2010
Brandon Vera
Win – TKO
UFC Live: Vera vs. Jones – March 21, 2010
Matt Hamill
Loss – DQ
The Ultimate Fighter: Heavyweights Finale – December 5, 2009
Jake O'Brien
Win – Submission
UFC 100 – July 11, 2009
Stephan Bonnar
Win – Decision
UFC 94 – January 31, 2009
André Gusmão
Win – Decision
UFC 87 – August 9, 2008
Moyses Gabin
Win – TKO
Battle Cage Xtreme 5 – July 12, 2008
Parker Porter
Win – KO
World Championship Fighting – 3 June 20, 2008
Ryan Verrett
Win – TKO
USFL: War in the Woods – 3 May 9, 2008
Anthony Pina
Win – Submission
Ice Fighter – April 25, 2008
Carlos Eduardo
Win – KO
Battle Cage Xtreme – 4 April 19, 2008
Brad Bernard
Win – TKO
FFP: Untamed – 20 April 12, 2008
Betting on Jon Jones fights is always popular with fans, who tune in to watch his bouts in their hundreds of thousands. The greatest to ever do it in the UFC light heavyweight division has sold millions of pay-per-views throughout his career.
Jones is one of a handful of great fighters in the UFC today. You can read about the others on the following page.
Jon Jones FAQ
Jon Jones is a fighter that tends to attract a lot of attention. Part of that attention comes down to his background, his skills, and how he lives his life.
You will find the most frequently asked questions about Jones, below. And the answer to those questions, of course!
Where was Jon Jones Born?
Jones was born in Rochester, New York.
However, he now lives in New Mexico in order to be closer to his gym, Jackson-Wink MMA, which is based in Albuquerque.
In the world of mixed martial arts, Jon Jones is royalty.
He is, of course, renowned outside of the sport. But despite being one of the greatest to ever do it, he doesn't enjoy the same level of fame as, say, a Conor McGregor or Khabib Nurmagomedov.
The two aforementioned fighters are global and cultural icons. Jones is a little more lowkey than that, despite having his fair share of publicity over the years.
Standing at 6'4″, Jones is on the taller side of the UFC roster.
The average height for a UFC heavyweight is 6'3″, meaning that he is just above the going height. However, Jones's reach comes in at a huge 84.5″ inches, which is an incredible 7 inches over the average.
Did Jon Jones Cheat in the UFC?
Jones was disqualified from a fight with Matt Hamill in 2008, due to the use of illegal "12-6" elbows.
The win was awarded to Hamill, but most fans fail to recognize it as a genuine victory, and even use it as a lighthearted reference from time to time.
If you're wondering about Jones being a drug cheat, well, there have been allegations from fighters and fans made about him. These alleged claims refer to positive doping tests that linked Jones to the use of Turinabol, a performance-enhancing steroid.
What is Jon Jones' Net Worth?
Jones has never disclosed his net worth.
However, many online publications believe Jones to be worth in the region of $10 million. This figure is hardly unrealistic, given the number of fights he has had, his sponsorships and endorsements, his fight purses, and, of course, his cuts from various pay-per-view fights.
What are the Best Jon Jones Bets?
That very much depends on the fight!
You can bet on Jones to knock out Ngannou, for example, or almost any other scenario within reason. But the best bets for Jones to target are those that our UFC experts provide before the fights. You can find them on this page!
Who Will Jones Fight Next in the UFC?
It looks likely that Ngannou vs. Jones will be the next fight for the light heavyweight legend.
However, things can move fast in the UFC, so don't be surprised if Jones ends up taking on Stipe Miocic, or even Israel Adesanya.
Regardless, you can always find the latest odds for Jon Jones's next fight, as well as bets and general information, by visiting the first couple of sections on this page.
Where Can I Bet on Jon Jones Fights?
We recommend only betting with trusted, safe, and elite-level betting sites, such as those that you can access above.
We left you a link to the best UFC betting sites under the "Where to Bet on Jon Jones Fights" section above. Check them out!
Jones, the father of a church pastor, is religious.
We often hear fans ask if Jon Jones is Muslim, but he is, in fact, a Christian.
Well, not officially. But…
Matt Hamill is the only fighter with a "win" over Jones, but it came via disqualification. Hamill, despite appearing to be a really cool guy, was getting his ass kicked.
So, yeah, Jones is unbeaten, but not officially.
What fighter beats Jon Jones?
Well, the simple answer here is that there are plenty of fighters capable of handing Jones his first loss in MMA. Some believe Ngannou and Stipe could get the job done, while others see Israel Adesanya beating Jones.
Check back with us soon for our betting preview for Jones' next fight and our experts will tell you if he can be beaten!