Betting on Israel Adesanya Fights
You don't need to ask your friends when Israel Adesanya's next fight is. Nor do you have to trawl the internet for Adesanya's latest odds, his vital stats, or his record in mixed martial arts.
Not when you have this highly valuable and complete guide for "The Last Stylebender" to bookmark and come back to, anyway. You can consider this your personal treasure chest for everything you need to stay updated. It will even help you make money from betting on Adesanya fights.
Whether you are a die-hard fan or a novice when it comes to betting on Israel Adesanya, this page gives you everything you could possibly need to know about the Nigerian-New Zealander's UFC career. We are talking about the good stuff, even the bad, and everything in between.
You will find the following information on this dedicated Israel Adesanya betting page.
Latest Adesanya Odds
| | |
| --- | --- |
| Fight | Odds |
| Blachowicz vs. Adesanya | Blachowicz +210, Adesanya -250 |
| Jones vs. Adesanya | Jones -275, Adesanya +285 |
Looking for early odds for Adesanya? We always have you covered.
Adesanya is moving up to 205-pounds to challenge the dangerously underrated Jan Blachowicz for the UFC light heavyweight title in early 2021. As it stands, he is favored to capture a second UFC title against Poland's Blachowicz. That could open the door to a potential fight between the division's greatest ever fighter, Jon Jones.
Odds for Jones vs. Adesanya make for interesting reading. As expected, "Bones" is a big favorite to beat Izzy, but not everyone agrees that the former light heavyweight champion has the tools to deny New Zealand's greatest mixed martial artist.
If you're wondering where to find the best prop bets for Israel Adesanya, rest assured that this is the place you can always come to.
Right now, there's nothing available. But we will have the best props and specials available for Adesanya when they hit the market.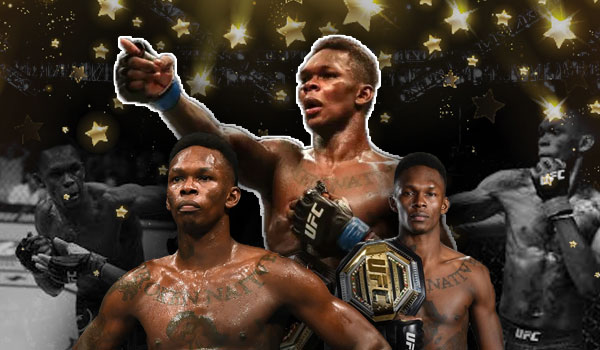 Israel Adesanya vs. Jan Blachowicz
Jan Blachowicz makes the first defense of his UFC light heavyweight title against Israel Adesanya.
What a fight this should be. Two impressive competitors going at it in what is highly unlikely to be a boring fight. Adesanya is aiming to join the elite club of two-weight world champions, while Blachowicz is tasked with securing a legacy at 205.
While both men are quite different in terms of skillset, they do share kickboxing striking bases. But where Adesanya's is more technical and laser-precise, Blachowicz's is powerful and devastating. Who eventually comes out on top will come down to a wide range of factors.
Adesanya is coming off an exceptional knockout win over the previously unbeaten Paulo Costa, while Blachowicz also earned a stoppage win over Dominick Reyes to win the belt. These two are confident, hungry, and ready to put on a fight for the ages.

Adesanya vs. Blachowicz Details
Event: UFC 259
Date: March 6, 2021
Location: UFC APEX, Las Vegas
Weight Class: Light Heavyweight
Jan Blachowicz vs. Israel Adesanya will headline UFC 259 for the light heavyweight championship of the world.
The fight goes down on March 6, 2021, and here's how you can bet on Blachowicz vs. Adesanya.
Betting on Blachowicz vs. Adesanya
Our Blachowicz vs. Adesanya predictions and pick will help you bet on the big fight.
In this betting preview, you will find the best odds and best bets for Blachowicz vs Adesanya, and much more.
So, if you are wagering for real money on the fight, this is something you certainly should not miss. Our in-house UFC expert also breaks the technical side of the fight, and what to consider when placing your bets, and this is valuable information to know!
Rumors and Potential Fights for Adesanya
Israel Adesanya is one of the highest-profile fighters on the planet. As such, it's not uncommon to hear him being linked to a whole host of potential opponents.
As things stand, Adesanya is rumored to be close to a fight with all-time great, Jon Jones, in 2021. But who else will Adesanya fight?
Here are just a few fights that could happen for The Last Stylebender, depending on how things pan out.
Jon Jones vs. Israel Adesanya
Adesanya vs. Whittaker 2
Israel Adesanya vs. Jared Cannonier
Where to Bet on Adesanya Fights
When it comes to gambling on the UFC, some of the most popular questions revolve around where to bet on Israel Adesanya's bouts.
The simple answer here is that you should, without question, only ever bet on Adesanya's fights with a trusted and 100% legal betting site. The first check on your list should be a safe and secure UFC betting site. And yes, that's before you start looking for the best UFC betting bonuses or anything else.
Now, that's not to say that you can't get bonuses on Adesanya fights. You can. And we believe you should! But choosing a site that is going to pay out when you win, protect your sensitive information, and ensure that you are safe when betting is always the one to go for.
Safety is key. But it is also important to find the best odds for Adesanya, as well as the best markets and range of bets for the striking superstar. A wide range of payment methods is also good, as are the top UFC betting sites that provide fast payouts for winnings.
Much like a one-trick pony would be exposed after a few minutes inside the Octagon with Izzy, a betting site that doesn't live up to our standards isn't going to get very far in our estimation.
Israel Adesanya Record and Stats
Adesanya stands at 6'4" and has a reach of 80". This is a major part of his fighting style, which emphasizes clever striking and highly intelligent movement and footwork.
Israel Adesanya Key Info
Pro MMA Record
20-0 (15 KOs)
Pro Kickboxing Record
75-5
Weight Class
Middleweight (185 Pounds) and Light Heavyweight (205 Pounds)
Gym Affiliation
City Kickboxing
Head Coach
Eugene Bareman
Rank/Accomplishments
Blue Belt in Brazilian Jiu-Jitsu
Current UFC Ranking
Middleweight (Champion) and Pound-for-Pound (#3)
UFC Titles Won
Middleweight Championship
Other Titles Won
King in the Ring Cruiserweight and Heavyweight Championships
Main Rivals
Paulo Costa, Robert Whittaker, Jon Jones
Adesanya is one of the biggest names in mixed martial arts today.
Considered by many as the best striker in the sport of MMA, Adesanya's star has risen dramatically over the past few years. Still unbeaten, the Kiwi is stylistically a challenge for any fighter around his weight mark.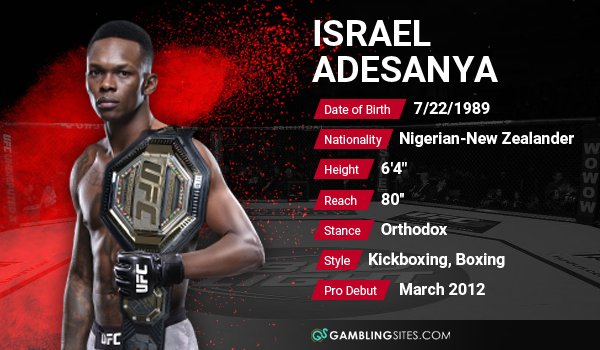 Adesanya is also known for being outspoken on a wide number of issues. His public spats with Paulo Costa and Jon Jones revealed a tougher, more venomous side of the laid back and upbeat fighter.
No fighter is without their weakness, of course, and Adesanya certainly has his. But do his strengths outweigh those weaknesses? If so, is it just a matter of time before he joins the elite band of fighters in UFC history?
A Short Adesanya Biography
Israel Adesanya was born in Lagos, Nigeria in July 1989. The son of an accountant and a nurse, Adesanya moved from West Africa to New Zealand as a youngster where he made his way into mixed martial arts following interests in dance, kickboxing, and boxing.
The eldest of five children, Adesanya was educated at Chrisland School in Opebi, Nigeria where he first took up Taekwondo. Although his family moved to Ghana from their homeland, they eventually made their way to the "Land of the Long White Cloud" and started a new life in Rotorua, New Zealand.
According to Adesanya, he was tormented by bullies in school. This led to him taking up kickboxing at 18, where he would excel. At 21, he moved to the country's capital city, Auckland, where he hooked up with Eugene Bareman at City Kickboxing.
Following years of competing in kickboxing, boxing, and MMA, Adesanya signed for the UFC in 2017. It took him just seven fights to win the middleweight championship and cement himself as one of the best in the sport.
Adesanya's MMA Fights
Opponent
Result
Event
Paulo Costa
Win by TKO
UFC 253 – Sep 27, 2020
Yoel Romero
Win by Decision
UFC 248 – Mar 7, 2020
Robert Whittaker
Win by KO
UFC 243 – Oct 6, 2019
Kelvin Gastelum
Win by Decision
UFC 236 – Apr 13, 2019
Anderson Silva
Win by Decision
UFC 234 – Feb 10, 2019
Derek Brunson
Win by TKO
UFC 230 – Nov 3, 2018
Brad Tavares
Win by Decision
TUF – Jul 6, 2018
Marvin Vettori
Win by Decision
UFC on Fox – Apr 14, 2018
Rob Wilkinson
Win by TKO
UFC 221 – Feb 11, 2018
Stuart Dare
Win by KO
HFS 12 – Nov 24, 2017
Melvin Guillard
Win by TKO
AFC 20 – Jul 28, 2017
Murad Kuramagomedov
Win by TKO
WLF EPIC 4 – May 28, 2016
Andrew Flores Smith
Win by TKO
GOS 2 – May 7, 2016
Dibir Zagirov
Win by TKO
WLF EPIC 2 – Mar 13, 2016
Vladimir Katykhin
Win by TKO
WLF EPIC 1 – Jan 13, 2016
Gele Qing
Win by TKO
WLF – Sep 19, 2015
Maui Tuigamala
Win by TKO
FPF 1 – Sep 5, 2015
Song Kenan
Win by TKO
TLOE – Aug 8, 2015
John Vake
Win by TKO
Shuriken MMA: Jun 15, 2013
James Griffiths
Win by TKO
SFC 9 – Mar 24, 2012
Latest Israel Adesanya Updates
January 31: UFC President Dana White confirms that Blachowicz vs. Adesanya will go down at the UFC APEX on March 6, with limited fans in attendance.
November 4: Israel Adesanya says he plans to fight Jon Jones in front of a live crowd at the Allegiant Stadium in Nevada at some point in 2021.
Israel Adesanya FAQs
If you're looking to find out more about The Last Stylebender, including where that cage name comes from, these following frequently asked questions should help.
When Does Adesanya Fight Next?
Adesanya vs. Blachowicz. The fight has not been assigned a date and venue yet, but it is expected to go down around March 2021.
Is it Best to Bet on Adesanya Fights Online?
Many UFC betting fans swear by online bets over anything else. Not only is betting on Adesanya's fights much easier and more convenient from your laptop, smartphone, or device, but modern technology has advanced to the point where it's more common to do things this way.
For example, MMA betting apps are so popular these days for the variety they offer gamblers.
What Does "The Last Stylebender" Mean?
If you're wondering where Adesanya got his nickname from, join the queue. You are not the first to ask about the origin of The Last Stylebender, and you won't be the last.
The background behind the name is simple. Adesanya is a huge fan of anime and adapted the name from the TV show Avatar: The Last Airbender. The fighter also has a tattoo of one of the characters from the show on his arm.
What Are the Best Adesanya Bets to Place?
That depends on matters such as his opponent and what weight he is fighting at. The good news is that you will find the best bets for Adesanya above, as well as the latest odds for his next fight and more.
Where Is Israel Adesanya From?
Questions like "Is Adesanya African or New Zealander," or "Is Israel Adesanya American" are common when it comes to this fighter.
To answer the first question, he is both. Adesanya was born in Nigeria, West Africa, but moved to New Zealand when he was younger. He considers himself Nigerian-Kiwi.
As for the second question, some ask why Adesanya has an American accent. He has previously spoken about the influence of American TV on his accent, and that's pretty much it.
What Odds Are There for Adesanya?
As of now, the odds for Israel Adesanya are all available above. You can also find more odds for upcoming fights in our guide to betting on UFC.
Israel Adesanya is 6'4", which makes him tall for a middleweight. However, when he fights at light heavyweight, his height advantage diminishes a little.
How Much does Israel Adesanya Get Paid?
As one of the UFC's biggest stars, Adesanya will be paid more than most other fighters.
He was said to receive over $1 million for beating Paulo Costa, but with pay-per-view points, that could be a lot more.
How Much Does Adesanya Weigh?
Adesanya currently weighs between 195 and 200 pounds. He will be competing in the 205-pound weight class next.