Betting on Deiveson Figueiredo Fights
Deiveson Figueiredo is turning into one of the UFC's most exciting fighters.
That's why we've put together a page that you can bookmark and come back to for the latest Figeureido odds, fight news, and much more.
Not only will this guide help you understand the "God of War" much better; it will also contain extremely useful information if you are betting on any Figueiredo fights.
The Brazilian war machine is currently tearing up the flyweight division. Can he be stopped, or will we witness a flyweight dynasty that gathers enough pace to challenge the iconic records set by Demetrious Johnson over the years? That question, and many more, will be answered below.
Here's what's in our guide to Deiveson Figueiredo betting.
Deiveson Figueiredo Odds
Figueiredo vs. Moreno; Figueiredo -275, Moreno +215
Here's where you can get your hands on the latest Figueiredo fight odds.
The UFC flyweight kingpin will meet Brandon Moreno in a rematch that is yet to be confirmed. But, you can bet on the fight, right now.
There are no other bouts in the pipeline for the UFC flyweight champion, but if there are, you can read about them here.
This also applies to props and specials for Figueiredo fights. The section below is dedicated to other bets available for the champ.
Deiveson Figueiredo Prop Bets and Specials
As it stands, there are no props or specials available for Figueiredo's fights.
Give this section a visit soon, as that could change very quickly!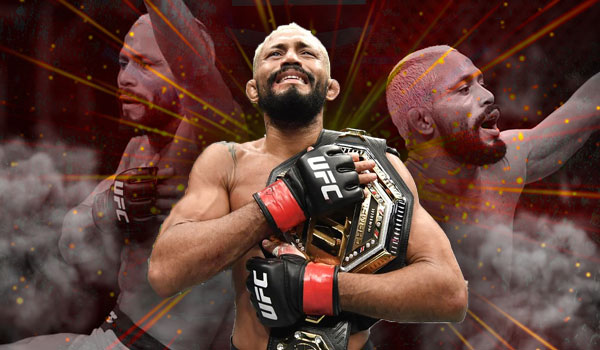 Deiveson Figueiredo vs. Brandon Moreno 2
Figueiredo vs. Moreno 2 is the most anticipated rematch at flyweight since Demetrious Johnson vs. Henry Cejudo.
The only difference with Johnson vs. Cejudo is, well, that we will never see it happen. Figueiredo vs. Moreno 2 will happen, and it will be glorious.
Here are the details for the championship fight.
Details for Figueiredo vs. Moreno 2
Event: TBC
Date: TBC
Location: TBC
Weight Class: Flyweight
Figueiredo vs. Moreno 2 is yet to be signed off.
According to Dana White, a rematch is on the cards. It will likely happen by February, which is awesome.
So, if you're planning on making money betting on Figueiredo vs. Moreno 2, make sure to check in with us regularly to see the latest on the fight.
Betting on Figueiredo vs. Moreno 2
We are covering Figueiredo vs. Moreno 2, and that includes providing you with the best odds, bets, and predictions for the fight.
If you're betting on any of the fights, be sure to check out the following pages for some insight, betting advice, and more. We will be providing updates when more information about the rematch is known.
Deiveson Figueiredo Rumors and Potential Bouts
As it stands, the UFC flyweight champion is a target for everyone in his division.
Depending on how he does against Moreno, we could see several fighters throwing their names into the cage for a shot at gold. Figueiredo might even fancy his chances of moving up in weight to fight for the bantamweight title, should he beat his next opponent.
Below are just a few of the potential fights that could come his way in 2021.
Deiveson Figueiredo vs. Askar Askarov
Deiveson Figueiredo vs. Alexandre Pantoja
Petr Yan vs. Deiveson Figueiredo
Where to Bet on Figueiredo Fights
Before you start dreaming about winning big while betting on Figueiredo's fights, you should know that a top betting site or app is the first port of call.
We stand by our assertion that you should protect yourself at all times. And this applies to betting online, too. Our recommended sites for betting on the UFC are all 100% safe and secure. But more than this, these sites are designed with MMA bettors in mind.
How, you might ask? Well, think of it like this. A top UFC betting site will have numerous markets for bettors on the fights. They will want to keep fight lovers betting on Figueiredo on their site rather than the bettor using subpar sportsbooks that don't make half the effort.
Our top UFC betting sites sit high on our rankings for more than just one reason.
Figueiredo Key Info and Stats
Born on the island of Soure, Brazil, Deiveson Figueiredo grew up herding cattle with his father.
Eventually, he would grow to love the Brazilian martial art of capoeira, which, in effect, turned him on to MMA.
It became obvious very soon that Figueiredo had a talent for fighting, but he would not make his professional debut in mixed martial arts until he hooked up with the Knock Out Combat Icoaraci 3 promotion in 2012.
Figueiredo has enjoyed a successful career inside the cage so far. Here's some key info about him.
Deiveson Figueiredo Key Info
Pro MMA Record
20-1 (9 KOs)
Record in Other Sports
N/A
Weightclass
Flyweight (125 Pounds)
Gym Affiliation
Team Figueiredo
Striking Coach
Luciano Nogueira
Rank/Accomplishments
Black Belt in Brazilian Jiu-Jitsu
Current UFC Ranking
Flyweight (Champion), Pound-for-Pound (#11)
UFC Titles Won
Flyweight Championships
Other Titles Won
N/A
Main Rivals
Joseph Benavidez
Although a one-time member of Team Alpha Male, Figueiredo set up his own gym in 2020.
The current flyweight champion now works alongside Francisco Figueiredo and Luciano Nogueira from their headquarters in Belem, Brazil.
Short Deiveson Figueiredo Bio
Deiveson Figueiredo's path to glory was not the average one.
The Brazilian is a terrifyingly powerful fighter but has numerous interests outside of the cage that keep him entertained. At one point, his interests crossed over to his main vocations, especially when the money he was making from fights on the regional scene in Brazil was not sufficient to keep him living to a high standard.
Figueiredo has been everything from a "cowboy," to a sushi chef. He has been a hairdresser, too. Now, if you were to read that resume before you knew of Figueiredo, you might paint a picture of the guy as some kind of eccentric.
Make no mistake, he is anything other than devastating when that cage door closes.
The Brazilian worked his way through the UFC flyweight division, beating everyone in his path other than Jussier Formiga. The God of War dropped a decision to Formiga in March 2019, but that just might have been a blessing in disguise.
Since that loss, Figueiredo has looked sensational. He is now the proud owner of one of the best records in the history of the flyweight division.
Figueiredo's Fight Record
Opponent
Result
Date and Event
Alex Perez
Win by Submission
UFC 255 – Nov 21, 2020
Joseph Benavidez
Win by Submission
UFC FN – Jul 19, 2020
Joseph Benavidez
Win by TKO
UFC FN – Feb 29, 2020
Tim Elliott
Win by Submission
UFC FN – Oct 12, 2019
Alexandre Pantoja
Win by Decision
UFC 240 – Jul 27, 2019
Jussier Formiga
Loss by Decision
UFC FN – Mar 23, 2019
John Moraga
Win by TKO
UFC FN – Aug 25, 2018
Joseph Morales
Win by TKO
UFC FN – Feb 3, 2018
Jarred Brooks
Win by Decision
UFC FN – Oct 28, 2017
Marco Beltran
Win by TKO
UFC 212 – Jun 3, 2017
Ricardo do Soccoro
Win by Submission
SMF 5 – Dec 1, 2016
Denis Oliveira
Win by KO
Jungle Fight 90 – Sep 3, 2016
Antonio de Miranda
Win by Submission
Jungle Fight 87 – May 21, 2016
Rayner Silva
Win by TKO
Jungle Fight 75 – Dec 18, 2014
Joao Neto Silva
Win by TKO
CF 4 – Nov 13, 2014
Joel Silva
Win by KO
CFN – Aug 7, 2014
Edvaldo Junior
Win by Submission
JOFM 8 – Jul 3, 2014
Adailton Pereira
Win by Decision
LPF – May 1, 2014
David Raimundo Silva
Win by Submission
JOFM 7- Mar 20, 2014
Jonas Ferreira
Win by TKO
AMF 18 – Aug 11, 2012
Aluisio Ferreira
Win by Submission
KOCI 3 – Feb 17, 2012
If you're looking to spruce up your knowledge of the best UFC fighters today, we have a highly valuable catalog of the men and women making waves in MMA's greatest promotion.
You can find the rest of our fighter profiles on the following page.
Latest Figueiredo News
Dec 12: Figueiredo defends his title in a pulsating draw with Brandon Moreno at UFC 256.
Nov 25: Deiveson Figueiredo climbs to #11 in the official UFC pound-for-pound rankings.
Deiveson Figueiredo FAQ
If you have questions about Figueiredo, why not check out our FAQ section?
You will find a number of the commonly asked questions about the champ, as well as an answer for each and every one. Check it out!
How Tall is Deiveson Figueiredo?
Figueiredo stands at 5'5" tall.
This is about the average for a flyweight fighter in the UFC.
Is Deiveson Figueiredo Married?
Yes, Figueiredo married longtime girlfriend, Bruna Moraes.
They have a young son together.
How Can I Bet on Figueiredo's Fights?
The first thing you will need to do to bet on Figueiredo's fights is to sign up with one of the best UFC betting sites.
If you have any questions regarding how to bet on UFC fights, you can find a guide explaining everything here.
Is Figueiredo Better Than Mighty Mouse?
That's a good question. But unfortunately, the answer is subjective.
In terms of accomplishments, Demetrious Johnson is some way ahead of Figueiredo. But there is nothing to suggest that Figueiredo cannot equal Mighty Mouse's UFC record of 11 title defenses.
But would Johnson beat Figueiredo in a fight? Who knows? Unfortunately, it looks unlikely that we will ever learn the answer to this question.
Where Do I Find the Best Bets for Figueiredo?
Ooh, an easy one!
One of the reasons for designing this page for you is to help you bet on Figueiredo fights. Naturally, we thought that as long as we were doing that, we might as well build a couple of sections where you can find the latest odds for Figueiredo as well as the top bets for his next fight.
You can find both sections further up this page!
What Does Deus de Guerra Mean?
A common question asked by fans recently is what does Deiveson Figueiredo's nickname mean.
Well, it translates from Portuguese into English as "God of War." Some fans prefer to refer to him by his Portuguese cage name while others prefer it translated into English.
Is it Safe to Bet on Figueiredo?
Providing you are using one of the safest UFC betting sites as recommended by our experts, you will be 100% safe when betting on Figueiredo fights.
Unfortunately, we cannot comment on any other betting sites. The reason being that we have not had a chance to spend a lot of time scrutinizing that site and testing its safety and suitability for our readers.
While betting on UFC fights online is safe, for the most part, there are some betting sites and apps that are not to be trusted. That's why we only recommend 100% safe and secure sites.
Is Figueiredo a BJJ Black Belt?
Yes, Deiveson Figueiredo is a black belt in Brazilian Jiu-Jitsu.
This gives the champion a real advantage on the ground when compared to other fighters that are not as proficient when attempting to land or defend submission attempts.
How Long Will Figueiredo be Champion?
The short, and perhaps only answer to this is that he will remain as champion until he loses.
Figueiredo certainly has a lot of talent, but there are some hungry competitors out there that will push him hard. Can Figueiredo remain unbeaten throughout the rest of his career?
We'll just have to wait and see how he goes.