How and Where to Bet on Conor McGregor Fights
There's no bigger attraction in the UFC than Conor McGregor. His fights are the most-watched around the world, and also generate the most betting action.
If you're looking to bet on McGregor's next fight, our UFC betting experts have you covered. You'll find the latest McGregor odds right here, along with details of where to bet on McGregor, some betting tips, and anything else you might want to know about "The Notorious."
Latest McGregor Odds
There are usually plenty of McGregor odds doing the rounds. Whether it's betting on his next fight, who he will fight next, or something else, there are several options for betting on McGregor.
Below we provide the odds for McGregor's next fight and a few other betting markets that might pique your interest.
Odds for McGregor Next Fight (N/A)
McGregor's next fight has not yet been confirmed.
But make sure to visit us soon, as McGregor has made it clear that he wants to fight sooner rather than later.
Odds for Other McGregor Fights
There are Conor McGregor odds out for several other potential fights. Odds for rematches with Khabib Nurmagomedov, Nate Diaz, Floyd Mayweather, and more are currently available.
| | |
| --- | --- |
| Fight | Odds |
| Masvidal vs. McGregor | Mavidal -160, McGregor +130 |
| Khabib vs. McGregor 2 | Khabib -345, McGregor +245 |
| McGregor vs. Diaz 3 | McGregor -250, Diaz +175 |
| Usman vs. McGregor | Usman -400, McGregor +330 |
| Gaethje vs. McGregor | Gaethje -115, McGregor -115 |
There are more even McGregor bets available for the UFC superstar. Most notably, props and specials.
Conor McGregor Odds for Prop Bets and Specials
Pacquiao vs. McGregor; Pacquiao -550, McGregor +350
Mayweather vs. McGregor (UFC Fight); Mayweather +900, McGregor -2000
Conor McGregor as Next UFC Lightweight Champion; -160
If you're looking to bet on Pacquiao vs. McGregor, you can get big odds on the Irishman winning just the second professional boxing fight of his career against another legend of the sport.
Those who believe a Mayweather vs. McGregor rematch can happen inside the Octagon can get odds on "Money" to win or on McGregor to triumph under MMA rules.
Perhaps more realistic are McGregor's odds to win the UFC lightweight championship next. Of all the contenders for the strap, the Dubliner is tipped to claim it first.
Props are one of the best ways to make money betting on Conor McGregor. We'll keep you up to date with odds for the latest McGregor props as and when they are released.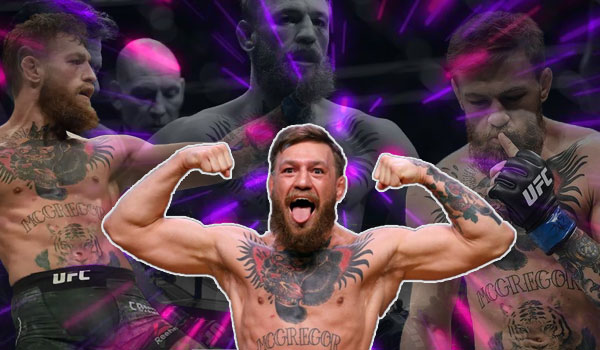 Where to Bet on McGregor Fights
If you're looking to bet on McGregor's next fight, or pick a couple of wagers on some of the Irishman's wildest prop bets, you're going to need a safe and secure sportsbook to get your money down.
Choosing a real money betting site that will help you get the biggest bang for your buck is the right way to go, but some bettors find that they come up short when finding the best sites for betting on Conor McGregor.
Fear not, as we're here to help!
The above recommendations for where to bet on McGregor all meet the following important criteria.
Safe, secure, and operating legally.
Range of options for depositing your money.
Generous betting bonuses, and even special promotions for betting on McGregor fights.
Fast payouts if you win money betting on McGregor (or his opponent!)
Wide range of McGregor betting options, including props.
Competitive McGregor odds.
Whether you're backing McGregor to KO his next opponent or fancy a few units down on an upset, our recommended sites and betting apps hit the mark.
If you would like to learn more, please view the following pages, and all will be explained.
Conor McGregor's Next Fight
McGregor's next opponent has not yet been announced.
But as soon as we have confirmation of who Conor will fight next, you will find valuable betting content here for that fight.
In the meantime, you can read about and even bet on who McGregor will fight next in the UFC on our UFC blog.
Or, you can check out the latest UFC predictions and picks below.
McGregor Rumors and Potential Fights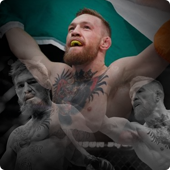 Not all rumors turn out to be true. In fact, you will find many McGregor rumors floating around that are about as believable as the Loch Ness Monster.
Now, if you do believe in "Nessie," this is not a personal attack. It's just that, well… come on.
There are some potential fights for the former "Champ-Champ," including what would be a colossal rematch for the lightweight title, that will not go away.
Here are several potential McGregor fights that could end up happening.
Manny Pacquiao vs. Conor McGregor
Khabib vs. McGregor 2
McGregor vs. Diaz 3
McGregor vs. Holloway 2
Tips for Betting on Conor McGregor Fights
Looking to make money betting on McGregor fights, but don't know where to start?
Or perhaps you have read all there is, and need a few fresh McGregor betting tips to get you excited?
Whatever it is you're looking for, keep reading for some solid tips on how to make money betting on the McGregor's UFC fights.
Keep it Simple When Betting on McGregor
If you're betting on Conor McGregor fights for real money, you're entitled to be cautious. And there's nothing wrong with that.
But, there is a fine line between being judicious and running around in circles. As much as it pays to be clever when wagering on McGregor fights, overdoing it might lead you down the wrong path altogether.
Put simply, don't overthink things. For a fighter as volatile and unpredictable as McGregor, his record is very black and white.
Here are some examples.
For the most part, McGregor wins more fights than he loses
In his wins, the method of victory is almost always by KO/TKO
All KO/TKOs he has scored have always been inside 2 rounds
He has been beaten four times, with every loss coming by way of submission.
He has a rock-solid chin so don't back him to lose by KO/TKO
At this level, McGregor is regarded as a high-level striker with a lot of power. Here are some striking stats from some of his previous fights.
McGregor Striking Stats
Opponent
Total Strikes Attempted
Total Strikes Landed
Total Strike Percentage
Knockdowns
Result
Donald Cerrone
27
20
74.07
1
Win by TKO
Khabib Nurmagomedov
128
96
75.00
0
Loss by Submission
Eddie Alvarez
93
40
43.01
3
Win by KO/TKO
Nate Diaz
322
197
61.18
3
Win by Decision
Nate Diaz
145
66
45.52
0
Loss by Submission
Bet on McGregor to Beat Boxers and Other Strikers
Plenty of fighters have called themselves the best boxers in the UFC.
Guys like Max Holloway and Jorge Masvidal immediately come to mind when discussing those with the best hands in the promotion.
But there has never been anyone quite like McGregor in this department.
One of the best tips for betting on McGregor is to back him against boxers. Because, well, most of the time, he will come out on top.
We believe that he has the best left hand in the business, and being southpaw makes it even more difficult for a boxer to get the better of him.
When McGregor is fighting other boxers and most other strikers for that matter, he almost always has the advantage. His boxing fundamentals, such as his understanding of distance and range, are not to be sniffed at.
If you are considering whether to bet on McGregor's odds in his next UFC fight against a boxer/striker, remember that he fought one of the greatest boxers of all time, Floyd Mayweather, in a sanctioned boxing match.
Bet Against Conor Beating Submission Artists
Or bet on submission artists to beat McGregor. Same difference.
Although McGregor's Brazilian Jiu-Jitsu is nowhere near as terrible as popular culture has deemed it to be, he does have weaknesses against top-notch submission artists.
Khabib Nurmagomedov and Nate Diaz both submitted "The Notorious," and these two are the best submission artists on his record.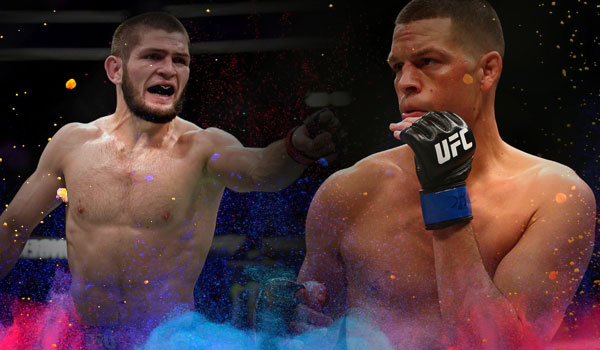 McGregor also lost two of his first six fights as a professional. Both of these losses came by way of submission.
If it comes down to a scrap between Conor McGregor and a fighter with considerable attacking jiu-jitsu, be very careful.
Wagering real money on McGregor beating a high-level BJJ guy, especially if that fighter has a good chin and decent stand-up, is a risky business.
Instead, think about how you could make money placing bets on McGregor to lose by submission.
Never Bet on a McGregor Draw
No matter who you are, the odds you can get for betting on McGregor to draw in a fight look plump and juicy.
But, well, he has never drawn once in 26 professional mixed martial arts contests. The closest thing he got to was picking up a razor-thin majority decision victory over Nate Diaz in their 2016 rematch.
If there was ever a fight that McGregor would have drawn, that would have surely been it.

Top Tip
Always remember that this braggadocious Irishman is the biggest star the UFC has ever had. Therefore, you should err on the side of caution when betting on him drawing.
If a fight is super close, as it was against Diaz the second time, the judges could be swayed by things like his personality, star status, commentators, and, of course, the screaming fans.
Betting on draws in the UFC, or in any MMA promotion, for that matter, is seldom a good idea. Draws are super rare.
As rounds are set at 5 or 3, they are, therefore, uneven. Boxing sees more draws because fights are typically 12, 10, 8, 6, and 4 rounds.
Bet on McGregor as Early as You Can
Perhaps the most important tip of them all when betting on McGregor is to get in there early.
The best time to bet on McGregor is ASAP, given how popular the Dubliner is.
There is no fighter in the UFC that attracts more attention than the Crumlin-native, and this certainly applies to the odds and McGregor betting markets.
History has shown us that the earlier you get on McGregor, the better. The gulf between his opening odds has been crazy at times, reinforcing the importance of acting fast to get the sweetest of the nectar on offer.
Conor McGregor's UFC Odds History
Opponent
Opening Odds
Closing Odds
Dustin Poirier
-175
-340
Donald Cerrone
-160
-344
Khabib Nurmagomedov
+135
+130
Eddie Alvarez
-185
-195
Nate Diaz
-125
-155
Nate Diaz
-300
-585
Jose Aldo
-180
-109
Chad Mendes
-105
-210
Dennis Siver
-588
-1415
Dustin Poirier
+190
-276
Diego Brandao
-400
-716
Max Holloway
-190
-385
Marcus Brimmage
-170
-165
As you can see from some from the data above, it's almost always a good idea to lock McGregor's odds down as early as possible. If you are betting on him to win, of course.
Sometimes, it pays to even get on odds for McGregor's prospective fights, as these usually have awesome value.
For example, one top UFC betting site online was offering -140 for McGregor to beat Donald Cerrone when the fight was still not confirmed. The former "Champ-Champ" closed at -334 on the night of the fight.
There is often great value to be had getting in there early. Just be careful that you understand the bet you are placing.
For example, "Betting on McGregor to Beat Khabib" might have awesome odds, but they could come with a wager-cut off of Dec 31, 2021. This means that the bet is void if the fight doesn't happen before then.
"Betting on McGregor to Fight Khabib in 2021" is a bet that both men will fight in that year, and the bet will expire if they don't lace up and scrap before 23:59 on December 31 of 2021. You will not receive your stake back in this scenario.
Always check that you will receive your money back if a bet is voided. Sure, waiting around for the year to end might suck, but if you think the fight will happen in the allotted timeframe, you could make a lot of money.
About "The Notorious" – His Record and More
Conor McGregor was born in July 1988 in Dublin, Ireland.
Little did his parents know that one day, their baby would grow up to be one of the most recognized athletes of the 21st Century.
Conor McGregor Key Info
Pro MMA Record
22-5 (19 KOs)
Pro Boxing Record
0-1
Weightclass
Lightweight (155 Pounds), Welterweight (170 Pounds), Featherweight (145 Pounds)
Gym Affiliation
SBG Ireland
Head Coach
John Kavanagh
Rank/Accomplishments
Brown Belt in Brazilian Jiu-Jitsu
Current UFC Ranking
Lightweight (#4), Pound-for-Pound (#11)
UFC Titles Won
Lightweight and Featherweight Championships
Other Titles Won
Cage Warriors Lightweight and Featherweight Championships
Main Rivals
Nate Diaz, Khabib Nurmagomedov, Dustin Poirier
Standing at 5'9" and with a 74" reach, the Irish southpaw would carve through the UFC's featherweight division to establish himself as one of the pound-for-pound best in the world in the mid-2010s.
Not bad for a guy that made his debut in a modest Irish MMA promotion.
McGregor's standing in the world of combat sports is highly unique. He changed the face of MMA and is credited with helping the UFC advance further into the mainstream sports column across the globe.
Fighting out of Dublin's SBG gym, McGregor revolutionized MMA in Ireland. Although he is seen as a very polarizing figure in his homeland, he is almost universally regarded as the fighter that kickstarted a huge uptake in the sport among his compatriots.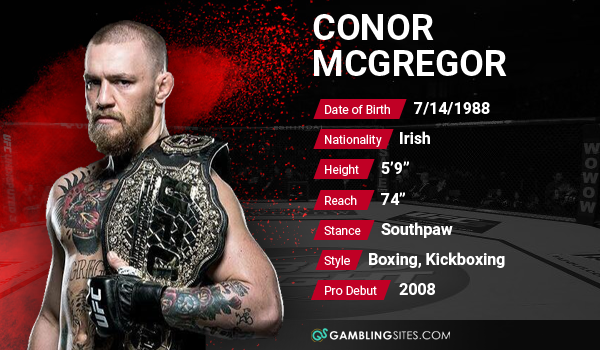 Conor McGregor's MMA Record
McGregor showed a keen interest in combat sports from a young age and trained in his local boxing gym in Crumlin, West Dublin. Eventually, mixed martial arts would catch his attention, and it would lead to him joining forces with coach John Kavanagh at Straight Blast Gym in Dublin.
He made his MMA debut in 2018 and would go on to rack up an impressive 12-2 record. After winning the Cage Warriors featherweight and lightweight titles, McGregor was signed up to the UFC.
It didn't take long for the razor-sharp with and hilarious trash talk to endear "The Notorious" to fans across the Atlantic and worldwide. His incredible run through the featherweight division saw him topple Jose Aldo for the 145-pound title before adding the 155-pound strap to his collection.
McGregor then took on Floyd Mayweather Jr. in a lucrative boxing match before returning to the UFC in 2018. He is currently 1-1 from his last two fights in the promotion and is campaigning to win the 155-pound title once more.
But his record in MMA certainly looks more comprehensive when compared to his achievements in boxing.
McGregor's MMA Fights
Opponent
Result
Date and Event
Dustin Poirier
Loss by TKO
UFC 257 – Jan 24, 2021
Donald Cerrone
Win by TKO
UFC 246 – Jan 18, 2020
Khabib Nurmagomedov
Loss by Submission
UFC 229 – Oct 6, 2018
Eddie Alvarez
Win by TKO
UFC 205 – Nov 12, 2016
Nate Diaz
Win by Decision
UFC 202 – Aug 20, 2016
Nate Diaz
Loss by Submission
UFC 196 – Mar 5, 2016
José Aldo
Win by KO
UFC 194 – Dec 12, 2015
Chad Mendes
Win by TKO
UFC 189 – Jul 11, 2015
Dennis Siver
Win by TKO
UFC FN – Jan 18, 2015
Dustin Poirier
Win by TKO
UFC 178 – Sep 27, 2014
Diego Brandão
Win by TKO
UFC FN – Jul 19, 2014
Max Holloway
Win by Decision
UFC FN – Aug 17, 2013
Marcus Brimage
Win by TKO
UFC on Fuel – Apr 6, 2013
Ivan Buchinger
Win by KO
CW 51 – Dec 31, 2012
Dave Hill
Win by Submission
CW 47 – Jun 2, 2012
Steve O'Keefe
Win by KO
CW 45 – Feb 18, 2012
Aaron Jahnsen
Win by TKO
CWFN 2 – Sep 8, 2011
Artur Sowinski
Win by TKO
CG 2 – Jun 11, 2011
Paddy Doherty
Win by KO
IFC 4 – Apr 16, 2011
Mike Wood
Win by KO
CC8 – Mar 12, 2011
Hugh Brady
Win by TKO
Chaos FC 8 – Feb 12, 2011
Joseph Duffy
Loss by Submission
CW 39 – Nov 27, 2010
Connor Dillon
Win by TKO
Chaos FC 7 – Oct 9, 2010
Stephen Bailey
Win by TKO
K.O. – Dec 12, 2008
Artemij Sitenkov
Loss by Submission
COT 3 – Jun 28, 2008
Mo Taylor
Win by TKO
CRC – May 3, 2008
Gary Morris
Win BY TKO
COT 2 – Mar 8, 2008
Conor's Highest Selling PPVs
The most watchable fighter in UFC history, there has never been anyone that can come close to replicating the pay-per-view numbers that Conor McGregor has popped over the years.
Not only has McGregor pulled in millions in PPV revenue over the years but has been hugely successful across multiple platforms.
PPV Sales for McGregor Fights
Opponent
Event
Date
PPV Sales
Khabib Nurmagomedov
UFC 229
Oct 6, 2018
2.4 Million
Nate Diaz
UFC 202
Aug 20, 2016
1.6 Million
Donald Cerrone
UFC 246
Jan 18, 2020
1.35 Million
Nate Diaz
UFC 196
Mar 5, 2016
1.32 Million
Eddie Alvarez
UFC 205
Nov 12, 2016
1.3 Million
Against Donald Cerrone in 2020, McGregor became the first fighter in history to sell over one million streaming pay-per-views.
Yes, "Cowboy" helped, too. But you could put McGregor in there with a garden hose and he would pull in more than a million views.
Controversies and Arrests for McGregor
McGregor has been known to be a little bit of a loose cannon outside the cage.
From his hometown in Dublin to New York, the first-ever simultaneous champion in the UFC has had his fair share of brushes with the law.
Here are some of McGregor's most infamous controversies.
The "McGregor Dolly Attack" at UFC 223 Media Day
McGregor's training partner and friend, Artem Lobov, was confronted by Khabib Nurmagomedov on April 3, 2018.
Lobov explained that he was threatened by Nurmagomedov, which led to McGregor and approximately 20 associates heading to New York on a private jet.
On April 5, McGregor and his posse gained access to the Barclay's Center on the media day for UFC 223. The former champion threw a dolly at a bus that contained fighters set to appear on the card, including Khabib.
He was convicted of disorderly conduct and was sentenced to community service.
The McGregor-Khabib Brawl at UFC 229
Following Nurmagomedov's win at UFC 229, a brawl erupted when the Russian approached McGregor's corner.
Khabib took aim at Dillon Danis, another of McGregor's teammates, and jumped the cage to approach the American.
This set off a now-infamous brawl that included members of both men's teams. Punches and kicks were thrown, and the whole situation was incredibly embarrassing to the UFC.
Both men were fined and suspended for their actions.
The Bellator Dublin Incident
McGregor was at the 3 Arena in Dublin to support friend and teammate, Charlie Ward.
Although Ward had beaten his opponent, the fight was not officially over. This didn't stop McGregor from hopping the cage and acting out.
The Crumlin-native was accused of assaulting referee Marc Goddard and a commissioner.
He was lambasted in the press for his actions before issuing a public apology.
"I sincerely apologize for my behavior at last weekends fight event in Dublin. While trying to support a loyal teammate and friend, I let my emotions get the best of me and acted out of line. As a multiple weight UFC champion, executive producer, role model and public figure, I must hold myself to a higher standard."
The Sexual Assault Allegations
Following social media circulation of longstanding rumors regarding an alleged sexual assault, The New York Times reported that McGregor was being investigated by Irish police.
It later emerged that McGregor was being investigated for two alleged complaints of sexual assault.
McGregor's Dublin Pub Assault
When CCTV was released of Conor McGregor assaulting an older patron of a Dublin pub in August 2019, it didn't help the Notorious' PR campaign.
McGregor, who appeared to take umbrage with the older gentleman's refusal of some of his own brand whiskey, was charged with assault. He was fined €1,000.
More of McGregor's Controversies
McGregor has been in trouble with the law for several different reasons.
He was arrested in Corsica in September 2020 for alleged attempted indecent exposure and sexual assault but was released without charge.
In 2019 in Florida, McGregor was arrested following charges relating to assault and strongarm robbery of a phone in Miami Beach, Florida.
The charges against McGregor were later dropped by the accuser after both men had reportedly reached an out-of-court settlement.
McGregor has also been involved in several driving offenses, including one in November 2018 that led to the suspension of his driving license.
McGregor's Biggest Rivalries
Rivalries and combat sports go hand in hand.
But when you are a fighter as abrasive and cocksure as Conor McGregor, you're going to butt heads with a lot of different people.
And that's exactly what has happened throughout the career of The Notorious.
The Conor vs. Khabib Rivalry
It's safe to say that both men have about as much love for each other as… you know, a comparison isn't even required here. Conor and Khabib despise one another like no other odd pairing out there.
After all, they stand for completely different things, have seemingly differing priorities, and are effectively the polar opposites of each other.
We have never witnessed such a venomous press conference like UFC 229 before. And we don't think we ever will.
There is no love lost between both men, but oh, how different things used to be.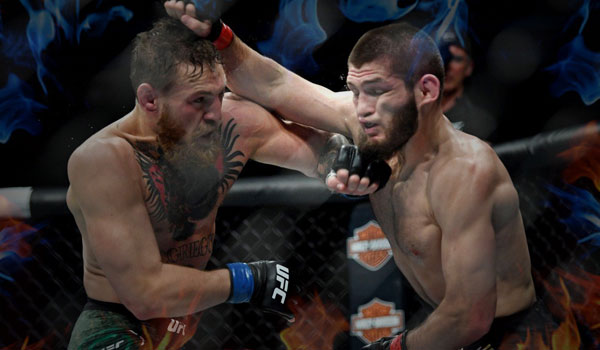 The McGregor-Nate Diaz Rivalry
One of the most memorable rivalries in UFC history, McGregor vs. Diaz was just awesome to watch.
When Diaz busted up Michael Johnson to register one of his most impressive wins inside the cage, he immediately called out McGregor straight after.
As fate would have it, Rafael dos Anjos would be forced to pull out of his fight with McGregor just months later, opening the opportunity for Diaz to step in and register a shock win over the Irishman.
McGregor vs. Diaz 2 took place in August 2016 and goes down as one of the best UFC fights of all time.
Other Rivalries
Who is Conor McGregor's biggest rival?
Some will say Khabib Nurmagomedov while others will claim it is Nate Diaz. We don't think it can be anyone other than these two warriors.
But that's not where it ends for McGregor when it comes to rivalries. Here are some more individuals he's had run-ins with.
Jose Aldo – Former UFC Featherweight Champion
Dustin Poirier – UFC Lightweight Contender
Tony Ferguson – UFC Lightweight Contender
Ali Abdelaziz – Fight Promoter
Floyd Mayweather – Legendary Boxer
Conor McGregor FAQs
You will find answers to some of the most frequently asked questions about Conor McGregor. So, if you're curious to find something out about the iconic UFC fighter, you might find it among the following questions.
When is the Next McGregor Fight?
McGregor vs. Poirier 2 at UFC 257 is his next fight.
The bout goes down at Fight Island on January 23, 2021.
Can I Bet on Conor McGregor Fights Online?
Yes, betting on McGregor fights online is one of the most popular ways to gamble in the combat sports betting sphere.
In order to bet on the fights, you will need a betting site that has odds and markets for McGregor bouts. Providing gambling is legal in your jurisdiction, and you satisfy the requirements of the sportsbook you are betting with, you should be good to go!
How Old is Conor McGregor?
Conor was born in July 1988, which makes him 32-years-old.
McGregor is 5'9″ (175 cm).
What is Conor McGregor's Net Worth?
It's unclear what McGregor's actual net worth is.
But from his fight purses in the UFC and boxing to his whiskey company, endorsements, and other routes of income, various sources estimate McGregor's net value at between $110 to $130 million.
What are the Best McGregor Bets?
That comes down to the fight and the opponent.
Not every man that Conor faces will fight the same way, as some will be heavy strikers while others might have light fists but exceptional grappling skills.
For the most part, some popular McGregor bets are wins by KO/TKO, wins in the first round, or simply Conor to win.
Our MMA experts' choices for the best bets for McGregor fights will always be added to our UFC betting picks section. Bookmark it and come back whenever you like to see what we have for you!
Alternatively, you can check out our experts' guide to betting on UFC, and learn how to choose your own wagers.
Is Conor McGregor Married?
Conor is not married but is engaged to his long-time girlfriend, Dee Devlin, who he met in 2008.
The pair are expected to tie the knot in 2021.
McGregor is from Dublin, Ireland.
He was raised in Crumlin, a suburb of Ireland's capital city.
Is it Safe to Wager on McGregor Fights?
Yes.
Providing you place your bets with safe and reputable UFC betting sites, and keep your sensitive details private, there is no reason to be worried about betting on McGregor's UFC fights.
How Much Does McGregor Weigh?
It depends on what weight class he is fighting in.
Typically, McGregor would walk around somewhere close to 170 to 180 pounds.
When Did McGregor Start Fighting?
The Irishman made his professional MMA debut on March 8, 2008.
However, he was part of his local boxing gym, as an amateur, in his young teens.
When Was McGregor's Last Fight?
McGregor last fought on January 18, 2020, at UFC 246.
He stopped his opponent, Donald Cerrone, by way of a first-round TKO.