Betting on Amanda Nunes Fights
Amanda Nunes is the greatest female mixed martial artist of all time.
In an age where the word "legend" has been cheapened, Nunes embodies what it should mean. She is quite simply, one of the best to ever do it, regardless of gender.
Nunes' story contains every necessary ingredient for a Hollywood movie Overcoming major setbacks and adversity through dogged determination, the hero of this story smashed through door after door before finding herself coronated as the queen of her sport.
This page is something of a mix. On one hand, it's a tribute to the great "Lioness." It's also somewhere you can come to in order to keep track of Nunes' next fight. But more than anything, consider this a tool to help you win money betting on Amanda Nunes fights.
Latest Nunes Odds
Megan Anderson to Win
+550
This is where you'll find the latest betting odds for Amanda Nunes fights.
Nunes vs. Anderson is next up for the double-champ. She will put her UFC featherweight strap on the line for that fight.
There are no other moneyline odds available for Nunes right now. But do check back soon to see if that has changed.
Amanda Nunes Props and Specials
There are no prop bets for Amanda Nunes to bring you yet. That goes for specials, too.
Check-in regularly for the latest Nunes props and specials. Better yet, bookmark this page so you can find it even easier next time!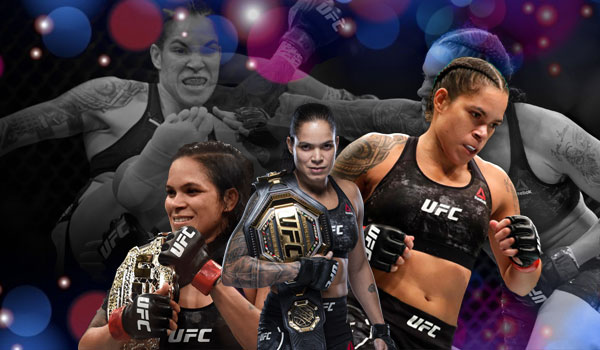 Where to Bet on Amanda Nunes Fights
Let's say you've got your heart set on finding the best odds for Amanda Nunes to win her next fight.
The only problem is the best odds you can find are on a sportsbook that doesn't look the safest. Conversely, you could find a safe UFC betting site with odds shorter than a yoctosecond.
It's a dilemma many bettors find themselves with. This is unfortunate, given that the best UFC betting sites are dedicated to providing the complete package. Think safe, secure, great odds and markets, generous bonuses, and a site/app that works as it should.
The sites we rank are not recommended for no reason. Our experts spend a lot of time reviewing the top betting sites for MMA before arranging them according to their strengths and weaknesses. Ergo, the best truly means the best.
So no more fretting about those odds. You can now explore all kinds of bets for Amanda Nunes, such as props and specials, and the type of wagers that give you that extra bit of oomph while watching her fights.
Amanda Nunes vs. Megan Anderson
Nunes makes the second defense of her UFC featherweight title against Megan Anderson.
Nunes vs. Anderson was booked for six months after the champ's successful 145-pound title defense against Felicia Spencer at UFC 250. Unfortunately, the fight was postponed due to Nunes withdrawing on account of a "serious medical issue."
The good news is that the fight has been rescheduled for UFC 259 on March 6.
It should be a good test for Nunes. Anderson holds advantages in size and will look to use every single inch of her lengthy frame to frustrate the champion on the night.
But will that be enough to dethrone one of combat sports' most dominant champions?

Nunes vs. Anderson Details
Event: UFC 259
Date: March 6, 2021
Location: UFC APEX
Weight Class: Women's Featherweight
Nunes vs. Anderson is ON!
The fight has been rescheduled for UFC 259 on March 6, 2021, at the UFC APEX in Las Vegas.
This is as good as it gets at women's featherweight, folks. So, if you're looking to wager on Nunes vs. Anderson, keep reading and we'll tell you how.
Betting on Nunes vs. Anderson
You can find our betting preview for Nunes vs. Anderson with odds, best bets, predictions, and picks, below.
Our betting expert breaks down what you need to know about gambling on the UFC 259 co-main, so give it a read now!
Rumors and Potential Bouts
There's nothing like a good old fight rumor to get the pulses racing.
But when it comes to who Amanda Nunes will fight next, some serious candidates are waiting for their shot. Some have already had their shot at the champ, such as Valentina Shevchenko or Cris Cyborg, but want to test her again.
The life of a champ, huh? It's a never-ending barrage of callouts from fighters of all shapes and sizes.
As it stands, these are the bouts that could very well happen next for Nunes.
Amanda Nunes vs. Valentina Shevchenko 3
Amanda Nunes vs. Weili Zhang
Amanda Nunes vs. Cris Cyborg 2
Nunes Key Info and Stats
Nunes is a proud Brazilian, born in Pojuca in the state of Bahia.
She is one of the first-ever UFC two-weight world champions and is widely considered to be among the greatest fighters in the history of mixed martial arts.
She joins fellow Brazilians like Anderson Silva, Jose Aldo, and Deiveson Figueiredo as examples of incredibly exciting fighters.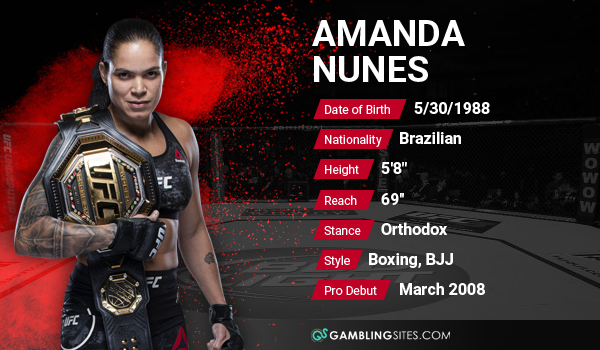 Few fighters in history can lay claim to having beaten the very best there were when their elite competitors rocked it in their respective primes.
Nunes has wins over Valentina Shevchenko (x2), Cris Cyborg, Germaine de Randamie (x2), Ronda Rousey, Miesha Tate, and Holly Holm.
In other words, she has beaten living legends of the sport and is undoubtedly the greatest woman to ever enter the Octagon.
Amanda Nunes Key Info
Pro MMA Record
20-4 (13 KOs)
Record in Other Sports
N/A
Weightclass
Featherweight (145 Pounds), Bantamweight (135 Pounds)
Gym Affiliation
American Top Team
Head Coach
Conan Silveira
Rank/Accomplishments
Black Belt in Brazilian Jiu-Jitsu
Current UFC Ranking
Featherweight (Champion), Bantamweight (Champion)
UFC Titles Won
Bantamweight and Featherweight Championships
Other Titles Won
N/A
Main Rivals
Valentina Shevchenko, Cris Cyborg, Ronda Rousey
The Brazilian great played her part in changing the face of mixed martial arts.
A serial record-breaker, Nunes has held numerous accolades throughout her career. In the UFC, she became the first woman to hold titles in separate weight classes. She also set records for wins, consecutive wins, stoppages, title defenses, and much more.
It is nothing short of incredible to think of what the greatest female bantamweight and featherweight fighter of all time has achieved.
From the humble beginnings of "the jungle," to the bright lights at the top of the UFC food chain, Nunes is an inspiration to those who yearn for glory inside the cage.
Brief Amanda Nunes Bio
Nunes, the third of three girls, was raised by a single mother in Pojuca, Brazil.
As a youngster, she expressed an interest in martial arts and took up karate as a four-year-old. Twelve years later, Nunes took up boxing and got bitten by the bug.
Over the years, her interest in combat sports grew. She was competing in Judo and Brazilian Jiu-Jitsu, which would prove to be invaluable to her later career in mixed martial arts.
Nunes' start in MMA wasn't a success. Like her rival, Cris Cyborg, Nunes was beaten in her first professional fight on the Brazilian regional scene. Still, she didn't let that hold her back, and pretty soon she had amassed a record of 5-1 that got her noticed by the Strikeforce promotion.
Nunes went on to win some, and lose some. But her determination to be the best kept her bouncing back from losses and staying grounded while picking up wins.
On July 9, 2016, Nunes entered the Octagon opposite the bantamweight champion, Miesha Tate. It was an opportunity she had been waiting for all of her life.
It took Nunes just over three minutes to take Tate's back and submit her. And that's when the world became the property of Amanda Nunes, the first-ever UFC female Brazilian champion.
Amanda Nunes Fight Record
Opponent
Result
Date and Event
Felicia Spencer
Win by Decision
UFC 250 – Jun 6, 2020
Germaine de Randamie
Win by Decision
UFC 245 – Dec 14, 2019
Holly Holm
Win by TKO
UFC 239 – Jul 6, 2019
Cris Cyborg
Win by KO
UFC 233 – Dec 29, 2018
Raquel Pennington
Win by TKO
UFC 224 – May 12, 2018
Valentina Shevchenko
Win by Decision
UFC 215 – Sep 09, 2017
Rousey Rousey
Win by TKO
UFC 207 – Dec 30, 2016
Miesha Tate
Win by Submission
UFC 200 – Jul 09, 2016
Valentina Shevchenko
Win by Decision
UFC 196 – Mar 05, 2016
Sarah McMann
Win by Submission
UFC FN 73 – Aug 08, 2015
Shayna Baszler
Win by TKO
UFC FN 62 – Mar 21, 2015
Cat Zingano
Loss by TKO
UFC 178 – Sep 27, 2014
Germaine de Randamie
Win by TKO
UFC FN 31 – Nov 06, 2013
Sheila Gaff
Win by TKO
UFC 163 – Aug 3, 2013
Sarah D'Alelio
Loss by Decision
Invicta FC 4 – Jan 05, 2013
Raquel Canuto
Win by Submission
Invicta FC 2 – Jul 28, 2012
Alexis Davis
Win by TKO
Strikeforce – Sep 10, 2011
Julia Budd
Win by KO
Strikeforce – Jan 07, 2011
Ediane Gomes
Win by TKO
BC 6 – Feb 25, 2010
Vanessa Porto
Win by TKO
SFC 2 – Dec 12, 2009
Deise Lee Rocha
Win by TKO
SFC – Sep 12, 2009
Nadja Nadja
Win by TKO
Prime 3 – Jul 01, 2008
Paty Barbosa
Win by TKO
DF 3 – May 24, 2008
Anna Maria
Loss by Submission
Prime 2 – Mar 08, 2008
If you're looking to learn about more UFC icons, make sure to visit our UFC Fighters page.
Hit the button below to be taken to our main fighters page.
Amanda Nunes FAQ
Do you still have questions about Amanda Nunes that you can't find answers to? Why not check out our FAQs for the champ, below.
As one of the most popular fighters on the roster, it comes as no surprise to see fans wanting to find out as much about the legend as possible.
The following questions are the most frequently asked of them all.
When Was Amanda Nunes Born?
Nunes was born on May 30, 1988.
Some people believe Nunes is older than she is, given how long she has competed in MMA. Then again, some fans express their surprise when they find out her age.
How Can I Find Out When Nunes Fights Next?
There is a section at the top of this page that lists Nunes' next fight.
You can also find details of Nunes fight rumors and potential bouts that her name is associated with.
Where and How Can I Bet on Nunes' Fights?
There is also a section above titled "Where to Bet on Amanda Nunes Fights?"
Visit that section now for instructions on where you can place bets on Nunes' fights. As for how, simply visit our guide to betting on the UFC, and all will be explained.
Nunes is married to fellow-fighter Nina Ansaroff, who she credits for her success in MMA.
She became the first openly gay champion in the history of the UFC when she beat Miesha Tate at UFC 200 in 2016.
Nunes and Ansaroff welcomed their first child into the world in September 2020.
What is Amanda Nunes' Net Worth?
Nunes' net worth has not been made public.
However, it is believed that she is worth around $4 million, as of December 2020. This number could be above or below what her actual net worth is, however.
Has Amanda Nunes Ever Been Knocked Out?
Yes, Nunes has been knocked out on two occasions in her career.
The first came against Alexis Davis in Strikeforce back in 2011. She was also stopped by Cat Zingano at UFC 178 in 2014.
What Was Amanda Nunes' Best Performance?
Nunes has enjoyed some magnificent performances in her illustrious career.
And while there is a certain element of subjectivity involved in choosing her best performance, it is widely believed that the Brazilian's knockout win over Cris Cyborg was her finest moment as a fighter.
Cyborg was unbeaten in 13 years and considered the best female fighter on the planet when they fought. Additionally, Nunes moved up to the 145-pound weight class to fight her.
Still, Nunes knocked Cyborg out in the first round of their fight at UFC 232.
Others might say that Nunes' win over Ronda Rousey was better. We're not sure about that…
How Tall is Amanda Nunes?
Nunes stands at 5'8″.
This is just above average for a women's bantamweight fighter.
Has Amanda Nunes Ever Been Submitted?
Yes, Nunes has been submitted once in her career.
She lost to Ana Maria Índia in her MMA debut in 2008, falling victim to an armbar in the 35th second of their Prime: MMA Championship 2 encounter.
Is Amanda Nunes the G.O.A.T?
Nunes is the greatest female fighter in the history of MMA.
She has beaten every other elite contender and has set numerous records in the process. Additionally, she is considered one of the greatest pound-for-pound fighters in UFC history, regardless of gender.
As for being the best of them all? Well, some believe that Nunes would come below the likes of Georges St-Pierre, Khabib Nurmagomedov, Jon Jones, Demetrious Johnson, and Anderson Silva.
Once again, the G.O.A.T discussion is one that cannot be closed. The fact of the matter is, well, it's subjective.
The day Amanda Nunes retires will be a sad day for mixed martial arts.
But luckily, she has no intention of walking away from the sport just yet.
Let's hope it stays that way as long as she is winning.