The Top 12 Greatest Women's Tennis Players of All Time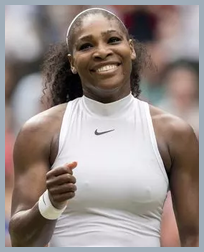 Serena Williams
It is easy to put Serena Williams at the top of the list of the greatest female tennis player of all time. The American has records by the bucketload, but notched up perhaps her most impressive feat at the 2017 Australian Open.
Playing professional tennis while pregnant is already an amazing feat, but winning a grand slam while doing so is incredible, and that's exactly what Serena did when she beat her sister, Venus, in the final to win her 23rd major singles title.
Williams often brushes aside opponents on the WTA Tour and obliterates records in the process. With 39 grand slam trophies already in her trophy cabinet, she's not just the best player to grace female tennis, but she's also a sporting legend.
Williams made her debut as a 14-year-old, and by the age of 18, she had a grand slam in the bag after winning the U.S. Open. She completed a career Grand Slam at the start of 2003 with success at the Australian Open.
From there, she developed into the most fearful and dominant player on Tour as she accumulated 23 grand slam singles titles, 14 grand slam doubles crowns and two grand slam mixed doubled titles.
As if that's not enough, she also has an Olympic singles gold medal from the 2012 London Games and three doubles gold medals to her name.
Williams has spent 319 weeks at the top of the women's ranking—the third-longest stretch in history, and has claimed 72 singles titles. Williams took time off following the birth of her daughter in 2017, but you can be sure she'll soon be back at full force!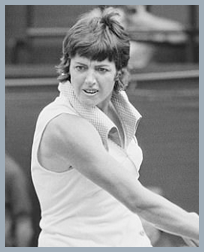 Margaret Court
Margaret Court's dominance over both tennis eras comfortably puts her second on this list as she has conquered all before her on the WTA Tour from 1960 until 1975.
Most players on the circuit dream of winning just one major—Court won an incredible 64 (24 singles, 19 doubles and 21 mixed doubles). Not enough? She also collected a calendar Grand Slam in the singles and the mixed doubles!
The Australian was head and shoulders above the rest of the field in the early 1960s and into the Open Era in 1968. Court started her incredible run at the 1960 Australian Open where she won her home major at the age of 17.
She would go on to remain unbeaten Down Under at the following six editions of the event. Her first grand slam success outside of Australia came at the 1963 French Open, and she would also win the U.S. Open that year.
However, her zenith in singles was in 1970 when she became the first women in the Open Era to win all four grand slams in the same year; a feat she also achieved in the mixed doubles in 1963 and 1965.
While Court's power was no doubt her biggest weapon, it was often her fitness that would distinguish her from her rivals as it helped her come back three times after giving birth. The last of her 24 singles grand slam titles came at the 1973 U.S. Open, and she finished her career with a win percentage of 91.74%.
Steffi Graf
Steffi Graf ruled women's tennis from the late 1980s until the late 1990s, winning 22 grand slam singles titles to put her third on the all-time list.
Graf was ranked number one in the world for an incredible 377 weeks, a record for both men and women, and she remains the only tennis player (male or female) to win a Golden Slam (four grand slams and an Olympic gold medal in a calendar year).
Graf's story began in 1982 when she made her pro debut as a 13-year-old. After winning her first WTA title in 1986, the German would finally get her grand slam breakthrough the following year as she won the French Open.
The year 1988 was the year of Graf, as she won all four majors and then completed the Golden Slam by beating Argentina's Gabriela Sabatini in the gold medal match at the Seoul Olympics.
The German was a class above the rest on all surfaces as she won the Australian Open four times, the French Open six times, Wimbledon seven times and the U.S. Open five times. Graf retired at the age of 30 in 1999, stating:
"I have done everything I wanted to do in tennis. I feel I have nothing left to accomplish."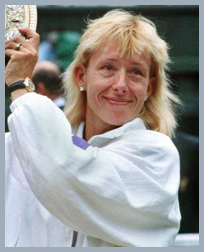 Martina Navratilova
With 59 Grand Slam titles (18 singles, 31 doubles and 10 mixed doubles) to her name, Martina Navratilova was unstoppable during her heyday, and she slots in at number four on our list.
Although born in Czechoslovakia, she ultimately became a household name while competing under the American flag from the late 70s to the early 90s.
Navratilova introduced herself to the tennis world in 1974 when she won her first professional title at 17. The following year, she would finish as runner-up at both the Australian Open and the French Open.
Having already had grand slam success in the doubles and mixed doubles, Navratilova finally opened her singles account at Wimbledon in 1978 and would retain the title in 1979. It was from 1981 through 1994 that she would be peerless on the WTA Tour as she won an astonishing 16 grand slam singles during that time.
After retiring in the mid-90s, she made a successful comeback and won the 2003 Australian Open mixed doubles to become the oldest ever grand slam winner at 46 years, 8 months. If that was not good enough, she went on to win the U.S.
Open mixed doubles at the age of 49 in 2006. She finally called it a day for good in 2006 and finished with an astonishing 167 singles titles, 177 doubles titles and 10 mixed doubles titles. When all was said and done, Navratilova had spent a total of 332 weeks at the top of the women's rankings.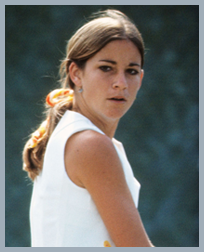 Chris Evert
Chris Evert is only behind Martina Navratilova in terms of career singles titles, having won 157 titles to her rival's 167. Evert also finds herself just behind Navratilova on our list of the greatest female players of all time.
When you beat the world's top-ranked player as a 15-year-old, it would appear that you're destined for greatness, and Evert did not disappoint. The American announced herself to the tennis world in 1970 when she saw off the world's number one, Margaret Court, who just a few weeks earlier has completed a calendar Grand Slam.
Despite her early success, Evert didn't turn professional until 1972. After three consecutive grand slam runners-up finishes, she finally broke her duck at the 1974 French Open and added the Wimbledon title to her collection a few weeks later.
Evert won the first of her six U.S. Open titles in 1975 while the last of her seven titles at Roland Garros came in 1986.
Rafael Nadal is the current dominant force on clay, but the Spaniard is closely matched by the 'Queen of Clay', Evert, who once enjoyed a 125-match winning streak on the surface, a record that still stands today. Don't let that make you think Evert was a one-trick pony though; she was devastating on all surfaces.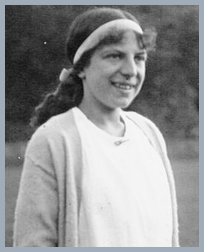 Suzanne Lenglen
When women's tennis needed a boost, Suzanne Lenglen stepped up and delivered, which is why the Frenchwomen slots in at number six on our list of greatest female tennis players of all-time.
Athletic, dashing, eccentric, talented and unpredictable, Lenglen was the complete package and more. Incredibly, Lenglen won her first major title at the age of 15, and it really was just the beginning.
After claiming the World Hard Court Championships in 1914, the Frenchwoman went on to dominate the game for the next 12 years as she won an incredible 31 Championship titles.
Lenglen is considered the sport's original diva and the first female tennis celebrity. She was a top performer on the court, too, winning six singles titles at Wimbledon and two at the French Open.
Lenglen finished her career with 83 singles titles, but even more impressive was
her career record of 348 matches played, 341 matches won and just seven matches lost.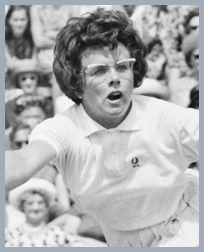 Billie Jean King
Billie Jean King sits at number seven on our list as she not only helped revolutionize women's tennis, but other sports too. She was a crusader for women's rights throughout her distinguished career and well after retirement.
The American was one of the founding members of the Women's Tennis Association and was also the first female athlete to win more than $100,000 in a single season. When she was not fighting for women's rights, she was setting records on the court.
She gave the tennis world a glimpse of her talent when she won the women's doubles at Wimbledon in 1961. After a couple of runners-up finishes, she finally opened her singles grand slam title account at Wimbledon in 1966.
She would also win the next two editions at the All England Club. King won a total of 39 grand slam titles, and she was the queen of Wimbledon with a record 20 titles (six singles, 10 doubles and four mixed doubles) at SW19.
One of the defining moments of her career came in 1973 when she took on Bobby Riggs in the Battle of the Sexes exhibition match which she won 6–4, 6–3, 6–3.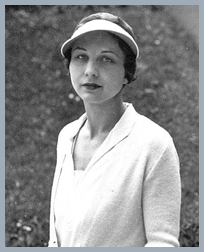 Helen Wills
Known for her powerful groundstrokes and devastating serve, Helen Wills was the dominant player on the circuit from the mid-1920s until the late 1930s, and she comes in at number eight on our list.
Dubbed "Little Miss Poker Face", as she rarely showed any emotion while strutting her stuff on court, Wills' first major title came as a 17-year-old at the 1923 U.S. Open, and she won the event again in 1924 and 1925.
However, she had to wait until 1927 before she finally broke her grand slam duck overseas when she tasted success at Wimbledon, an achievement she followed up with her maiden French Open title in 1928.
Her supremacy was no more pronounced than between 1927 and 1933 when she amassed a 180-match winning streak. The American finished her career with 22 grand slam singles titles, 10 grand slam doubles, seven grand slam mixed doubles and two Olympic gold medals.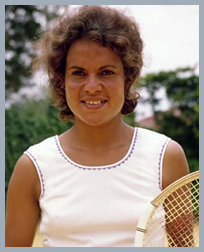 Evonne Goolagong
Evonne Goolagong was groomed for tennis stardom from her early teens, but didn't make her professional debut until the age of 20 in 1971.
However, the Australian didn't have to wait long before she made her mark as a pro as she won her first attempt at the French Open that same year. She remains the only player in history to have done so.
A few weeks later, Goolagong won Wimbledon for the first time, but she had to wait until 1974 before she tasted grand slam success again. This time, the "Sunshine Super Girl" won the Australian Open, and she would go on to win her home title another three times.
Goolagong's final grand slam success came at Wimbledon in 1980.
The Australian is sixth on the list of most singles titles won with 86, but she only sits ninth on our list of greatest female tennis player of all time as she has won "only" seven grand slam singles titles.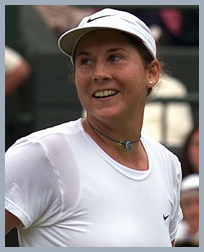 Monica Seles
Born in Yugoslavia, Monica Seles powered her way into the tennis record books when she beat Steffi Graf in the 1990 French Open final to become the youngest-ever champion at the age of 16 years and six months.
Seles would go on to win three grand slams in 1991 and 1992 with only the Wimbledon crown eluding her during those two years and throughout her career.
After starting the 1993 season with a third consecutive Australian Open title, Seles' life would change dramatically at the Citizen Cup in Hamburg, Germany when she was stabbed in the back by a deranged Graf fan.
She spent 27 months away from tennis and battled to not only recover from her initial injuries, but also Post-Traumatic Stress Disorder. When she eventually made her comeback in 1995, she won her first tournament back in Canada and then made it to the U.S. Open final where she finished runner-up to Graf.
Seles would enjoy grand slam success for one final time when she won the Australian Open in 1996 while playing under the American flag.
She retired with 53 career singles titles (including nine grand slams) to her name and would no doubt have had more success—and be higher up on our list of greatest players—if it wasn't for the stabbing incident.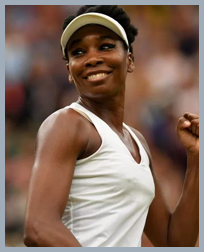 Venus Williams
Venus Williams' longevity helps to put her at number 11 on our list of greatest female tennis players of all time. Along with her sister, Serena, Venus took women's tennis to a different level from the late 90s.
With an outstanding serve, exceptional power, agility and more, Venus was destined for great things from a very young age. It was no surprise when she made her debut aged just 14-years-old in 1994, but her real breakthrough year was in 1997 when she made it all the way to the U.S.
Open final, only to lose against Martina Hingis. Her first WTA title followed in 1998, and two years later, she would join the grand slam winner's circle with victory at Wimbledon.
Success at the U.S. Open followed a few months later before she added two gold medals (singles and doubles with sister Serena) to her collection at the 2000 Sydney Games.
She would again do the Wimbledon-U.S.
Open double the following year. However, she then came up against a brick wall named 'Serena', and would lose five grand slam finals against her sister in 2002 and 2003. She eventually got back to the top in 2005 with a third Wimbledon title, but her 2008 crown at the All England Club would turn out to be her final grand slam trophy.
Adversity hit in 2011 when she was struck down by Sjogren's syndrome, an autoimmune disease. She was forced to take time out of the game and dropped out of the world 100. You can't keep a champion down though.
She was back in action in 2012. The Williams sisters managed to win the doubles gold medal at the Beijing Games. Although she failed to add to her seven grand slam singles titles, she proved age was nothing but a number as she managed to reach both the Australian Open and Wimbledon finals in 2017 despite being in her mid-30s.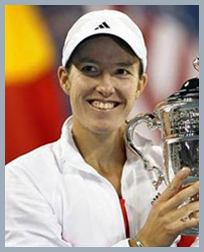 Justine Henin
Justine Henin just makes our top 12 and would perhaps have been higher on this list if she had not taken a break from the game while at her peak. Crafty, with excellent speed, versatility and a one-handed backhand that was a thing of beauty, the Belgian had a complete game.
When Henin began her career in 1999, she was up against the power hitters and, despite being one of the smallest players on the Tour at 1.67m (5 ft 5 1/2 in), she fought her way to the top of the world rankings where she spent a total of 117 weeks.
After winning her debut WTA Tour event, the Belgian Open in 1999, she reached the final of Wimbledon in 2001 where she lost to Venus Williams.
The following year, she won her first grand slam title with a straight-sets win over compatriot Kim Clijsters at Roland Garros and repeated the trick at the U.S. Open.
After adding the Australian Open to her collection in 2004, she would win three French Open crowns in a row before securing a final grand slam at the U.S. Open in 2007.
Henin then stunned the tennis world in May 2008 when she announced her immediate retirement while ranked number one in the world. However, she was not gone for good and made a comeback in 2010.
She progressed to the final of the Australian Open on her return, but was defeated by Serena Williams. Henin retired for good in 2011, finishing her career with 43 WTA singles titles.
June
Sportsbook of the Month

Sign up Bonus
60% Up To $1,000
READ REVIEW
Visit Site
X