How Court Surfaces Affect Betting on Tennis
Professional tennis is played on three different court surfaces; grass, clay, and hard. Each surface is unique and comes with a set of characteristics that distinguish it from the other two.
The very best players in the world perform well on all of them, but even they have their preferred surface that suits their style better.
We provide details of all tennis court surfaces on this page. We also provide betting tips for each one, as you should learn to adjust your betting strategies based on tennis surfaces.
Grass Tennis Courts
Grass is the rarest of the official tennis court surfaces nowadays. As grass courts are expensive and hard to maintain, you won't find many tournaments played on them.
However, a part of the season is still played on grass and there's little reason to expect that to change anytime soon.
Here's what you need to know about grass tennis courts.
Characteristics of Grass Courts
There are a few characteristics of grass that favor certain playing styles. They are mostly related to the bounce of the ball, which is significantly lower than other courts. The ball usually keeps most of its speed, so the players have less time to move and react.
On top of that, you will often see unexpected bounces on grass courts that make it even harder to return a shot.
Aggressive play is rewarded on this tennis surface and you often see way more winners on grass courts. Players with a strong serve and power have the upper hand, as opposed to players that prefer a more defensive approach and rely on their stamina.
The net play is also crucial and applying the serve and volley tactics works wonders on grass. Players who specialize in this approach are very strong on green courts, especially in male tennis where the speed of the serves and shots is much faster.
Betting on Grass Court Tournaments and Matches
If you are looking to bet on grass-court tennis matches and tournaments, you should always look for players who have a strong serve and play aggressively.
They have a distinct advantage against classic baseliners who prefer to defend because the rallies on grass are much shorter and it's easier to register a winning shot.
It's also important to note that durability is less important than sheer power.
A statistical study from 2010 that covers all matches at Wimbledon (grass) and the French Open (clay) that year backs up that statement. Here is how some of the major categories compared.
| | | |
| --- | --- | --- |
| Category | Wimbledon | French Open |
| Aces Percentage of Total Points | 11.3% | 6.6% |
| Winners Percentage | 50.1% | 42.3% |
| Server Points Won Percentage | 66.7% | 62.4% |
The data indicates that the points and games are quicker, with fewer long rallies. That allows the players to stay fresh for most of the match and this should be part of your tennis betting strategy for grass courts.
This is also important for futures betting because the athletes don't accumulate fatigue as fast. They can be still close to their best from a physical standpoint in the later stages of a competition.
Key Facts About Grass Courts
Grass Court Season: 6 Weeks in the Summer
Biggest Tournaments: Wimbledon, Queen's, Eastbourne International
Best Current Players on Grass: Novak Djokovic, Roger Federer, Serena Williams, Garbine Muguruza
Notable Grass-Court Specialists from the Past: Pete Sampras, Rod Laver, Steffi Graf, Martina Navratilova
The expensive maintenance and the strong dependence on the weather are the main reasons why the grass season is very short compared to other tennis court surfaces.
It includes the two weeks of Wimbledon at the end of June and the beginning of July, as well as a few tournaments before the Grand Slam competition.
You won't have many opportunities to bet on grass and statistical analysis for gambling purposes is tougher because of the smaller sample size compared to other types of court.
Clay Tennis Courts
Clay courts are very different from grass courts, and you can recognize them by the red color of the surface.
Plenty of tournaments take place each year on clay courts, so you should learn more about them if you want to successfully bet on tennis. Let's begin by explaining how this surface impacts the game.
Characteristics of Clay Courts
The clay courts are built using crushed stones, bricks, shales, or similar material. The following video shows how.
The nature of the clay surface affects heavily both the ball and the movement of the players.
For a start, the bounce of the ball is much higher and slower than any other tennis surface. That makes it much easier to reach a shot and return it, favoring defensive players who rely on stamina and limited errors.
Winners are rare on clay and you will see longer rallies compared to the other tennis surfaces. Another reason for that is the lower number of aces because clay courts slow the serves down and make it easier for the returning player.
The most successful athletes on clay usually stay behind the baseline, ready and willing to return pretty much every shot the opposition sends their way. Resilience, stamina, and consistency are the keys to success here.
It's also worth noting that this surface allows the players to slide their feet in an attempt to reach the ball.
Mastering this technique is essential on clay courts. Pretty much every clay specialist can use this skill to reach balls that look impossible to return.
Betting on Clay Court Tournaments and Matches
Building a solid betting strategy for tennis tournaments and matches on clay courts can deliver solid profits on a consistent basis.
You should always focus your analysis on the playing style of the two players, along with previous results on clay. Looking at grass or even hard court matches from the past is not very helpful when it comes to red courts.
There are plenty of players who excel almost solely on clay and are mediocre on other surfaces, so you should be very wary of them. A clay specialist could often beat a seemingly much stronger opponent.
The key factors on this surface are consistency and stamina. Players that don't allow many unforced errors and have good durability do well because the matches are longer and there are almost no easy points.
It's also common for clay-court specialists to use a lot of topspin to create large bounces and trouble the opposition. The best example of this technique is the King of Clay, Rafa Nadal. He adds a remarkable spin to his forehand shots.
Key Facts About Clay Courts
Clay Court Season: Spring and Summer in Europe and North America, Winter in South America
Biggest Tournaments: French Open, Monte-Carlo Masters, Madrid Open, Italian Open
Best Current Players on Clay: Rafael Nadal, Dominic Thiem, Simona Halep, Iga Swiatek
Notable Clay0-Court Specialists from the Past: Bjorn Borg, Ivan Lendl, Chris Evert, Justine Henin
You could split the clay-court season into three main parts. The first one takes place earlier in the year in South America while the weather is warm on the continent. There are several solid tournaments in Argentina, Brazil, and Chile.
The next stage is in the spring when many of the big cay competitions take place, including events like the Madrid Open and the Italian Open. The period culminates with the French Open, the only Grand Slam on clay.
Grass is usually the focus next, but there are still some smaller clay-court tournaments in the summer that you can bet on.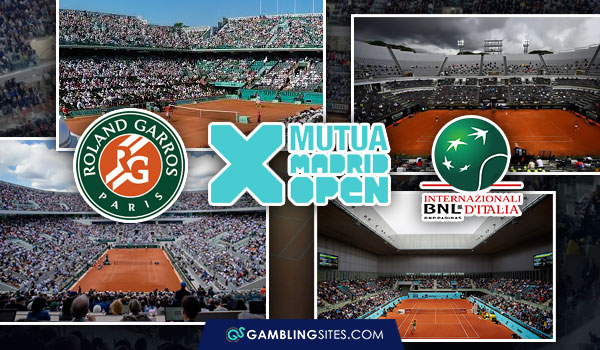 Hard Courts Explained
The third surface used in pro tennis is hard courts. They are found pretty much all over the globe, and this surface is somewhere between grass and clay in several aspects.
Let's take a look at more details and our tips for betting on tennis matches on hard courts.
Characteristics of Hard Courts
If you're looking for a middle ground between clay and grass when it comes to tennis surfaces, you can find it on hard courts. The bounce of the ball is higher than grass but lower than clay. Some of the speed gets absorbed on hard courts but it's not nearly comparable to clay.
What is comparable to clay is that you can actually slide on hard courts, too, although not to the same extent. One of the best in this technique is Novak Djokovic, who has a strong claim for being the greatest player on hard courts ever.
It must be mentioned that hard courts are probably the surface that comes with the biggest variety, depending on how much sand is added to the top layer of the court. If there's more of it, the bounce is slower, and less sand means more speed.
Either way, playing on hard courts requires complex skills. Few players are very good on this surface and not on any others. Most well-performing players on hard courts are solid on at least one of the other surfaces.
Indoor vs. Outdoor Hard Courts
Some tennis tournaments, especially in the colder months, are played indoors and the surface used in them is hard. The courts are pretty similar in terms of materials used, but there are other factors at play here.
The weather conditions have no effect whatsoever on the surface. There's no chance of rain that could make it slippery, and there's no wind either.
If you add the constant temperature that's neither too hot nor too cold, one could say that indoor hard courts are the most consistent ones in terms of overall conditions.
Betting on Hard Court Tournaments and Matches
There are many, many matches played on hard courts, so finding a successful tennis gambling system for them can be very rewarding in the long run.
When you bet on hard court tennis matches, you should always try to figure out how fast the courts are. If the speed of each bounce is high, then players with more aggressive styles should have the upper hand as they do on grass. If the speed is low, defending is easier and the surface is closer to clay.
In both cases, the players have to be well-rounded to perform well on hard courts. You can't rely on one-dimensional approaches that work on the other tennis court surfaces.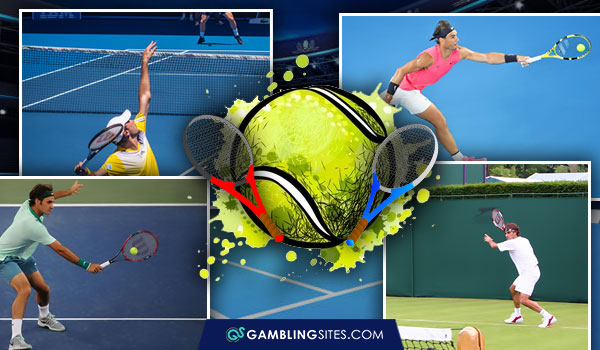 Key Facts About Hard Courts
Hard Court Season: All-Season Long
Biggest Tournaments: Australian Open, US Open, ATP Finals, WTA Finals
Best Current Players on Hard Courts: Novak Djokovic, Daniil Medvedev, Serena Williams, Ashleigh Barty
Notable Hard-Court Specialists from the Past: Andre Agassi, Ivan Lendl, Martina Navratilova, Martina Hingis
There are no limitations when it comes to the hard-court season and there are events that use this surface of tennis courts throughout the whole year.
The first and fourth Grand Slam events are played on hard courts. The Australian Open is the biggest competition at the beginning of the campaign and the US Open is the last major each season.
Furthermore, the best in the world face each other in the ATP Finals and WTA Finals every December, in the last tennis competitions of the year. Both are played on hard.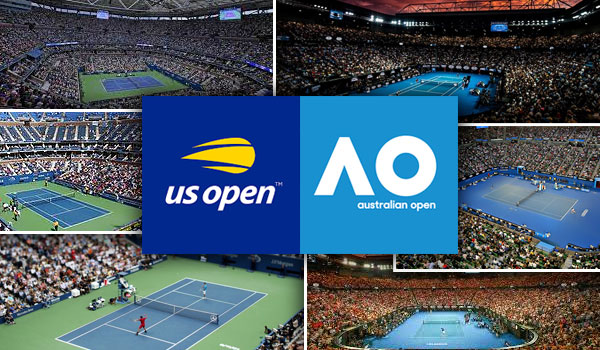 Summary
We hope we answered your questions about the different tennis surfaces how you can use their characteristics to your advantage when betting on the sport.
The following table sums up the main factors you need to remember about tennis court surfaces.
| | | | |
| --- | --- | --- | --- |
| | Grass | Clay | Hard |
| Bounce of the Ball | Low and Unpredictable | High | Medium and Straightforward |
| Speed of the Ball | High | Low | Medium to High |
| Volatility of the Different Courts | Low | Low | High |
| Season Length | Short | Medium | Long |
| Indoor Matches | No | No | Yes |
If you intend to bet on tennis, we have other useful pages that can increase your chances to win cash. For a start, we have our main tennis betting guide that covers everything related to the topic.
You could also read about the top tennis betting strategies, and use those concepts in combination with your own observations for the best results.
If you don't have the time to prepare your predictions, you can always check our tennis blog and tennis picks sections. You will find recommended wagers, analysis of tournaments, odds, and other useful pieces of information delivered by our tennis experts.
July
Sportsbook of the Month

Sign up Bonus
60% Up To $1,000
READ REVIEW
Visit Site
X